21 Best Items to Order on the Five Guys Menu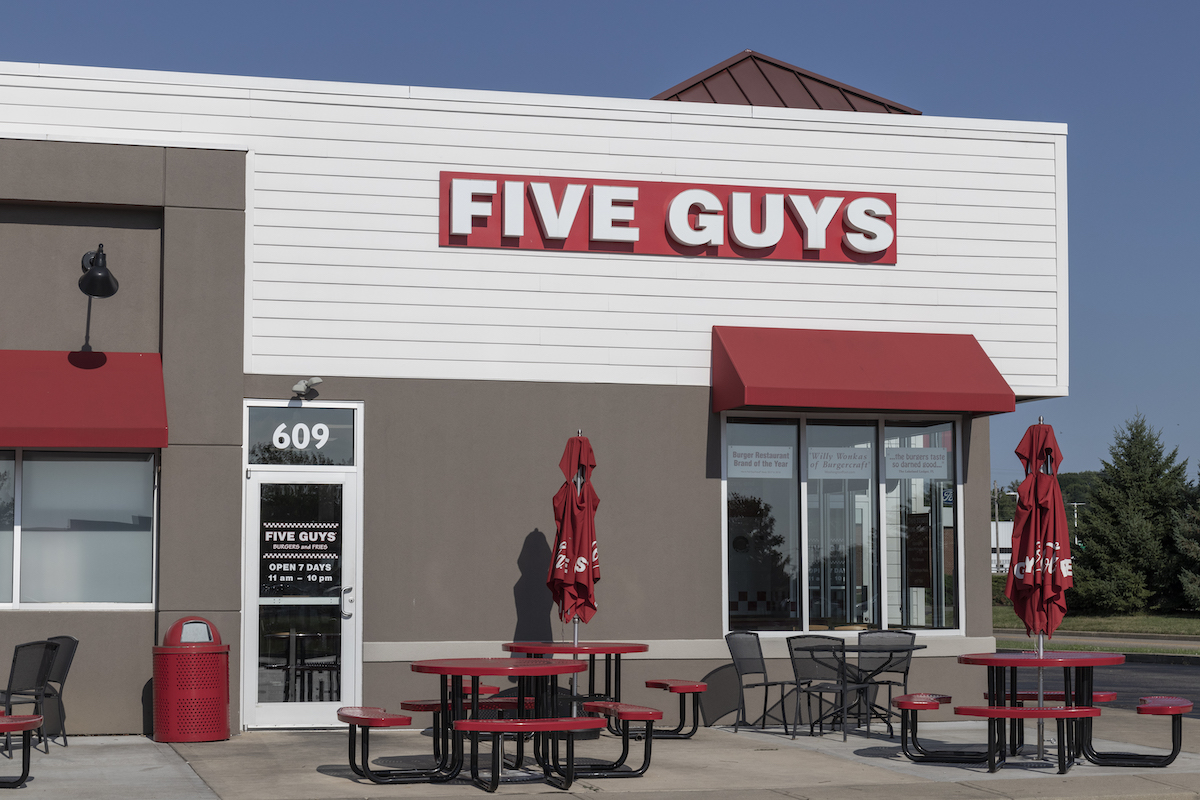 Five Guys is one of America's most popular burger chains. With over 1,400 locations in the US alone and even more globally, the restaurant chain has earned a positive reputation for using fresh, high-quality ingredients.
Five Guys' menu isn't as big as some of its competitors, but that's because they focus on quality over quantity.
The Five Guys menu consists of six main categories: burgers, hot dogs, fries, milkshakes, sandwiches, and toppings.
Almost all items can be customized with as many mix-ins or toppings as you want for no extra charge.
Not sure where to start? Check out our list of the top 21 Five Guys menu items before planning your visit!
21. Pickles
Five Guys' pickle slices might be small, but they're mighty in flavor.
Each burger ordered with pickles comes with exactly five slices of Mount Olive pickle chips.
They're tangy, briny, and crunchy – all characteristics we've come to expect from a great pickle.
Five Guys menu items like burgers and hot dogs tend to be quite heavy, so a few pickles on top ensures that there will be something fresh to cut through all that meat and cheese.
A serving of pickles contains 5 calories, 1g of carbs, and 260 mg of sodium.
20. Veggie Sandwich
Five Guys is known for its fresh (never frozen) meat, but vegetarians shouldn't write off this spot just yet.
One of the most beloved vegetarian options on the Five Guys menu is its Veggie Sandwich.
This option is not a veggie burger – it's a burger bun stuffed with freshly grilled onions, mushrooms, and green peppers.
Between the layers of grilled veggies are fresh lettuce and tomato slices.
You can add whichever additional toppings you'd like to your veggie sandwich.
While this isn't lauded as the best or most popular menu item at Five Guys, it's a great option for veggie lovers or those looking for a lighter meal on their next visit.
Each Veggie Sandwich contains 280 calories, 60g of carbs, 15g of fat, and 1040 mg of sodium.
19. Cheese Veggie Sandwich
This Five Guys menu item is the same as the veggie sandwich – the only difference is the welcome addition of cheese.
With freshly grilled veggies and layers of American-style cheese on the classic Five Guys sesame bun, this sandwich is the ultimate light comfort meal.
Each Cheese Veggie Sandwich contains 420 calories, 60.7g of carbs, 21g of fat, and 1350 mg of sodium.
18. Hot Dog
Though their burgers get most of the praise, Five Guys hot dogs are also quite beloved.
These hot dogs are 100% beef. What makes them extra special is the Five Guys grilling process.
When the hot dog is cut in half and placed face-down on the grill, its exterior becomes slightly crunchy and perfectly caramelized.
Just like its famous burgers, Five Guys hot dogs can have as many toppings as your heart desires.
Each hot dog contains 520 calories, 40g of carbs, 35g of fat, and 1130 mg of sodium.
17. Grilled Mushrooms
Five Guys uses handpicked baby portabella mushrooms that are packed fresh to ensure flavor.
Then, the mushrooms are grilled until perfectly golden brown and added to your burger or hot dog.
Grilled mushrooms add the perfect umami to whichever vessel you choose to put them on.
Even if you're not the biggest fan of mushrooms, this Five Guys topping staple is definitely worth a try.
One serving of grilled mushrooms contains 20 calories, 1g of carbs, and 55g of sodium.
16. Grilled Onions
Five Guys' grilled onions are one of the most popular toppings on the menu ­– they're caramelized, smokey, and sweet.
Their onions are chopped daily and grilled to order, so you know you're getting the freshest toppings possible.
Grilled onions add a subtle caramelized sweetness to your burger or hot dog and complement any toppings you add.
A serving of grilled onions contains 10 calories, 2g of carbs, and 1 mg of sodium.
15. Little Cheeseburger
The Little Cheeseburger from Five Guys is classic, simple, and delicious.
The Little Cheeseburger isn't little at all, and with one patty instead of two, it makes for a perfectly sized burger.
Each slice of American cheese is melted to gooey perfection and compliments any and all of your favorite toppings.
Each Little Cheeseburger contains 610 calories, 39.5g of carbs, 32g of fat, and 690 mg of sodium.
14. Little Bacon Cheeseburger
One of the most iconic Five Guys menu items is the Little Bacon Cheeseburger.
Don't let the word 'little' mislead you, though­ – this burger is jam-packed with flavor.
It comes with melted American cheese, applewood bacon, and a toasted sesame bun. It also includes one hand-smashed patty instead of two.
Each Little Bacon Cheeseburger contains 690 calories, 39.5g of carbs, 39g of fat, and 950 mg of sodium.
13. Strawberry Milkshake
What flavor is more classical American than that of a strawberry milkshake?
Five Guys' iteration uses real fresh strawberries and simple housemade syrup.
Since the chain opts for natural fruit instead of artificial flavoring, the true flavor of strawberry shines through in each sip.
This milkshake is rich, creamy, and simple. It's the perfect stand-alone dessert or vessel to dunk your fries in.
Each serving of strawberries contains 20 calories and 5-20 mg of sodium.
12. Cheese Dog
Just like the classic Five Guys hot dog, the Cheese Dog is made with 100% beef and is split and grilled for a caramelized exterior.
What could make this classic dog even better? Cheese.
A layer of gooey American-style cheese is added to each hot dog, and any amount of toppings can be ordered to make your dream dog.
One Cheese Dog contains 590 calories, 40.5g of carbs, 41 g of fat, and 1440 mg of sodium.
11. BLT
With six strips of applewood smoked bacon, crispy lettuce, fresh tomato slices, creamy mayo, and a toasted sesame bun, there's nothing not to love about Five Guys' BLT sandwich.
Since its only meat is bacon, the BLT sandwich is much lighter than its burger or hot dog companions.
Lettuce and tomato also add a fresh element to the sandwich.
You can even add any toppings you'd like to your BLT, but we think this sandwich is best enjoyed with its classic toppings.
Each BLT contains 600 calories, 42g of carbs, 24g of fat, and 931 mg of sodium.
10. Chocolate Milkshake
Nothing goes with a burger and fries quite like a chocolate shake, and Five Guys has perfected theirs.
This shake uses semi-sweet Ghirardelli chocolate, making for the perfect balance of sweet and rich.
Order it as-is, or add other mix-ins like peanut butter, bananas, or even bacon!
Each serving of chocolate contains 40 calories, 8-32 g of carbs, 1-4 g of fat, and 10-39 mg of sodium.
9. Salted Caramel Milkshake
Five Guys' Salted Caramel strikes the perfect balance between sweet and salty.
While other food chains tend to make caramel-flavored desserts that are cloyingly sweet, Five Guys understands that a little bit of sweetness can go a long way.
The salt in the caramel offsets any extra sugar in this milkshake, making it one of the best fast food milkshakes you can grab with your burger and fries.
Each serving of salted caramel contains 45 calories, 10-41 g of carbs, 0-1 g of fat, and 24-98 mg of sodium.
8. Grilled Cheese
Cheese lovers, this one is for you!
Five Guys makes its iconic Grilled Cheese by layering American cheese onto an inside-out sesame seed burger bun.
The sandwich is then grilled until the bun is golden brown and the cheese is melted.
This sandwich is buttery, crispy, and gooey all at once.
Five Guys doesn't skimp on the amount of cheese, and you can add any topping you'd like at no extra cost.
It's not surprising that this sandwich has a cult following.
Each Grilled Cheese sandwich contains 470 calories, 41 g of carbs, 26g of fat, and 715mg of sodium.
7. Bacon Cheese Dog
An all-beef hot dog, melted American-style cheese, and a layer of crispy applewood smoked bacon make the Bacon Cheese Dog one of the most popular items on the Five Guys menu.
Just like the other burger and hot dog options, you can add any toppings you please for no additional cost.
A Bacon Cheese Dog contains 670 calories, 40.5g of carbs, 48g of fat, and 1700 mg of sodium.
6. Five Guys Style Fries
Five Guys has one of the most popular fast food fries out there. Their fries are freshly hand-cut and made 'boardwalk-style.'
'Boardwalk-style' means that the fries are fried twice to ensure an extra-crispy exterior and fluffy, mashed potato-like interior.
Like many other Five Guys menu items, their fries are never frozen and are made in-house.
Plus, you can be sure that employees will never skimp on the amount of fries you get. In fact, they're trained to always add an extra scoop of fries to your bag!
Each serving of Five Guys fries contains 530-1310 calories, 131g of carbs, 41 g of fat, and 962 mg of sodium.
5. Peanut Butter Milkshake
The Peanut Butter milkshake is one of the best drinks at Five Guys and one of their best menu items of all time.
Five Guys uses natural peanut butter with a touch of honey for its milkshakes, making for a sweet, salty, rich, and extra-thick shake.
Order this shake without additional mix-ins to let the true peanut butter flavor come through.
4. Bacon Cheeseburger
This burger is one of Five Guys' most popular offerings. It's made with melted American cheese, crispy smoked bacon, and two juicy beef patties.
With gooey cheese, crispy bacon, and fluffy buns, the Bacon Cheeseburger is sure to satisfy all your cravings.
Each Bacon Cheeseburger contains 1060 calories, 40g of carbs, 62 g of fat, and 1310 mg of sodium.
3. Oreo Milkshake
With a rich vanilla base, chunks of crunchy Oreo, and bits of Oreo cream, Five Guys' Oreo Milkshake is the ultimate cookies 'n cream lover's dessert.
Each Oreo shake features creamy malt, which lends itself to the classic, old-fashioned taste that the best milkshakes have.
With varied textures and flavors, the Oreo Milkshake is a perfectly sweet ending to an otherwise salty meal.
Each serving of Oreos contains 65 calories, 10-40 g of carbs, 3-10 g of fat, and 53-210 mg of sodium.
2. Cajun Style Fries
One of the best Five Guys menu items of all time? Ask anyone, and there's a good chance they'll mention the Cajun Fries.
While Five Guys doesn't come out and say the exact ingredients in their special seasoning, most people agree it has paprika, garlic, and cayenne powder.
The seasoning adds something extra to each fry – it's sweet, salty, and just a little spicy.
1. Cheeseburger
Is it a surprise to anyone that the classic Cheeseburger is the #1 item on our list?
After all, this is the burger that started it all and is one of the best fast food burgers.
When you order a cheeseburger from Five Guys, you'll get two juicy, hot-off-the-grill patties with a few slices of melted American cheese.
The simplicity of this burger allows its high-quality ingredients and flavors to shine through.
When craving a true American burger, Five Guys is the place to go, folks. There's simply nothing quite like it!
Each Cheeseburger contains 980 calories, 40g of carbs, 55g of fat, and 1050 mg of sodium.
Conclusion
It's safe to say that Five Guys has cemented its place in American fast food history.
The Five Guys menu offers something for everyone, whether you're a meat-lover, vegetarian, or in between.
The chain has been able to stay on top for so long because they value quality and freshness over everything else.
No matter what you choose to order from the Five Guys menu, you will not be disappointed!
For more information about Five Guys, check out the articles below.