10 Best Five Guys Milkshake Flavors to Try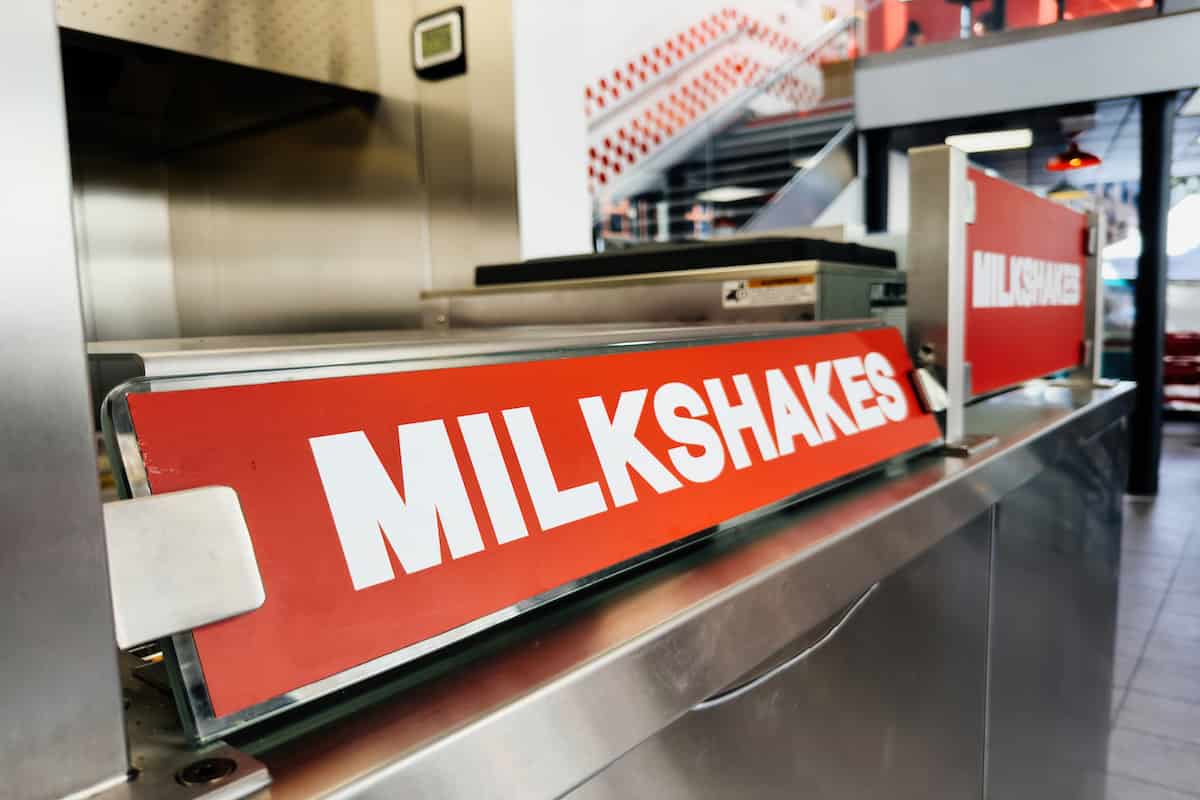 Five Guys is best known for its hand-smashed burgers, but they've also gained notoriety in the milkshake world.
As one of the best fast food milkshakes, what sets Five Guys shakes apart from the rest?
For starters, they're hand-spun, meaning a restaurant employee makes each milkshake to order by blending all the ingredients you choose by hand.
Five Guys also keeps its milkshake base simple with a short list of options: milk, nonfat milk, sugar, and whey.
That's right, no overly processed, impossible-to-pronounce additives here. (That's more than most fast food chains can claim for their milkshakes!)
All Five Guys milkshakes start with a simple vanilla ice cream base, and you can add ten different mix-ins.
Just like their burger toppings, Five Guys milkshake add-ons are unlimited and free of charge.
With thousands of possible combinations, the seemingly simple Five Guys milkshake menu can quickly become overwhelming.
That's why we created a list of the best Five Guys milkshake flavors and will let you know which mix-ins are worth your time and which are better to save for another day.
10. Bacon
The bacon milkshake is at the bottom of our list, but not because bacon is a bad mix-in.
In fact, it's probably the most unique topping offered for Five Guys shakes.
For those who love a sweet and salty combination, the little bits of chopped applewood-smoked bacon might be the perfect unexpected addition to your shake.
However, many guests feel that the pork flavor dilutes the vanilla base, and vanilla dilutes the flavor of the pork.
That means you're left with two flavors competing for the top spot rather than complimenting each other.
Disappointingly, bacon oftentimes loses its crispiness as it sits in the ice cream.
So if you're a bacon lover, we recommend skipping the bacon milkshake and adding bacon to your burger instead.
Each serving of bacon contains 80 calories, 7 g of fat, and 260 mg of sodium.
9. Vanilla
Unlike the bacon milkshake, the vanilla milkshake isn't exactly unique.
But sometimes, a classic vanilla milkshake is exactly what the doctor ordered.
Five Guys' vanilla milkshake is richer and smoother than your average fast food shake because of its fresh and high-quality ingredient list.
This shake is great on its own, but with unlimited free mix-ins, why not experiment and try some more exciting flavors?
The vanilla flavoring will add 20-82 calories, 5-19 g of carbs, and 3-11 mg of sodium to your milkshake.
8. Malted Milk
Malted milk is a powder made from malted barley, wheat flour, and evaporated whole milk.
While its description might not sound the most appetizing, this mix-in is the secret behind the toasty, old-school flavor you'd expect from a classic milkshake.
Malted milk will enhance all the other flavors in your shake and ensure an extra-rich consistency.
Just like the vanilla mix-in, we love malted milk as a base flavor but recommend adding other mix-ins rather than using it as a stand-alone flavor.
Each serving of malted milk contains 60 calories, 10-40 g of carbs, 1-5 g of fat, and 67-268 mg of sodium.
7. Bananas
Up next on our list is the Five Guys banana milkshake.
Bananas are a divisive ingredient – people either love them or loathe them.
If you enjoy the flavor of real bananas, then this milkshake is absolutely worth a try.
It's made with real bananas, so you won't come across that fake flavoring many banana candies use.
This flavor is perfect if you're looking for something refreshing and different.
Each serving of bananas contains 30 calories, 7-28 g of carbs, and 2-10 mg of sodium.
6. Reese's Cups
Who doesn't love a peanut butter-chocolate combo?
Five Guys understands the beauty of a salty-sweet combination, which is why they offer to add Reese's cups to your milkshake.
Some sips will be more peanut-heavy, while others will be more chocolate-heavy.
This shake will keep you guessing, and that's the fun of it!
The chopped Reese's cups get cold in the milkshake and firm up, making for a beautifully crunchy textural element in this drink.
Each serving of Reese's cups contains 150 calories, 16 g of carbs, 8 g of fat, and 98 mg of sodium.
5. Strawberries
Strawberries have been a staple milkshake add-in for decades. The flavor is simple, classic, and sweet.
Five Guys uses fresh strawberries in a simple homemade syrup to make their version of the strawberry shake.
Using natural fruit allows for both the strawberry and vanilla flavors to shine through.
This milkshake is rich, creamy, and refreshing.
Each serving of strawberries contains 20 calories and 5-20 mg of sodium.
4. Chocolate
Chocolate milkshakes seem easy, but many fast food places get them wrong.
Luckily, Five Guys know how to make a mean chocolate shake.
They use semi-sweet Ghirardelli chocolate, so this shake has the perfect level of sweetness.
The hint of bitterness from the semi-sweet chocolate adds depth and sophistication to the drink.
It's great as a plain shake and also works perfectly as a base flavor for other mix-ins.
Each serving of chocolate contains 40 calories, 8-32 g of carbs, 1-4 g of fat, and 10-39 mg of sodium.
3. Salted Caramel
Once again, the sweet and salty combo proves to be a fan favorite.
Sweet, rich caramel and a hint of sea salt are added to Five Guys' milkshake base, making for a combination that'll keep you coming back for more.
It's common for restaurants to use sticky-sweet caramel in their shakes, but Five Guys' caramel isn't like that.
Their caramel isn't cloyingly sweet, and the salt offsets any excess sugar.
If you want to kick the sweet and savory combo up another notch, plenty of guests sing the praises of a salted caramel-bacon milkshake!
Each serving of salted caramel contains 45 calories, 10-41 g of carbs, 0-1 g of fat, and 24-98 mg of sodium.
2. Peanut Butter
The peanut butter flavor is one of the best Five Guys milkshakes of all time.
The combination of sweet vanilla and salty peanut butter is truly a match made in heaven.
Five Guys uses natural peanut butter with a touch of honey – It's sweet, salty, rich, and creamy.
If those descriptors don't tempt you into ordering peanut butter in your next Five Guys shake, we don't know what will!
Adding peanut butter to your milkshake also ensures an extra thick texture.
This shake is a perfect balance of classic and unique and is a must-try for all PB lovers.
Each serving of peanut butter contains 90 calories, 4-16 g of carbs, 7.5-30 g of fat, and 110-440 mg of sodium.
1. Oreo Cookies
Almost all fast food chains have some sort of cookies and cream milkshake, and Five Guys is no exception.
Five Guys understands that to have a truly great cookie shake, it must contain Oreos (they are milk's favorite cookie, after all).
The crushed Oreos add a beautiful crunch to each sip of your shake, and the Oreo cream makes the drink much richer.
Plus, the Oreo shake also contains creamy malt, meaning that your milkshake will have that classic, old-fashioned taste to it.
Each serving of Oreos contains 65 calories, 10-40 g of carbs, 3-10 g of fat, and 53-210 mg of sodium.
Conclusion
With ten mix-in options and thousands of flavor combinations, the sky's the limit when ordering your Five Guys milkshake.
Five Guys always uses the freshest and highest quality ingredients, including their milkshake add-ins.
So whether you like classic flavors like vanilla or chocolate or prefer a more unique flavor, you're in for a treat with Five Guys shakes that you won't soon forget!
For more information about Five Guys, check out the articles below.