8 Best Burgers to Order at Five Guys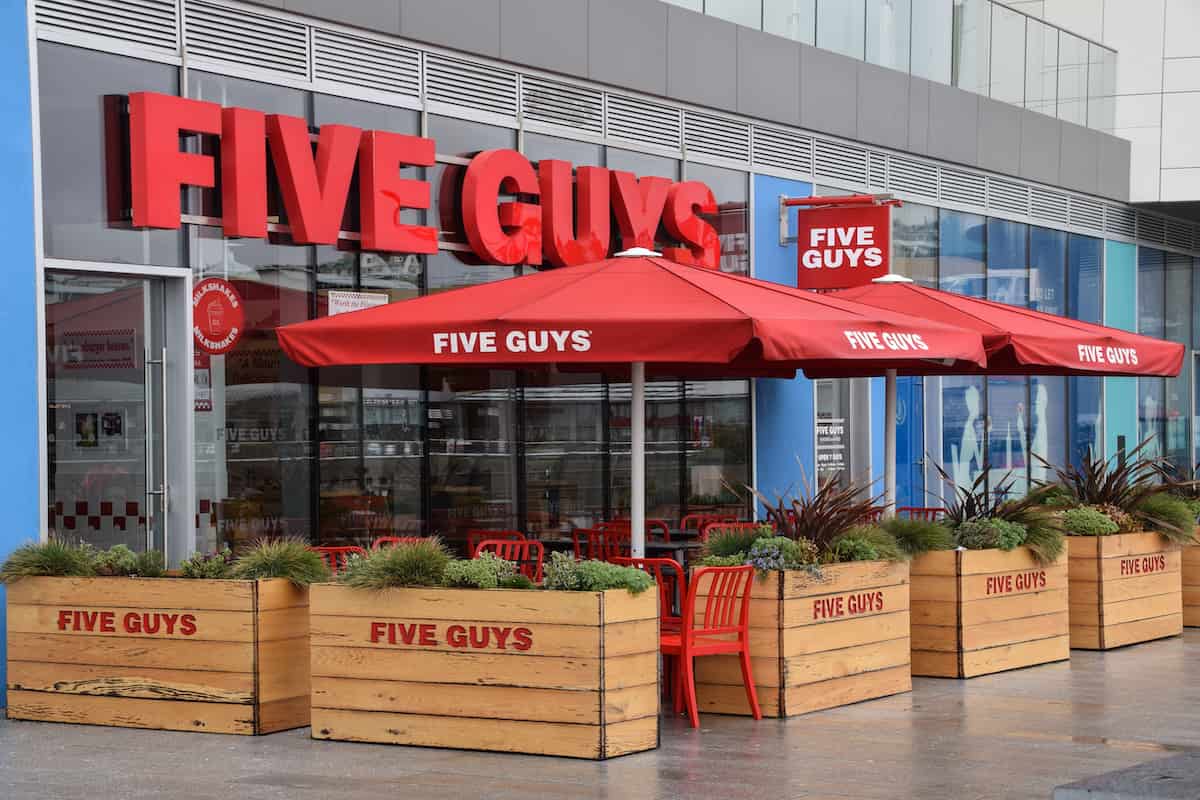 Since its first location's opening in 1986, Five Guys has steadily climbed to the top of America's most popular burger chains.
With over 1,300 locations in the US, much of Five Guys' success is thanks to its nostalgic decor and quick service. But it's no secret that Five Guys' claim to fame is their juicy and fresh burgers.
Five Guys has a burger for every appetite. With eight different burgers and a variety of toppings to mix and match, there are countless combinations to try on your next visit.
While looking at Five Guys' menu, you might notice that some burgers have the word 'little' in their title. So, what's the difference between a regular burger and a 'little' burger at Five Guys?
The answer is surprisingly simple – a regular burger comes with two patties, while a little burger only has one.
Five Guys also offers the option to order your burger "All The Way." This means your burger will be topped with lettuce, tomatoes, pickles, grilled onions, grilled mushrooms, ketchup, mustard, and mayonnaise.
Other toppings options include A1 Steak Sauce, BBQ sauce, hot sauce, green peppers, jalapenos, lettuce, relish, and raw onions.
All burger toppings at Five Guys are completely free, and you can add as many or as few as you want to build your dream burger!
Plus, all burgers on the Five Guys menu can be made sans bun in two ways: requesting that your burger come in a bowl or ordering it wrapped in lettuce.
With so many options, it's no wonder people keep returning to Five Guys for more.
In this article, we've rounded up the best Five Guys burgers to help you decide what to order during your next visit.
Hamburger
Let's start off with the basics. Five Guys' regular Hamburger comes with two fresh, juicy patties stacked between their classic toasted sesame bun.
These buns are used for all Five Guys burgers and are baked daily, ensuring that your patty is presented on a fluffy, fresh bun.
Each patty weighs just over 3 ounces for a satisfying bite with each and every go.
The Hamburger can be ordered with as many toppings as you want for no additional charge.
Each Hamburger contains 840 calories, 39g of carbs, 43g of fat, and 430mg of sodium.
Little Hamburger
Just like its big brother, the Little Hamburger is served between two toasty buns.
It comes with one hand-formed patty and can be customized with as many or as few toppings as you'd like.
Even in its simplest form, Five Guys' hamburgers stand out from other fast casual chains.
The patty is always the star and made with high-quality, never-frozen beef coming straight off the grill and onto your bun.
Each Little Hamburger contains 540 calories, 39g of carbs, 26g of fat, and 380mg of sodium.
Cheeseburger
The classic Cheeseburger is unsurprisingly one of the most frequently ordered items at Five Guys.
This burger comes with two hot-off-the-grill patties, separated by melted yellow American cheese.
Just like the other Five Guys burgers, you can add as many toppings as your heart desires to your cheeseburger.
Each Cheeseburger contains 980 calories, 40g of carbs, 55g of fat, and 1050mg of sodium.
Little Cheeseburger
The Little Cheeseburger comes with one patty instead of two but otherwise is identical to the regular cheeseburger.
After your patty is grilled to juicy perfection, a thick slice of American cheese is added to the sandwich.
And yes, you can ask for multiple slices at no extra cost!
Each Little Cheeseburger contains 610 calories, 39.5g of carbs, 32g of fat, and 690mg of sodium.
Bacon Burger
Is there a better combination than a burger and bacon? Many diners seem to think not – that's why they can't get enough of Five Guys' Bacon Burger.
This burger is made with two patties, and crispy applewood smoked bacon.
The bacon in this burger adds a satisfying crunch to each bite, and the sweet smokey flavor throughout makes for a burger you won't soon forget.
Each Bacon Burger contains 920 calories, 39g of carbs, 50g of fat, and 690 mg of sodium.
Little Bacon Burger
The Little Bacon Burger is made up of one patty, a few strips of applewood smoked bacon, and the classic toasted Five Guys sesame seed bun.
Jazz up your Little Bacon Burger by ordering it with any number of toppings. Popular additions include BBQ sauce, relish, and jalapeno peppers.
Each Little Bacon Burger contains 620 calories, 39g of carbs, 33g of fat, and 640 mg of sodium.
Bacon Cheeseburger
Ah, Five Guys' Bacon Cheeseburger.
This burger, arguably the most popular item on the menu, is made with thick slices of melty American cheese and applewood smoked bacon layered between two juicy patties.
With gooey cheese, crispy bacon, and fluffy buns, the Bacon Cheeseburger is a texture lover's dream.
Fans of this burger often recommend adding BBQ sauce, grilled onion, lettuce, and tomato for the ultimate all-American burger experience.
Each Bacon Cheeseburger contains 1060 calories, 40g of carbs, 62g of fat, and 1310 mg of sodium.
Little Bacon Cheeseburger
The Little Bacon Cheeseburger may have 'little' in its name, but don't let that fool you – this burger is full of flavor.
Just like the regular bacon cheeseburger, this sandwich comes with melted American cheese, applewood bacon, and a toasted sesame bun.
However, unlike the regular bacon cheeseburger, this burger comes with one hand-smashed patty instead of two.
Each Little Bacon Cheeseburger contains 690 calories, 39.5g of carbs, 39g of fat, and 950 mg of sodium.
Conclusion
With an abundance of possible combinations for your Five Guys burger order, it can be overwhelming to decide how you want your burger to stack up.
Next time you stop by Five Guys, use our list to narrow down what you want to order.
The good news? Each burger at Five Guys is carefully made to order with the freshest ingredients available, so no matter what burger you choose, you really can't go wrong.
For more information about Five Guys, check out the articles below.