The Best Things to Eat at Golden Corral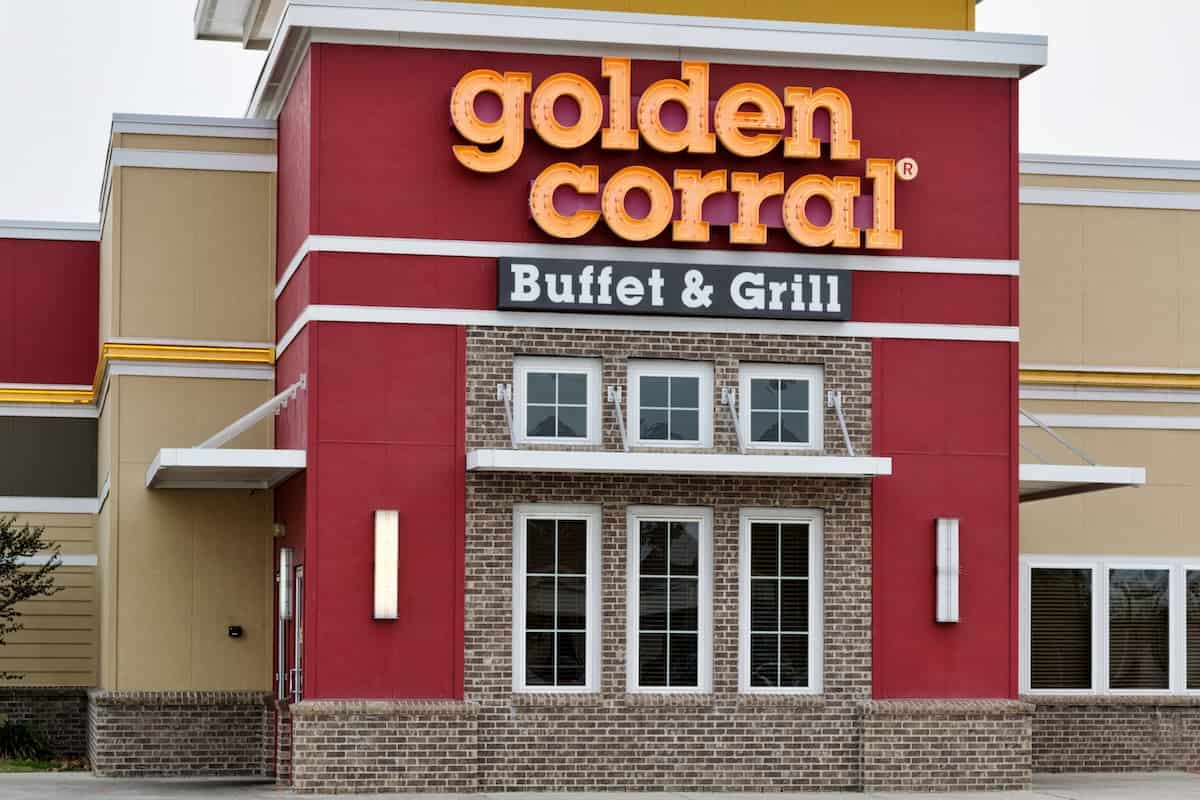 Since 1973, Golden Corral has been a popular choice for family-style dining in the United States.
The restaurant chain was founded by James Maynard and William Carl, with the first location opening in Fayetteville, North Carolina.
As one of the most popular buffet restaurant chains, Golden Corral stands out from the competition due to its wide selection of menu items and family-friendly atmosphere.
From an all-you-can-eat soup and salad bar to a variety of dishes cooked to order, there are plenty of options on the Golden Corral menu.
The restaurant is known for its variety of dishes like fried chicken, pot roast, meatloaf, and made-from-scratch rolls.
Their famous carving station includes slow-roasted prime rib, steak, and ham, all perfectly cooked.
Meanwhile, their dessert items include freshly baked pastries, carrot cake, chocolate cake, pies, cheesecake, and soft-serve ice cream.
If you are a strategic eater, you know the key to eating your money's worth is focusing on the best dishes.
So to help you decide what to order on your next visit, I've compiled a list of the 15 must-try Golden Corral menu items.
15. Meatloaf
Golden Corral's Meatloaf is made of ground chuck beef, pork shoulder, and fresh vegetables and herbs.
The blend of ingredients is tied with an egg-based binder, giving the dish flavor and texture.
It is baked in a thick tomato sauce that adds an extra layer of flavor to the meatloaf.
These flavors create a moist dish that is sure to please.
It is definitely one of the better meatloaves I have tasted at chain restaurants.
It has the right amount of juices and the perfect balance of herbs, making it great for lunch or dinner.
14. Signature Sirloin Steak
Golden Corral's Signature Sirloin Steak is one of the best buffet restaurant steaks out there.
It is made of fresh USDA choice grade sirloin beef, garlic butter sauce, herbs, and spices.
The steak is cooked to order over an open flame to lock in its natural juices while creating a flavorful charring on the outside.
The garlic butter sauce adds a rich flavor to the steak, while the herbs and spices provide an additional layer of flavor.
If you want to get your money's worth and satiate your meat craving, you should try one of these flavorful steaks.
13. Pot Roast
The Pot Roast is a comforting classic dish made with chunks of beef, slowly cooked in a flavorful combination of vegetables and seasonings.
The beef is often marinated for hours to ensure maximum tenderness and flavor.
The slow cooking process gives the beef time to soak up all the flavors from the vegetables and seasonings, resulting in an irresistibly tender meal.
The sweet carrots balance the earthy herbs, while the Worcestershire sauce adds a hint of tanginess to each bite.
12. Pumpkin Pie
Although Pumpkin Pie is usually associated with Thanksgiving and Christmas, it is a great dessert option on the Golden Corral menu.
This traditional pie is made with real pumpkin, sugar, cinnamon, nutmeg, and ginger, which are mixed to create a filling that is poured into a pre-made crust before being baked until golden brown.
The pumpkin filling has just the right balance of sweetness and spices.
The texture is soft and creamy yet still holds its shape in each slice.
This delightful dessert pairs great with a scoop of ice cream or some whipped cream for an added layer of sweetness.
So the next time you visit Golden Corral, try this classic American dessert. You won't regret it!
11. Bourbon Street Chicken
Bourbon Street Chicken is a Southern-style entrée offered at Golden Corral.
This dish consists of a chicken breast marinated in an authentic New Orleans-style Bourbon sauce, then lightly blackened.
The chicken is smothered with a rich, buttery sauce made with sweet Kentucky bourbon whiskey and herbs.
The smoky, slightly spicy sweetness from the blackening and the tangy flavor of the bourbon sauce makes this dish unique.
The combination of flavors from the blackened seasoning and the Bourbon whiskey creates an incredibly savory taste that will excite your taste buds!
It has a sweet yet subtle smokiness that perfectly complements each succulent chicken bite.
10. Icee
Golden Corral's Icee is a great way to cool down and please all the picky kids.
This frozen dessert is made with chopped ice and flavored syrup in various flavors like cherry, blue raspberry, and grape.
The slushie has the right sweetness and tartiness to satisfy your sweet tooth.
It also provides some much-needed refreshment in between switching different fried dishes.
I love that you can customize your Icee by adding different toppings, such as candy bits or sprinkles, for an added layer of fun.
9. Fried Fish
Golden Corral's Fried Fish is made of a white fish filet coated in a light and flavorful batter before being fried to perfection.
The flaky texture of the fish, combined with the crunchy and flavorful coating, makes for an enjoyable experience.
When you bite into this fish, you will be greeted by a crunchy exterior that gives way to a juicy and flaky interior.
The taste of the batter is slightly sweet with hints of garlic and pepper.
While the fish has a mild flavor, it can be enhanced with condiments like tartar sauce or ketchup.
8. Orange Guava Juice
Orange Guava Juice is a great alternative for me as I usually avoid soft drinks.
This beverage is made from freshly squeezed oranges and guava, giving it an exotic, sweet, and tangy flavor.
The juice also has a slight hint of citrus, enhancing the taste even more.
It's the perfect drink to pair with savory food items on the buffet.
I love that this drink contains natural ingredients, making it healthier than soda or sugary drinks.
7. Fried Chicken
Fried Chicken is a popular Golden Corral menu item embodying the classic southern cooking style.
It is made with all-natural chicken marinated in a special blend of herbs and spices.
The scent of this fried chicken alone will draw people in.
It has an irresistible aroma that combines savory spices and herby notes with a hint of smokiness.
Each bite delivers flavorful goodness and an enjoyable crunch as you bite into the golden crust.
6. Carving Station
If you love prime ribs, teriyaki glazed salmon, and roast beef, you want to experience Golden Corral's carving station.
You can find some of the most succulent meats that are slow-roasted and carved to order by expert chefs.
The meat is well seasoned with herbs and spices, plus it's cooked over an open flame to lock in its natural juices and give it a unique charring.
When paired with fresh vegetables and salads, the carving station offers an array of fancier dish combos.
5. Pina Colada
The aroma of pineapple and coconut is enough for anyone to get excited about the Pina Colada.
This frozen virgin drink is made with pineapple juice, coconut cream, and crushed ice, all blending to form a smooth texture.
It goes well with all Golden Corral salads, fried food, and other dishes on the buffet.
4. Carrot Cake
Golden Corral's Carrot Cake is a perfect dessert for any occasion.
The cake is made with freshly grated carrots, pecans, flour, sugar, butter, eggs, baking powder, and spices.
All ingredients are mixed to create a light and fluffy batter that is poured into a greased pan and baked until golden brown.
I'm usually not a fan of carrot cakes, but the flavor of this one is quite delicious.
The subtle sweetness of the carrots pairs perfectly with the crunchy texture of the pecans, while the hint of cinnamon gives it an unmistakable warmth.
The texture of the cake is moist and tender thanks to being made with real butter.
It pairs nicely with creamy vanilla ice cream or whipped cream to add more sweetness to your palate.
This is the best Golden Corral dessert, without a doubt.
3. Steakburger Bar
The Steakburger Bar is a great way to customize your burger exactly how you like it.
You begin with a grounded steak patty cooked to your desired temperature.
The patties are juicy and flavorful, making for a great-tasting burger.
You can choose from an array of toppings, such as lettuce, onions, tomatoes, pickles, and jalapenos.
The burgers are made with fresh ingredients and served on a toasted bun for added flavor.
You can top it off with one of Golden Corral's sauces, such as honey mustard or BBQ sauce.
2. Seafood Salad
The Seafood Salad is a delicious option on Golden Corral's menu for those looking for a light lunch or dinner.
It consists of shrimp and crabmeat mixed with colorful vegetables such as carrots, bell peppers, celery, onions, corn, and cucumbers.
It also contains shredded cheese and croutons for added flavor and texture.
The salad is then topped with a zesty dressing made from mayonnaise, lemon juice, and olive oil.
This creates an amazing flavor that will tantalize your taste buds.
Each bite has savory flavors and crunchy textures, making this dish incredibly satisfying.
I love that I can customize the salad with other ingredients at the bar.
But overall, this is the best Golden Corral salad option.
1. Butterfly Shrimp
The Butterfly Shrimp is an irresistible dish on the Golden Corral menu that consists of lightly battered and fried butterfly shrimp.
It is made with fresh jumbo shrimp coated in a housemade tempura-style batter that includes beer, garlic, lemon juice, ginger, parsley, and other spices.
The result is a crunchy exterior with a juicy interior bursting with flavor.
When the golden butterfly shrimps are cooked, they are served with a lemon butter sauce for dipping.
The combination of the pan-fried shrimp and the rich sauce creates a flavor that makes it the best seafood dish at Golden Corral.
It is an excellent appetizer or light meal when served alone or with other side dishes such as fried rice, coleslaw, or French fries.
A side salad with vinaigrette dressing pairs nicely with this platter as well.
Don't forget to grab a pina colada to complete your meal!
Conclusion
Whether you're looking for a light meal or a feast, there's something on Golden Corral's menu to satisfy your taste buds.
Their food selection ranges from all-you-can-eat soup and salad bars to individual meals and homemade desserts.
From the savory and flavorful meatloaf to the famous carrot cake, you won't be disappointed with the delicious dishes offered at Golden Corral.
So the next time you're in for a meal, remember to try some of the options on this list.