9 Things You Didn't Know About Auntie Anne's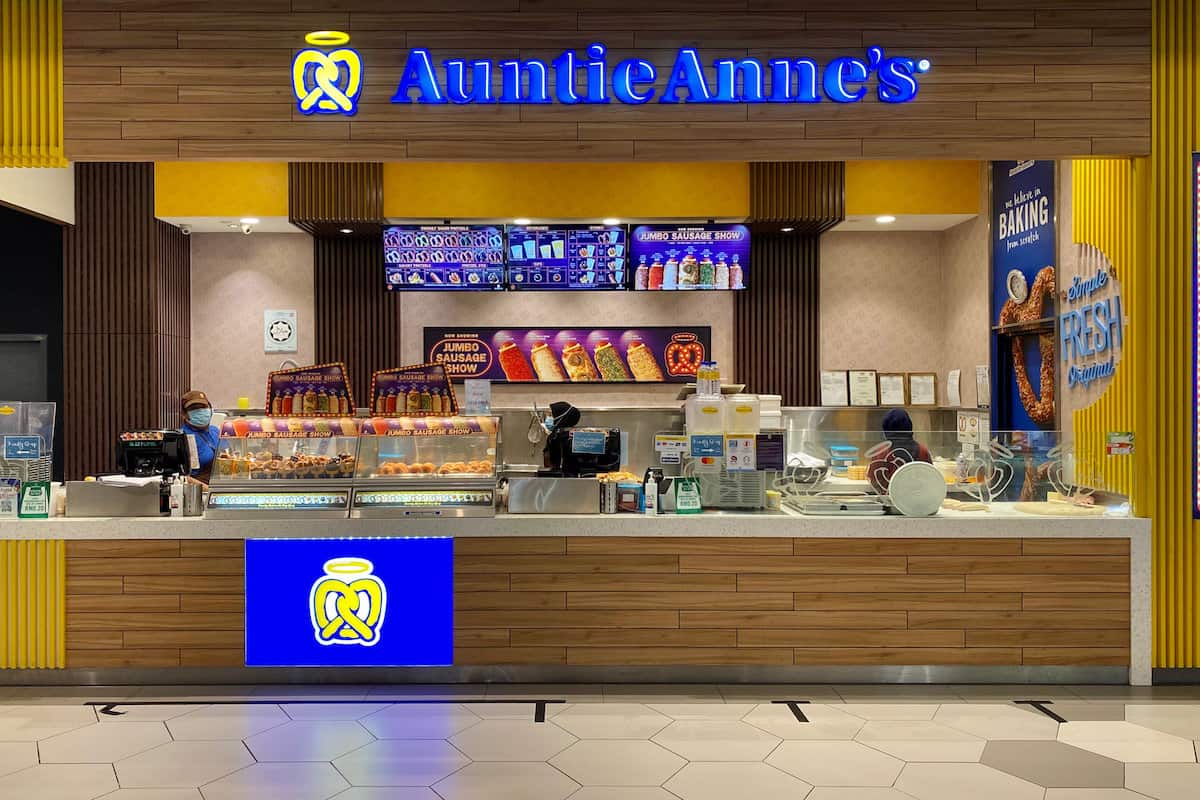 Auntie Anne's has been making delicious pretzels since 1988, winning the hearts of many people at shopping malls and airports. What started as an effort to give back to the community turned into the largest soft-baked pretzel franchise. If you're like me and pretzels speak your snacking love language, here are nine things you should know about Auntie Anne's.
1. Auntie Anne's Is the Most Popular Pretzel Chain in America
This is what pretzel dreams are made of!!! pic.twitter.com/XpGwGCFP8G

— Auntie Anne's (@AuntieAnnes) October 7, 2023
Auntie Anne's is best known for its freshly baked soft pretzels. What makes their pretzels so good is that they're made fresh when you order them. Their soft pretzels come in eight different flavors, and there are also a variety of Pretzel Nuggets and Pretzel Dogs on the menu.
Just before your pretzel goes into the oven, it's brushed with hot water and baking soda solution to create that signature crust. It's glazed with butter after baking for that delicious flavor we all know and love!
2. Auntie Anne's Menu Includes Pretzels, Drinks, and Dips
You know what would make this day better? A fresh, hand-rolled soft pretzel. #ThursdayThoughts pic.twitter.com/d6XAPYySSq

— Auntie Anne's (@AuntieAnnes) November 17, 2016
Auntie Anne's menu has Soft Pretzels, Pretzel Nuggets, Pretzel Dogs, and a selection of dips and drinks for a complete snack experience. They even offer suggestions for the ideal dip combinations with each pretzel. 
If you need to feed a hungry group, their Pretzel Buckets and Snack Packs come pretty handy at affordable prices.
When it comes to drinks, their Original Lemonade is a fan favorite, but you can also order Lemonade Mixers and Frozen Lemonade.
3. Their Original Pretzel Is What Started It All
Let us hear your #TuesdayThoughts… bite right into an Original Pretzel or tear off a piece with your hands? What's your go-to method? pic.twitter.com/l9xCGWyeAR

— Auntie Anne's (@AuntieAnnes) August 15, 2017
Auntie Anne's Original Pretzel is where the franchise began. The idea started when the founder, Anne F. Beiler, baked pretzels to sell at a local farmer's market.
In an effort to help fund her husband's dream of providing free family counseling services, "Auntie" Anne developed the perfect pretzel recipe and accidentally stumbled into the beginning of what would become the largest soft pretzel franchise in the US.
To this day, their Original Soft Pretzels are still made with only five ingredients but can be topped with your favorite flavor.
4. The Roasted Garlic & Parmesan Pretzel Entices All Senses
Have you tried our Roasted Garlic Parmesan Pretzels with Marinara Dip?

— Auntie Anne's (@AuntieAnnes) October 21, 2018
The fresh-baked smell of Auntie Anne's pretzel is already irresistible, but what happens when you add roasted garlic and parmesan cheese?
Well, you get the Roasted Garlic & Parmesan Pretzel, a savory snack that entices your nose as much as your taste buds. Pair it with the Marinara Dip and a cold Coca-Cola for the ultimate lunchtime experience!
5. Auntie Anne's is "the Pretzel Place" in Shopping Malls
IS IT EVEN A MALL TRIP WITHOUT AUNTIE ANNE'S???? pic.twitter.com/i9gVyfAaX8

— Auntie Anne's (@AuntieAnnes) July 6, 2021
Although it wasn't initially intended for shopping malls, that's primarily where Auntie Anne's locations opened after the chain was founded over 30 years ago. Foot traffic was a desirable aspect for business, and malls were a great place for it. You can also find them at many airports, which are ideal for foot traffic and snacking.
6. Auntie Anne's Frozen Pretzels Let You Get Your Pretzel Fix at Home
Check the frozen aisle at your local grocery store for something that could hold you over. pic.twitter.com/TtsH0py66T

— Auntie Anne's (@AuntieAnnes) April 9, 2020
When you're craving a pretzel from Auntie Anne's but can't make it to one of their locations, you can rely on their frozen pretzels. Most grocery stores carry them in the frozen foods aisle.
They're pretty easy to cook in a conventional oven or a microwave. When the pretzels are cooking, heat the frozen butter that comes in each packet and brush it on your pretzel, and sprinkle some salt – that's it!
7. For a Freshly Baked Auntie Anne's Pretzel, Look No Further Than Your Local Walmart
We have been expanding beyond malls for several years, and are already in many Walmarts throughout the country. We'll let our expansion team know that Oklahoma City needs more Auntie Anne's! Thank you! 🥨💙🥨

— Auntie Anne's (@AuntieAnnes) February 9, 2020
Although Walmart doesn't carry Auntie Anne's frozen pretzels, some of their stores have an Auntie Anne's restaurant inside that serves fresh pretzels. So craving a pretzel while grocery shopping? No problem!
8. To Make Auntie Anne's Pretzels Vegan, Just Hold the Butter!
Any of our pretzels can be made vegan-friendly if you order them without butter.

— Auntie Anne's (@AuntieAnnes) January 10, 2020
While Auntie Anne's believes in the delicious finish of a butter glaze on a hot pretzel, you can make yours vegan by ordering it without butter. The rest of the ingredients are all vegan-friendly.
9. Celebrate National Pretzel Day With a Free Pretzel From Auntie Anne's
By a show of hands, who has the Pretzel Perks app downloaded?

— Auntie Anne's (@AuntieAnnes) February 25, 2021
In case you haven't heard of National Pretzel Day, it's on April 26, and Auntie Anne's is where you'll want to go to get a free pretzel. All you have to do is be a Pretzel Perks app user to receive a free Original or Cinnamon Sugar Pretzel.