How Shipt Membership Works and How Much It Costs (Is It Worth It?)
Shipt is a same-day delivery service available throughout the US. While you don't need a membership to get delivery through Shipt, it may save you money if you plan to use it regularly.
Key Takeaways
Shipt membership costs $10.99 per month or $99 per year and renews automatically until you decide to cancel it.
Shipt members get unlimited free delivery for orders over $35 and reduced service fees.
Shipt membership is worth it if you get delivery through Shipt at least twice a month and your orders are $35 or more.
In this article, we'll cover the details of Shipt membership to help you decide if it is right for you.
What Is Shipt Membership?
Shipt membership is an optional way to use Shipt's services and get delivery from various retailers, including Target, CVS, Costco, Kroger, Petco, and more.
Shipt members pay an annual or monthly fee to receive unlimited free delivery on orders over $35.
The monthly membership costs $10.99, and the annual membership is $99.
Even if you're a member, additional delivery fees will apply if your order is less than $35.
For those interested in Shipt services occasionally, one-time delivery is also available at a flat-rate fee.
No minimum order is required for a one-time delivery without membership.
Below is a summary of the pros and cons of Shipt membership:
| | |
| --- | --- |
| Pros | Cons |
| Free delivery on orders over $35 | Upfront yearly or monthly cost |
| Exclusive offers in the app from participating retailers | Order minimum required to receive free delivery |
| Reduced delivery fee on orders under $35 | |
| Reduced service fees | |
Shipt Membership Pros & Cons
When you place an order through Shipt, a personal shopper will accept your order and go to your selected store to shop and deliver it.
You can make special requests and communicate with your shopper in real-time as they are shopping.
Your order can be delivered to you in as little as 1 hour.
What Are the Benefits of Shipt Membership?
There are many benefits to Shipt membership, but the most significant benefit is the unlimited free delivery for orders over $35.
If you are already a frequent Shipt user or planning to be one, the membership can save you money.
Members can also rate and set preferences for their favorite shoppers.
Unlimited free delivery means you don't need to stress remembering everything on your list to make the most out of that delivery fee.
If you forgot something or your plans have changed, you could make more frequent orders without additional delivery fees if you meet the $35 order minimum.
If you like having more control over who shops your orders, then membership will also be a benefit.
After every order, you will have the opportunity to rate your shopper, provide feedback on their service, and add them to your "favorites" list.
That shopper will likely be matched up with your order again in the future.
In addition, they will start to get to know your preferences for better overall service.
The personalized service of Shipt shopping is impressive compared to drive-up or pickup ordering services.
Your shopper will communicate throughout the fulfillment process and can accommodate last-minute special requests or additions to your order.
Introducing Preferred Shoppers, or as we like to call this new membership feature: a match made in same-day delivery heaven. ☁️ 🛒 Learn more: https://t.co/iFNbdUuYhf. pic.twitter.com/wAmn2dWuud

— Shipt (@Shipt) August 24, 2021
How Much Does Shipt Membership Cost?
Shipt membership costs $99 per year or $10.99 per month and allows you to get free delivery for orders over $35.
You'll save up to $32 per year by choosing the yearly membership over the monthly option.
Additional fees may still apply to your orders, and a $7 delivery fee will be charged for member orders under $35.
Examples of additional fees are applicable taxes, service fees, or an alcohol fee for orders that contain alcohol.
One-time ordering, also called pay-per-order, is available without membership for a flat delivery fee of $10.
Costs for membership can vary by region and may change.
Shipt may also, on occasion, offer discounted rates on membership.
Once you sign up for an account, the most accurate pricing for your location will be available.
Whether you're a member or not, there are additional costs to be aware of with a service such as Shipt.
Item prices may be more on Shipt than in the store, which helps account for the cost of the platform.
In addition, don't forget to factor in a 15-20% tip for your shopper in your overall costs.
Tipping is not required but is always appreciated by shoppers.
Shipt membership fees and one-time delivery fees vary by market. All orders with alcohol may incur a $7 alcohol fee regardless of the order total and if you have any orders over $35 you won't be charged a delivery fee. We can talk through the membership options in the DM. 🙂

— Shipt (@Shipt) March 9, 2022
How to Get a Free Shipt Membership
In 2021, Shipt announced a partnership with Visa to offer free Shipt membership to Visa credit cardholders in the US.
Depending on the credit card level, Visa customers can get up to 3 years of free Shipt membership.
New Shipt members will need to sign up for an account using their Visa credit card to receive the following benefits:
Visa Infinite credit cardholders—Free membership for up to 3 years
Visa Signature credit cardholders—Free membership for 3 months, then 50% discounted membership for 9 months
All other Visa credit cardholders—Free membership for 1 month, then 50% off the monthly membership price
If you already have a Shipt account, you are also eligible at the time of renewal to get free membership benefits with your Visa card.
In this case, the following benefits will apply with an eligible Visa card:
Visa Infinite credit cardholders—a free extension of membership for up to 3 years
Visa Signature cred cardholders—a free 6-month extension of membership
All other Visa credit cardholders—a free 3-month extension of membership
After the benefit period expires, your membership will continue to renew based on the current prices.
Can You Use Shipt Without a Membership?
Membership is not required to get delivery through Shipt. For those that aren't quite ready to commit, Shipt has the option to pay per order for delivery.
The typical fee is $10 per delivery, but this can vary based on your location and promotions.
Shipt Passes were previously an option for non-members to save on delivery fees, but as of February 2022, they are no longer offered.
What Stores Does Shipt Deliver From?
Shipt delivers from over 120 different retailers nationwide. To check what store delivery is available in your area, visit the Shipt store locator page.
Shipt doesn't deliver just groceries but many other essentials on your list, from drug stores, pet supplies, office supplies, and other home goods stores.
The stores Shipt delivers from include:
Bed Bath and Beyond
Costco
CVS
Kroger
Office Depot
Petco
Publix
Meijer
Target
Walgreen's
7-Eleven
H-E-B
Once again, store availability for delivery will depend on your location, so check the website to find out what stores are available in your area.
Can You Gift a Shipt Membership?
Shipt has the option to gift a membership to a friend or family member. You can choose from a 12-month membership for $99 or a 6-month membership gift for $49.
Visit Shipt's gifting website to get started in purchasing a gift membership.
The gift code can be delivered to your own email to present however you choose or sent directly to the recipient via email.
After the gift period has lapsed on the membership, the recipient may choose to continue their membership, or the membership will end without any further action.
To order a gift membership, follow these steps:
Step 1. On the Shipt gifting website, choose which option you'd like.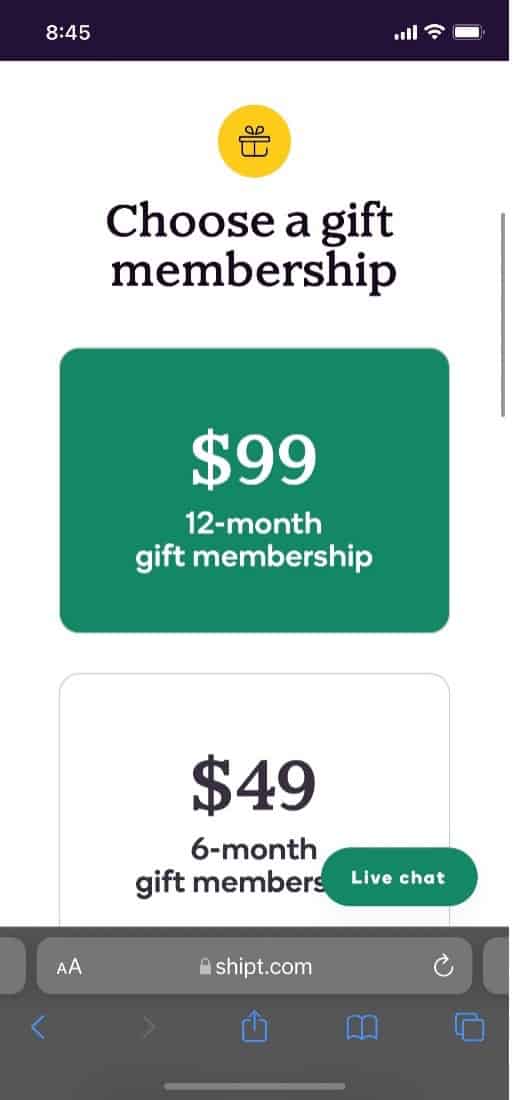 Step 2. Scroll down the page to choose a delivery option – you can get the code yourself or send it directly to the recipient.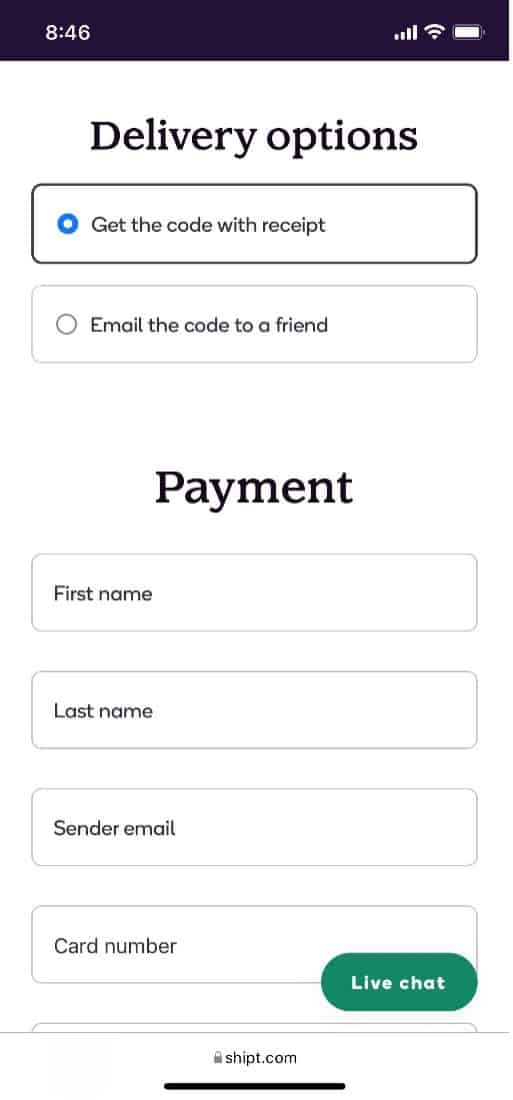 Step 3. If you choose "Email the code to a friend," additional fields will be available for the recipient's delivery information. Write a personal note that will accompany the email.
Step 4. With either option, continue filling out the next fields with your contact information and credit card payment.
Step 5. Click "Purchase" to complete the transaction.
Step 6. The gift code will be automatically sent to your email or the recipient's email for redemption.
How to Renew a Shipt Membership
Your Shipt membership will automatically renew at the time of its expiration. The payment method saved in your account will be charged at the time of renewal unless canceled.
You may view the details of your renewal date and payment details in the profile section of your account.
If you wish to continue your membership, no action steps are needed to renew the membership.
You will receive an email on the renewal date as a notice that the renewal payment has been processed.
Good morning! You can cancel your membership at any time by reviewing your subscription through your Shipt account. 💜

— Shipt (@Shipt) June 24, 2021
How to Cancel Shipt Membership
A Shipt membership can be canceled at any time. However, you must cancel before your auto-renewal date to avoid additional charges.
To view details on your membership renewal date and cancel your membership, follow these steps using the app:
Step 1. Navigate to the profile section of the app.
Step 2. Click the Shipt Membership plan.
Step 3. On this page, you can view your membership auto-renewal date.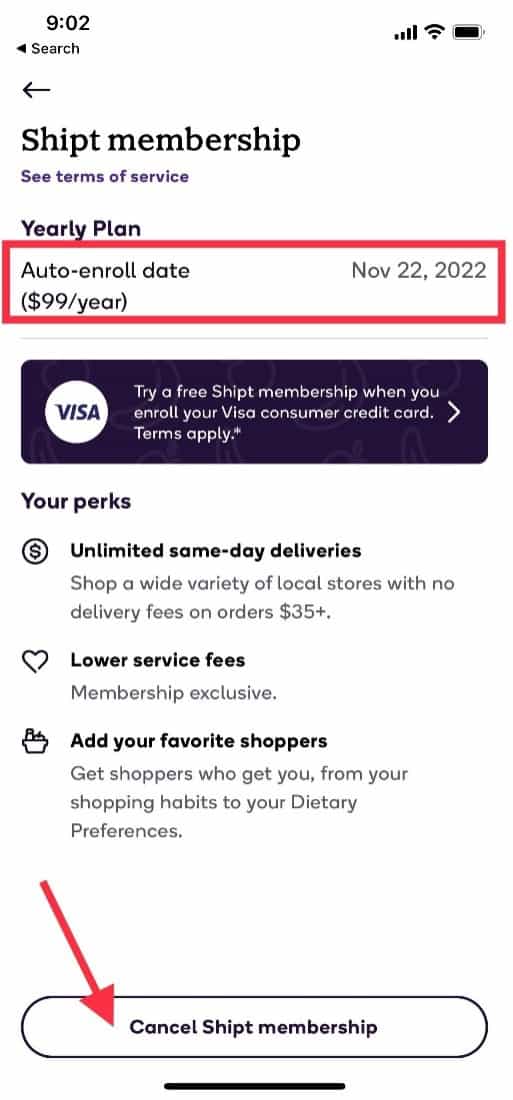 Step 4. At the bottom of the page, click "Cancel Shipt Membership."
When you cancel your Shipt membership, it will be void at that time, and the rest of your paid membership period will not continue.
If you cancel within one month of your yearly membership subscription, you will get a full refund for the membership cost.
After that time, no refunds will be provided.
In addition, if your membership is monthly and you cancel it, you will not receive a refund for the monthly fee.
Is Shipt Membership Worth It?
Shipt membership is worth it if you plan to get delivery through Shipt at least twice a month and your orders are $35 or more.
If you envision using Shipt only on occasion or wouldn't often meet the $35 minimum, you may be better off paying delivery fees per order.
Based on a $10 pay-per-order delivery fee, the annual Shipt membership will pay for itself after 10 deliveries in the year.
After that point, you will be saving money with every delivery if you meet the $35 order minimum.
The monthly membership is a flexible option if you don't want to commit to a full-year membership, but it also costs more.
With the monthly membership, if you order at least two deliveries a month, you will save on delivery costs.
Conclusion
Shipt membership is a good investment if you plan on using Shipt on a regular basis. You will save on delivery costs and get other membership perks and deals.
If you're looking for more information about Shipt, check out the articles below.
Related Articles:
Do You Tip Shipt Shoppers? (Yes, Here's How Much)
Does Shipt Have Pickup? (Yes, Here's How It Works)
How to Get Target Same Day Grocery Delivery Through Shipt
How to Contact Shipt Customer Service (By Phone, Chat, and More)
Shipt vs. Instacart: Which Is Better? (Cost and Service Comparison)