How to Contact Shipt Customer Service (By Phone, Chat, and More)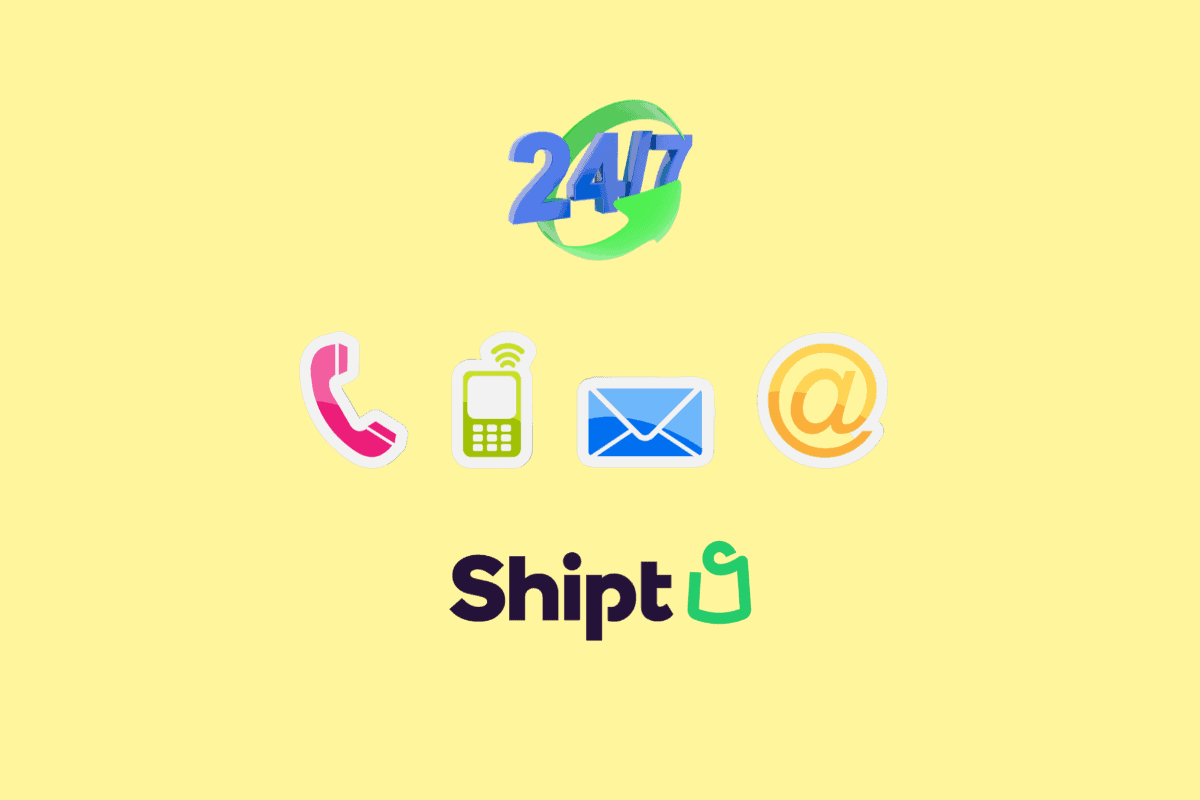 While Shipt is a reliable delivery service, sometimes issues can happen. If you're facing a problem and need support, you may need to contact Shipt customer service.
You can contact Shipt customer service by phone, chat, email, and social media. Shipt customer service phone number is (205) 502-2500, and representatives are available 24/7. In addition, Shipt has a Help Center that answers the most common questions. The best way to contact Shipt customer service is through live chat.
In this article, we'll go through how to contact Shipt customer service using each available method.
How Can I Talk to Someone at Shipt?
You can talk to someone at Shipt by calling the Shipt customer service number at (205) 502-2500. Shipt customer service can be contacted by phone 24 hours, seven days a week.
If you need help with an order or are having trouble using the Shipt app or website, you'll want to get help as soon as possible. A quick way to do this is by calling them.
When you call the Shipt customer service number, you will be directed to a phone menu.
From there, you can navigate through it by selecting the options relating to your situation.
Then, you'll be connected to a customer representative who can best help you.
You can use this number for many purposes to contact Shipt directly, including questions about your order or membership.
Shipt shoppers can also call this number to get support from customer service.
However, if you're having trouble calling this number or it's taking too long to get connected with a customer service representative, you have other options.
You can also contact Shipt customer service via live chat, email, or social media, which we'll explain next.
We're always here to help! 💜

— Shipt (@Shipt) January 10, 2021
Does Shipt Customer Service Have Chat?
Shipt has live chat available through its website, where you can contact customer service to talk to them in real time. This feature isn't available through the app; however, you can use it on Shipt's mobile website. In addition, you can use the live chat feature to talk to a Shipt customer service representative 24/7.
Besides calling, you can also use Shipt's live chat feature to talk to a customer service representative 24 hours, seven days a week.
Here's how to use Shipt's live chat to contact their customer service.
Step 1. Go to shipt.com and find the green speech bubble icon in the bottom-right corner.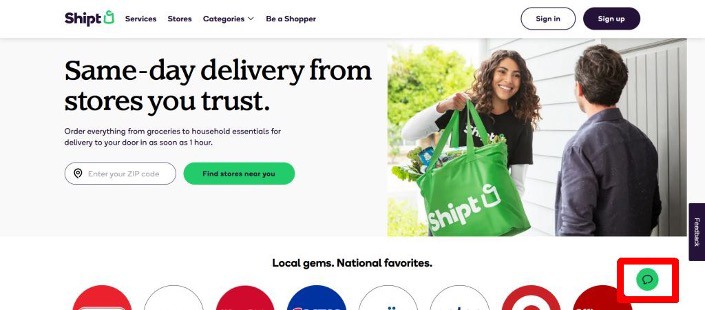 Step 2. After clicking on it, you'll need to enter your email and name. Then, choose whether you need to talk to "Member Support" for members or "Shopper Support" for shoppers.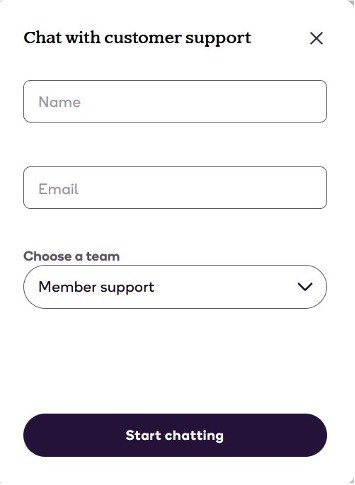 Step 3. Click on the "Start Chatting" button, and you'll be connected to an agent. You can type in the text box to explain your issue or question.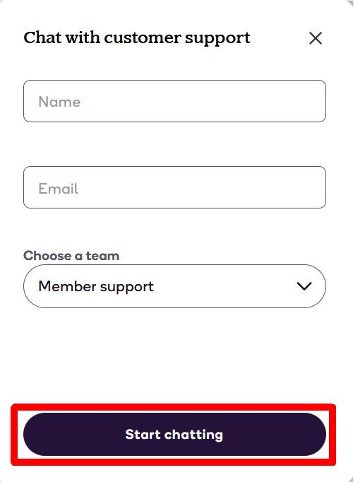 Step 4. If you want to end the chat, click on the red "End Chat" button in the top right corner of the chat box.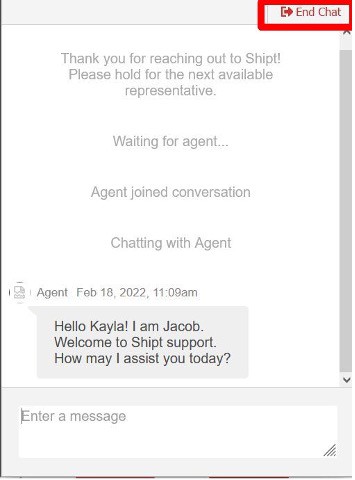 You can access live chat through Shipt's mobile website using the same steps above as well.
Can I Contact Shipt on Social Media?
Shipt is active on its Twitter page to answer questions, so you can contact them to ask a question or resolve an issue. In addition, you can contact Shipt through Instagram, Facebook, and Pinterest.
You can find plenty of food-related content on Shipt's social media pages, and you can also use social media to contact them with questions or concerns.
You can chat with them through instant messaging on their active platforms and speak with a Shipt representative.
Here are the social media accounts Shipt actively uses:
Twitter – @Shipt
Facebook – @Shipt
Instagram – @Shipt
Pinterest – @Shipt
What Is Shipt Customer Service Email?
If you prefer to contact Shipt via email, they also have a customer service email address at [email protected]. You can expect to get a response from customer service to your email within 24 hours.
You can also use the contact form on their website to send them a message via email, and they will respond to you with the email address you entered on the form.
This is a good option if you have a question or concern that doesn't need an immediate response.
You can use the contact form to enter your name and email and explain your issue in the text box.
Alternatively, you can go to your inbox and write an email to them using their support email address listed above.
A Shipt customer service representative should get back to you within the next 24 hours. In the meantime, you can try looking through Shipt's help center.
Hello! Here is a link to our help center that explains prices. 💜 https://t.co/ar3CkSeX00

— Shipt (@Shipt) March 27, 2021
How to Use Shipt Help Center
Shipt has a library of content called the Ship Help Center to help resolve common customer service issues. You can get to the help center by going to help.shipt.com. From here, you can navigate to popular FAQs on certain topics, including Shipt shopper applicant questions.
When you click on an FAQ topic, you can click on the questions listed to open a dropdown that answers the question.
You can also type your question into the text box under How can we help? to find related articles.
Shipt's help center pages have tons of useful information to help you through the issues you may be facing.
Here is a list of topics covered in the help center:
How Shipt works
Account
Ordering Delivery
Pricing
Payments
Applying to be a shopper
Being a shopper
You can use the yellow navigation bar in the center of the page to click back to the main help center page at any time.
If the articles don't help resolve your issue, you can also find links to their customer service team at the bottom of each page.
From here, you can click on "Chat with Us" to get immediate assistance through live chat or use the "Contact Us" link to fill out their contact form.
For each article, you can also give feedback if the article was helpful with a thumbs up or down. This can help Shipt improve their help center information.
The app will limit requests when it gets closer to the delivery time! We can contact the shopper for you! Just send us a DM!

— Shipt (@Shipt) January 24, 2017
Can I Contact My Shipt Shopper?
You will only be able to contact your Shipt shopper if they reach out to you first. If they do, you'll see a number listed that you can use to call them. If they don't reach out to you, you'll have to contact Shipt customer service so they can assist you with your order.
If you have a concern with your order that your shopper needs to know about, you'll want to be able to contact them quickly.
To get immediate assistance with an order, it's best to use live chat or call the Shipt customer service number. However, live chat is the fastest way to get help.
The best way to get your shopper to contact you first is to set your substitution instructions as "Contact me so I can choose."
This way, if an item you want is out of stock, they will reach out to you.
What Is the Best Way to Contact Shipt?
To get the fastest response time and have your issue handled swiftly, the best option for contacting Shipt is through live chat. The next best option is calling customer service. You'll get connected relatively quickly, and it may be easier to explain issues over the phone.
Live chat and calling customer service are the best ways to contact Shipt, as you will get a speedy response, and your issue will be dealt with by customer service right away.
Using the contact form or email can take up to 24 hours to get a response, and contacting them through social media can take 1-2 hours.
If you need a response immediately for issues such as orders taking too long or correcting a mistake in your order, live chat or a phone call should be your first choice.
Conclusion
It is quick and easy to connect with Shipt's customer service. You can get in touch with them in less than a few minutes to have your issues handled through live chat or phone. You also have the option of connecting with them through email or social media.
If you're interested in learning more tips about Shipt, check out the related articles below.
Related Articles:
How to Get Target Same Day Grocery Delivery Through Shipt
Do You Tip Shipt Shoppers? (Yes, Here's How Much)
Does Shipt Have Pickup? (Yes, Here's How It Works)
Shipt vs. Instacart: Which Is Better? (Cost and Service Comparison)