What Is Gopuff and How Does It Work?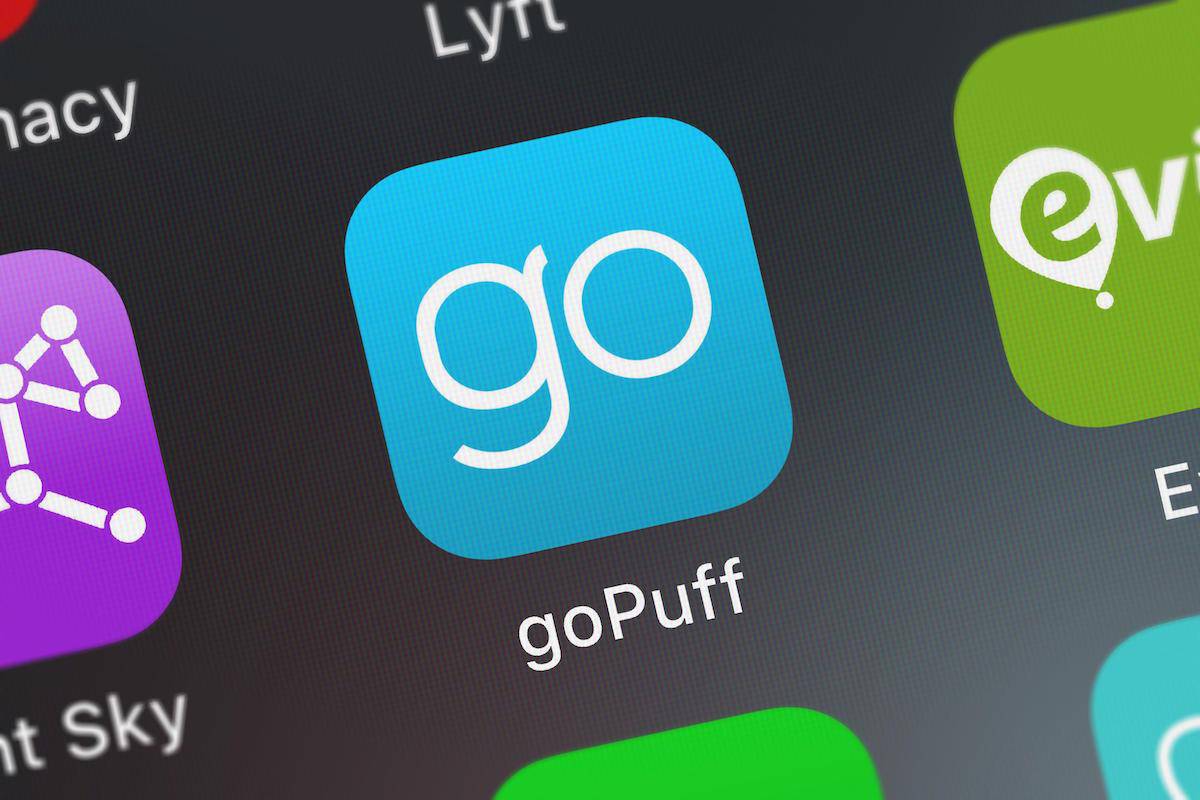 "Daily essentials delivered in minutes" is the tagline for Gopuff. Gopuff is different from other delivery services because they are available 24 hours a day in many markets and deliver what you need from its own distribution centers when you need it.
Key Takeaways
Gopuff offers delivery from its hundreds of distribution centers across the US.
You can get groceries, alcohol, pharmacy items, and daily essentials delivered through Gopuff in as little as 30 minutes for $2.95.
Tipping Gopuff drivers 15-20% is recommended, and 100% of the tip goes to your driver.
Keep reading for more information about this unique delivery service, including how it works, how much it costs, and how to order.
What Is Gopuff?
Gopuff is a delivery service that operates 24/7 in many cities or is open late everywhere else. You can get delivery as quickly as 30 minutes for $2.95. In addition, you can become a member of Gopuff Fam to get unlimited free delivery for $5.95 per month.
Gopuff doesn't deliver from any retail stores but instead has its own micro fulfillment centers with thousands of items available.
You can get groceries, pharmacy items, diapers, pet food, and much more delivered through Gopuff in a pinch!
Because Gopuff isn't shopping at local stores for your order, delivery can be much quicker than a traditional delivery or courier service.
It also allows the late service hours to place your order.
Where Is Gopuff Available?
Gopuff delivers in over 1,000 cities in the US, UK, and France.
However, the delivery may only be available to certain zip codes within larger metropolitan areas.
You can check if delivery is available in your area via their website or the app.
If your city is not on the list, you can send a request to the Gopuff team by tweeting @gopuff to come to your area.
The service is expanding and building new facilities in many different locations, so chances are Gopuff may be available in your area soon.
How Does Gopuff Work?
After confirming delivery is available at your location, you can place a Gopuff order on their website or the app.
The estimated delivery time varies, but it could be as little as 30 minutes.
In addition, order minimums vary by location, but $10.95 is the average order minimum on Gopuff.
After your order has been placed, a Gopuff team member will fulfill your order at one of their distribution centers and start driving to your location.
You will receive text updates on the status of your order as you wait.
Many elements of Gopuff's service depend on the location.
Available items for delivery will be displayed once you enter your delivery address.
Throughout the ordering process, you will also be able to confirm the minimum order total, delivery time, delivery fee, and any added costs that may apply to your order.
is right! @blakeir we deliver snacks, groceries, alcohol, essentials and more to your door in 30 minutes 24/7!

— Gopuff (@gopuff) November 22, 2016
How Much Does Gopuff Cost?
The Gopuff app is free to download, and delivery fees start at $2.95 with a minimum order.
Gopuff Fam is a membership option that costs $5.95 per month, and you can get unlimited free delivery if you signup.
Keep in mind there may be additional fees for orders, including alcohol or tobacco products.
Gopuff has a simple cost structure, unlike some delivery apps or services.
Once you reach the order minimum on Gopuff, the delivery fee does not change based on your order.
There are no higher delivery fees if you don't meet the minimum; however, you cannot place an order unless the minimum is met.
The Gopuff Fam membership gets you unlimited deliveries for $5.95 per month.
So, if you get more than two deliveries per month, the membership will save you money.
In addition, Gopuff Fam members get extra loyalty points and waived fees on regulated products such as alcohol or tobacco.
How to Use Gopuff
The easiest way to order Gopuff is through their app, available on iOS or Android. You can make item selections, enter payment, and track the status of your order in the app.
To get started, follow these steps:
Step 1. Download the Gopuff app in the App Store or Google Play.
Step 2. If needed, create an account or sign in to the app.
Step 3. Using the top address bar, type in your delivery address. After that, the delivery options and delivery timing for your address will be displayed.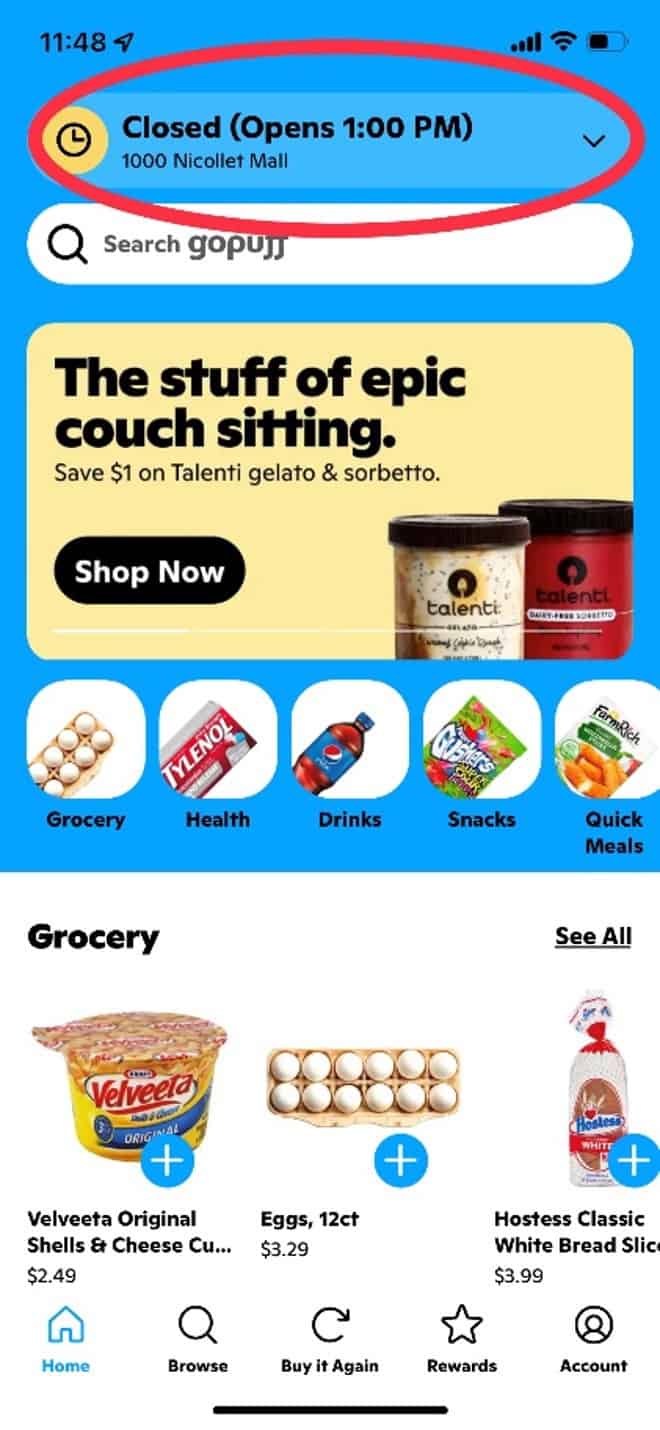 Step 4. You can shop by browsing categories or using the search bar to look for specific items. The search feature is the most efficient if you know what you'd like.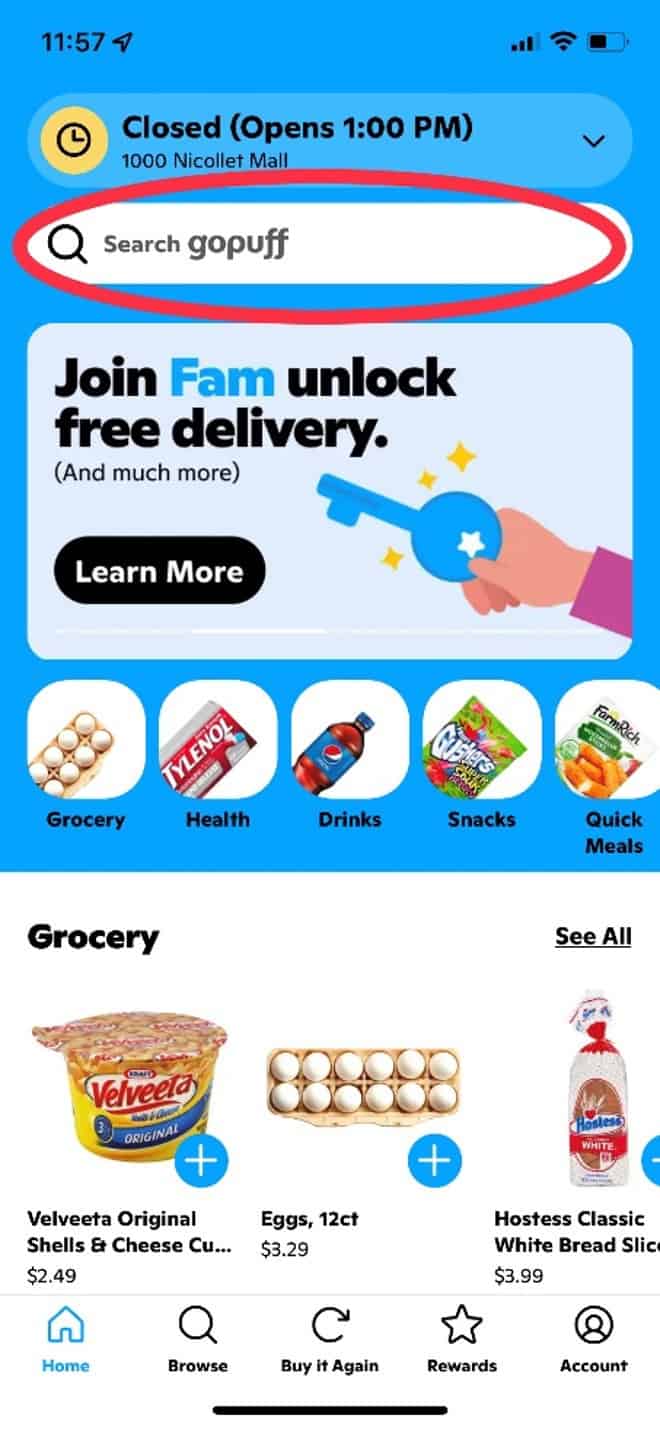 Step 5. Use the blue "plus" button to quickly add items to your cart as you're shopping.
Step 6. Click the "My Bag" bar when you're ready to checkout.
Step 7. You will be able to view your bag here, and don't forget about the order minimums. Then, if you're ready, click "Checkout."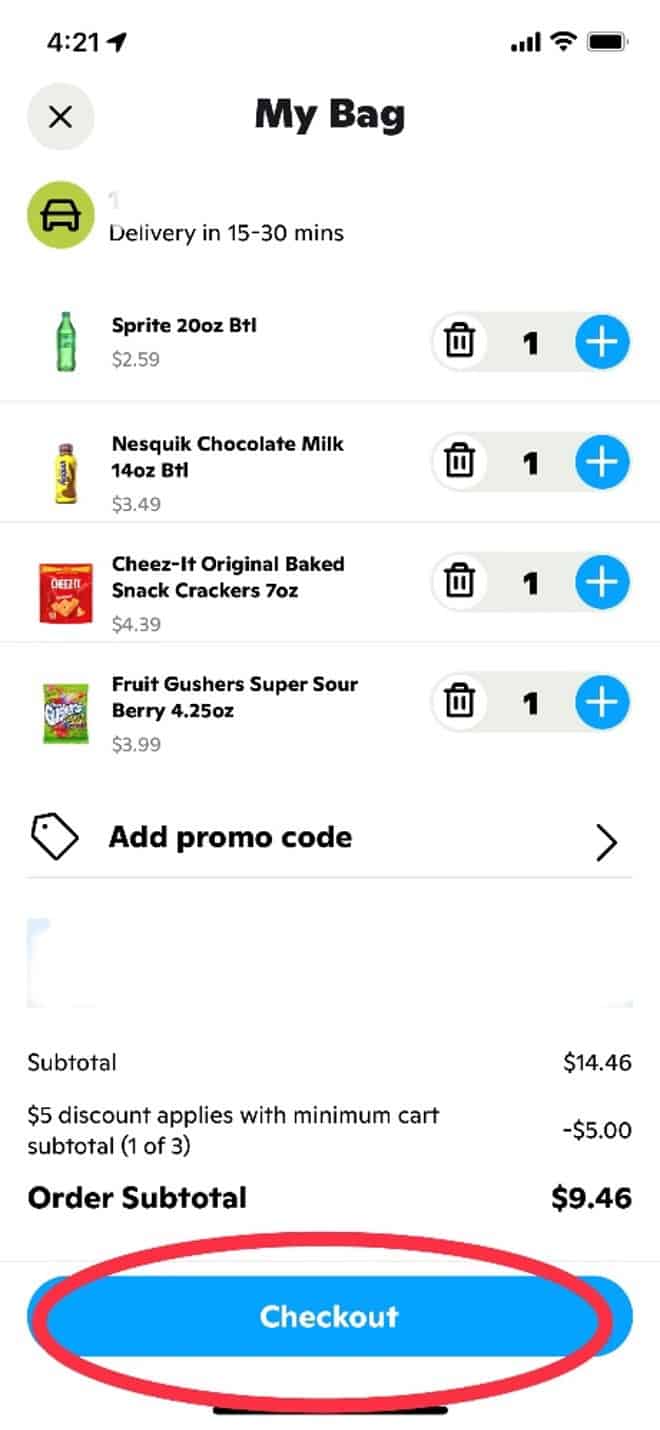 Step 8. In the next step, you can add your payment method and a tip for your driver.
Step 9. Now, click "Place Order" at the bottom to complete the order.
Do You Tip Gopuff Drivers?
Tipping is not required but is appreciated by Gopuff drivers. Tipping 15-20% of your order total is recommended, especially if you receive excellent customer service. 100% of your tip goes directly to your driver.
A tip for your driver may be added at the time of checkout on the app or website.
You can also wait to add a tip until your delivery has been completed.
You will likely be prompted by the app the next time you open it as a reminder.
Finally, tipping your Gopuff driver in cash at the time of delivery is also an option.
Our drivers receive 100% of their tips! Feel free to DM us if you have any questions! We'd be happy to help!

— Gopuff (@gopuff) April 8, 2019
Does Gopuff Have Discount Codes?
Gopuff discount codes may be available on your first order as referral rewards or through other loyalty discounts from Gopuff.
Gopuff discounts can easily be earned in the form of Puff Points. 
You will earn Puff Points with every order and can redeem your points for free products and discounts.
Referring friends or family will also earn you a $10 discount reward on your next order once your friend has placed their first order.
The recipient will also get $10 off with their first order.
You can create a referral using a shareable link, Snapchat, or QR code.
You can visit the referrals section of your account to try out these options.
Your Gopuff rewards and discounts may be automatically applied to your cart without further action.
Otherwise, you can manually add a discount code at checkout to apply to your order.
Unfortunately, discounts are typically not available for orders that include alcohol due to state and local regulatory compliance.
Does Gopuff Have Gift Cards?
You can purchase Gopuff gift cards to send to family and friends. The recipient will need to have an account on Gopuff and be in a delivery area to redeem the gift card.
To order a Gopuff gift card, simply search for gift cards in the app like any other product.
Add it to your cart and enter the recipient information when you check out.
The gift card will then be delivered via email.
In addition, Gopuff also accepts credit and debit cards, Apple Pay, Google Pay, and Venmo as payment methods.
How to Contact Gopuff Customer Service
Gopuff customer service is available by phone, live chat, and various social media outlets.
You can use whichever method is most convenient or appropriate for your issue.
The Gopuff customer service team can be reached by phone at 1-855-400-7833.
You can also access the live chat option in the Help Center. 
Look for the chatbox icon in the bottom right corner and click it to start a chat.
Finally, Gopuff is active on many social media platforms, including Instagram, Twitter, and Facebook.
If you want to make requests for products or delivery locations, use Twitter and tweet @gopuff for the most effective response.
However, if you have an issue with your order or want to request a refund, calling or chatting with Gopuff customer service is the best option.
If a refund is needed, the correct amount will be returned to your payment method typically within 3-5 business days.
Conclusion
Gopuff brings the 24-hour convenience store to you when you need it the most. With an affordable delivery cost, Gopuff can be a great option to get the essentials delivered any time throughout the day.
For more information on delivery services, check out the articles below.