How to Contact Gopuff Customer Service (By Phone, Chat, and More)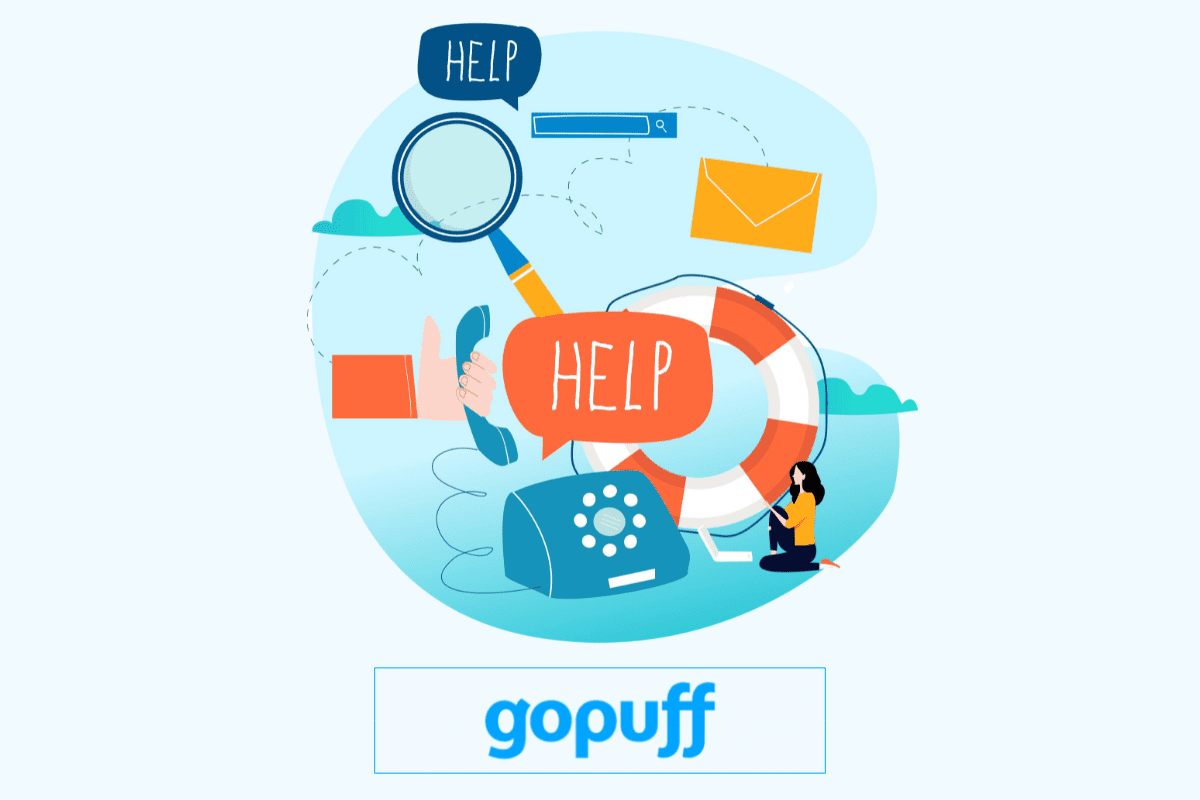 Gopuff customer service is available 24/7 to help with your orders. While we hope nothing goes wrong with your order, being able to reach the customer service team at all times makes a difference.
Key Takeaways
You can call the Gopuff customer service number at (855) 400-7822 and speak to an agent 24 hours, 7 days a week.
In addition, you can contact Gopuff customer service via live chat, social media, or email.
Calling the customer service number and using live chat are the most effective ways of contacting Gopuff customer support.
In this article, we'll cover all the different ways of contacting Gopuff customer service to get help with an order or any question about Gopuff.
What Is the Gopuff Customer Service Number?
You can speak to someone at Gopuff by calling the Gopuff customer service number 1-855-400-7833 (PUFF).
You can call Gopuff customer service 24 hours and 7 days a week about any question or issue.
Gopuff customer service team can help with an issue related to the app, your order, delivery driver, or simply answer any questions about the service.
If you have trouble placing your order, the team can also help troubleshoot.
While a customer service agent cannot place an order over the phone for you, they can walk you through the ordering process if needed.
If you have trouble with your Gopuff order after it has been placed, it is best to call the customer service line.
A few examples of when you can contact Gopuff customer service include:
Change or cancel an order after it was placed
Items are missing or incorrect from your order
Items are damaged
Delivery is running late
Like Gopuff delivery itself, the Gopuff customer service hours are 24/7.
So, a customer service agent should always be available to talk to you over the phone.
While wait times can vary, in our experience, you can get connected with an agent within a few minutes.
The initial answering of Gopuff customer services calls is an automated system to determine the nature of your call.
You will first need to make several selections from the automated menu regarding what type of help you need.
From there, you should get connected to a live agent for help.
Does Gopuff Customer Service Have Chat?
Gopuff customer service has live chat that is available 24/7.
Live chat can be a convenient option if you prefer not to use the phone.
Live chat can be found in the help center of the Gopuff website.
If you are using the Gopuff app, selecting the help center under the account section will navigate you to the same website.
In our experience, you will get connected to a customer service agent with a short wait time.
You will first make a few selections from an automated system regarding your question or concern before starting a live chat session with an agent.
Available options for live chat assistance include:
Account
App Issue
Order Cancellation
Order Problem
Promotional Questions
To use Gopuff live chat on the app, you can follow these steps:
Step 1. Navigate to the help center using the account section of the app.
Step 2. Click the blue circle in the bottom right corner of the screen with a chat bubble icon.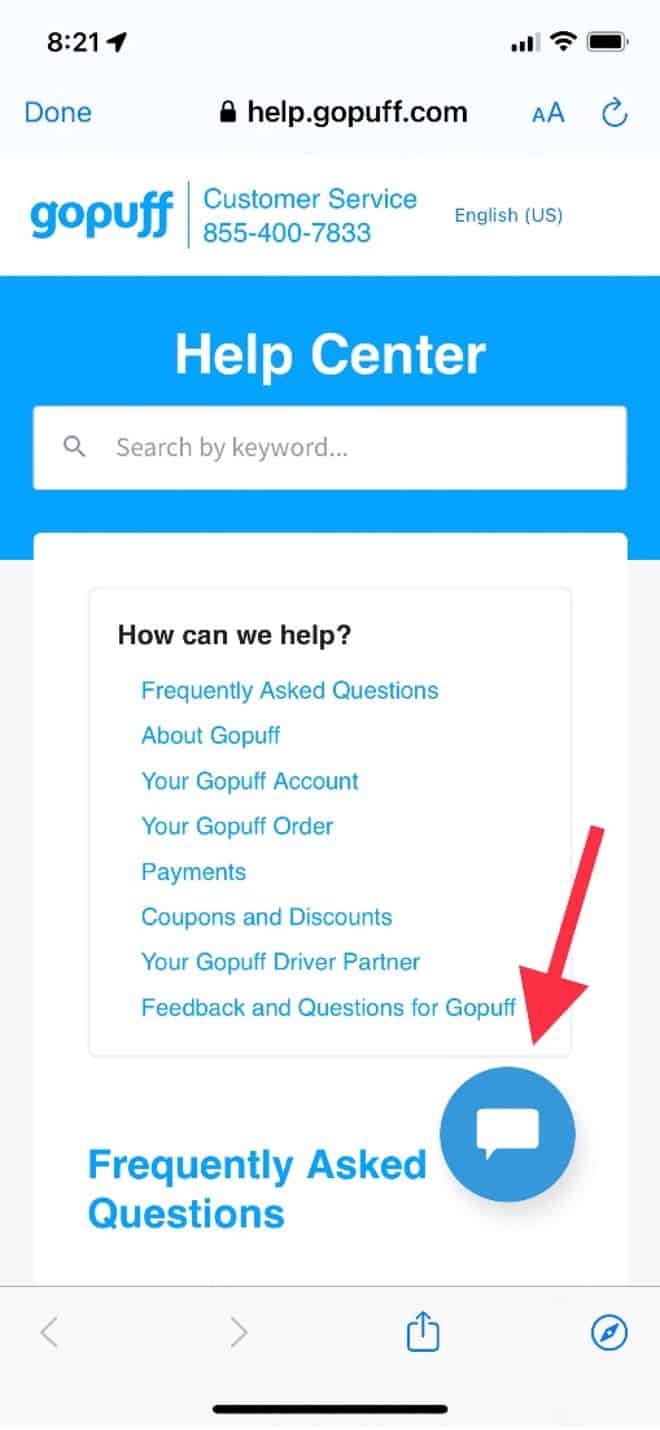 Step 3. When prompted whether you need help, select "Yes."
Step 4. Choose from the available options that best fit your question or concern. Choose the best option, even if it is not exact.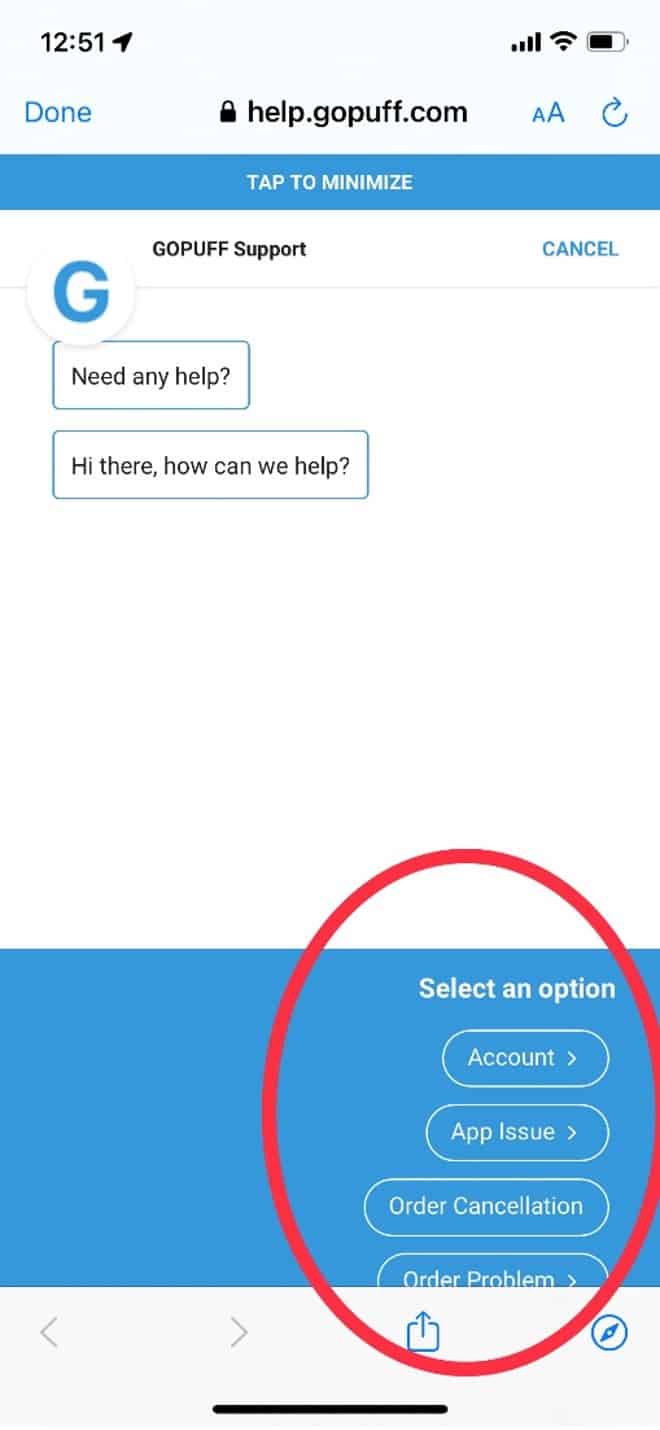 Step 5. Based on your selection, you may need to make an additional selection. Once again, choose the option that best fits.
Step 6. After making your selections, you may be prompted to enter your email or phone number to start chatting.
Step 7. Click "Chat now" to connect with a customer service agent. They may ask additional questions, such as a phone number or email, to start the conversation.
Step 8. Type in your full question to get a response from the agent.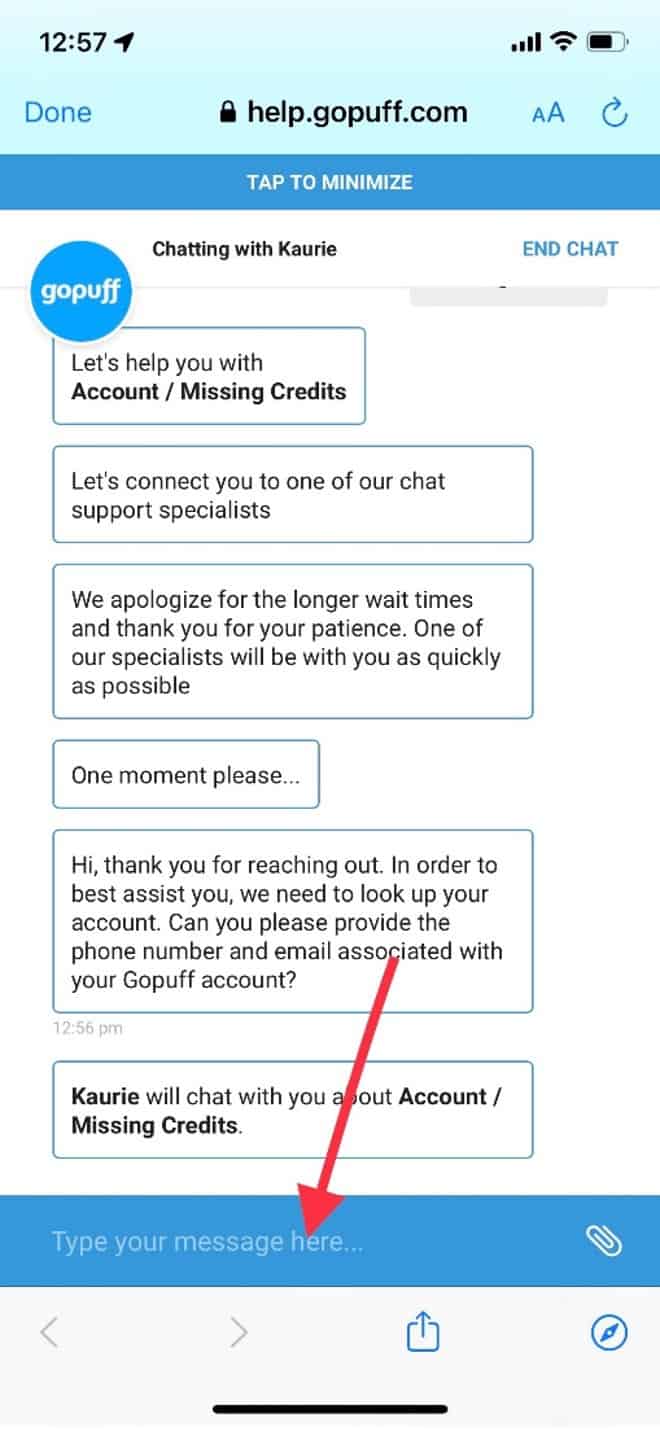 Step 9. Once your conversation is complete, click "End chat," or the chat will be disconnected by the agent.
Hopefully, your issue or question has been resolved before the live chat ended!
What Is the Gopuff Customer Service Email?
If you prefer to send feedback, questions, or concerns via email, the Gopuff customer service email is [email protected].
The Gopuff customer service email is monitored by agents 24/7.
Email may be a good option if you don't have an urgent issue that needs an immediate response.
It is also still a private message if you don't want to share it publicly on social media platforms.
While the email is monitored 24 hours and 7 days a week, there is no guaranteed response time.
If you need immediate assistance, it is best to call the customer service line or use live chat.
Unfortunately, Gopuff does not have a mailing address to send requests or feedback in physical form.
How to Use Gopuff Help Center
The Gopuff help center has a wealth of information on many frequently asked questions about the service.
The answer you're looking for may be in the help center without needing to talk directly with a customer service agent.
Once navigated to the help center, you will see a variety of topic choices.
Use the menu at the top to quickly jump down to the category topic that might fit your question.
Help categories include:
Frequently Asked Questions
About Gopuff
Your Gopuff Account
Your Gopuff Order
Payments
Coupons and Discounts
Your Gopuff Driver Partner
Feedback and Questions for Gopuff
If you're not sure, browse through each topic and the questions under each category to look for what you may need.
You will need to click down the arrow symbol to expand and see the answer to each question.
If none of the help center questions resolve your issue, we recommend contacting the customer service team by phone or live chat.
Can You Contact Gopuff on Social Media?
Gopuff is active on social media, including Facebook, Instagram, and Twitter. 
Twitter is an effective way to contact Gopuff and get a response.
You can tweet @gopuff if you have requests for products, locations, or services Gopuff should add.
Twitter is the preferred social media method of communication for Gopuff customer service.
They particularly encourage you to request products or new locations for their services by tweeting @gopuff.
If you scroll through their Twitter account, you'll see the Gopuff team is actively responding to tweets.
Direct messages are also welcome to get in touch with customer service.
The official Twitter account for Gopuff is @gopuff, but @gopuff_support is also their customer support account on Twitter.
Either one of these accounts should respond to your tweets or direct messages.
We're sorry about this! Can you please DM us your order # and we'll look into this?

— Gopuff (@gopuff) December 28, 2021
Can You Contact Your Gopuff Driver?
Unfortunately, Gopuff does not have the option for customers to contact their driver directly.
In addition, Gopuff customers do not have access to the contact information of their delivery driver.
If needed, you can call the Gopuff customer service phone number to connect with your driver.
Once your order is placed, you will receive updates on your order through the app.
Unlike most other delivery apps, you cannot contact your Gopuff driver to make any requests or changes to your order.
If there are any issues or concerns in the process, the best option is to call or live chat with Gopuff customer service as soon as possible.
A customer service agent will then contact the driver for you if needed.
The customer service agent may also help change or cancel an existing order.
However, they cannot place a new order over the phone or live chat.
This is a precautionary measure to keep your payment information secure.
So, unlike other delivery services that put you in direct contact with your delivery driver, all communications on Gopuff go through their customer service.
However, their customer service team is always there to assist when needed.
What Is the Best Way to Contact Gopuff?
The best way to contact Gopuff is to call their customer service phone number (855) 400-7833.
They answer calls 24/7 and can help with any issue when you need an immediate response.
Live chat is the second-best option if you need immediate assistance with your order.
Gopuff live chat is also available 24 hours a day and 7 days a week.
If you simply want to share your feedback or requests, Twitter is the recommended avenue to contact Gopuff.
You will get a response from the Gopuff team on Twitter, but it will not be as quick as calling or chatting directly with the customer service team.
Conclusion
Gopuff customer service is available 24/7 in several different ways. While we recommend calling the customer service phone number, you can also choose to use live chat, email, or tweet Gopuff to get in touch.
For more information about food and alcohol delivery services, check out the articles below.
Related Articles: