17 Walmart Grocery Hacks That Will Save You Money
Walmart's core strategy is to provide customers with an everyday low price on a broad assortment of items. It's a one-stop shop from groceries to appliances where customers can expect low prices on all products. However, there are some hacks you can still include in your shopping routine to increase your savings at Walmart.
In this article, I will share 17 ways to save money and time when shopping at Walmart.
1. Shop by Unit Price
Shopping by unit price is one of the most important grocery shopping hacks. It shows you the price of the product by the unit of measure (by the ounce, pound, count, etc.)
It makes product comparisons easier between different brands or even multiple-size products of the same brand.
Overall, it shows you the value you're getting for your money. Walmart displays the unit price of products on price tags.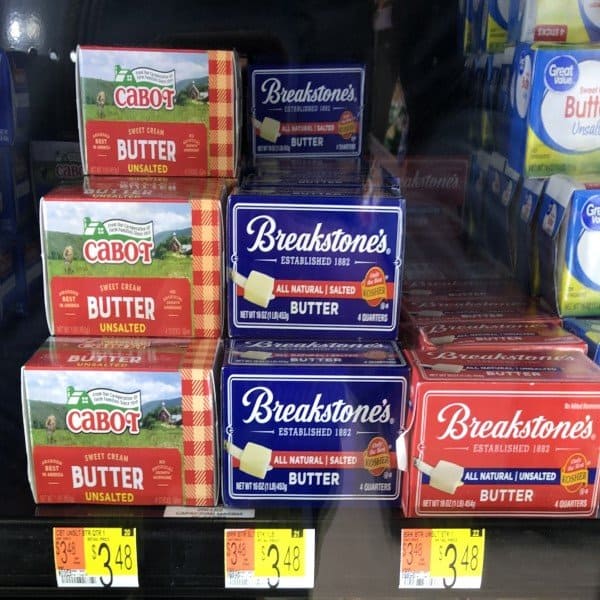 Look at the butter example in the above picture. There are three leading brands' products price matching each other at $3.48. The products are 1 pound, so the unit price is $3.48 per pound.
At the bottom shelf, you can see the store brand butter sold for $5.12. At first glance, you may think the store brand product is more expensive because there's no significant difference in the packaging sizes.
But if you look at the unit price, the store brand is $2.56/lb vs. $3.48/lb leading brands. That's 26% savings per pound if you choose the store brand over branded products.
Always look at unit prices to compare different products and determine the value you're getting for your money.
2. Buy the "Great Value" Store Brand
Buying store-brand products can save you tons of money. Walmart's store brand is called "Great Value." Some store brands are manufactured in the same factories as leading brands.
They run branded products and store brands on the same equipment, with the same ingredients, and put different labels.
Having worked in the consumer goods industry for a long time, I can tell you that the biggest expenses for brands are advertising and promotions.
To stay profitable, brands need to sell their products at a higher price to cover these additional costs.
Store brands, on the other hand, don't have advertising or promotional costs. They can afford to sell products at a lower price, which means extra money stays in your pocket.
I'll compare the two products in the picture above. The leading brand of tomato sauce is priced at $0.88 for 15oz., which means the unit price is $0.94/lb.
The store brand's 15oz tomato sauce is $0.46, and the unit price is $0.49/lb. If you compare the unit prices of both, the store brand is 48% cheaper than the leading brand. You can buy almost two store brand products for the price of one leading brand!
If you do the same exercise for pasta in the above picture, you'll see the store brand has a unit price of $0.82/lb vs. the leading brand at $1.28/lb. If you choose the store-brand pasta, you'll save 36%. These savings add up pretty quickly!
I have to mention that not all store-brand products are made by the same manufacturers or have the same ingredients as leading brands.
The taste and the texture of products may be different. Some products are easier to replace with the store brand without tasting the difference.
For example, it's harder to tell the taste difference between canned products like corn, beans, mixed vegetables, tomato sauce, etc., or dry goods like pasta and rice.
It's harder to tell the taste difference for products you cook with other ingredients. And those products are great to replace with the store brand and start saving money on groceries.
There may be some non-negotiable products, though, such as your favorite cereal, hazelnut spread, ice cream, etc. I have some products that I'm very loyal to specific brands, and I wouldn't consider changing to the store brand or other brands.
I'd recommend buying some store-brand products and testing them yourself. Look at the texture, try the taste, and see if you'd consider buying them again.
I'm sure you'll find products that you didn't consider replacing with the store brand before.
3. Buy in Bulk
Another way of saving money on groceries at Walmart is buying in bulk. Walmart has everyday low prices, so you know you get the best prices on groceries.
But Walmart is also about providing value for your money, so you save even more when you buy products in bulk.
Above is an example of Great Value long-grain rice. If you buy the 2lbs product, the price is $1.38, and the unit price is $0.69/lb. The unit price for the 5lbs bag is $0.50/lb. If you buy the 5lbs bag of rice, there are 38% savings compared to the 2lbs bag.
You can buy dry-good products like rice and pasta in bulk without an issue. You can put the extra in zip-lock bags, airtight jars, or even in the freezer to cook later.
4. Buy Extra During Rollback
Sometimes, Walmart has groceries on rollback. These may be the items on promotion or moving off the shelf slowly, so there's an extra incentive with the price reduction.
If you see grocery items that you regularly buy are on rollback, consider buying more than one to save money.
I prefer to see a minimum 15%-20% price reduction to buy more than one, though. If the savings are less than 15%, you may end up paying dollars to save cents, and it may not be worth it.
Walmart displays the regular price and the rollback price on price tags. For the cookie example above, the regular price was $2.88, and the rollback price was $2.50.
It's a 13% savings, but you pay $2.50 extra today to get the $0.38 savings. Not enough savings to justify a second purchase, in my opinion.
5. Avoid Buying Eye-Level Products
We all made this mistake at some point and bought products from the eye-level shelves. You should know that eye-level shelves are the prime real estate space at any grocery store, including Walmart.
Typically, the products on eye-level shelves are from giant consumer goods companies with many products sold at Walmart or top leading brands in that aisle.
Grocery stores charge slotting fees to brands to put their products on the shelf. And for prime real estate spaces like eye-level shelves, slotting fees are usually higher, and so are the product prices.
You can see the diced pear product on the eye-level shelf costs $2.48. If you stretch your arm a couple of feet to the top shelf, the price goes down to $2.18 for the same product. You can also buy the store brand on the bottom shelf for $1.64.
So, avoid buying products from eye-level shelves unless you have to. Either get to the bottom shelf or extend your arms to the top shelf to get the best deal on that particular item.
6. Go Early to Buy Meat, Poultry, and Seafood
Walmart stores markdown perishables and fresh products early in the morning, usually between 6 am – 9 am. They do markdowns in the mornings to prepare the latest deals for the upcoming foot traffic.
So, if you want to buy the latest deals on perishables, especially meat, poultry, and seafood, go to the store early. This way, you can get the deals before they run out. If you go later in the day, you may end up with picked-over and less desirable products.
Some Walmart stores may have a second markdown in the afternoons, usually between 2 pm-4 pm.
They do second markdowns if there are products going out of date soon and still sitting on the shelf despite the first markdown. It's an extra incentive to sell them quickly before the expiration date.
7. Avoid Buying Pre-Cut Items
Avoid buying pre-cut items at Walmart and any grocery store in general. Typically, you end up paying double or even more compared to the whole fruits.
Also, pre-cut items like fruits and vegetables are covered with preservatives to prevent them from getting dark and soft.
So, you pay at least double the price and take extra preservatives in your body. It's definitely not the right decision for your body or your wallet.
8. Shop for Seasonal Produce
Shopping for seasonal fruits and vegetables helps you save money on groceries at Walmart. You not only save money but also enjoy the freshest produce.
For example, I live in the Northeast, where berries are summer fruits. Walmart sells 2lb strawberries for $3 in the summertime, and you end up getting only 1lb for the same price in the wintertime.
Fruits like strawberries, blueberries, or grapes are great to buy in bulk when they're in season. You can freeze them in Ziplock bags and eat them later as snacks or put them in smoothies and yogurt.
9. Talk to the Manager and Find Out Store Operations
There are a couple of Walmart stores at an equal distance from my house, but I only go to one of them. I know the store very well and talked to the store manager multiple times.
So, if you have more than one store in your area, stick to one of them. Walmart stores get corporate guidelines, but there are many situations where each store makes its own decisions.
Talk to your store manager and find out about store operations, when they do markdowns, receive produce delivery or any other questions you may have.
This way, you'll know your store inside and out and time your grocery shopping trips accordingly.
10. Get Products From the Back of the Shelf
Buying perishable products like milk, eggs, meat, and poultry with the longest expiration date will save you money in the long run. A longer expiration date means more time to consume and less spoilage.
To get the freshest perishables at Walmart, you need to reach out to the back of the shelf. For example, if you buy milk from the fridge, get the product in the last row.
Grocery stores have a FIFO rule (first in, first out), so the oldest products are in the front row, and the freshest ones are placed at the back.
11. Leverage Walmart's Coupon Overage Policy
Walmart has an excellent coupon policy. Like many other grocery stores, Walmart accepts manufacturer coupons. The special thing about Walmart is that they have a coupon overage policy.
If you buy an item that has a sale price lower than the coupon, Walmart applies the coupon overage to your total transaction.
For example, if you have a $2.50 manufacturer coupon for an item and Walmart sells it for $1.50, Walmart applies the $1.00 coupon overage to the rest of the items in your cart. (Source)
12. Download the Walmart Grocery App
To maximize your grocery shopping experience at Walmart, you should download the Walmart grocery app.
Walmart grocery app is easy to navigate and allows you to order groceries on Walmart.com or your local store for pickup and delivery.
Using the app, you gain access to exclusive offers through Walmart and see the trending items at your location.
Keeping an eye on the best sellers and trending items is a great way to catch deals and find seasonal foods in your area.
13. Order Groceries for Curbside Pickup or Delivery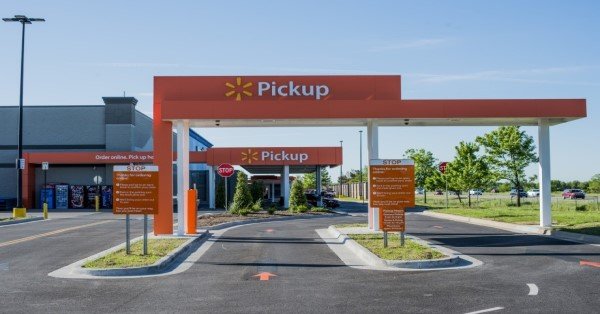 You can order groceries from Walmart using the website or the app and choose curbside pickup or delivery. Both options are convenient if you don't want to spend time shopping for groceries at the store.
How Walmart Curbside Pickup Works
Walmart offers free curbside pickup for grocery orders over $35. When the order is ready for pickup, Walmart sends a notification.
When you arrive at the store, an associate brings the order to your car at the designated pickup area marked with orange signs.
Do You Tip Walmart Grocery Pickup?
No, Walmart associates do not accept tips for pickup orders. You can recognize them by leaving a positive review on the customer survey.
Can You Use Coupons for Walmart Grocery Pickup?
No, you cannot use coupons for Walmart grocery pickup orders. However, Walmart gives you $10 off your first grocery pickup order.
How Walmart Grocery Delivery Works
Walmart uses third-party services like DoorDash and Postmates to deliver groceries to your home. There's a $30 minimum for delivery orders.
Walmart's delivery fees vary, but you can expect to pay $7.95 – $9.95 for each order.
How Do You Tip Walmart Grocery Delivery?
You can tip your Walmart grocery driver through the Walmart app or the website. You can select the recommended tip or choose a custom amount. Walmart shows grocery delivery tips as a separate charge on your credit or debit card.
Can You Add Items to an Existing Walmart Grocery Order?
Yes, you can add items to your existing Walmart grocery order through the app or the website. Just add the new items to your cart and select "add to existing order" at checkout.
14. Get $10 Off on Your First Grocery Pickup
Are you ready to place your first grocery pickup order at Walmart? Use this link to get $10 off your first order.
Walmart also has a great referral program. You can refer your friends and get a $10 credit on the next order. You can create your unique link on the website and start sharing it with your friends.
15. Verify Grocery Prices on Walmart.com
Walmart discontinued its "Savings Catcher" program, which matched the lowest price for items after uploading the receipt. But Walmart continues to match prices on Walmart.com, and it happens in real-time.
When you're at the store, scan your grocery items using the Walmart app, and compare prices to Walmart.com.
If Walmart.com's price is lower than the in-store price, inform the store associate, and the store will match the online price.
16. Use Walmart Pay at Checkout
If you want to save time during checkout at Walmart stores, you should consider setting up Walmart Pay.
Walmart Pay is a contactless payment option that you can use on the Walmart app. With Walmart Pay, you can use credit, debit, or gift cards saved in your Walmart account to make a purchase.
Either set up a 4-digit PIN or use your mobile device's Touch ID to complete the purchase.
Another advantage of Walmart Pay is having access to your e-receipts, which makes grocery returns much easier.
17. Use Ibotta for Cashback
Ibotta is my favorite app for cashback. It has great deals available at any given time, and the app makes it very simple to earn cashback.
Download the Ibotta app and link your Walmart Grocery account. Shop for groceries on the Walmart app and automatically earn cash back on qualifying items within 24 hours after your purchase.
Conclusion
There you have it – the best ways to save money when shopping at Walmart!
While I included groceries as an example in the article, some of these hacks apply to other items as well.
So next time you're at Walmart, use this list to get the most value for your money.
For more information about shopping at Walmart, check out the articles below.
Related Articles:
What Is Walmart Plus and Is It Worth Signing up for Groceries?
Everything You Need to Know About Walmart's Hours
How Much Should You Tip Walmart Grocery Delivery?
Walmart vs. Instacart: Which Is Better for Grocery Delivery?