What Grocery Stores Take Apple Pay? (And How to Use It)
Contactless payment with Apple Pay makes it quick, safe, and convenient to check out and pay for your groceries. As a result, it is becoming the preferred payment method for many consumers, and most grocery stores and supermarkets have added Apple Pay to their accepted forms of payment.
Grocery stores that take Apple Pay include Albertsons, CVS, Whole Foods, Trader Joe's, Aldi, Stop and Shop, Winn-Dixie, United Supermarkets, FoodMaxx, Harris Teeter, Hannaford, Publix, Family Dollar, Food Lion, Cub Foods, Lucky Supermarkets, Meijer, Giant Eagle, Walgreens, Sprouts, Shaw's, Vons, Hy-Vee, and Randalls.
Read on to learn about using Apple Pay at your local grocery store. To see if your favorite store accepts Apple Pay, check out the most comprehensive list we've compiled for you below.
| | |
| --- | --- |
| Grocery Store | Takes Apple Pay |
| Acme Markets | Yes |
| Albertsons | Yes |
| Aldi | Yes |
| Bashas | Yes |
| BI-LO | Yes |
| BJ's | Yes |
| Carrs | Yes |
| Costco | No |
| Cub Foods | Yes |
| CVS | Yes |
| Duane Reade | Yes |
| Family Dollar | Yes |
| Farm Fresh | Yes |
| Food Lion | Yes |
| FoodMaxx | Yes |
| Fred Meyer | No |
| Giant Eagle | Yes |
| H-E-B | No |
| Hannaford | Yes |
| Harris Teeter | No |
| Harvey's Supermarket | Yes |
| Hornbacher's | Yes |
| Hy-Vee | Yes |
| Jewel-Osco | Yes |
| Kroger | No |
| Lucky Supermarkets | Yes |
| Market Street | Yes |
| Meijer | Yes |
| Pavilions | Yes |
| Publix | Yes |
| Raley's | Yes |
| Randalls | Yes |
| Rite Aid | Yes |
| Safeway | Yes |
| Sam's Club | No |
| Save Mart | Yes |
| Schnucks | Yes |
| Shaw's | Yes |
| Shop n Save | Yes |
| Shoppers Food | Yes |
| ShopRite | Yes |
| Sprouts | Yes |
| Star Market | Yes |
| Stater Bros. | Yes |
| Stop and Shop | Yes |
| SuperValu | Yes |
| Target | Yes |
| Trader Joe's | Yes |
| United Supermarkets | Yes |
| Vons | Yes |
| Walgreens | Yes |
| Walmart | No |
| Wegmans | Yes |
| Whole Foods | Yes |
| Winn-Dixie | Yes |
Grocery Stores That Take Apple Pay
iOS users love the convenience of using Apple Pay when they are out shopping and running errands. With just the tap of their phone or Apple Watch, they can securely pay for groceries and by on their way. It is a welcomed addition to your grocery store's list of accepted payment methods.
You can use Apple Pay to buy your groceries at the following grocery stores:
Acme Markets
Albertsons
Aldi
Bashas
BI-LO
BJ's
Carrs
Cub Foods
CVS
Duane Reade
Family Dollar
Farm Fresh
Food Lion
FoodMaxx
Giant Eagle
Hannaford
Harris Teeter
Harvey's Supermarket
Hornbacher's
Hy-Vee
Jewel-Osco
Lucky Supermarkets
Market Street
Meijer
Pavilions
Publix
Raley's
Randalls
Rite Aid
Safeway
Save Mart
Schnucks
Shaw's
Shop n Save
Shoppers Food
ShopRite
Sprouts
Star Market
Stater Bros.
Stop and Shop
SuperValu
Target
Trader Joe's
United Supermarkets
Vons
Walgreens
Wegmans
Whole Foods
Winn-Dixie
You can also use Apple Maps on any iOS device, including your iPhone, iPad, or MacBook, to find out which grocery stores are currently accepting Apple Pay.
You can do that easily and in just a few steps!
1. Open Apple Maps and enter the grocery store you would like to use Apple Pay at.
2. Select the location you plan to use Apple Pay and swipe up to access the location's full menu.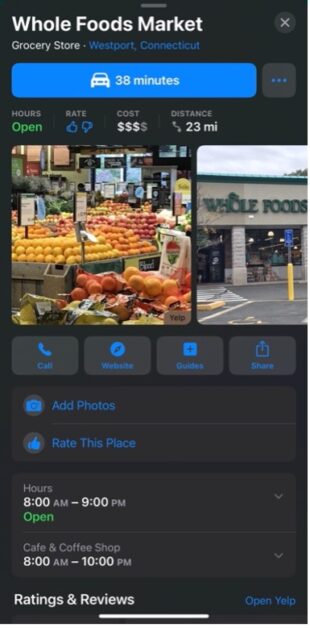 3. Scroll down until you reach the "Useful to Know" section.
4. If the grocery store you are searching for accepts Apple Pay, it will be listed as "Contactless Payment" along with a WIFI and Apple Pay logo.
You can also utilize Apple Maps to generate a list of all the local grocery stores and supermarkets that currently accept Apple Pay.
To do this, open Apple Maps and enter "Grocery Stores" into the search bar.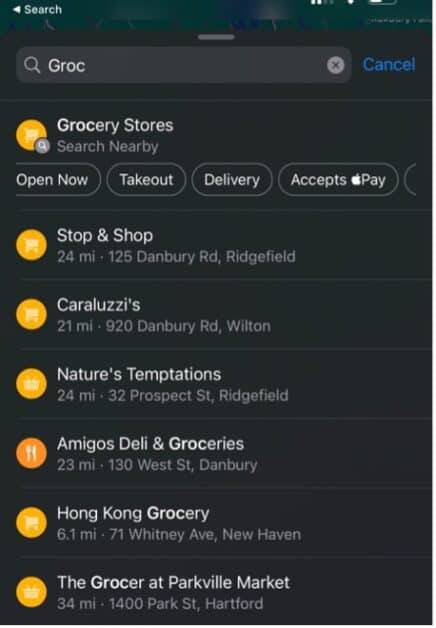 You will be given a variety of search filters to choose from to narrow down your search. You can select "Accepts Apple Pay" to view a complete list of nearby grocery stores that take Apple Pay.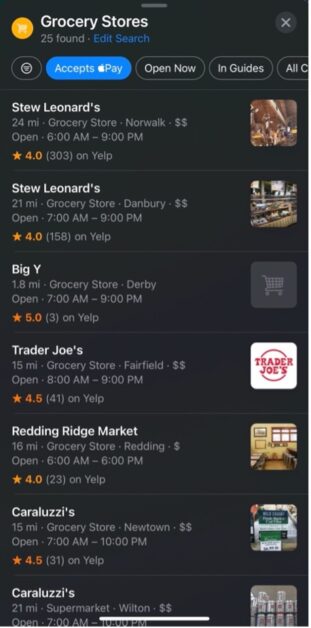 Grocery shopping takes long enough! Now #ApplePay makes it easier to check-out… LEARN MORE: http://t.co/tsrSBImUWy pic.twitter.com/rJpRVlLjnX

— Whole Foods Market (@WholeFoods) October 26, 2014
How to Use Apple Pay at Grocery Stores
To use Apple Pay at a grocery store, you will first need to identify the Apple Pay symbol. The Apple Pay logo will be displayed on the NFC card reader or in the store window. When it is time to pay, you will simply hold your Apple iPhone or Apple Watch close to the NFC card reader to send your payment digitally.
The symbols you are looking for to confirm Apple Pay as an available payment method at a grocery store will look like this: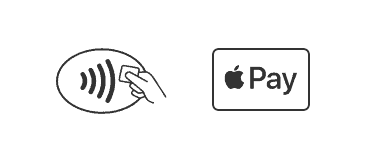 You can use Apple Pay by using your iPhone or Apple Watch. Apple Pay is compatible with iPhones that feature Face ID, iPhones with Touch ID (except for the iPhone 5S), and Apple Watches Series 1 or later.
Before you can use Apple Pay, you will have to set it up in your device's Apple Wallet.
Using Apple Pay at a Grocery Store With iPhone Face ID
Double-click the side button on your iPhone to check out at the grocery store with your preferred card
Face ID will verify your identity, or you can enter your passcode
Hold your iPhone close to the NFC reader. Once complete, a checkmark will appear, and the reader will display "Done."
Using Apple Pay at a Grocery Store With iPhone Touch ID
Double-click the side button to access your Apple Pay stored credit card.
Place your finger on your Touch ID to approve your payment
Place your iPhone close to the NFC reader. It reads "Done," and the checkmark is visible on display.
Using Apple Pay at a Grocery Store With Apple Watch
Double-click the side button of your watch.
Turn your wrist to hold your Apple Watch near the NFC reader face down.
Your watch will buzz when your payment is completed.
Today, Apple launches Apple Pay with support from some great companies including Instacart! Learn more: http://t.co/1X5xHUeBP3 #ApplePay

— Instacart (@Instacart) October 20, 2014
Can You Order Groceries Online With Apple Pay?
You can use Apple Pay to order groceries online from participating grocery stores and through third-party delivery services. Grocery stores that accept Apple Pay online include Albertson's, Food Lion, Target, Shoppers, Publix, Bashas, Raley's, and Carrs. In addition, Instacart accepts Apple Pay for all grocery orders.
If Apple Pay is an accepted online payment, you will see this logo on the checkout screen:
Each grocery store will have different options for online ordering. For example, Publix offers curbside pickup and delivery through its branded partnership with Instacart.
You can use this to order your groceries online using Apple Pay. In addition, you can place an order for in-store pick up on their website and pay for your groceries in-store with Apple Pay.
Other stores will allow you to make online purchases using Apple Pay through their own store apps. Target, for example, lets its customers use Apple Pay for online grocery orders for pickup or delivery.
Albertson's also includes Apple Pay as an option for checkout when using their app for online grocery orders.
One of the easiest ways to use Apple Pay for online grocery curbside pickup or delivery is ordering from a third-party delivery service.
For example, you can order from Aldi for delivery using Instacart and pay for your order using your Apple Wallet.
In addition, other major chains like Hannaford have partnered with delivery providers like Shipt to process and deliver their online orders.
If you are looking to use Apple Pay for your next online grocery order, we have compiled a list of the major grocery delivery services and whether you can use Apple Pay at checkout.
Is It Safe to Use Apple Pay at Grocery Stores?
Many people use Apple Pay when making purchases at a grocery store, online, or through an app. Apple Pay is safer than using your physical card or entering your card number into an app or a website.  
Apple Pay requires verification through Face ID, Touch ID, or passcode to order food in-store or online from your iPhone, Apple Watch, MacBook, or iPad.
In addition to the added security biometric verification provides, your card number and identity are not shared with the grocery store you are shopping at.
Your credit card information is not even stored on your device when using Apple Pay. As a result, Apple Pay is one of the safest forms of payment available.
Conclusion
Apple Pay users love the safety, security, identity protection, and convenience that the contactless payment option provides. The ability to pay for your groceries quickly and securely is available at almost every big chain and small local grocery store.
Apple Pay makes it faster and easier than ever to purchase groceries. We expect Apple Pay and other contactless payment wallets to become the preferred payment method for every shopper.
If you're interested in finding out more grocery shopping tips, check out the related articles below.
Related Articles:
Can You Buy Groceries With PayPal? (Yes, Here's How)
Walmart Doesn't Take Apple Pay, but Here's How to Use Walmart Pay
Does Costco Take Apple Pay? (In Clubs, Online and Gas Stations)
Target Takes Apple Pay in Stores and the Target App