Food Lion To Go: How to Order Groceries for Pickup or Delivery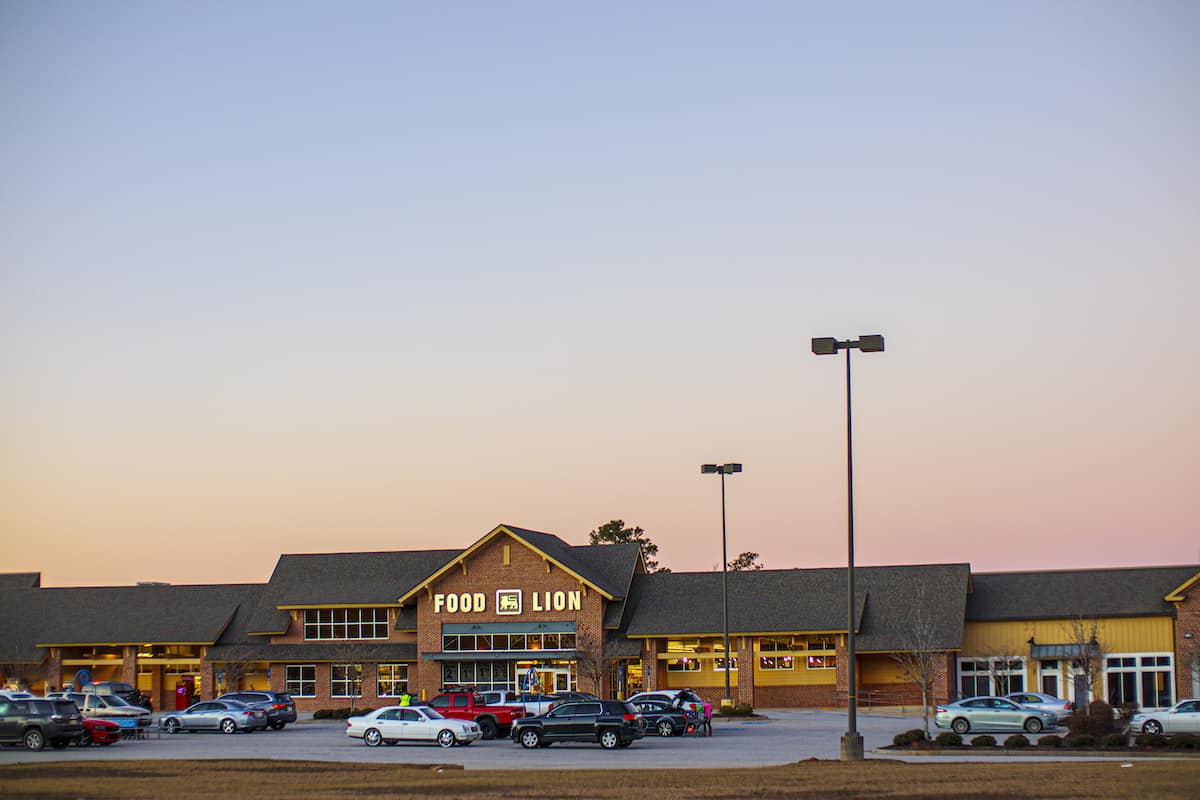 Food Lion is a regional-based grocery chain founded in Salisbury, NC, that has stood the test of time since 1957. Since their humble beginnings, they have expanded their Food Lion To Go program partnered with Instacart to great success. Food Lion is also well-known for its partnerships with No Kid Hungry, Operation Homefront, and Feeding America®.
Groceries can be ordered from Food Lion for pickup or delivery with no order minimums using the Food Lion To Go app or the website. Food Lion pickup fee is $1.99 for orders over $35 and $3.99 for orders under $35. Food Lion delivery fees range from $3.99 to $9.99, depending on the order total and the delivery time.
In this article, we'll take you through the ins and outs of the Food Lion To Go grocery ordering service and advise you on things like tipping etiquette. You'll find out how easy it is to order groceries from Food Lion To Go for pickup or delivery—whatever is most convenient for you!
Our friendly, caring associates and personal shoppers work hard to make getting your groceries easy in-store and online. Here's how: https://t.co/taNwgQ2SP3 pic.twitter.com/HwywuQEhBd

— Food Lion (@FoodLion) September 8, 2020
What Is Food Lion To Go?
Food Lion To Go is an easy-to-use, downloadable app that allows you to have groceries delivered right to your door or ready to pick up when you are. On orders of at least $35, you can enjoy the convenience of having the best fresh-picked produce and your favorite hand-picked grocery items at your fingertips.
This is the perfect option for people who may not have reliable transportation or busy working professionals who want to save time for other activities.
And of course, Food Lion To Go is also a great option for those who might need to reduce time spent shopping in public or feeling uneasy about doing so for their health concerns.
How to Order Food Lion Groceries Online
You can order groceries from Food Lion online using their mobile app or the website. For an especially personalized perk, you can even indicate how ripe you need your fruits and veggies or how lean you prefer your cuts of meat.
Here are the step-by-step instructions to walk you right through how to use the Food Lion To Go app and the website to order groceries online.
1. Use your phone to download the Food Lion To Go app. You can also log right on to Food Lion's website.
2. You can sign up by using your MVP number—to locate your MVP number, check your last store receipt. If you tossed it, no worries. Call Food Lion's customer service number at 1-800-210-9569.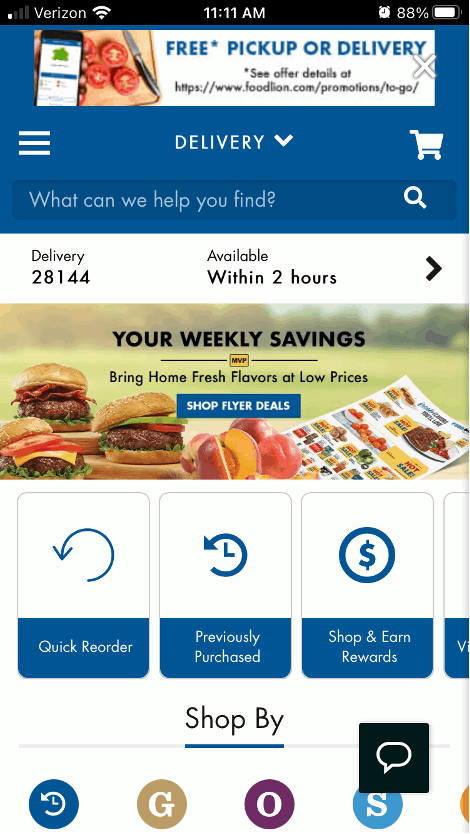 3. Now comes the fun part: picking out all of your groceries! Type in a specific item in the search bar at the top of the screen. If that doesn't float your boat, browse through Food Lion's collections. You can even create your own virtual grocery experience by shopping by department, just the way you'd move your cart through the local store.
4. Select the next available pickup or delivery time to schedule yours.
5. Keep an eye out for texts: Food Lion is all about suggesting the next best thing if they happen to be out of the brand you're looking for. You have the option not to accept substitutions and check a box to indicate this if you prefer.
6. Arrive at your designated store for pickup or be available for your driver at your scheduled delivery time.
How Does Food Lion Pickup Work?
Food Lion pickup fee is $1.95 on orders over $35 and $3.99 for orders less than $35. Food Lion pickup hours are Monday through Sunday, 10 a.m. – 8 p.m.
Follow our step-by-step guide above to order your groceries online and schedule your pickup.
When you drive to your location, simply park in one of the marked curbside pickup spots, and a Food Lion worker will bring them right out to you.
You can even stay put in your car if you like—they'll be happy to load them in for you when you pop the trunk.
The Food Lion pickup option is convenient, especially if you're already out and about running a bunch of errands in one day.
Food Lion Makes Grocery Shopping Easier For You Through Delivery | Food Lion, LLC. https://t.co/chIfftgIKT@FoodLion @Instacart #HomeDelivery #groceryshopping pic.twitter.com/EX4PsfBoxw

— Food Lion News (@FoodLionNews) July 14, 2020
How Does Food Lion Delivery Work?
Food Lion delivery fees are $3.99 for orders over $35 and $7.99 for orders less than $35. There's no minimum order requirement. When you schedule your delivery time, keep in mind that Food Lion delivery hours are Monday through Sunday, 9 a.m. – 10 p.m. Be sure to allow a 2-hour delivery window when planning your order.
As with scheduling a pickup grocery order, follow the steps in our guide until you've selected a delivery time and your order is complete.
With Food Lion delivery, it pays to stock up. Orders that run less than $35 come with a $7.99 delivery fee. If you need your groceries in a jiffy to get dinner on the table quickly, it will cost you $9.99 to have your delivery within one hour.
If you're willing to spend more than $35, the delivery fee is between $3.99 and $5.99 for the rush (within an hour) service.
As you can see, Food Lion To Go is very user-friendly, but sometimes issues pop up. Check out this helpful overview of the whole Food Lion To Go program and see if your questions can be answered on their FAQ page.
Feel free to call the Food Lion customer service line at 1-800-210-9569 if you have additional questions about these services or could use some extra help.
Hi there- Digital coupons loaded to your MVP card will deduct on your To Go orders.

— Food Lion (@FoodLion) November 25, 2020
Can You Use Coupons With Food Lion To Go?
You can use digital coupons with the Food Lion To Go program; however, you cannot use load-to-card, manufacturer coupons, or Savings Center promotions. Any coupons added to your order will be automatically applied at checkout.
For more detailed clarification on these rules and additional coupon information, visit the Food Lion website. The digital coupons that you can clip and will show up at your checkout can be accessed here.
You can also save by checking out their sale ad for MVP prices on select items or participating in their Shop and Earn program.
Load your offers at the beginning of each month and claim your reward points every time you shop with Food Lion To Go online.  
Does Food Lion To Go Accept EBT?
Food Lion To Go accepts EBT SNAP on approved food items when you shop online. The Food Lion EBT SNAP partnership through Instacart is offered in North Carolina, Delaware, Georgia, Kentucky, Maryland, South Carolina, Tennessee, Virginia, and West Virginia.
Although it is currently available in some states, Food Lion is working on expansion with this program. To find out if your item is eligible, click on it, and you'll see the EBT SNAP sign listed above the selection.
For more detailed information on using your EBT SNAP card when shopping at Food Lion, go to their help page.
Do You Tip Food Lion To Go?
Because Food Lion is partnered with Instacart, tipping your shopper for curbside pickup is welcomed. Tipping your delivery driver is also highly encouraged, and they will appreciate it. Through Instacart, tipping is optional but show how much you appreciate your shopper by adding a tip.
15-20% of your bill is the standard tipping etiquette in the service industry, but by all means, go the extra mile if you have the funds to do so.
Food Lion drivers get to keep 100% of their tips, and the majority of their earnings come from the tips they earn as their hourly wages are not that high. So when in doubt, tipping generously is the best policy.
Conclusion
If you like saving time and money on tedious chores like grocery shopping, Food Lion To Go is a great option for you. Best of all, they sometimes run a special promo for new customers to waive the online pickup or delivery fee on their first order!
The first order must be a minimum of $35 and is only available in select zip codes. Some specialty items are excluded from the calculated total, so be sure to read up on their website.
If you're interested in finding out more grocery shopping tips, check out the related articles below.
Related Articles:
Harris Teeter Pickup: How It Works and How to Order Using ExpressLane
Walmart Grocery Delivery: How to Get Groceries Delivered from Walmart
How to Order Groceries From Aldi With Curbside Pickup
H-E-B Curbside: How to Order Groceries Online for Pickup Using My HEB
BJ's Curbside Pickup: How to Shop Your Club Without Leaving Your Car