10 Costco Back-to-School Snacks to Buy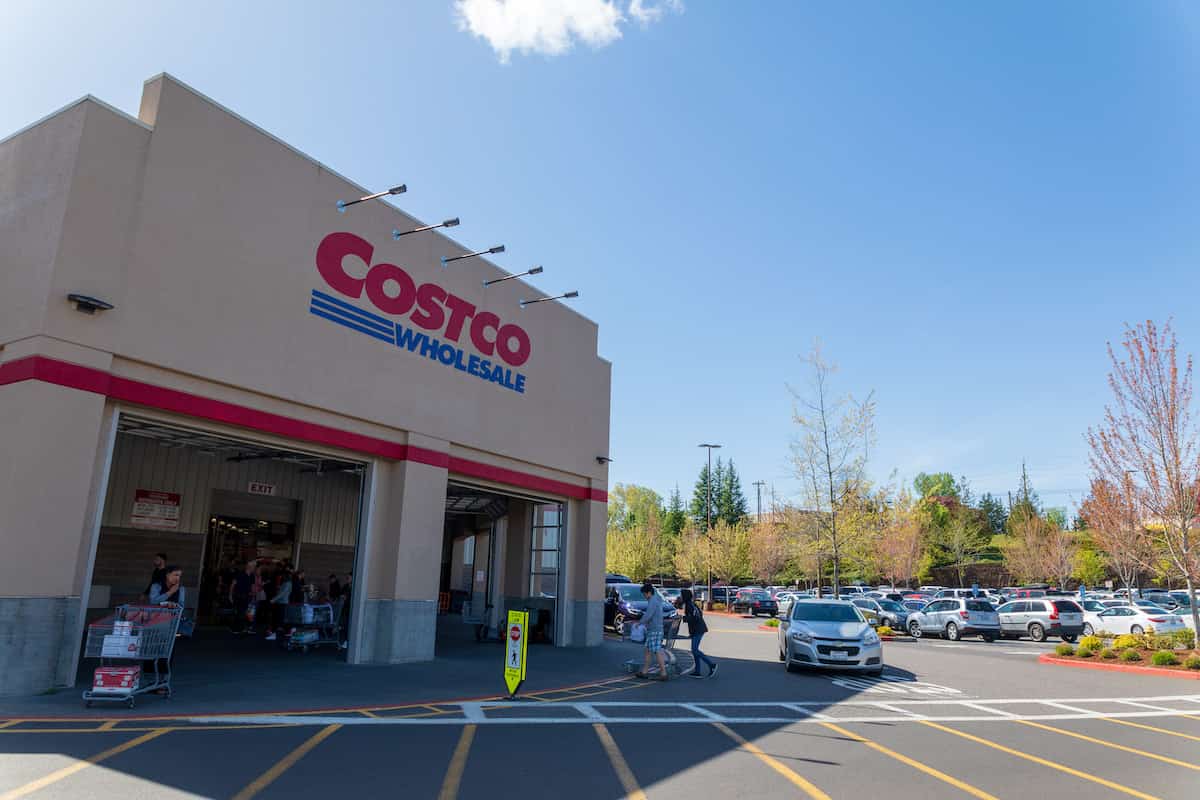 Costco snacks are always a popular option for school lunches, and they're showing up to win the back-to-school season in 2023.
Most of us have shrinking grocery budgets as we buy other back-to-school essentials, so I went on a quest to find the best school lunch snacks at Costco.
Some of these items have instant savings through July 23, so shop as soon as you can before they're gone.
If you have kids heading back to school this year, here are 10 snacks from Costco that won't break the bank.
1. Quaker Rice Crisps, $15.79 for 36-count
These bite-sized and delicious rice crisps from Quaker are full of flavor and crunch.
The variety pack comes with 36 individual bags and includes caramel, cheddar, buttermilk ranch, and apple cinnamon flavors.
Plus, these are popped, never fried, and don't include any artificial preservatives or colors.
The regular price is $19.99, but Costco has instant savings of $4.20 through July 23.
2. Frito Lay Oven Baked Mix, $21.99 for 30-count
Frito Lay's Oven Baked Mix Pack comes with 30 individual bags for $21.99.
The variety pack includes Lay's Original, Cheetos, Lay's Barbecue, Ruffles Cheddar & Sour Cream, and Cheetos Flamin' Hot flavors.
As the product name suggests, these are oven-baked chips and not fried.
I'd recommend approaching the Flamin' Hot flavor with caution, though!
3. Frito Lay Classic Mix, $23.99 for 54-count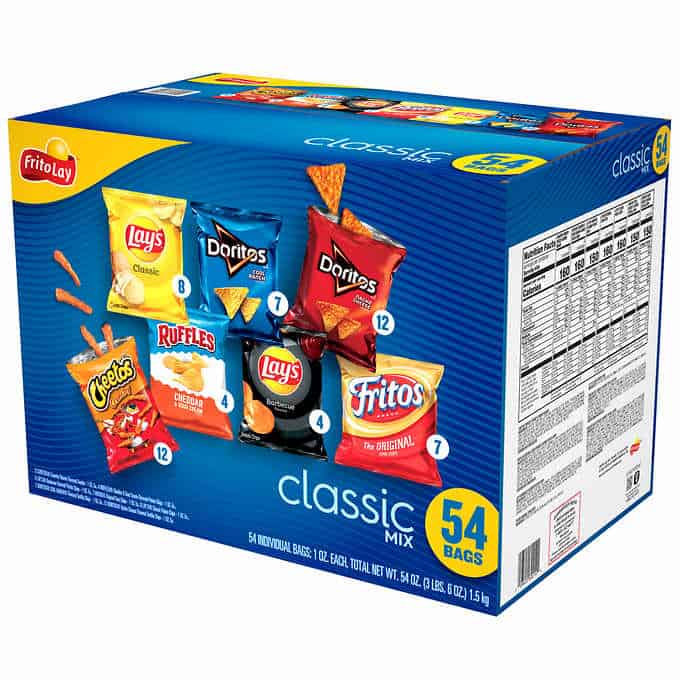 Next up on our list of the best Costco back-to-school snacks is another Frito Lay product.
This variety pack comes with 54 one-ounce bags and seven different flavors for $23.99.
The flavor options include Cheetos, Lay's Barbecue, Ruffles Cheddar & Sour Cream, Fritos Original Corn, Lay's Classic, Doritos Cool Ranch, and Doritos Nacho Cheese.
This is a great option to switch up every day so kids are never bored at lunch.
4. Pepperidge Farm Goldfish Crackers, $15.49 for 45-count
Who doesn't love Goldfish crackers?
Costco sells them in a variety pack, and they come in 45 one-ounce bags.
The flavors include Baked Cheddar, Extra Cheddar, Pretzel, and Vanilla Cupcake.
These on-the-go packs will definitely add fun to kids' school lunches.
They normally sell for $18.99, but Costco has an instant savings of $3.50 through 8/20.
5. Happy Snacks Animal Crackers, $ 12.99 for 12-count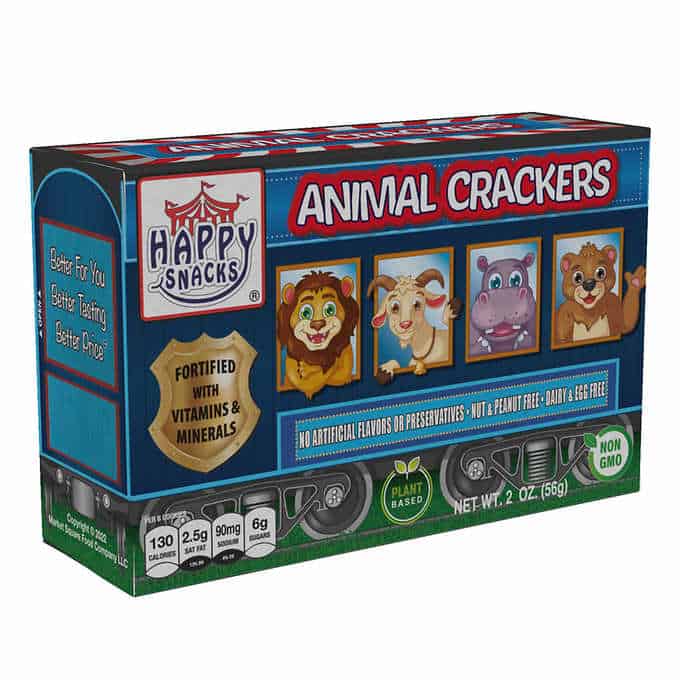 This is one of those snacks that bring the kid in all of us!
Costco offers them in 2-oz individual bags, and each pack comes with 12 bags for $12.99.
They're easy to stash in kids' backpacks and always fun to eat.
6. Capri Sun 100% Juice, $15.99 for 40-count
Capri Sun's fruit juice is a great option if you're looking for an on-the-go drink for your child.
These come in ready-to-drink pouches and provide refreshing hydration at school.
The variety pack at Costco has 40 individual pouches that are 2-oz each. It's priced at $15.99.
The flavor options include Fruit Punch, Berry, and Apple.
7. Welch's Fruit Snacks, $15.99 for 90-count
This is another popular school lunch snack offered at Costco.
Welch's Fruit Snacks come in 0.8-oz individual bags, and each variety pack includes 90 bags for $15.99.
These delicious fruit snacks come in Mixed Fruit flavor, and 90 bags will last you for a long time.
8. Kirkland Signature Variety Snack Box, $32.99 for 51-count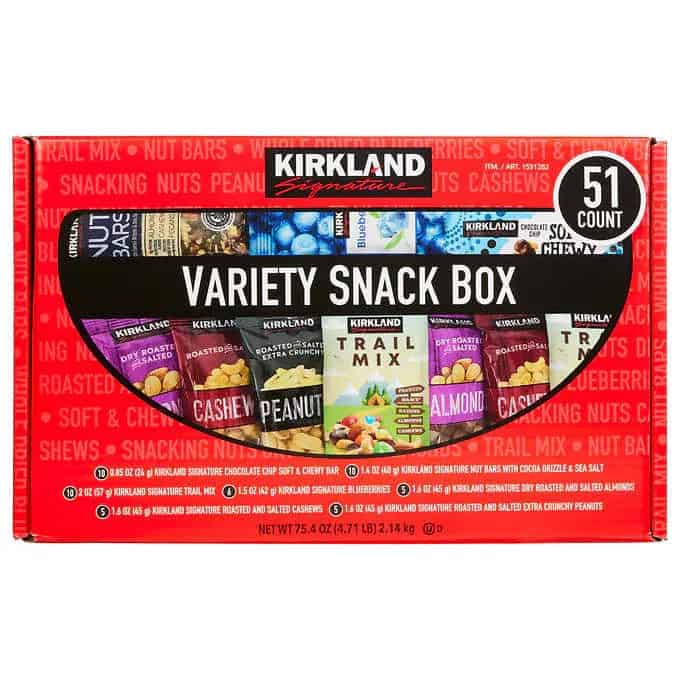 Costco's Kirkland Signature brand is famous for many products, including a great snack box.
This variety pack includes seven of Kirkland Signature's individual-sized snacks, making them perfect for the back-to-school season.
There are 51 pieces in a box for $32.99, ranging from 0.85-oz bars to 2-oz bags.
The salty and sweet flavor selection means kids can have a different treat each day, depending on what they're craving.
9. Nabisco Cookie & Cracker, $14.99 for 40-count
Nabisco's Cookie & Cracker variety pack includes 40 packs for $14.99.
It comes with sweet and salty treats, such as Ritz Bits, Oreo Minis, Nutter Butter Bites, Mini Chips Ahoy, and Ritz Bits Peanut Butter.
10. Kirkland Signature Cheese, Fruit & Nut Snack Packs, $13.99 for 16-count
If your kid loves the taste of cheese, nuts, and dried fruits, Kirkland Signature's Cheese, Fruit & Nut Snack Packs are the perfect snack for school lunches.
This variety pack comes with 16 individual-sized snacks for $13.99.
It includes 8 packs of white cheddar cheese, almonds, and dried cranberries, plus 8 packs of sharp cheddar cheese, cashews, and dried cranberries.
Both cheddar cheeses are flavorful, and the nuts and dried fruits complement the cheese, providing a tasty and balanced school lunch snack from Costco.