Costco Cakes: Your Guide to Buying Cakes at Costco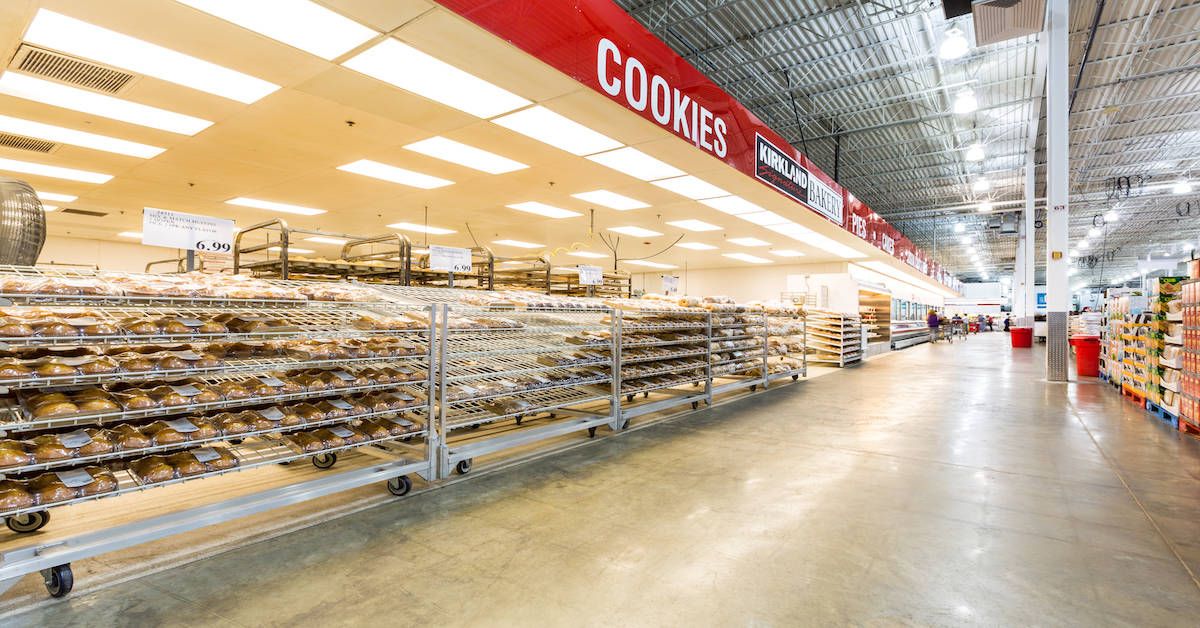 Even though nothing beats the taste of a homemade cake, not everyone has the time—or patience—to bake a cake from scratch. If you're searching for a high-quality, budget-friendly option for your next birthday party or anniversary, Costco's bakery department has got you covered.
Costco offers affordable sheet cakes that come in vanilla and chocolate flavors. A half-sheet cake from Costco can serve up to 48 people. To order a custom cake, you will need to visit your local Costco warehouse's bakery. You can choose the flavor, size, and custom decorations, such as writing and icing designs.
Let's take a look at Costco's cake-ordering process, whether Costco offers online ordering, and the big-box retailer's cake customization options.
How to Order a Cake from Costco
When you visit your local Costco, a bakery team member will ask you to complete a cake order form. For a custom cake design, keep in mind that all Costco bakeries require a two-day notice. By ordering two days in advance, your Costco bakery can ensure you'll be able to get exactly what you want.
When you're placing an order for your Costco cake, you'll be able to choose your cake's size, custom design, and pick-up date and time.
During the order process, you can also add an optional message to write on the cake and choose cake decorations from your bakery's list of available options.
Can You Order Cakes from Costco Online?
Unfortunately, you cannot order a cake from Costco online. Because Costco's website does not provide online options for cake orders, the best way to order a cake is to visit your local Costco warehouse's bakery at least two days before you need to pick it up.
Depending on your Costco location, you may also be able to fax in your cake order.
However, because each Costco store's cake-ordering process varies, it's best to call your local warehouse and speak to a bakery team member before stopping in to confirm their process.
Alternatively, if you don't need a custom cake, Costco keeps its bakery department stocked with ready-made sheet cakes that you can take home on the spot.
While some ready-made cakes come with birthday messages or seasonal designs, you can always ask a bakery team member to write a custom message on a plain cake to add a special twist.
In most cases, Costco's bakery department will have different colors of icing available so that you can choose an appropriate color and message for the occasion.
Can you guess how many flavors of Costco cake there are? https://t.co/5f7BJ3U5h7 pic.twitter.com/UgUDB0HGHm

— Southern Living (@Southern_Living) January 30, 2018
What Cakes Are Available at Costco?
Although Costco offers endless options for customization, the retailer's cakes are only available in two flavors: white cake filled with vanilla cheesecake mousse topped in vanilla buttercream frosting or chocolate cake filled with chocolate mousse topped with chocolate buttercream.
In recent years, Costco has cut back significantly on its available cake flavors. In the United States, Costco's carrot cake sheet cake—filled with apricot mousse and topped with cream cheese icing and almonds—used to be a customer favorite.
Internationally, Costco offers an even more impressive selection, with warehouses in Australia offering customers the option to mix and match different types of cake to create their own custom flavors.
Despite Costco's limited flavors, customers still praise Costco cakes' quality, freshness, and taste, making them a popular option for birthdays, grad parties, and even weddings.
How Much Is a Costco Cake?
When it comes to custom cakes, Costco offers some of the most affordable options on the market. If you order a half sheet from Costco, you'll pay just $18.99 to feed 48 people, totaling approximately 39 cents per person.
Costco's cakes are significantly more affordable than other grocery stores, including Walmart, Whole Foods, and Kroger.
While you can expect to pay $30 for a basic half-sheet cake at Walmart, Kroger's basic half-sheet cake costs $35.
Meanwhile, Whole Foods' famous berry Chantilly cake will cost you $90 for a half sheet at the more expensive end of the spectrum.
Although you'll likely end up paying a few more dollars for customization, Costco's prices remain unmatched.
The cost of a custom cake at a high-end bakery can easily cost you double or triple the price of a Costco cake, and even the cost of a small, four-inch cake at your local bakeshop will probably end up costing you a few dollars more.
My son turned 5 yesterday!! ????
And we bought the birthday sheet cake from Costco…… the one that feeds "48 guests."

We didn't have a bday party, but we bought a "48 people cake" for FOUR people….

Sooooo I'm having cake for breakfast. ????????‍♀️????????

— Leila Tualla (@LeilaTualla) April 29, 2021
What Size Is a Costco Cake?
Although Costco advertises its cake as a sheet cake, Costco cakes are actually half-sheet cakes, which measure 12 inches by 16 inches. Half sheet cakes serve approximately 48 people, meaning you'll be able to cut your cake into 48 square two-inch pieces.
If you're looking for something smaller, you can still cut grocery costs by shopping at your local Costco bakery.
In addition to half-sheet cakes, Costco's bakery department also offers premade cakes, brownies, cookies, and various other bakery items.
To check out your local store's offerings, call your local store to talk to a bakery team member or visit Costco's website.
Pepe the frog custom cake, only at Costco ???? pic.twitter.com/11IfQbAO2X

— v (@VeraSaysThis) September 11, 2016
Can You Order Custom Cakes from Costco?
Yes, Costco accepts custom cake orders. According to Costco's in-store order form, the bakery team offers a wide variety of designs suited for every type of occasion—including birthday parties, graduation, sports events, and weddings. In total, customers can choose between 27 different designs to decorate their cakes.
While classic birthday illustrations include rainbows, floral decorations, and candles, Costco also offers other unique designs, including graduation caps and crosses.
If you can't find an illustration that suits your occasion, Costco's bakery team also accepts custom orders two days in advance to ensure their cake decorations have enough time to design a custom cake for your special occasion.
Many people love Costco cakes for their quality and freshness, and many at-home bakers have tried their hand at customizing Costco cakes.
If you're interested in designing your own custom cake, Costco's bakery features ready-made sheet cakes that have only been frosted with a base layer of buttercream, providing the perfect blank slate for custom designs.
Although Costco offers customization options, they do not adorn cakes with trademarked or copyrighted images.
Like many other grocery store bakeries, Costco refuses to create character-type cakes, Disney designs, and other cakes with protected images to avoid infringing on intellectual property rights.
Can You Freeze a Costco Cake?
You can freeze a Costco cake to keep it fresh in the days leading up to your special occasion. Costco's half-sheet cakes are standard layer cakes that can be frozen and defrosted for later use. However, freezing buttercream frosting for an extended period may affect the frosting's consistency.
Costco keeps its cakes frozen before putting them on display, so you shouldn't have anything to worry about when freezing your Costco cake.
For the best results, transfer your cake to the freezer as soon as you bring it home to preserve the frosting's firmness.
If you have enough room in your freezer, store your cake in a box to avoid crushing it.
If you're shopping for a specific design and you can't find it on your bakery's cake display, you can ask a Costco bakery team member to check the freezer in the back.
However, if you're shopping for a cake on the same day that you're planning to eat it, keep in mind that you'll need to set aside a few hours to defrost a frozen cake.
Conclusion
When it comes to quality, freshness, and cost, Costco's cakes beat most grocery stores and even local bakeries. Whether you're interested in tasting Costco's famous sheet cake or planning for your next special occasion, contact your local Costco bakery to learn more about your store's available cake options, customization, and how to place an order.
If you're interested in finding out more about shopping at Costco, check out the related articles below.
Related Articles:
Costco Membership: Here's Everything You Need to Know
Costco Delivery: How It Works and How Much It Costs
Kirkland Signature: What You Need to Know About Costco's Store Brand
When Does Costco Restock? (Everything You Need to Know)