20 Best Screamin' Sicilian Pizza Flavors to Try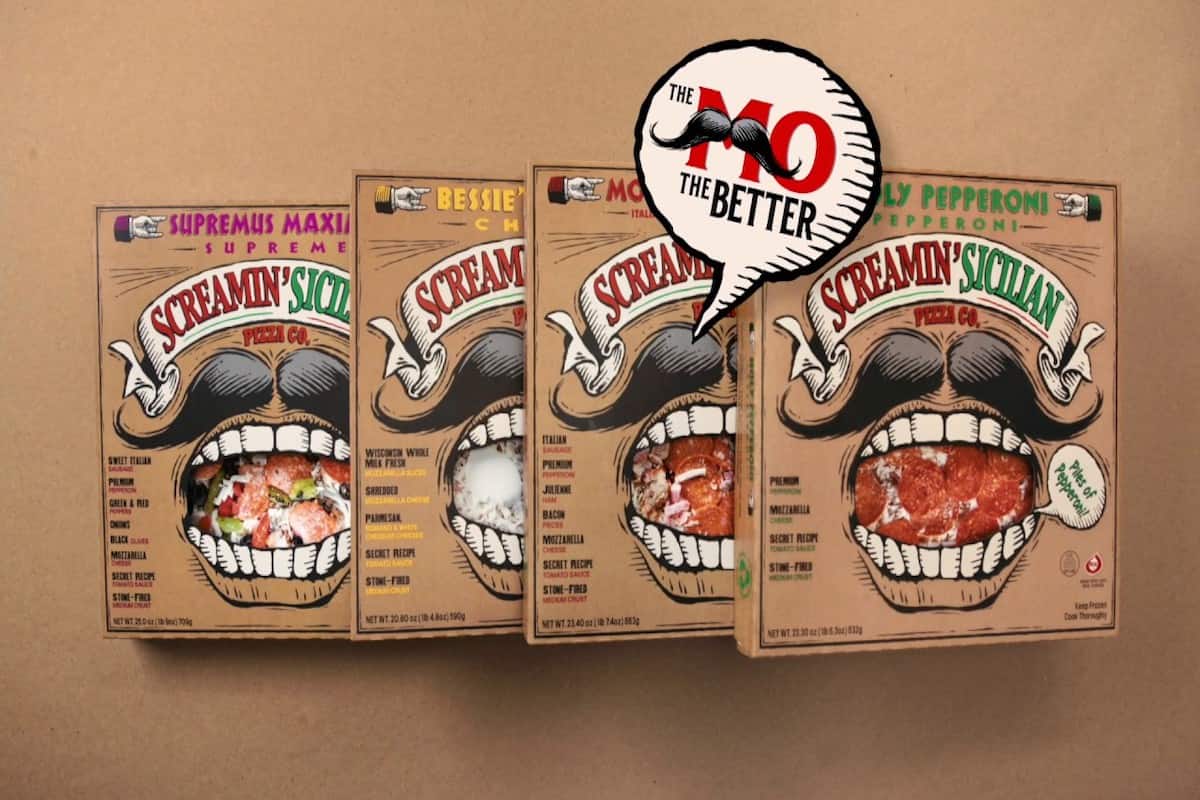 Screamin' Sicilian makes some of the best frozen pizzas, known for their bold flavors, creative combinations, and quality ingredients.
The brand is named after Gaspare "Papa Palermo" Fallucca, a Sicilian immigrant who came to America in 1954. Even today, the business remains family-run.
The company has risen to the top of the frozen pizza category because of its commitment to high-quality ingredients and the care put into each pie – they even individually hand-roll out each crust before packaging.
From Holy Pepperoni to Bessie's Revenge to Cookie Brownie Dessert Pizza, Screamin' Sicilian has many pizza flavors.
Today, I'll take you through my list of the 20 best Screamin' Sicilian pizzas worth trying!
20. Country Breakfast (Single Pizza)
You've heard of breakfast for dinner, now get ready for dinner for breakfast!
Well, that's basically what this pizza is. It's like biscuits and sausage gravy in a different form.
Country Breakfast is part of Screamin' Sicilian's "I'm Single" line, which means it's perfectly sized for one.
Instead of your typical tomato pizza sauce, the crust is covered in creamy sausage gravy.
It's also topped with whole milk mozzarella and breakfast sausage.
The sausage on here is peppery and crisp. There's a generous portion of sausage, cheese, and gravy.
Plus, the crust gets beautifully golden brown in the oven. My only wish is that it had something acidic on the pizza to cut through all the dairy and meat.
19. Pepperoni (Thin & Crispy Crust)
Screamin' Sicilian's Thin & Crispy pizzas are a bit of an enigma.
They're incredibly thin (hence the name), but each pie can somehow hold a ton of toppings without bending or getting soggy.
This pizza has regular old pepperoni slices, but it also has giant slices of pepperoni underneath the regular-sized pepperoni.
From the pepperoni to the crust to the golden brown cheese, it's crispy from top to bottom.
I'm usually not a fan of thin crust, but there are so many toppings on here that I didn't even notice the lack of crust.
Overall, this is your classic pepperoni pizza, but with slightly less cheese and sauce and a super thin crust.
18. Breakfast Club (Single Pizza)
Screamin' Sicilian has not only one but two breakfast pizzas on their roster.
Both are great options, but the Breakfast Club beats out the Country Breakfast for a couple of reasons.
This pizza features cheese sauce, bacon, sausage, scrambled egg, and mozzarella.
I like all the different textures going on here – the eggs are fluffy, the cheese sauce is gooey and melty, and the bacon is crispy.
Plus, the combination of bacon and eggs takes it to the next level and makes it feel like a true breakfast pizza.
As with the Country Breakfast pizza, I do think this pie could benefit from a little tomato sauce or some other acidic element.
Just like the other breakfast-themed pizza, this one is personal-sized.
17. Bacon-Roni (Original Crust)
When one pork-based topping simply isn't enough, you've got to go with the Bacon-Roni pie.
This Screamin' Sicilian pizza is made with their classic stone-fired crust and top-secret recipe tomato sauce.
The bacon on here is decently crispy, as is the pepperoni.
The pepperoni has a slight kick to it, which balances out the smokey flavor coming from the bacon.
The pie is topped with whole milk mozzarella, so it's got that classically creamy and cheesy feel you'd expect from a frozen pizza.
I love Screamin' Sicilian's classic crust – it's buttery, chewy, and "just" thick enough.
I'm not a huge bacon fan, but even I thought this pizza was pretty darn tasty!
16. Boss Hog (Original Crust)
Up next is another pork-filled pizza. If you think sausage deserves to be the star of every pie, look no further.
And we're not talking little sausage crumbles here- these are BOULDERS!
The sausage on here is the real deal. It's peppery, salty, and golden brown.
Instead of their typical mozzarella blend, Screamin' Sicilian tops this pie with mozzarella, grated parmesan, and Romano cheese.
This gives the pie an extra umami kick and brings out the meatiness of all that sausage.
Of course, it also features their classic tomato sauce to brighten things up.
The Boss Hog is served on Screamin' Sicilian's classic crust, which is the perfect mix between a thin and thick crust.
15. Cookie Brownie Dessert Pizza
Sure, sweet pizzas have been around for a long time, but dessert pizzas are a fairly new phenomenon.
It didn't take Screamin' Sicilian too long to hop on that train with their Cookie Brownie Dessert Pizza.
Crust-wise, we're working with a thin, flaky, and slightly sweet crust.
Instead of mozzarella, this pie features a sweet cream cheese sauce.
The toppings are little bits of cookie and brownie dough that bake in the oven as the rest of your pie heats up.
Once your pizza is finished baking, use the caramel packet for a sweet finishing drizzle.
Sweet pizza sounds a little off-putting at first but think of this as a giant cookie.
Overall, the taste gives off chocolate cheesecake vibes because of the cream cheese.
The caramel sauce adds even more sweetness with just a hint of salt to keep things from getting too sweet.
14. Mother of Meat (Original Crust)
The aptly named Mother of Meat is, quite literally, pork on pork on pork on pork.
The pizza starts with a classic crust, mozzarella cheese, and tomato sauce.
Then, it's loaded with spicy Italian sausage, pepperoni, smoked bacon, and sliced ham.
This pie is jam-packed with flavor and texture.
With each bite, you'll get some spice, a little smoke, and plenty of salt. You'll also get crispy bits, chewy bites, and melty bits.
That's what's so fun about this pie – each bite is slightly different from the last.
Mother of Meat will get the job done if you love a smokey, bold, salty slice.
13. Supreme (Thin & Crispy Crust)
I know I said the Pepperoni Thin & Crispy crust pizza is a bit of an enigma, but the Supreme version is downright mind-boggling.
It's made with the same super light and crispy crust but has WAY more going on up top.
This pizza from Screamin' Sicilian is topped with pepperoni, sausage, green and yellow peppers, red onions, black olives, and whole milk mozzarella cheese.
I love how the peppers and onions get slightly charred and sweet when cooked, and there's also a great meat-to-veggie ratio.
I think black olives are one of the most underrated pizza toppings of all time, and they just add a little extra something special to this pie.
Despite the heaps of toppings on the Supreme, you won't feel sick after eating it because the crust is so darn thin.
Just like the other pizzas in the Thin & Crispy line, this one features a secret-recipe tomato sauce and whole milk mozzarella cheese.
12. Pepperoni & Sausage (Thin & Crispy Crust)
This is the pick for those days when you're craving pizza but can't pinpoint the type you want.
The super thin, golden brown crust allows both meat toppings to take center stage.
The pepperoni lends some spice, while the sausage provides a bit of smokiness.
It's just different enough from your classic pepperoni pizza to give it some excitement.
Plus, the combo of a classic tomato sauce and whole milk mozzarella makes this a solid, timeless option.
My only wish is that the Thin & Crispy line of pizzas had a smidgen more cheese and sauce, but I'm pretty sure that would make the entire thing implode, considering how fragile the crust is!
11. Bessie's Revenge (Original Crust)
Bessie's Revenge holds the title for the best-named Screamin' Sicilian pizza flavor.
Bessie is the resident cow responsible for making the company's cheese, so her "revenge" comes in the form of the cheesiest frozen pizza to ever hit the market.
The base of the pie is their classic stone-fired butter pizza crust.
This is topped with their secret-recipe tomato sauce and a generous helping of shredded whole-milk mozzarella.
Sounds like a regular cheese pizza, right? Well, this is where we get into the good part.
The pizza is then topped with huge slices of freshly cut Wisconsin mozzarella, shreds of white cheddar, and a generous sprinkling of parmesan and romano cheeses.
That's five different types of cheese, all jam-packed onto one regular-sized frozen pizza!
It's a dairy bomb for sure, but I think this pie is worth every calorie.
10. Supreme (Stuffed Crust)
Screamin' Sicilian's "I'm Stuffed" line of pizzas is – you guessed it – a roster of pies that are jam-packed with cheese in the crust.
Their Supreme version on the stuffed crust is topped with tomato sauce, whole milk mozzarella, and "the works" – pepperoni, sausage, red peppers, green peppers, yellow onion, and black olives.
All the toppings on this pie taste fresh and delicious, but the real star of the show happens to be the crust.
The crust here is stuffed with more than 2.5 feet of mozzarella.
The outer circle of the crust is where you'll find the cheese, meaning no matter which area of the pie you bite, you're bound to get a mouthful of cheese (and who doesn't want that?)
As a frozen pizza lover, I can confirm that Screamin' Sicilian's stuffed pizza does seem to contain more cheese than the competitor's stuffed crusts.
With this pie, every single bite will be filled with cheese, veggies, or meat.
9. Hunky Hawaiian (Original Crust)
If you think pineapple on pizza is a no-go, I respect your opinion.
I can see where fruit on a savory pizza seems wrong, but there's something about a Hawaiian pizza that makes me crave that salty-sweet combo every once in a while.
Screamin Sicilian's Hunky Hawaiian has all the elements of the classic (yet controversial) tropical treat.
It features smokey, salty julienned ham, pieces of crispy bacon, and chunks of sweet pineapple.
It's not that overly sweet, fake-tasting pineapple that sometimes comes in a can. It actually tastes like fresh, natural pineapple.
The sweeter ingredients like pineapple and tomato sauce brighten up the salty, smokey meats on this pie and make for a great option for salty-sweet lovers.
Even if you're not a pineapple person, the Hunky Hawaiian is worth trying.
8. Double Sausage (Thin & Crispy Crust)
Pepperoni gets all the glory when it comes to pizza toppings, but sausage can hold its own in that department, too.
If you're a sausage fan, look no further than the Double Sausage pizza from Screamin' Sicilian's Thin & Crispy line.
It's made with two different types of sausage, regular and spicy.
Like the other pizzas on this list that feature sausage, you'll not get little crumbles on here – you'll get a hefty portion.
While this pie isn't spicy, the spicy sausage adds just enough kick to make it stand out.
And just like Screamin' Sicilian's other thin-crust pizzas, this one is overtopped, so it's got a ton of sausage while maintaining a delicate yet sturdy crust.
It also features a classic tomato sauce and whole milk mozzarella.
7. Holy Pepperoni (Loaded Pan Crust)
When a regular amount of pepperoni isn't going to cut it, you have to go for something more extreme.
That's where the Holy Pepperoni with Loaded Pan Crust pizza comes in.
Not only is this pizza topped with a double helping of pepperoni (to the point where every possible spot has at least one slice on it), but it also has bits of pepperoni smashed and baked into the bottom of the crust.
The extra pepperoni throughout the pizza is a welcome surprise, especially the little bits baked into the bottom.
But the crust is also a major player here. It's thicker than Screamin' Sicilian's classic crust but not to a deep-dish level.
It has some fluff and breadiness that reminds me a bit of focaccia bread.
Each pizza comes with its own bake-in-the-oven pan to ensure that the pepperoni on the bottom will bake into the crust.
6. Supremus Maximus (Original Crust)
The Supremus Maximus is the pie that's got it all.
There's pepperoni, huge sausage chunks, a plethora of veggies (red and yellow bell peppers, onions, and black olives), and your classic combo of bright tomato sauce and shredded whole-milk mozzarella.
No one flavor overpowers the others here, which is why it works so well.
The peppers and onions bring a touch of sweetness to the pie, and those black olives are the finishing touch.
The crust is Screamin Sicilian's classic butter crust, which can hold up all those heavy toppings while still delivering on the chew and flavor factors.
If you're looking for a great overall pizza topped with "the works," this will be right up your alley.
5. Bessie's Revenge (Loaded Pan Crust)
Picture this: the same pizza I talked about in the number 11 spot, but with (somehow) MORE cheese.
This is the delicious reality when it comes to Bessie's Revenge with Loaded Pan Crust.
Not only is this pizza covered in five different cheeses (shredded mozzarella, sliced Wisconsin mozzarella, white cheddar, parmesan, and romano, in case you forgot), but it also features more cheese baked into the bottom of the thick, focaccia-esque crust.
All that extra cheese on the bottom of the pan bakes into caramelized, crispy goodness.
Plus, extra bits of herbs are baked into the bottom of the crust, the two strongest flavors being garlic and oregano.
This pie packs quite a punch in the flavor department – no meat is needed.
4. Holy Pepperoni (Original Crust)
The Holy Pepperoni is one of the best-tasting frozen pepperoni pizzas I've tried, hands down.
Screamin' Sicilian nails every element on this pie.
The crust is the perfect balance between thick and thin. It's chewy and gets perfectly golden after its time in the oven.
The sauce is the same bright, zesty tomato sauce they use on most of their other pizzas.
The same goes for the whole milk mozzarella. Then, of course, there's a generous heap of pepperoni on top of it all.
Pepperoni is, without a doubt, the star of this dish.
Instead of a regular helping, which would be a single layer all around the top of the pizza, there are two or three pieces overlapping with each original piece of pepperoni.
Each slice is crispy and a little greasy, as all pepperonis should be.
As Screamin' Sicilian describes this pie: this is a "pepperoni pizza made for real pepperoni lovers."
3. Mambo Italiano (Original Crust)
I said before that olives are an underrated pizza topping, and I feel the same way about meatballs.
I've had a couple of meatball pizzas in my day, and each one was delicious.
I don't need or want them to be gigantic, but little mini meatballs on top of a gooey, crispy pizza just do something for the flavor and texture of the overall pie.
All that said, Screamin' Sicilian's Mambo Italiano hits the nail on the head.
The meatballs are perfectly sized and add that classic Italian flare thanks to their breadcrumby, garlicky, beefy flavor.
The meatballs are so good that the pepperoni isn't really needed, but it adds a slightly spicy kick to the rest of the pie, which is always welcome.
You'll get at least one meatball and 2-3 slices of pepperoni per slice of pizza – a pretty good amount if you ask me.
Of course, this pie also features Screamin' Sicilian's classic buttery crust, secret-recipe tomato sauce, and whole milk shredded mozzarella.
2. Ultimate Deluxe (Original Crust)
Screamin' Sicilian claims their Ultimate Deluxe pizza is topped with "everything but the kitchen sink," and they're not wrong.
This gem really does have it all – yes, even more than the famously jam-packed Supremus Maximus pizza!
The Ultimate Deluxe features a classic buttery crust, zesty tomato sauce, and a generous helping of whole-milk mozzarella.
Then, it's topped with Italian sausage, slices of pepperoni, green and red bell peppers, yellow onions, and white mushrooms.
It sounds like almost too many toppings at first, but they all blend seamlessly when you're eating the pizza, and each ingredient fits right in.
The fresh-tasting veggies cut the smoky, salty meats, making for a perfectly balanced pie.
The onions are slightly caramelized once they're baked, adding just a touch of sweetness.
The Ultimate Deluxe really does have it all, proving that sometimes, more is more!
1. Sausage & Shrooms (Original Crust)
I'd happily eat every single pizza on this list again. But without a doubt, the one I always go back to is the Sausage & Shrooms pizza.
It's one of the harder pizzas to find in-store, though.
I'm not sure if that's because it's so popular or not sold at as many locations as their more classic flavors, but if you happen to come across it on your next grocery store visit, snag one to try!
The Sausage & Shrooms pie starts with a buttery, chewy crust, and Screamin' Sicilian's classic tomato sauce.
It's topped with three different cheeses: whole-milk mozzarella, parmesan, and romano.
Then, there's a combination of Italian sausage, white mushrooms, and yellow onion.
Finally, just for an extra burst of flavor, some garlic, oregano, and basil are dusted onto the top of the pie.
So what makes it the best pizza that Screamin' Sicilian has to offer? Well, a few different factors.
For starters, I'm a big mushroom gal, and having these on the pizza boosts its umami and brings in some fun texture.
The sprinkling of spices on the top adds some Italian flare and brings out the flavor of the sausage and cheese.
I'm not a huge fan of sausage, but the kind Screamin' Sicilian uses is perfectly salty, peppery, and crispy on the outside, so I have no complaints.
Plus, the tomato sauce adds just enough acidity to keep everything in balance.
I also love how this pizza is slightly out there in terms of toppings and flavors but not so different that it will scare people off from trying it.
Conclusion
There it is, folks – the 20 best pizzas money can buy from Screamin' Sicilian.
Most, if not all, will be ready and waiting for you in the frozen food aisle of your local grocery store.
The Holy Pepperoni and Bessie's Revenge are perfect for those looking for a simple, classic frozen pizza that packs a punch of flavor.
And the Ultimate Deluxe and Sausage & Shrooms are great options when you are feeling just a bit adventurous!