10 Premade Pizza Doughs & Crusts to Buy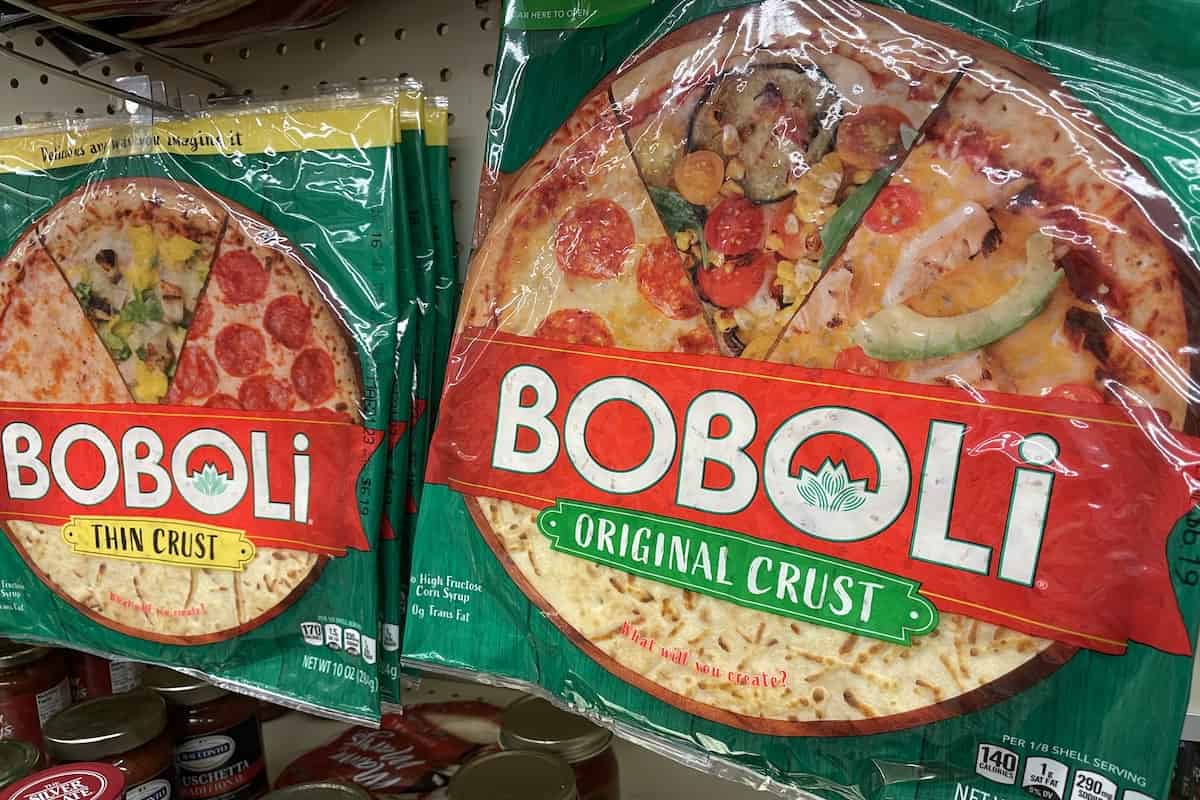 The first step to a successful make-your-own-pizza night is finding the right premade dough at the supermarket.
If the dough is too thick and soggy, it's not going to hold all your toppings well, and if it's too crispy and thin, you won't get that chew we all love in a pizza.
Luckily, there are many premade pizza doughs and crusts available at your local grocery store to get you started.
Today, I'll share my favorite frozen pizza doughs that I buy when I prep for a pizza night.
Whether you want to shape the dough yourself or simply slap some cheese and toppings on the crust and be done, there's an option on this list for everyone.
Read on to find out the 10 best store-bought pizza doughs and crusts to look for on your next grocery haul.
10. Stonefire Artisan Thin Pizza Crust
The Stonefire Artisan Thin Pizza Crust comes pre-cooked, so all you need to do is add your toppings before throwing it in the oven.
Stonefire's thin pizza crust appeals to most people – it's not too bready but holds toppings well and crisps up around the edges.
The parts not covered by cheese and tomato will get nice and golden brown. Plus, the flavor of this crust is mild.
Whatever toppings you choose to add are going to shine through, and the crust will be more of a background note.
These pizza crusts are 8 inches, which is perfect for one person. Each crust contains 350 calories.
9. Boboli Original Pizza Crust
Here's another option for those looking for a premade crust that doesn't require stretching or shaping.
Boboli's Original Pizza Crust makes pie making a breeze. Just choose your toppings, pop it in the oven, and wait.
These crusts are 12 inches wide, so they're slightly bigger than Stonefire's premade crust, which is why I ranked them slightly higher.
Boboli pizza crust also has a satisfying chew to it and gets crispier than most other premade crusts I've tried (besides the one coming up next).
It contains less than a gram of sugar, 0g of trans fat, and no high fructose corn syrup.
Premade crusts sometimes have a lot of processed ingredients in them, so this is definitely a plus.
The Boboli Original Pizza Crust is 14 oz. There are 8 servings per container and 140 calories per serving.
8. Brooklyn BRED Neapolitan Thin Pizza Crust
Brooklyn BRED's Neapolitan Thin Pizza Crust is thinner and lighter than any other crusts on this list.
If you love a super crispy pizza crust, it doesn't get better than Brooklyn BRED.
Despite that big crunch, the inside is quite tender.
It's in the shape of a rectangle rather than the classic circle crust, which I personally love the look of.
Plus, it's vegan and kosher.
Despite the crust being so thin, it's able to hold an impressive amount of tomato sauce, cheese, and toppings.
Brooklyn BRED uses 00 Pizza Flour, which is the preferred flour of Neapolitan pizza makers.
This is how they're able to create such a sturdy yet delicate premade crust.
Each crust weighs about 3 oz and contains 200 calories.
7. Good & Gather Organic Ultra-Thin Pizza Crust
Good & Gather is Target's private-label brand, so everything in this line is fairly cheap. Off to a good start!
Their Organic Ultra-Thin Pizza Crust always hits the spot for me and my bank account.
It varies by location, but I can get two premade crusts for less than $6 (it was probably even less a few months ago – Inflation, am I right?).
This crust's thinness allows you to not feel overly full. It really lets your toppings shine, and you can customize how crisp you want it.
I like a crust that isn't too crispy, but you can easily pop this crust in the oven directly on the rack for a super crunchy bottom.
Another plus to the Good & Gather premade pizza crust is that it's free of artificial colors, flavors, and preservatives, which are hard to come by in the premade crust world.
Each of these crusts contains 3 servings, and each serving has 150 calories.
6. Papa Sal's Original Pizza Dough
Alright, we're now broaching the pizza dough section of the list.
Papa Sal's Original Pizza Dough must be rolled or stretched into your desired shape before putting your toppings on.
In other words, the dough is raw, whereas the four items we've previously discussed are pre-cooked.
Papa Sal's says that their pizza dough is made with real and simple ingredients.
It tastes exactly how you expect pizza dough to taste – a little salty, savory, and buttery.
This premade dough also stretches easily, so you won't get a hand cramp while whipping one of these up.
Papa Sal's also encourages customers to use this dough for more than pizza crust – it's a popular choice for garlic knots, calzones, and more.
Each dough has 8 servings, and each serving contains 120 calories.
5. Mama Cozzi's Pizza Kitchen Pizza Dough
I go to Aldi on rare occasions, but when I do go, I always pick up one or two of Mama Cozzi's Pizza Kitchen Pizza Dough.
It's so easy to use and freeze, and you get some huge bang for your buck.
Just like Papa Sal's dough, Mama Cozzi's pizza dough can be used to create plenty of other treats like bread or calzones.
It's super easy to roll out and stretch, and the crust becomes an irresistible golden brown after it's been baked.
You can use this premade dough to create a few mini pizzas or make one big pizza.
Each dough package contains 8 servings, and each serving contains 120 calories.
4. Pillsbury Classic Pizza Crust
I'm probably not the only one who finds the Pillsbury Classis Pizza Crust to taste super nostalgic.
It's so buttery that I could easily eat the dough fresh from the oven without any toppings.
But we're talking pizza crusts here, so I'll refrain!
This premade crust comes in a rectangular shape, and there's no need to roll it out or reshape it.
Simply unroll the dough onto a baking sheet and add toppings before baking.
I'm a fan of super buttery crusts, which is a big reason I ranked Pillsbury this high on the list.
This premade pizza dough is also pretty crispy once baked in the oven and is on the thinner side.
Each container has 6 servings, and each serving has 160 calories.
3. Pizza Buddy Pizza Dough
Pizza Buddy's Pizza Dough is not only one of the most budget-friendly options on our list, but it also creates dark brown, charred bubbles as it bakes.
You wouldn't know this premade dough was so cheap just by tasting it.
Pizza Buddy recommends letting it come to room temperature before rolling it out.
Once it's room temp, the dough is super easy to stretch with your hands to get it to your desired size.
The more you knead the dough, the chewier it will be, so don't be scared to give it a few extra stretches if you love a chewy crust.
One package of this dough contains 8 servings, with 120 calories in each serving.
2. Trader Joe's Plain Pizza Dough
Trader Joe's Plain Pizza Dough is as classic as it gets.
Trader Joe's also has a great herbal pizza dough, but it didn't make the cut for today's list. The OG simply can't be beaten!
The crust has just the right amount of salt and has some fluffiness, which I appreciate in a dough world that mostly focuses on keeping things super thin and crispy.
Each package comes with 16 oz of dough and contains 8 servings, with 120 calories in each serving.
1. Whole Foods Market White Pizza Dough
Whole Foods is more like a fair attraction than a grocery store (at least to me).
They always have fun premade items, make-at-home items, and fresh market finds.
Even though some of their products can be a little overwhelming, their premade pizza dough is surprisingly easy to get the hang of.
Simply roll the dough into your desired shape, add your toppings, and bake.
I love this dough because the inside stays super soft while the outside gets crispy.
This is the best premade pizza dough that strikes a perfect balance between soft and crunchy.
It could be the placebo effect since I associate Whole Foods with freshness and fanciness, but I can tell you that the crust does taste significantly fresher than any other premade dough I've tried.
Give it a try on your next pizza night – I bet everyone in attendance will ask how you made the dough!
Conclusion
If you're not planning to make your homemade pizza dough from scratch, premade doughs at supermarkets can be your best friend.
Many grocery stores not only have great frozen pizzas but also carry plenty of premade doughs and crusts to choose from.
I recommend starting with the Whole Foods dough if you have any stores near you, or try the Trader Joe's dough if that's closer.
Which dough will pick up next time the pizza oven calls your name?