What Time Does Wendy's Serve Lunch?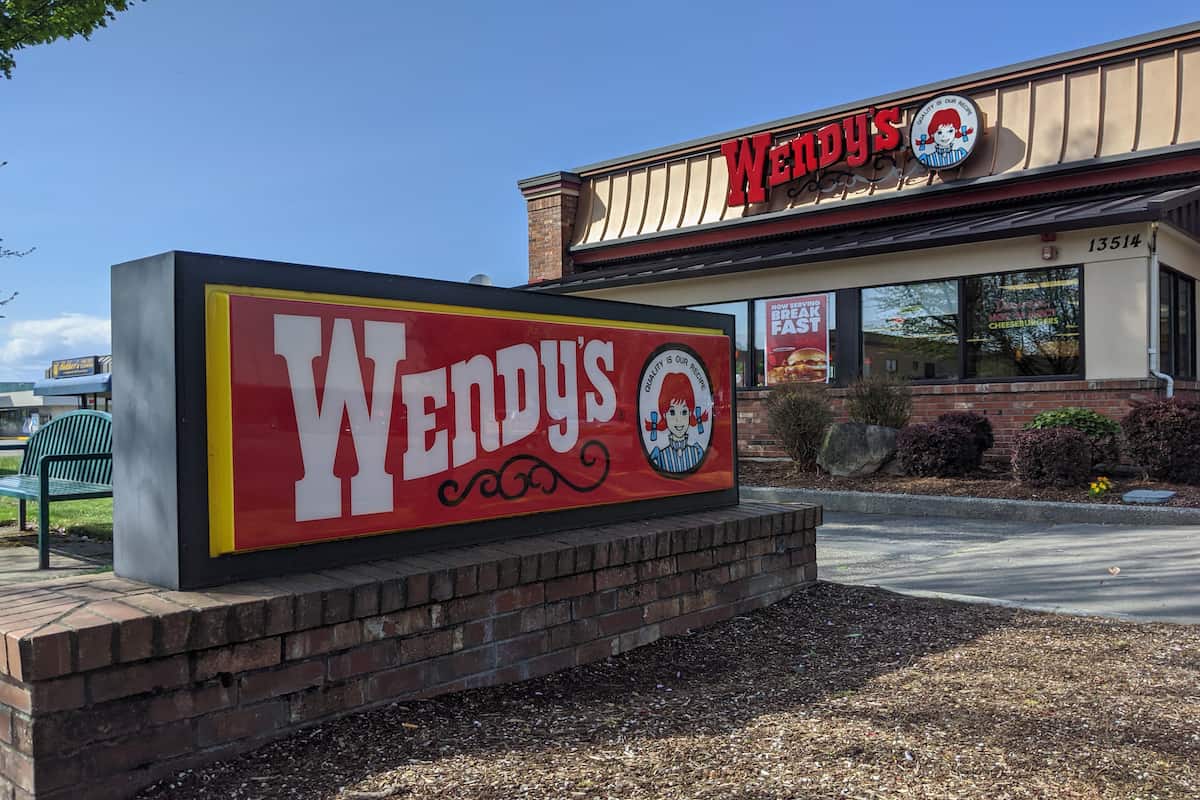 What began as a burger chain has grown to include breakfast, lunch, and dinner, but you'll have to show up at the right time to get your favorite items at Wendy's.
Wendy's serves lunch from 10:30 am until closing every day. Wendy's lunch menu includes a variety of burgers, chicken sandwiches, nuggets, salads, and sides. In addition, they offer drinks, baked goods, famous frosty combo meals, and limited-time specials.
In this article, we'll cover everything you need to know about Wendy's lunch menu, including their lunch hours and available menu items.
What Are Wendy's Lunch Hours?
Wendy's lunch hours start at 10:30 am every day, and the lunch menu is served until the restaurant closes at 1:00 am.
As with many fast-food chains, Wendy's is franchise owned. That means each restaurant is individually owned and has some say in the way that restaurant operates.
The standard hours of operation for Wendy's restaurants are 6:30 am – 1:00 am.
However, not all locations find it profitable to open for breakfast or stay open late, so some may open later or close earlier.
You may also find some slight variation in the lunch hours.
Although 10:30 am seems to be the standard time for Wendy's menu to switch from breakfast to lunch, some locations may not serve lunch until 11 am, while others may begin serving your lunchtime favorites as early as 10 am.
To find out the exact time you can start ordering lunch at your local Wendy's, it's best to inquire directly with the staff.
They'll be able to give you the inside scoop on their official lunch hours, as well as on which items you may be able to order a bit early.
The chart below shows Wendy's lunch hours according to their standard hours of operation.
| | |
| --- | --- |
| Day | Wendy's Lunch Hours |
| Monday | 10:30 am – 1:00 am |
| Tuesday | 10:30 am – 1:00 am |
| Wednesday | 10:30 am – 1:00 am |
| Thursday | 10:30 am – 1:00 am |
| Friday | 10:30 am – 1:00 am |
| Saturday | 10:30 am – 1:00 am |
| Sunday | 10:30 am – 1:00 am |
Wendy's Lunch Hours
Does Wendy's Serve Lunch All Day?
Wendy's restaurants offer a breakfast and lunch menu, with the lunch menu carrying through dinner time until closing. However, lunch items are unavailable in the morning and can only be ordered once the breakfast menu has switched to the lunch menu, typically at 10:30 am.
The main reason fast food restaurants separate the breakfast and lunch menus is the space. In addition, breakfast and lunch items use different ingredients and methods of cooking.
Since most restaurants are limited in their kitchen space, employees have to put their breakfast items away to make room for lunch items.
Of course, if your free window in the day happens to be between 10 and 11 am, you may want to know if you can order your favorite Wendy's burger during breakfast hours.
The answer is a maybe, and the best way to find out is to ask a manager at the location you plan to visit.
The exact time each restaurant puts away its breakfast items and brings out lunch items may vary based on business and employee preference.
For example, restaurants busy during breakfast may slightly extend their breakfast hours, while locations that don't get busy until lunch may set up lunch items before 10:30 am.
What Is on Wendy's Lunch Menu?
Wendy's lunch menu includes burgers, sandwiches, nuggets, salads, and sides. Wendy's also offers drinks, combo meal options, kids' meals, and baked and frozen desserts at lunchtime.
Wendy's lunch menu is divided into the following categories:
Hamburgers
Chicken, Nuggets & More
Fresh-Made Salads
Fries & Sides
Beverages
Frosty
Bakery
Combos
Wendy's Kids' Meal
Biggie Deal
Meal Deals
We'll delve into each category on Wendy's lunch menu next.
Hamburgers
Wendy's burgers are what put them on the map. They pride themselves on their beef and focus on responsible sourcing practices in animal care and welfare.
Along with being the first restaurant chain to partner with the Progressive Beef program, the Wendy's Animal Care Standards Program supports this partnership by building greater visibility into Wendy's supply chain and improving the sustainability within these industries.
Wendy's is one of the few fast-food chains that can say they use fresh, never-frozen beef.
Furthermore, Wendy's beef comes from grain-fed cattle no older than 42 months.
In other words, these same cattle have been raised to produce high-quality meat such as USDA Prime, Choice, and Select grades.
Wendy's beef patties come directly from the beef packaging and processing facilities that take cuts from packers to be processed into fresh patties.
Wendy's is also making efforts to reduce antibiotics within the beef supply chain, with nearly a third of its supply coming from producers committed to reducing antibiotic usage.
There are six hamburgers on Wendy's menu, excluding specials or limited-time offers.
The primary burgers on Wendy's lunch menu are:
Bourbon Bacon Cheeseburger
Dave's Burger
Baconator
Big Bacon Classic
Jr. Cheeseburger
Double Stack
The Bourbon Bacon Cheeseburger, Dave's Burger, and Big Bacon Classic can all be ordered as a single, double, or triple.
The Baconator comes with two patties and an abundance of bacon, but the Son of Baconator downscales the size of each patty.
The Double Stack is also available with bacon, and Jr. Cheeseburgers can come with bacon, as a deluxe with all of the veggies, or without cheese as a standard hamburger.
Some burgers, such as the Pretzel Bacon Pub Cheeseburger, will occasionally appear on the menu.
With a hearty pretzel bun, this burger uses the same fresh beef patty and can be ordered as a single, double, or triple.
Each Wendy's burger can be ordered a la carte or as a combo meal with a side and drink.
Chicken, Nuggets & More
Wendy's offers a variety of chicken-based items, including chicken sandwiches and chicken nuggets. Sandwiches available at Wendy's include:
Chicken Sandwich
Hot Honey Chicken Sandwich
Asiago Ranch Club
Crispy Chicken Sandwich
When ordering the Chicken Sandwich, Hot Honey Chicken Sandwich, or Asiago Ranch Club, you can choose between a spicy, classic breaded, or grilled patty.
The Crispy Chicken Sandwich, on the other hand, uses a different lightly breaded and seasoned patty.
This sandwich is part of the "Value Menu" and can also be ordered as a Crispy Chicken BLT sandwich.
Wendy's also offers two nuggets – Crispy Chicken Nuggets and Spicy Chicken Nuggets.
Each order of nuggets comes with your choice of any of the following Wendy's sauces:
Barbecue
Ghost Pepper Ranch
Honey Mustard
Ketchup
Buttermilk Ranch
Sweet and Sour
Each nugget type can be ordered as 4, 6, or 10 pieces. The 10-piece order can also be ordered as a meal along with a drink and a side.
Fresh-Made Salads
Wendy's is known for having delicious and healthy alternatives on its menu, and its fresh-made salads don't disappoint. There are four salads to choose from, with options including the following:
Parmesan Caesar Salad with Caesar Dressing
Southwest Avocado Salad with Southwest Ranch Dressing
Taco Salad
Apple Pecan Salad with Pomegranate Vinaigrette Dressing
The Taco Salad isn't automatically served with a dressing, including a portion of Wendy's famous chili.
Every other salad comes with a packet of the recommended salad dressing, but you can try it with a different dressing upon request.
Fries & Sides
Along with the standard side order of fries, Wendy's also offers several varieties of loaded fries and loaded baked potatoes.
And for those who don't want anything potato, there's also their delicious meat and bean chili, spicy or crispy chicken nuggets, or light and crisp apple bites.
Wendy's fries include the following options:
Natural-Cut French Fries
Pub Fries
Baconator Fries
Chili Cheese Fries
Cheese Fries
Their natural-cut fries can be ordered in junior, small, medium, or large sizes. They can also be ordered with ketchup, mayo, or dipping sauces.
All other Wendy's fries are served in one standard size. While each order can be customized, these sides can only be ordered a la carte.
Wendy's also offers baked potatoes as an alternative to French fries. Their baked potato options include:
Plain Baked Potato
Sour Cream and Chive Baked Potato
Bacon Cheese Baked Potato
Chili & Cheese Baked Potato
Cheese Baked Potato
Each baked potato can be customized but can only be ordered a la carte.
Other Wendy's sides include a 4 or 6-piece order of nuggets, standard-size apple bites, or your choice of a small or large chili.
Beverages
Wendy's lunch menu offers various beverages, including fountain drinks and select house specials.
Available beverages listed on Wendy's lunch menu include the following:
Sunburst Melon Lemonade
Pineapple Mango Lemonade
All-Natural Lemonade
Strawberry Lemonade
Coca-Cola
Coca-Cola Zero Sugar
Diet Coke
Sprite
Dr. Pepper
Barq's Root Beer
Fanta Orange
Iced Tea
Pure Life Bottled water
Fresh Brewed Coffee
Fresh Brewed Decaffeinated Coffee
Milk
Chocolate Milk
Cold Brew Iced Coffee
Vanilla Frosty-ccino
Chocolate Frosty-ccino
Honest Kids Fruit Punch
Simply Orange Juice
All lemonades and fountain drinks can be ordered in small, medium, or large sizes.
In addition, coffee drinks are available in small or large sizes, while milk and juice come in one prepackaged size.
Frosty
Wendy's frosty is one of their best-known items, so it deserves a category of its own.
While the classic flavor is Classic Chocolate Frosty, other varieties, such as strawberry and seasonal flavors, also make an appearance.
A frosty can come in a junior, small, medium, or large size. Although frosty can only be ordered a la carte, many fans enjoy pairing them with an order of hot and fresh fries.
Bakery
Wendy's bakery items are simple, but they've gotten some good reviews. Items include an oatmeal bar, a chocolate chunk, or a sugar cookie.
While all of these items can be ordered a la carte and are available all day, the oatmeal bar is also available as a side with breakfast meals.
In addition, every bakery item at Wendy's costs less than $2, making these perfect for when you need a sweet treat after your favorite meal.
Combos
Wendy's offers combo meal options for some of its most popular entrée items. Available combo meals include the following:
Dave's Combo
Baconator Combo
10 PC. Nuggets Combo
Classic Chicken Sandwich Combo
Grilled Chicken Sandwich Combo
Spicy Chicken Sandwich Combo
Big Bacon Classic Combo
Pretzel Bacon Pub Cheeseburger Combo
Bourbon bacon Cheeseburger Combo
Asiago Ranch Chicken Club Combo
Pretzel Bacon Pub Chicken Sandwich Combo
Hot Honey Chicken Combo
Each Wendy's combo meal comes in small, medium, or large sizes, complete with a side and a drink.
In addition, each burger can be ordered as a single, double, or triple, while each chicken sandwich can be ordered as classic, spicy, or grilled.
Wendy's Kids' Meal
Like most fast food chains, Wendy's offers a special menu for little ones. Wendy's kids' meals include the following options:
Kids' 4PC Nuggets
Kids' 4PC Spicy Nuggets
Kids' Hamburger
Kids' Cheeseburger
Each Wendy's kids' meal comes automatically with a side of apple bites and milk, though these can be exchanged for another drink or side upon request.
Each meal also comes with a kids' meal toy that's usually appropriate for ages 3 and older.
Biggie Deals
In addition to their standard combo meals, Wendy's also offers Biggie Deals. These deals are unique because they offer more variety by combining the smaller burgers on Wendy's menu with two sides and a drink.
Wendy's Biggie Deals are available with the following burgers:
Jr. Cheeseburger
Jr. Cheeseburger Deluxe
Jr. Bacon Cheeseburger
Double Stack
Bacon Double Stack
Crispy Chicken Sandwich
Crispy Chicken BLT
Jr. Hamburger
Biggie deals can be ordered in small, medium, or large sizes. Each order comes with a drink, a side of natural-cut fries, and a 4 PC. order of either crispy or spicy chicken nuggets with your choice of dipping sauce.
Meal Deals
If two types of combos and kids' meals weren't enough, Wendy's also offers meal deals. Meal deals include the following value combos:
Double Stack Biggie Bag
Jr. Bacon Cheeseburger Biggie Bag
Crispy Chicken BLT Biggie Bag
Jr. Cheeseburger – 4 for $4 Meal
Each Biggie Bag combo includes a side of fries, a 4 PC. order of chicken nuggets, and a drink.
Wendy's Jr. Cheeseburger – 4 for $4 Meal includes the same variety of items but at the value price of only $4.
Are Wendy's Lunch and Dinner Menus the Same?
Wendy's lunch and dinner menus are the same, though the hours of operation may vary between restaurants. Wendy's starts serving the lunch menu once breakfast ends at 10:30 am. It is then served for the rest of the day until closing.
Wendy's locations serving breakfast keep this menu until 10:30 am, when they switch to lunch. Locations that don't offer breakfast will open at 10:30 am and jump right into the lunch menu.
For select 24-hour locations, Wendy's will continue to serve its lunch menu until breakfast starts again at 6:30 am the next day.
Although Wendy's doesn't offer a specific dinner menu, dinner hours typically begin around 4:30 pm.
What Time Does Wendy's Close?
Wendy's standard closing time is 1 am, though this may not be the same for all locations. While some restaurants close as early as 10:00 pm, those in busy metropolitan areas may stay open 24 hours.
Wendy's will continue to serve the lunch menu until closing, regardless of the time for each restaurant.
The easiest way to confirm what time your local Wendy's is open is by using the restaurant locator. This can be found on Wendy's website or through their mobile app.
When using their website, you can find the restaurant locator by clicking "Find a Wendy's" at the top of the page.
You'll also find the same button at the top of the app screen or by clicking directly on the selected address once you've started an order.
You can search for Wendy's locations by entering a city, state, or zip code. You can also filter your results by the following features:
Mobile Ordering
Mobile Payment
Wi-Fi
Open Late
Open 24 Hours
Breakfast
Coca-Cola Freestyle
Favorites
All search results will be listed and shown on a map, along with each location's address and hours of operation.
What Are the Busy Hours at Wendy's?
The busy hours at Wendy's will depend on the restaurant's location, but lunchtime tends to be the busiest across the board. This can fall anywhere between the start of the lunch menu at 10:30 am until around 2:00 pm.
Although the lunch menu still seems to take the cake, Wendy's breakfast menu has grown over the years and is predicted to surpass Burger King for the second spot in fast-food breakfast sales.
The busiest times at locations where breakfast is popular are between 8 am and 9 am.
Along with finding your nearest Wendy's restaurant through their website or mobile app, you can search for it through Google Maps.
Simply type "Wendy's" into the Google Maps search bar, then select the restaurant you'd like to visit.
This will provide an overview of that restaurant, including a chart of the busy and slow times at that location.
Conclusion
Wendy's starts serving lunch at 10:30 am, and there's no surprise that customers flock there at that time.
With a delicious selection of fresh beef burgers, juicy chicken sandwiches, salads, and loaded sides, there's a lot to choose from on Wendy's lunch menu.
Served until closing, you can enjoy your favorite items, and their combos offer many fun ways to eat your meals.
For more information about Wendy's, check out the articles below.