The Best Food to Order at Texas Roadhouse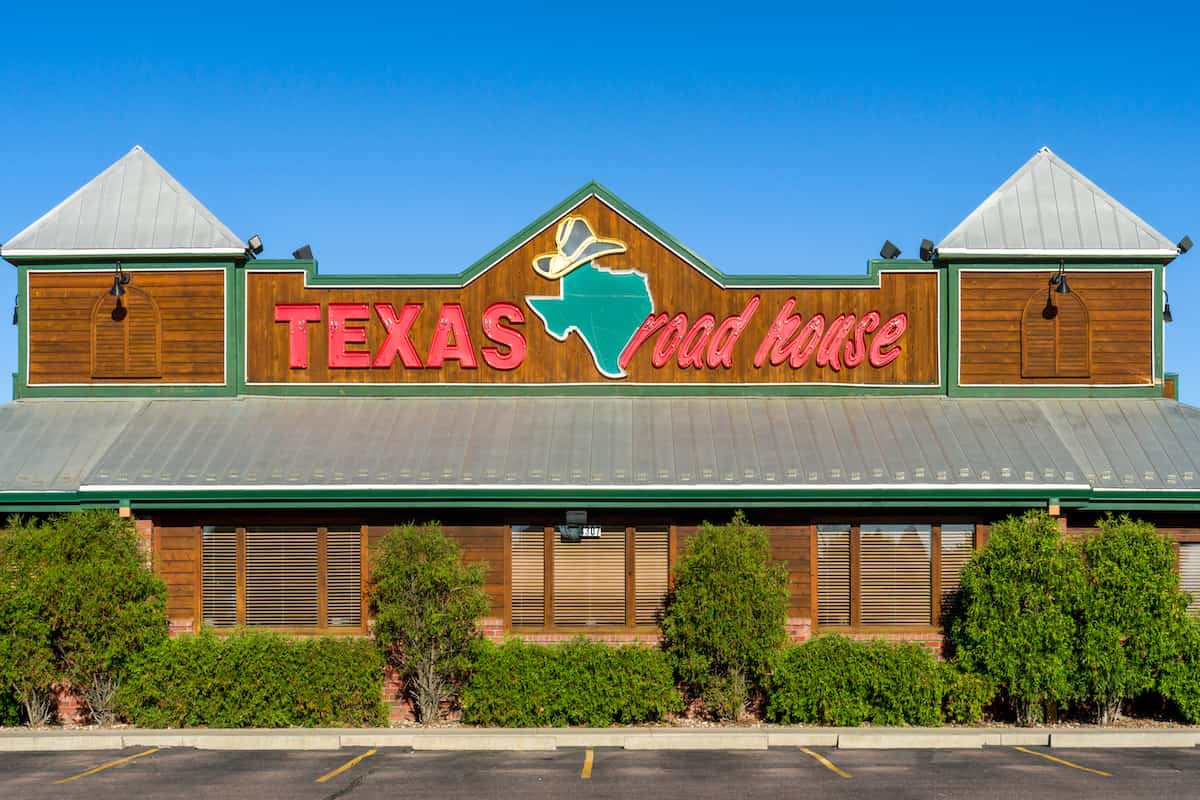 Texas Roadhouse is known for its award-winning steaks, made-from-scratch sides, and many other delicious menu items.
The restaurant was founded in Indiana in 1993 and has since grown to become one of the best steakhouse chains in the US.
All of their steaks are hand-cut and seasoned with a blend of spices, and the sides are made to order using fresh ingredients.
They also have a great selection of beers and wines, and the staff is always happy to help you find the perfect pairing for your meal.
If you're looking for the best food at Texas Roadhouse, you can't go wrong with their steak.
The hand-cut sirloin is popular, but plenty of other tasty options exist.
The fall-off-the-bone ribs are another great option, and they come with a special sauce that makes them even more delectable.
If you're looking for something lighter, grilled chicken and seafood dishes are served with various sides that will leave you full and satisfied.
No matter what you order on the Texas Roadhouse menu, you will surely have a great experience.
Below is my list of the best Texas Roadhouse menu items that are not to be missed!
25. Grilled Chicken Salad
The Grilled Chicken Salad is a fan favorite for good reason. It's an all-in-one meal that packs in savory goodness, crunchiness, and tastiness.
This salad features fresh romaine lettuce with grilled chicken strips, shredded cheddar cheese, diced tomatoes, bacon, and croutons.
All the ingredients combine to create a savory dish that will make you want more after every bite.
The grilled chicken strips are juicy and tender. The tomatoes add a nice tartness, and the bacon bits give an unmistakable smokiness.
The cheddar cheese and the onion add extra layers of texture to the overall aftertaste.
24. Grilled BBQ Chicken
If you love the sweet and savory taste of BBQ, you should try the Grilled BBQ Chicken from Texas Roadhouse.
The chicken breast is marinated and rested so that the meat is tenderized to perfection.
It is then slow-cooked over an open flame, charring the chicken with their signature BBQ sauce.
The smoky and succulent chicken tastes amazing with mashed potatoes and coleslaw.
With every bite, you get a burst of Southern flavors!
23. Grilled Salmon
Just because you're at a steakhouse doesn't mean you have to order a steak.
If you are under certain diet restrictions or want to treat yourself to something light and healthy, try the Grilled Salmon.
This Norwegian salmon is seasoned with a special blend of Southern spices and grilled to perfection over an open flame.
Before being served, a dollop of lemon pepper butter is added to give it a little zing.
The result? A flaky, juicy, and mouthwatering fish that goes great with all your favorite sides.
Depending on your hunger level, you can opt for the 5oz or 8oz salmon filet.
22. Country Fried Chicken
If you want to talk about Southern food, there is no escaping from their famous country fried meats.
The Country Fried Chicken is a glorious piece of deep-fried chicken breast.
The beer-batter coating is so light and crispy that it lingers on your tongue.
If you are going Southern, you need to slather the cream gravy on the chicken.
The combination of crunchy goodness and creaminess is just divine.
21. Grilled Salmon Salad
The Grilled Salmon Salad from Texas Roadhouse is perfect for a light, healthy meal.
The salad features grilled salmon, romaine lettuce, tomatoes, hard-boiled eggs, onions, and croutons.
The salmon is marinated in a blend of spices and grilled to perfection, giving it a smoky flavor.
The eggs help increase the protein source, and the fresh vegetables give the salad a crunchy texture.
The croutons add an extra layer of crunchiness to this already delightful salad.
If you are worried that the salad is too fishy for taste, the purple onions take off the edge of the fishiness but still add a slight sweetness.
20. Rattlesnake Bites
When you roll jalapeno bites and jack cheese together into a ball and fry these babies, you get the Rattlesnake Bites.
These little bites of tasty morsels pack a punch – the perfect appetizer for those who like a bit of heat in their food.
Served with ranch dressing for dipping, these will tantalize your taste buds and make you return for more.
Try the Cajun sauce for an even spicier kick if the ranch is not your thing.
19. Steak Kabob
Texas Roadhouse's Steak Kabobs are my go-to choice if I'm dining out with friends and we want to share.
Tender steak cubes combined with mushrooms, onions, and bell peppers make this dish a signature item everyone loves!
If I'd like to feast in true T-Rex style, two meat sticks won't cut it for me.
It would be great if they had an option for extra orders of kabobs so the carnivores among us can get our fill.
18. Strawberry Cheesecake
I can't resist the Strawberry Cheesecake when it's summertime.
This dessert is perfect for those who love something sweet and creamy after a savory meal, as it makes a lovely contrast to the other flavors.
The cheesecake includes a Graham cracker crust, cream cheese, and a swirl of strawberry sauce.
It is then topped with fresh strawberries to give it that amazing aroma and fruity sweetness.
17. Grilled Shrimp
I absolutely love shrimp in every way.
It's so versatile and can be cooked in lots of different ways.
The Grilled Shrimp from Texas Roadhouse is one of my favorites.
These juicy, succulent shrimp are seasoned in a unique Southern herb and spice mix before it is grilled until it is crispy and golden.
It is then drizzled with a scrumptious garlicky lemon pepper butter concoction and served on a bed of appetizing rice.
16. Prime Rib
When it comes to the perfect Prime Rib, Texas Roadhouse takes the crown!
Indulge in a 12oz., 14oz., or 16oz cut of succulent meat cooked the way you like – your choice of rare, medium-rare, and well-done is available.
You can take this exquisite meal up another notch with one (or all!) of their accompanying condiments: au jus, horseradish, or creamy horseradish sauce.
If these options aren't what you want, you can request some sauteed mushrooms, onions, bleu cheese crumbles, and jack cheese on your steak.
15. Big Ol' Brownie
For a classic brownie fix, order the Big Ol' Brownie.
It is an indulgent dessert with a big sugar rush that you won't resist.
The gooey, warm chocolate fudge brownie is served with a dome of vanilla ice cream with drizzles of hot chocolate sauce on top.
The hot and cold combo is truly irresistible.
The Big Ol' Brownie is a must-try dish at Texas Roadhouse.
14. Country Fried Sirloin
The Country Fried Sirloin is an everlasting debate between steak lovers.
While some people adore the crunchy outer breading with the juicy, tender steak, others find frying a steak a sin.
The only way to form your opinion is to try it once and for all.
Although this is not my thing, I enjoy this unique take on steaks.
13. Mushroom Jack Chicken Sandwich
I always love the taste of chicken, mushrooms, and cheese combined.
The Mushroom Jack Chicken Sandwich from Texas Roadhouse offers just that.
This sandwich features a juicy chicken breast patty smothered in melted jack cheese, caramelized onions, and mushrooms.
Like all burgers and sandwiches on the Texas Roadhouse menu, the Mushroom Jack Chicken Sandwich comes with a side of steak fries and pickles.
12. Porterhouse T-Bone
If you're craving a steak that offers the best of both worlds, look no further than the Porterhouse T-Bone.
This delectable 23oz piece of meat is full of robust taste and juiciness to satisfy any appetite.
Unless you are a true meat lover, you may want to bring along some friends to help you with this conquest.
Don't worry if you and your friends have a different opinion on how the steak should be cooked.
While the outer layer is more well-done, the steak's inner part is rarer.
11. Pulled Pork Sandwich
The Pulled Pork Sandwich is simple, yet anything shy of amazing.
The savory pork is slow-cooked for hours in a blend of spices, giving it a distinct smoky flavor.
It is drenched in tangy tomato barbecue sauce and served on a crisp brioche bun with pickles for a hint of acidity.
This sandwich is perfect for someone who loves juicy and savory goodness that sticks to your taste buds!
10. Bone-In Ribeye Steak
Texas Roadhouse's Bone-In Ribeye is the ideal choice for those looking to satisfy their craving for a juicy, exquisite steak.
The bone marrow adds an extra layer of rich, savory creaminess, and its marbling ensures the steak will be juicy and succulent.
It's best served with one of the restaurant's signature sauces to bring out the enticing flavors.
The Ribeye is also great if you want a larger portion – it comes in sizes of 20oz!
9. New York Strip Steak
The New York Strip will satisfy your craving if you're in the market for something a little healthier.
Although the cut may be a little chewy than other steak cuts, the flavor is top-notch.
The steak is chargrilled to perfection and seasoned with garlic, salt, and pepper – simple yet effective.
You can order it from 8oz to 12oz, depending on your hunger.
It's a great way to enjoy a heart-healthy meal without sacrificing the taste.
8. Steakhouse Filet Salad
The Steakhouse Filet Salad is a fan favorite for good reason.
It packs all the flavors found in steak dinners with a healthier twist, making it the best salad at Texas Roadhouse.
The salad features grilled filet mignon, romaine lettuce, tomatoes, bacon bits, red onions, bleu cheese crumbles, and croutons.
Although it is served with creamy bleu cheese dressing, you may request other dressings.
Unlike some restaurants that serve you dry, overcooked steaks on salads, here you can choose your steak's doneness for an optimal dining experience.
7. Granny's Apple Classic
You can't skip the Granny's Apple Classic pie for the complete Southern experience.
This classic American dessert uses fresh apples and a delectable crust baked to golden perfection.
It's topped with a scoop of homemade vanilla ice cream and honey cinnamon caramel sauce, making it the best dessert after any meal at Texas Roadhouse.
I adore the lovely sauce and request extra on the side.
6. Fried Catfish
There's always salmon. But how often do you come across deep-fried catfish?
This one is a real winner for seafood lovers.
It's prepared in an old-fashioned Southern-style recipe with beer batter and cornmeal mix, making it light and crispy outside while still being juicy and flaky inside.
With just a squirt of lemon juice, it's enough to make your mouth water!
5. Smokehouse Burger
The Smokehouse Burger is the best burger on the Texas Roadhouse menu!
It is made with a beef patty, sauteed mushrooms, red onions, lettuce, tomato, and American and Jack cheeses between a Texas-sized brioche bun.
The mushrooms and onions add an earthy taste that complements the smoky taste of the patty.
To top it all off, this classic burger is drenched in smokey BBQ sauce, which adds another layer of deliciousness.
The burger is served with steak fries and pickles.
It's one of the must-try dishes at Texas Roadhouse if you're a burger fan!
4. Ribs
Many people go to Texas Roadhouse to savor the fall-off-the-bone ribs.
These ribs are coated with a special dry rub, slow-cooked in a smoker for hours, and then basted with their signature BBQ sauce.
The result is a plate of tender, juicy pork that will melt in your mouth like butter.
They are served with two sides.
I love getting applesauce and sweet potato to get the ultimate Southern-style meal.
If you don't have the stomach to gorge on the full slab, you can opt for the 1/2 slab or the Sidekick Ribs instead.
3. Portobello Mushroom Chicken
If you are not a fan of the barbeque sauce but still want an amazing chicken meal, the Portobello Mushroom Chicken is a perfect choice.
This dish features a juicy grilled chicken breast topped with a creamy Portobello mushroom sauce, Jack cheese, and Parmesan cheese.
I can't tell you how much I wish I could order spaghetti to soak up the leftover sauce.
Good thing there's extra-fresh bread to help you out with that!
This chicken dish is delicious and will fill you up with the two sides that it comes with.
2. Cactus Blossom
The Cactus Blossom is a must-have appetizer at Texas Roadhouse.
Instead of the usual boring onion rings, treat yourself to something special from the restaurant's signature starters menu.
This appetizer features a large whole onion deep-fried to perfection and served with a creamy horseradish sauce that rounds out the flavors.
It doesn't only taste good but looks beautiful as well.
Once it lands on your table, all your friends will wish they had ordered the same.
The good thing is that there is enough for everyone to share!
1. Dallas Filet
The Dallas Filet is Texas Roadhouse's take on the classic filet mignon, featuring a juicy and succulent cut of meat marinated in special seasoning.
If you desire an outstanding steak experience, this will fit the bill!
You can choose between 6oz and 8oz sizes to get the perfect fullness without feeling stuffed.
The melt-in-your-mouth texture of the steak is further enhanced by the garlic butter, making it a signature menu item that everyone loves.
It is hands down the best Texas Roadhouse steak!
Conclusion
Texas Roadhouse is the perfect place to go for an appetizing steak dinner.
With a wide variety of cuts, sauces, and toppings, you will surely find something that pleases your palate.
But steaks are not all they have to offer.
From starters to seafood options, burgers, pork and chicken dishes, and desserts, there is something for everyone on the menu.
Even with this list to narrow down your choices, you may still need help from family members and friends. Bring them along so you can all share and taste these wonderful dishes!
For more information about Texas Roadhouse, check out the articles below.