20 Best IHOP Breakfast Items to Order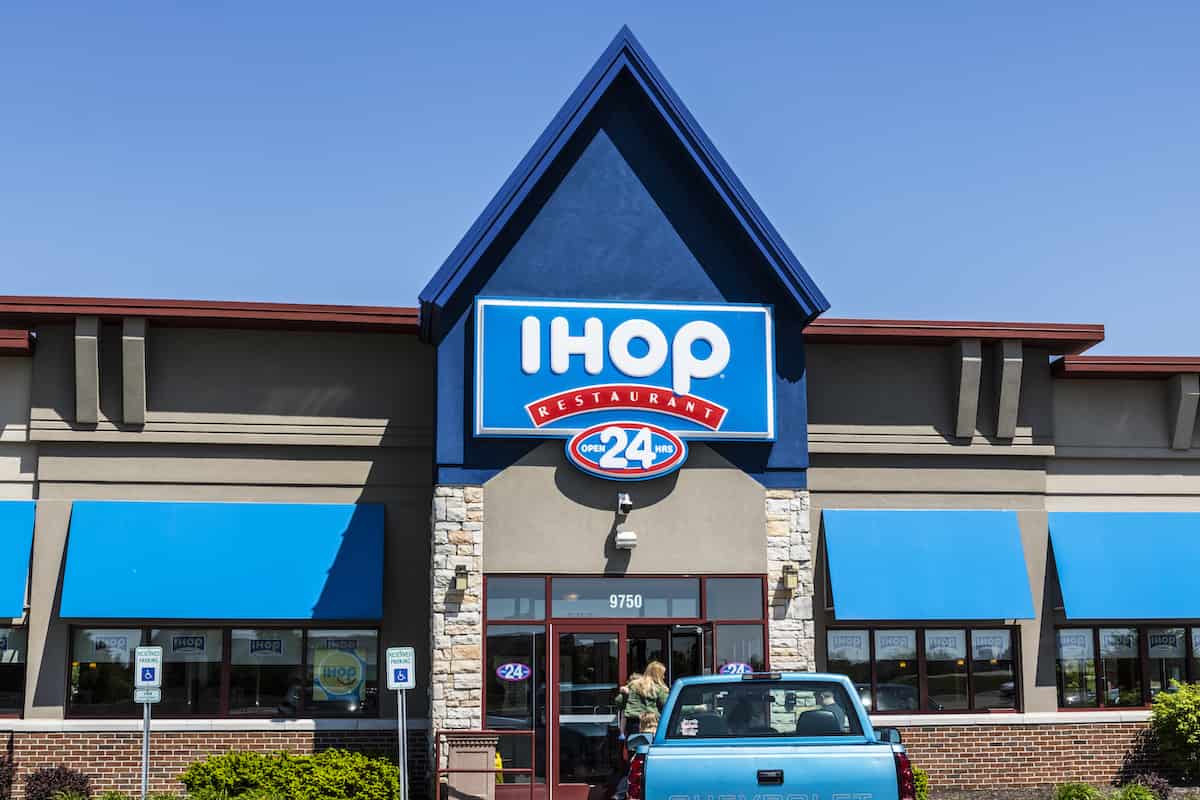 The International House of Pancakes, better known as "IHOP," has been serving breakfast, the most important meal of the day, since 1958.
Despite its name, this chain restaurant serves much more than pancakes and classic breakfast dishes.
From burgers and sirloin steaks to strawberry milkshakes, IHOP has a menu item for every palate, mood, and time of day.
That being said, there's no denying that the main allure of the restaurant is its iconic pancakes and breakfast items.
IHOP is well aware of this fact, which is why their breakfast hours are, well, every hour!
That means whenever your local IHOP is open, breakfast is served all day, every day. After all, there's never a wrong time to eat pancakes!
So, what else is on IHOP's breakfast menu besides their iconic flapjacks? Plenty!
I've compiled the absolute best dishes on the IHOP breakfast menu and ranked them in order of deliciousness.
Read on to decide what you'll try on your next visit to the International House of Pancakes!
20. Colorado Omelette
IHOP takes its omelets very seriously, and they're known for being some of the fluffiest around.
What's the secret ingredient? It's their pancake batter.
No, seriously – IHOP adds a splash of buttermilk batter into each omelette, resulting in a fluffy, silky omelette every time.
The Colorado Omelette improves on its delicious base with crispy bacon, shredded beef, sausage, ham, green peppers, onions, and cheddar cheese.
I got the meat sweats just typing that sentence out, but if you love all things breakfast meat, this omelette will be right up your alley.
Plus, it's served with a side of salsa to brighten up all those heavy ingredients.
The omelette comes with your choice of side: fresh fruit, hash browns, pancakes, or buttered toast.
You can opt for egg whites instead of regular eggs if you're looking for a way to lighten up your meal.
The Colorado Omelette contains 1270 calories.
19. Chicken and Pancakes
Chicken and pancakes might always live in the shadow of chicken and waffles, but give this combo a chance, and you'll be pleasantly surprised.
IHOP's fluffy buttermilk pancakes pair perfectly with super crispy fried chicken tenders.
The combination of textures plus the mix of salty chicken and sweet buttermilk pancakes make for a meal you'll crave any time of day.
This dish contains three pancakes and four chicken strips and comes with a side of honey mustard, buttermilk ranch, or IHOP sauce, which is a mix of mayo, ketchup, and mustard.
I recommend skipping all of the above sauces and sticking with a side of classic maple syrup.
It might sound like an odd combo, but a little bit of syrup on the salty chicken is the icing on top of the (pan)cake with this dish, trust me!
One order of Chicken and Pancakes contains 1070 calories.
18. The Classic Burrito
IHOP burritos come in two forms: on a tortilla or in a bowl.
I recommend opting for the tortilla, but plenty of people enjoy the bowl form, too.
IHOP's Classic Burrito is wrapped in a warm flour tortilla and contains scrambled eggs, your choice of hickory-smoked bacon or diced sausage, shredded cheddar and Jack cheese, and hash browns.
In my opinion, the breakfast burrito is one of the ultimate morning comfort foods.
And while it doesn't have much variety in the flavor department, IHOP's Classic Burrito delivers in texture and size.
From the crispy hashbrowns and bacon to melted cheese and fluffy scrambled eggs, this burrito is a true American breakfast wrapped into a warm tortilla.
It's served with salsa and your choice of side.
I recommend asking for two sides of salsa – you'll definitely need both as a refreshing companion for your jam-packed burrito.
The Classic Burrito contains 980 calories, and the Classic Burrito Bowl contains 680 calories.
17. Breakfast Crepes
Similar to the Classic Burrito, IHOP's Breakfast Crepes contain all the makings of a classic American breakfast.
Two thin crepes are filled with scrambled eggs, hickory-smoked bacon, crispy hash browns, white cheddar sauce, cheddar cheese, and Jack cheese.
I love these breakfast crepes, and pairing the slightly sweet pastry with savory ingredients just hits the perfect sweet-salty balance.
The fillings are moist and flavorful, which is why I don't think white cheddar sauce is needed in this dish.
Don't get me wrong, I love cheese, but all the flavors get drowned out when there's so much in a single dish.
You can customize it by requesting to keep the cheese sauce off.
The Breakfast Crepes contain 1210 calories.
16. Sirloin Steak Tips and Eggs
When I think of IHOP, one of the last foods to come to mind is steak.
Though it seems misplaced at first glance, the Sirloin Steak Tips and Eggs are among the best breakfast dishes on the IHOP menu.
Sirloin steak tips are marinated and then grilled with mushrooms and onion until caramelized and juicy.
Your steak comes with two eggs in any style, hash browns, and two buttermilk pancakes.
It's like steak and eggs but elevated and with a few additions on the side.
The steak itself is well-cooked, and the charred taste pairs well with the eggs.
I recommend ordering the steak medium and the eggs over-easy, but that's my preference.
This dish is a sampler of some of the best IHOP breakfast items, making it perfect for someone who wants to try a little bit of everything.
You can customize the dish by choosing how well done you want your hash browns and how you'd like your eggs and steak to be cooked.
The Sirloin Steak Tips and Eggs contain 1230 calories.
15. Lemon Ricotta Blueberry Crepes
We've made it to the first super-sweet breakfast item on the list – the Lemon Ricotta Blueberry Crepes.
Though these crepes have plenty of sugar, they don't taste cloyingly sweet, thanks to the tart lemon flavor.
This dish comes with two crepes, which are rolled and filled with lemon ricotta, topped with blueberries and lemon ricotta, then dusted with powdered sugar.
It even comes with a lemon wedge on the side if you want to amp up the sour element.
This will hit the spot if you love a fruity breakfast or sweet-and-sour combo.
The crepes are thin and sweet, while the ricotta is tangy and creamy, making for a little different breakfast than your basic pancake stack.
14. Chicken Fajita Omelette
The Chicken Fajita Omelette is stuffed with grilled chicken breast, red bell peppers, Poblano peppers, roasted onions, cheddar cheese, and jack cheese.
The omelette is served with sour cream, salsa, and a grilled Serrano pepper.
This dish is super cheesy and filled with hearty ingredients. The salsa and sour cream are the perfect sides to brighten up each bite.
Like all IHOP omelettes, this one is made with a splash of buttermilk pancake batter, making for a fluffy, light base.
The Chicken Fajita Omelette contains 900 calories.
13. Chicken & Waffles
The combination of chicken and waffles isn't anything new, but IHOP's take on it is pretty good.
This dish serves four Belgian waffle slices with four buttermilk fried chicken tenders.
The waffles are fluffy on the inside and crispy on the outside, as any good waffle should be.
In addition, the chicken and the buttery waffles are super crunchy, making each bite more satisfying.
Like the chicken and pancakes, I recommend asking for syrup on the side instead of ranch or honey mustard.
The Chicken & Waffles contain 1200 calories.
12. Funny Face Pancake Combo
Without a doubt, the Funny Face Pancakes are the cutest option on the IHOP breakfast menu.
Even though the appearance is the main draw of the dish, it's still pretty yummy.
The pancake is a chocolate chocolate chip one, and it's topped with a whipped topping smile, eyes, and nose.
The face is further adorned with chocolate chips and maraschino cherries.
The pancake is served with a scrambled egg, a piece of bacon, and a sausage link.
You can also replace the breakfast meat with two slices of turkey bacon.
Is this technically on the Kids Menu? Yes, but I think your server will make an exception if you ask nicely.
After all, you're never too old for a smiley-face pancake.
The Funny Face Pancake and Eggs contain 550 calories. The breakfast meat adds another 160 calories.
11. Chocolate Chocolate Chip Pancakes
Is there really such a thing as too much chocolate?
Trying IHOP's Chocolate Chocolate Chip Pancakes is a great way to see how you'd answer that question.
The pancakes themselves are chocolate and are filled with chocolate chips. They're topped with chocolate syrup and more chocolate chips.
Yes, it's a ton of chocolate, but if you love a rich, cocoa-filled treat, the Chocolate Chocolate Chip Pancakes will have just the right amount.
The melted chocolate chips inside the pancakes contrast with the crunchy chocolate chips on top, and you're getting at least two forms of chocolate in every bite.
If that's too much for you, substitute the chocolate pancake base with the classic IHOP buttermilk base.
Four Chocolate Chip Pancakes contain 770 calories.
10. Strawberry Banana French Toast
Like the crepes stuffed with lemon ricotta I mentioned earlier, the Strawberry Banana French Toast strikes a perfect balance between sweet and tart.
This dish starts with two thick slices of bread dipped and griddled in a vanilla cinnamon batter.
The toast is topped with strawberries and freshly sliced bananas.
IHOP's French toast is super thick, so one slice is the equivalent of two or three regular slices of regular bread.
The bread is super fluffy and absorbs the batter well, making for a sweet and moist base.
The glazed strawberries are sweet with just a hint of fruity tang.
The Strawberry Banana French Toast contains 960 calories.
9. Breakfast Sampler
Every good restaurant should have a sampler of its greatest hits. IHOP's Breakfast Sampler is just that – a plate of all the classic breakfast staples you've come to know and love.
The Breakfast Sampler comes with two eggs any style, two hickory-smoked bacon strips, two sausage links, two pieces of ham, one large hash brown, and two buttermilk pancakes.
There's not much else you can ask for when it comes to breakfast.
I'm not particularly a pork fan, but all three breakfast meats are well-made.
The grilled ham is sliced thick, the bacon is smoked and crispy, and the sausage is salty and rich.
Pancakes and hash browns are two of the most beloved items on the IHOP breakfast menu, so it only makes sense to include them in the sampler plate.
Plus, with two of almost every item, this dish is perfect for sharing.
The Breakfast Sampler contains 1030-1130 calories.
8. Thick n' Fluffy Classic French Toast
The name of this dish tells you exactly what to expect before it even arrives at the table.
IHOP's French toast is some of the thickest and fluffiest around.
After being soaked in a cinnamon vanilla batter, the toast is cooked until golden brown and topped with butter and powdered sugar.
IHOP's Classic French Toast is simple, sweet, and satisfyingly soft. Dare I say: It's good enough to rival their iconic buttermilk pancakes (almost.)
One order of Thick n' Fluffy Classic French Toast contains 900 calories.
7. Fresh Berry Crepes
IHOP's Fresh Berry Crepes are proof that sometimes, simpler is better.
This dish comes with four crepes folded and topped with fresh blueberries and strawberries.
Since a crepe is essentially a very thin pancake, IHOP frequenters will probably enjoy this newer breakfast item if they love IHOP pancakes.
The crepe itself manages to stay fluffy yet thin, and the slight sweetness lends itself to the fresh fruit topping.
Ask for a sprinkling of powdered sugar for a little extra oomph.
The Fresh Berry Crepes contain 540 calories.
6. New York Cheesecake Pancakes
IHOP's New York Cheesecake Pancakes are made with a classic buttermilk base and filled with little bites of cheesecake.
The dish is topped with glazed strawberries and whipped topping.
The cheesecake bites are warm and melt in your mouth with each bite.
The tang from the cream cheese keeps the pancakes from being overly sweet, and the smooth cheesecake texture pairs well with the fluffy buttermilk batter.
The glazed strawberries on top are super sweet and syrupy, so there's no reason to add extra syrup to these.
Four New York Cheesecake Pancakes contain 890 calories.
5. Double Blueberry Pancakes
IHOP goes all-in with their Double Blueberry Pancakes.
As the name suggests, you'll find blueberries in two forms – baked inside the batter and in a syrupy compote on top of the pancake stack.
The blueberry compote soaks into the pancakes and acts as a fruity syrup, making them extra moist and sweet.
The blueberries within the pancakes are fresh, and there's a generous (but not overwhelming) amount.
The Double Blueberry Pancakes contain 620 calories.
4. Spinach & Mushroom Omelette
The Spinach & Mushroom Omelette is stuffed with sauteed spinach, mushrooms, onions, diced tomato, hollandaise sauce, and a cheddar-jack cheese blend.
All those fresh veggies make for a hearty, somewhat light breakfast option on the IHOP menu.
But don't worry, this omelette isn't too healthy – the hollandaise and cheese give it a creamy, melty texture that pairs nicely with the fresh veggies and fluffy omelette base.
The omelette comes with your choice of toast, hash brown, pancakes, or fresh fruit.
Plus, you can swap your regular egg batter for egg white batter if you want a lighter meal.
The Spinach & Mushroom Omelette contains 910 calories.
3. Cupcake Pancakes
The Cupcake Pancakes are the most colorful option on the IHOP breakfast menu.
With a generous helping of rainbow sprinkles baked into each pancake, this dish might look like it's for kids, but its taste will appeal to all ages.
IHOP'S famous buttermilk pancakes act as a base for the dish.
The sprinkle-filled pancakes are topped with sweet vanilla icing.
Despite being described as "cupcake icing," I found it more similar to a glaze on a doughnut or a scone.
Although the name might make them sound like they're going to be overly sweet, IHOP doesn't overdo the sugar on this dish.
The buttermilk pancakes aren't that sweet, so the glaze on top just acts in place of your classic syrup topping.
Four Cupcake Pancakes contain 820 calories.
2. Original Buttermilk Pancakes
In cases like this, it's almost impossible to beat the original. IHOP's pancakes are iconic for a reason.
Each pancake is lovingly made with a buttermilk batter, ensuring a fluffy, thick stack each time you visit.
These pancakes are sweet enough to be enjoyed with butter and a dash of syrup, but they're not so sweet that you can't stack on all the extra sugary toppings.
What more can be said? These pancakes are classic and hit the spot every time.
Five Buttermilk Pancakes contain 690 calories, and a short stack of three pancakes contains 450 calories.
1. Mexican Tres Leches Pancakes
The best item on IHOP's breakfast menu is the Mexican Tres Leches Pancakes.
The #1 item on the list just had to be a pancake dish. So how does IHOP make its iconic pancakes even better?
They add dulce de leche caramel sauce, vanilla bean sauce, and whipped cream!
Like all pancakes at IHOP, these are super fluffy and made with buttermilk for a slight tang.
Tres Leches is a sponge cake soaked in evaporated milk, condensed milk, and whole milk.
Like the traditional Mexican dessert, these pancakes are saturated in sweet, creamy milk-based sauces.
The Mexican Tres Leches Pancakes are super rich, and the vanilla and caramel sauces don't have the artificial taste that other sugary treats do.
These pancakes are indulgent and a delightful way to start (or end!) your day.
Four Mexican Tres Leches Pancakes contain 690 calories.
Conclusion
As you can see, IHOP serves much more than pancakes and coffee on its breakfast menu.
There are plenty of sweet and savory breakfast dishes that you can enjoy any time of day at your local IHOP.
The good news is that with 1,500+ locations open at least 15 hours per day, you've got plenty of options for where and when to try these popular IHOP breakfast items.
For more information about IHOP, check out the articles below.