20 Most Popular Items on the Bob Evans Menu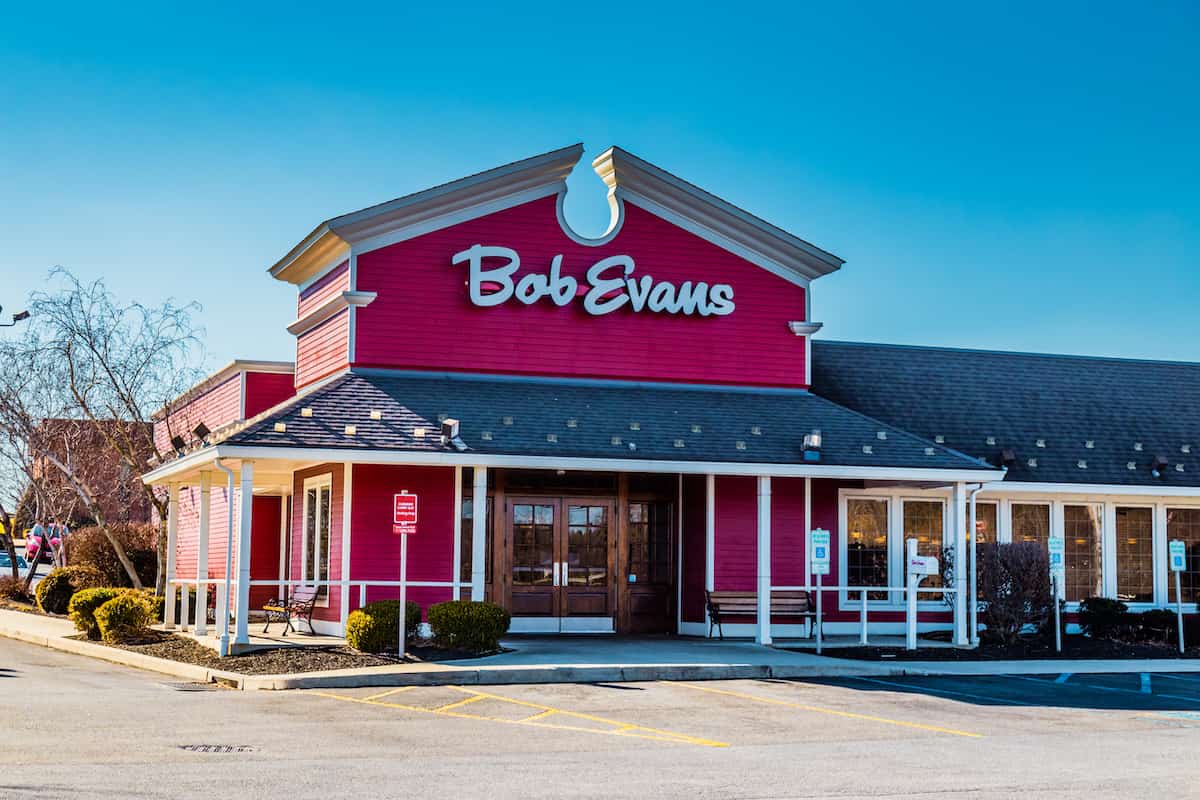 Bob Evans is best known for its breakfast dishes, but the restaurant chain also serves dinner plates, soups, desserts, and more.
With a focus on classic American fare, the Bob Evans menu mostly features comfort foods like meat, potatoes, and other stick-to-your-ribs staples.
With over a dozen menu categories, there is something for everyone at your dining party.
If you are wondering what to order at Bob Evans, I've got you covered! Here are the 20 best items on the Bob Evans menu that are worth trying!
20. Sausage Gravy & Biscuits
Not only is the Bob Evans sausage featured in a handful of breakfast dishes and as a side for many meals on the menu, but it's also a top-selling item at your local grocery store.
Diners and shoppers choose Bob Evans' sausage for its salty, smokey flavor that has just a smidgen of sweetness.
All this being said, it's no wonder that the Sausage Gravy & Biscuits is a fan favorite at the restaurant.
The sausage gravy is peppery, creamy, and rich, while the biscuits are soft, buttery, and still warm from the oven.
The Sausage Gravy & Biscuits is far from the best-looking dish on the Bob Evans menu, but don't judge a book by its cover!
You can choose between a cup of sausage gravy with biscuits, which contains 770 calories, or a family-size portion with 2100 calories.
19. Build Your Own Omelet
The Bob Evans breakfast menu features a few omelets, but the best option allows you to build your very own.
The Build Your Own Omelet is made with three eggs and your choice of two ingredients. If you want to add more than two ingredients, it will cost an additional 50 cents.
Add-ins include diced ham, crumbled sausage, bacon, mushrooms, tomato, onion, red and green peppers, spinach, cheddar, provolone, and American cheese.
The omelet is served with buttermilk biscuits and your choice of hash browns or home fries.
My go-to combination is spinach, mushrooms, cheddar, and onions, but you can't go wrong with any of these classic omelet ingredients.
Your omelet will contain anywhere from 1050 to 1210 calories, depending on which ingredients you add.
18. Cranberry Pecan Chicken Salad
Salads with fruit in them – you either love 'em or you hate 'em. If you're a part of the former group, the Cranberry Pecan Chicken Salad may just become your new go-to.
The salad starts with a bed of fresh greens. Then, it's topped with grilled chicken, crumbled hardwood smoked bacon, dried cranberries, blue cheese, and pecans.
Many diners love this salad for its balance of tang, sweetness, and smoke.
The dried cranberries are sweet with a touch of sourness, contrasting beautifully with the tangy and creamy blue cheese crumbles.
Bob Evans recommends its colonial dressing to compliment the salad, which is a tangy, zesty dressing made with vinegar, celery salt, black pepper, and onion powder.
The grilled chicken has that slightly charred aftertaste (in a good way) and makes this salad much more filling than your average bowl of greens.
A Cranberry Pecan Chicken Salad contains 1300 calories.
17. Blue Ribbon Bacon
Bob Evans' Blue Ribbon Bacon is technically an appetizer, but I have no doubt that plenty of diners order it for their full meal.
It's almost impossible to just have one strip of these salty-sweet beauties.
Each order contains five strips of hardwood-smoked bacon. "Hard-smoked" means that the bacon has been through a real smoker rather than just having added liquid smoke.
The bacon strips are brushed with a black pepper maple and honey glaze and then are fried on a griddle, resulting in a crispy, caramelized coat over the bacon.
The caramelized honey glaze adds even more crunch, and the sweetness brings out that smokey flavor that bacon is known for.
The addition of black pepper adds just a little kick but isn't spicy at all.
So much bacon falls into the "too soggy" or "completely burnt" category, but not the Blue Ribbon Bacon – it's perfectly crispy but not overcooked.
An order of Blue Ribbon Bacon contains 390 calories.
16. Holy Cow Chocolate Cake
A dessert that's delicious and adorable at the same time? Sign me up!
The Holy Cow Chocolate Cake is uber chocolatey, dense, and rich. Your slice comes topped with chocolate sauce, powdered sugar, and whipped cream.
But the true star of the show? A piece of milk chocolate in the shape of a friendly cow. Plus, it's served with a scoop of vanilla ice cream.
This dessert is super cute for kids, but its rich, chocolatey elements will appeal to everyone. What more can you ask for?
A slice of the Holy Cow Chocolate Cake contains 610 calories.
15. Wildfire Chicken Salad
There are only a handful of salads on the Bob Evans menu, but the Wildfire Chicken Salad is the best by far.
The salad starts with fresh greens, which are topped with your choice of fried or grilled chicken.
Then, corn, tomatoes, cheddar cheese, and tortilla strips are added, and Bob Evans' Wildfire sauce is drizzled on top to finish it off.
Wildfire sauce is a spicy BBQ sauce with hints of onion, garlic, apple, and brown sugar.
The recommended dressing for the salad is Wildfire Ranch, which has all the flavors of Wildfire sauce with the addition of cool, creamy ranch dressing.
This salad is reminiscent of a southwest salad and has plenty of unique textures and flavors, from the salty, crunchy tortilla strips to the fresh corn, greens, and diced tomatoes.
This is a great option if you're looking for a lighter meal that will still pack a punch in the flavor department.
The Wildfire Chicken Salad contains 1040 calories.
14. Turkey & Dressing
Most Americans associate turkey, dressing, gravy, and cranberry sauce with Thanksgiving. At least, I know I do!
But sometimes, the craving strikes for these comfort foods in a month other than November.
Bob Evans has you covered with their Slow-Roasted Turkey & Dressing meal. It's got all the makings of a classic Thanksgiving plate.
The turkey breast is slow-roasted for hours in a blend of herbs and spices and served atop dressing.
"Dressing" is sometimes known as "stuffing," and it's typically made with cubed bread, celery, and savory herbs and spices.
The Turkey and Dressing is also served with homestyle gravy, cranberry relish, your choice of two sides, and a dinner roll.
Turkey is infamous for being dry and lackluster, but Bob Evans' turkey is surprisingly moist and flavorful.
The cranberry relish adds a tart note to the dish and can be used to add a little zest to any element on the plate.
Thanksgiving lovers, you'll be pleasantly surprised with this one!
The Slow-Roasted Turkey & Dressing contains 1260 calories.
13. Bacon Cheeseburger
If you're looking for a flavorful, simple dish on the Bob Evans menu, the Bacon Cheeseburger will get the job done.
Built with a 100% black Angus beef patty, hardwood-smoked bacon, a slice of American cheese, lettuce, tomato, onion, and pickles, this cheeseburger has all the essential ingredients for a truly great burger.
The patty itself is thick and juicy, and you can tell it's been freshly grilled rather than recently defrosted and reheated.
The tomato, onion, and lettuce on the burger are fresh and crisp, so you don't have to worry about any droopy veggies cramping your burger's style.
The hardwood-smoked bacon is crispy and adds that perfectly smokey note to each bite.
This burger could definitely give a higher-end, gastropub-esque burger a run for its money, which is saying something!
Your burger also comes with your choice of one or two sides.
The Bacon Cheeseburger contains 840 to 1470 calories, depending on which sides you choose.
12. Buttermilk Hotcakes
Sometimes simpler is better, and Bob Evans definitely keeps it simple with its Buttermilk Hotcakes.
While the menu also has a variety of toppings and mix-ins that can be served with your hotcakes, I prefer their classic pancakes with no frills.
The hotcakes themselves include buttermilk in the batter, making for tender, extra-fluffy pancakes and just a note of tang.
They're cooked on the griddle until golden brown and served with butter and syrup.
If you want to jazz them up a little, you can order hotcakes that include blueberries and chocolate chips.
Your order will come with four hotcakes and your choice of breakfast meat or fresh fruit.
The Buttermilk Hotcake meal contains 1240 to 1470 calories, depending on the side you choose.
11. Little Piggy Pancakes
What is even cuter than the Holy Cow Chocolate Cake? The Little Piggy Pancakes.
These adorable hotcakes are shaped to look like a pig's head, with bananas for the snout and chocolate sauce for the eyes.
When it comes to Bob Evans' hotcakes, the kitchen knows what they're doing. Fashioning said hotcakes to look like a cute cartoon pig only makes them more irresistible.
The dish also comes with a link of sausage for that salty-sweet combo we all know and love.
The Little Piggy Pancakes contain 430 – 750 calories, depending on which side and drink you choose to order with them.
10. Reese's Peanut Butter Pie
Calling all peanut butter lovers! This pie is going to change your life.
According to the Bob Evans website, their desserts are freshly baked daily.
The crust is made with crushed chocolate cookies and is then filled with a creamy, fluffy peanut butter filling (similar to a mousse texture) and a layer of whipped cream.
All that sugary goodness is topped with chopped miniature Reese's Peanut Butter Cups.
While you might think that's just too much sugar for one person, I'll be the first to admit it's surprisingly easy to eat.
The whipped cream and peanut butter filling is so light that you won't feel sick after a few bites.
The peanut butter filling has a little bit of a salty flavor, which keeps the whipped cream and cookie crust from tasting too sweet.
Ordering this dessert is a no-brainer if you're a peanut butter chocolate fan!
A slice of Reese's Peanut Butter Pie contains 640 calories.
9. Pot Roast
It doesn't get more comforting and warmer than a classic pot roast. Bob Evans describes its version as "fork-tender," and I agree with this descriptor.
To achieve their melt-in-your-mouth pot roast, the kitchen slow-roasts beef for nine hours until it's juicy and ultra-tender.
The meat is then served with carrots, caramelized onions, and mashed potatoes.
All that is topped with Bob Evans' homestyle beef gravy and served with a side of dinner rolls.
A bowl of Fork-Tender Pot Roast is warm, comforting, and slightly sweet, thanks to the cooked carrots and caramelized onions.
The braised beef can easily be cut with a fork (or maybe even a spoon), and the meaty, umami flavors shine in this dish.
The Fork-Tender Pot Roast contains 1330 calories.
8. Hash Browns
Potatoes have been a breakfast staple for centuries. They come in many forms, but one form seems to reign supreme – the hash brown.
Bob Evans' hash browns are made with shredded russet potatoes, then cooked on the grill until a golden brown crust forms.
By the time they reach your table, the inside of the hash browns will be soft and warm, while the outside is crispy and buttery.
Truly delicious hash browns are hard to come by, but I think Bob Evans hits the nail on the head with theirs.
They're salty and greasy (as any good potato should be), but you can still taste potato as the main flavor of the dish.
An order of hash browns contains 220 calories.
7. Cinna-Biscuits
As much as I adore Reese's Peanut Butter Pie, the Cinna-Biscuits take the cake (get it?) when it comes to the best choice on the Bob Evans dessert menu.
The Cinna-Biscuits are made with buttermilk biscuit dough, which is deep fried and rolled in cinnamon sugar.
Each order comes with eight triangle-shaped biscuits and a side of cream cheese icing.
Since Bob Evans' regular biscuits are cooked, I was pleasantly surprised by how crispy the outside of the fried biscuit is.
In perfect contrast, the inside manages to stay soft and fluffy. They're like a hybrid between a donut and a beignet.
The cinnamon sugar provides the biscuits with just the right amount of sweetness since the dough itself isn't sweet.
I'm a sucker for cream cheese frosting, so I love dipping my Cinna-Biscuits in the cup provided, but they're just as delicious sans frosting.
An order of Cinna-Biscuits contains 700 calories.
6. Dang Hot Chicken Sandwich
The Dang Hot Chicken Sandwich is exactly what it sounds like. It's an open-faced sandwich served on griddled brioche bread.
Stacked on top of the bread are fried chicken tenders, ranch dressing, coleslaw, and Bob Evans' Dang Hot Sauce.
Dang Hot Sauce is inspired by Nashville hot sauce, so this stuff is for those who like a kick of spice and should potentially be skipped over if you don't like heat.
The chicken tenders on this sandwich are super crispy, and the coleslaw has the perfect balance of tang and creaminess.
Plus, the ranch will cool down much of the heat from the Dang Hot sauce, so even those who can only handle a moderate amount of spice (like myself) will be just fine.
The Dang Hot Chicken Sandwich contains 1070 calories.
5. Sirloin Steak & Farm-Fresh Eggs
If you're looking for a breakfast combo that's a little fancier than the usual bacon and eggs, look no further than Bob Evans' Sirloin Steak & Farm-Fresh Eggs.
The steak is a sirloin cut, which has certain aspects of both a filet and a ribeye.
Sirloin is popular because it's not as fatty as ribeye but still has plenty of beefy flavors throughout.
The kitchen starts by marinating the sirloin and cooking it to your liking (medium or medium rare is the most popular option). It is then served with two eggs cooked any style.
The steak is well-marinated, so there's plenty of flavor and no need for extra salt or pepper.
It makes a perfect companion to whatever style of eggs you fancy.
Your order is also served with hash browns or home fries and a side of biscuits.
The Sirloin Steak & Eggs contains 1160-1360 calories.
4. Buttermilk Breakfast Sandwich
The Buttermilk Breakfast Sandwich starts with Bob Evans' classic biscuit. Inside the biscuit are a fried egg, American cheese, and your choice of bacon or sausage.
It's also served with hash browns, home fries, or fresh fruit.
While I think this breakfast sandwich would benefit from a dash of hot sauce, all the other elements are so good that it doesn't really matter.
The biscuit is fluffy and warm, and the American cheese is perfectly melted and gooey.
Whether you choose sausage or bacon, your breakfast meat will be salty and smokey – I recommend the bacon for a little bit of crunch.
This is a classic, simple breakfast sandwich. It has no frills, but it's very well done from top to bottom.
The Buttermilk Breakfast Sandwich contains 530-560 calories, depending on the meat you choose.
3. Sunshine Skillet
The Sunshine Skillet is an open-faced omelet, but it has a lot more going on than just eggs and a topping or two.
The dish starts with a blanket of eggs lining the bottom of the skillet.
The eggs are then piled high with crumbled sausage, gravy, cheddar cheese, and home fries. It's also served with a biscuit on the side.
If you're a fan of classic breakfast dishes but don't want to choose just one thing, the Sunshine Skillet is a great option because it allows you to try Bob Evans' most iconic items all at once.
The crispy breakfast potatoes, creamy gravy, and fluffy eggs are delicious on their own, but when eaten all at once, they create a cohesive, satisfying breakfast dish (which is conveniently served all day long).
The Sunshine Skillet contains 1180 calories.
2. Chicken-N-Noodles Deep Dish Dinner
If you thought Bob Evans' pot roast seemed like the ultimate comfort dish, just wait until I tell you about their Chicken-N-Noodles Deep Dish Dinner.
The name is a mouthful, but it's absolutely worth the effort.
This dish starts with a buttermilk biscuit on the bottom of the plate. It's then topped with creamy mashed potatoes and Bob Evans' signature Chicken-N-Noodles.
The egg noodles are super thick, which for some reason, makes them way more fun to eat.
The dish also has little chunks of seasoned carrots and celery to add some color.
Lastly, it has chicken pieces throughout to give it that chicken noodle soup feel.
The mashed potatoes are buttery and fluffy, which pairs well with the thick noodles and the warm biscuit.
This carb-loaded dish is sure to give you a warm and fuzzy feeling inside.
The Chicken-N-Noodles Deep Dish Dinner contains 620 calories.
1. Honey Butter Chicken and Biscuit
We've reached the final leg of our journey – the best item on the Bob Evans menu.
I love comfort food, so it took me a while to choose which dish to give this title.
I ended up deciding on the Honey Butter Chicken and Biscuit for three reasons.
First, it's a perfect example of classic comfort food, which is Bob Evans' main schtick.
Second, it contains Bob Evans biscuits and fried chicken, two of their most-loved menu items.
Finally, it just tastes really, really good!
The Honey Butter Chicken and Biscuit meal starts with two hand-breaded fried chicken breasts.
The chicken is drizzled with real clover honey and topped with a pad of butter. It's served with a split biscuit and the choice of two sides.
The fried chicken is done very well – the breading is mild and simple, which lets the flavor of the chicken shine through.
It's thick enough to ensure a satisfying crunch with each bite but doesn't taste oily or greasy.
The addition of honey elevates this dish to a sweet and salty combo, reminiscent of chicken and waffles, but with honey and biscuits instead of syrup and waffles.
I've already sung the praises of Bob Evans' biscuits, so you know the drill with those – they're soft, fluffy, and freshly baked, making a great textural contrast from the fried chicken.
Plus, with the option of any two sides, the Honey Butter Chicken and Biscuit dish is easily transformed into a filling, semi-healthy meal that almost anyone will enjoy, whether you're the picky or adventurous type.
The Honey Butter Chicken and Biscuit meal contains 1380 calories.
Conclusion
Bob Evans evokes a country-living, comforting vibe, which has kept its customers coming back for well over 50 years.
Breakfast dishes are the most popular on the Bob Evans menu, which are served all day during restaurant hours.
However, their menu also includes other items like the Candied Bacon, Fried Biscuit Dough, Pot Roast, and Peanut Butter Pie, making Bob Evans the place to go for the ultimate American comfort meal.
And if you love Bob Evans' Bacon and Sausage, it's most likely available at your local grocery store!
For more information about Bob Evans, check out the articles below.