I Tried Thrive Market and Here's What I Think
Is Thrive Market Worth It?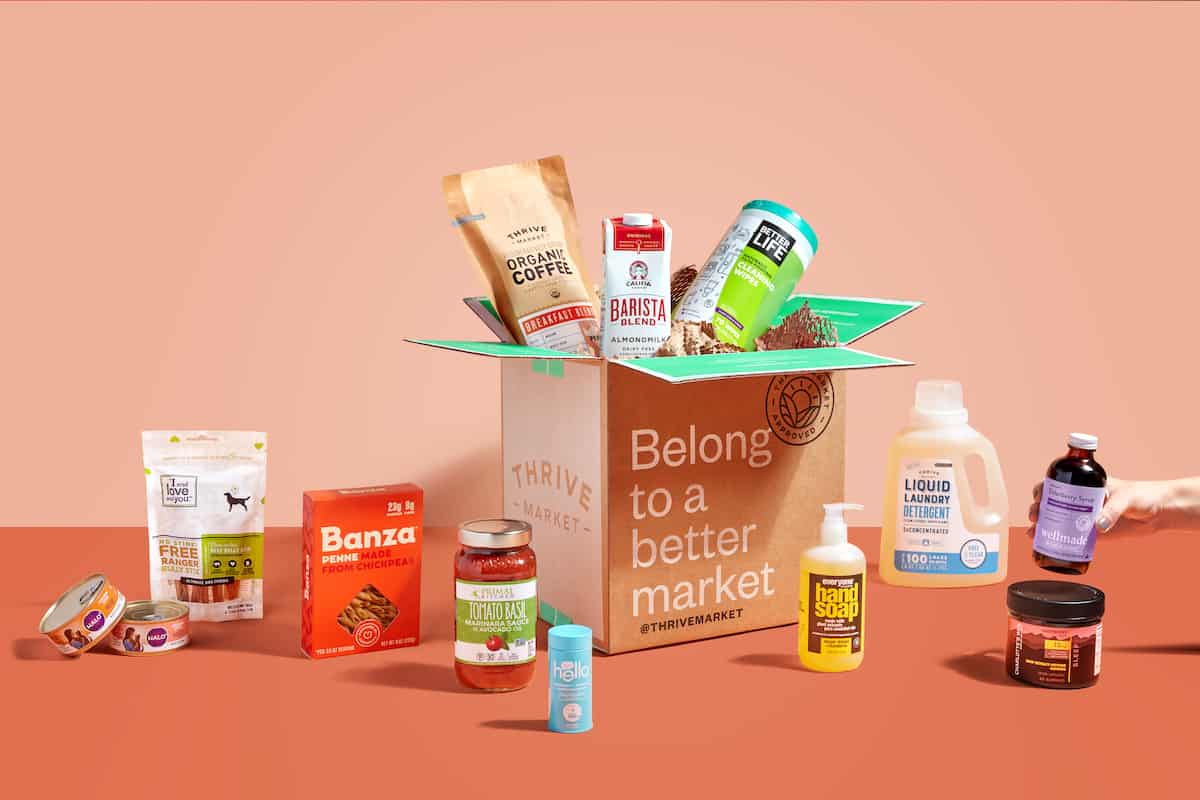 Struggling to eat healthier? You're not alone. In a world where unhealthy and highly processed foods are readily available, it can feel impossible to adopt healthier habits. On top of that, limited access to healthier options and the high food cost at local health grocers can leave you reaching for processed snacks or fast food when you're feeling hungry.
Key Takeaways
Thrive Market is a grocery delivery service that offers natural products priced lower than most health food retailers.
Thrive Market has annual and monthly memberships that cost $59.95 and $9.95, respectively.
If you are not satisfied with the service, you can cancel it at any time without a cancellation fee.
Let's look at how Thrive Market works, what you can order from them, and whether a membership is worth the investment.
What Is Thrive Market?
Thrive Market is an online, membership-based grocery delivery service that strives to offer healthy, sustainable products for every lifestyle, budget, and geography. Thrive Market offers affordable natural foods, household essentials, beauty products, and more.
When you sign up for Thrive Market, you'll be able to try a risk-free, 30-day membership to see whether it's right for you.
During your risk-free trial, you'll have access to Thrive Market's extensive selection of high-quality, sustainably sourced grocery items, household essentials, baby products, and even pet supplies.
With discounted prices compared to other health food grocers, a strong commitment to sustainability, and user-friendly filters to search different diets and brands, Thrive Market takes the hassle out of eating healthy.
Instead of hunting for foods at your local grocery store that matches your dietary needs, you can shop from the comfort of your own home and focus on the foods that are right for you.
Thrive Market also takes steps to make healthy living accessible for everyone by matching every paid membership with a free one for low-income families, students, teachers, veterans, and first responders.
When you buy a Thrive Market membership, you're also donating one to a family, teacher, student, or veteran in need. 💛 #ThriveGives pic.twitter.com/HHEzy5sju4

— Thrive Market (@thrivemarket) January 17, 2020
How Does Thrive Market Work?
For as little as $5 per month, Thrive Market members can access high-quality, sustainable, organic brands with discounted prices and the ability to shop by their dietary preferences.
By cutting out the middlemen, Thrive Market delivers the brands you love, allowing you to enjoy healthy snacks, pet supplies, beauty products, and more without the retail markup.
Unlike other grocery delivery services, Thrive Market ships to all addresses in the contiguous United States. So even if you're living in a small town, they can help you access healthy foods that might not be available at your local grocery store.
Thrive Market sets itself apart from other grocery delivery options with no order limits or order frequency requirements, making it an affordable and accessible option whenever you're looking to stock up on healthy foods.
How Much Does Thrive Market Cost?
Thrive Market offers access to healthy foods with two membership options. Their annual and monthly memberships are $59.95 and $9.95, respectively.
With a membership, you can place orders as often as needed. The best part? Their memberships don't come with any order frequency requirements or limits.
Here's an outline of shipping costs by order type:
Grocery: Free shipping over $49, $5.95 shipping under $49
Frozen: Free shipping over $99, $13.95 shipping under $99
Wine: Free shipping over $79, $13.95 shipping under $99
On top of their already discounted prices, they also offer some cost-saving features that can help you save even more.
With Thrive Market's Price Guarantee program, they will refund you in Thrive Cash if you see an identical product listed cheaper at another retailer.
After sending a picture or link of the lower price, they will verify whether the product qualifies for the Price Guarantee program.
Then, they will issue Thrive Cash to your account in the amount of the price difference to put toward a future order.
Another cost-saving feature is Thrive Market's Autoship option. It can help you stay stocked with household essentials, groceries, and more while enjoying additional savings.
When you sign up for Autoship, the items you purchase through Thrive Market will automatically be added to your Autoship manager, where you can edit your next order, adjust the frequency of your Autoship preferences, and change upcoming delivery dates.
Autoship members can also take advantage of 5–10% additional savings on each order.
What Can You Buy on Thrive Market?
Thrive Market carries an extensive selection of organic, non-GMO products, including organic snacks, vegan supplements, and plant-based meats. When curating your order, you can filter your search by over 70 diets and values, including gluten-free, plant-based, and paleo, to match your dietary needs.
Although other grocery delivery services also offer a wide range of healthier options, Thrive Market's grocery selection is unmatched.
With over 6,000 items to choose from, Thrive Market has something to offer for everyone—from grass-fed beef to dairy-free creamers.
When you choose Thrive Market, you can shop confidently, knowing you're supporting eco-conscious, sustainable brands.
They only partner with brands that match their strict quality standards—from sustainable sourcing to fair trade practices—so you'll have the peace of mind of knowing that the products you buy are good for you and Planet Earth.
In addition to brands that are helping make the world a better place, you'll also be able to shop Thrive Market's member-exclusive name brand.
The Thrive Market brand offers a wide range of high-quality products, including baking supplies, spices, snacks, and even meat boxes. Every order also comes with a free gift for members!
How to Order from Thrive Market
After signing up for your membership, you'll have unlimited access to Thrive Market's wide range of grocery items, supplements, beauty products, and more. To start your order, all you need to do is start browsing the aisles.
From finding items to checking out, here's how to place an order through Thrive Market.
Click "Browse" to start exploring the aisles. If you're shopping for a specific diet or searching for a certain brand, you can filter your search by clicking "Browse" in the top right corner and navigating to the category.
After finding an item you'd like to order, click "Add" under the item's title to add it to your cart. To qualify for free shipping, you'll need to bring your cart subtotal to $49.
When you're finished shopping, click the cart icon in the top right corner to view your cart. Before placing your order, you can adjust your Autoship preferences as needed.
Ensure that everything in your cart is correct, and click "Checkout"
After completing your order, you'll receive a confirmation email with your order details.
In most cases, orders are processed within 12 hours. When your order ships, you'll receive a shipping confirmation with tracking details.
Thrive Market products may ship from different warehouses (including wine, meat, and seafood products), and large orders may be packed in multiple boxes.
If you only receive part of your order, you should receive the rest within a few days.
How Is Thrive Market Packaging?
Thrive Market prioritizes sustainable and mindful packaging to minimize its environmental impact. Following their core values, they use 100% recyclable and reusable materials to pack every order—from boxes and packing paper to tape.
As you can see, some of the items in my order were shipped in resealable plastic bags to prevent leaks. While these plastic bags aren't recyclable, you can reuse them around your home to store fresh herbs and non-perishable snacks like nuts.
Even though you'll need to throw out these bags eventually, reusing them can help you reduce some waste.
Meanwhile, members can recycle their shipping boxes (including the tape), corrugated cardboard, and packing paper.
Thrive Market website also offers some creative ideas for upcycling packaging materials—from using boxes for storage to creating kid-friendly cardboard forts.
They also ship some products with gel ice packs to keep them cool until you can store them in your fridge or freezer.
The gel ice packs can be stashed in your cooler for your next road trip, or you can use the inner gel as a nitrogen-based plant fertilizer.
What Are Thrive Market Must-Haves?
Whether you're shopping on Thrive Market for the first time or searching for new goodies for your next order, here are some of the best products to try:
1. Califa Farms Almond Milk Coffee Creamer with Coconut Cream, Pecan Caramel
Finding an affordable creamer without a chemical taste isn't easy, especially if you're vegan or lactose intolerant. Califa Farms Almond Milk Creamer offers a healthy, dairy-free option for your morning coffee or tea.
The creamer is only 15 calories per serving and has 2 grams of sugar. Plus, it's shelf-stable, so you can store it in your pantry until you're ready to use it.
2. Thrive Market Organic Ghee with Himalayan Pink Salt
We all know that ghee can be expensive—and tracking it down at your local grocery store can be challenging.
With Thrive Market's name brand, you can enjoy high-quality and organic ghee. According to member reviews, Thrive Market Organic Ghee has a great flavor, making it ideal for cooking, spreading, and even grilling.
3. Thrive Market Organic Raw Unstrained Honey
The cost of honey can add up quickly, especially if you're using it to sweeten your coffee or as a sugar substitute when baking.
Thrive Market Organic Raw Unstrained Honey is USDA Certified Organic, non-GMO and affordable, so you can enjoy all the health benefits of honey without breaking the bank.
4. Pop & Bottle Oat Milk Latte, Vanilla with Collagen
Searching for a healthy, dairy-free coffee to keep you caffeinated on the go? Pop & Bottle Oat Milk Latte is formulated with collagen, coconut MCT oil, Himalayan pink sea salt, and rich cold brew coffee to keep you feeling good all day long.
These affordable lattes are a fraction of the cost of your average Starbucks order and better for your body.
5. El Gran Amigo Brut Nature Gran Reserva 2016
If you're lucky enough to have alcohol delivery in your area, be sure to take advantage of Thrive Market's unmatched prices on clean wine.
Brut Nature Gran Reserva is a drier, mouth-watering sparkling wine formulated without any chemicals, making it the perfect choice for morning mimosas or your next family dinner.
How Much Do You Save With Thrive Market?
Thrive Market provides great value and competitive pricing with other retailers, with products costing up to 50% less than retail value. According to Thrive Market's website, members save an average of $32 on every order.
Thrive Market uses reference prices, including "Compare At" pricing, to estimate the quality and price information from comparable retailers and highlight member-exclusive savings.
With that said, it's important to remember that their "Compare At" prices may not reflect the exact market price in your area.
While Thrive Market's website claims to cost 25–50% less than other retailers, some Thrive Market products (and similar alternatives) can be found at comparable prices to health food stores.
However, for most products, Thrive Market offers discounted prices compared to health food grocers like Whole Foods, with discounts of up to 50% depending on the specific item.
Keep in mind that product prices are dynamic and may change with promotions at retailers.
To give you an idea of how much you can save by shopping at Thrive Market, below is the price comparison of a few items at the time of this writing.
| | | |
| --- | --- | --- |
| | Thrive Market | Whole Foods |
| Primal Kitchen Avocado Oil, 16.9 oz | $9.99 (19% off) | $12.29 |
| HU Salty Dark Chocolate Bar, 2.1 oz | $5.49 (15% off) | $6.49 |
| Emperor's Kitchen Chopped Garlic, 4.5 oz | $2.99 (33% off) | $4.49 |
| Lily's Milk Chocolate Baking Chips, 9 oz | $6.29 (10% off) | $6.99 |
| Ancient Nutrition Multi Collagen Protein | $39.99 for 18.5 oz | $29.99 for 8.6 oz |
During the checkout process, you'll be able to see exactly how much you saved on your order. Additionally, when you click "Account," you can view your lifetime savings and projected annual savings.
For example, my order, which cost $90.87, saved me $78.40, with a projected annual savings of $940.80.
Is Thrive Market Worth It?
Thrive Market is worth the investment whether you're looking to cultivate a healthier lifestyle or lower your weekly grocery bill. Thrive Market strives to help members save money for years to come, which is why they guarantee an annual membership will pay for itself in grocery savings.
Under Thrive Market's Savings Guarantee, if you don't make your annual membership fee back in grocery savings by the end of your membership year, they will refund the difference in Thrive Cash after you renew your annual membership.
Thrive Market also takes the hassle out of finding healthy foods and snacks that fit your diet and lifestyle. Maybe you're interested in trying a keto diet—or you're looking for more Whole 30-friendly foods.
Instead of searching for foods that fit your diet at your local grocery store, their convenient product filters can help you enjoy a stress-free shopping experience.
As a bonus, members can view nutrition information and reviews about each product before adding it to their cart. Thrive Market's online nutrition information includes all the information you need when deciding whether a product is right for you, including:
Serving size and number of servings per container
Calories per serving and % daily value
Ingredients and allergy information
Values (i.e., ketogenic, gluten-free, low sugar)
Average member rating
This way, you can take your time choosing the right foods for your diet and lifestyle from the comfort of your home instead of rushing over the nutrition information in grocery store aisles.
And if you're thinking about trying something new but not ready to make the leap, member reviews can help you make the final decision.
With that said, if you prefer cooking from scratch, Thrive Market might not have all the ingredients you need to prepare your meals.
Although they can help you track down hard-to-find ingredients like paleo flour and beef tallow, you'll likely need to stop at your local grocery store to pick up essentials like eggs and fresh produce.
If you want to try Thrive Market, you can sign up on their website and get a free gift when you join!
How to Cancel Thrive Market Membership
With Thrive Market, you can cancel your membership at any time without incurring an early termination fee. To cancel your membership, all you need to do is contact Member Services by clicking the green "Support" button at the bottom right corner of Thrive Market's website.
After canceling your Thrive Market membership, your access to member-exclusive perks will continue until the end of your paid membership period.
If you place any orders placed after the cancellation has gone into effect, you'll be charged for a non-refundable annual membership.
Conclusion
Whether you're looking to save time at the grocery store, lower your grocery budget, or commit to a healthier lifestyle, Thrive Market can help.
When it comes to weighing the pros and cons of grocery delivery, Thrive Market's strict quality standards, commitment to sustainability, and easy access to healthy foods make the investment worth it.
If you're looking for more grocery delivery tips, check out the articles below.
Related Articles:
Misfits Market Review: I Tried the Ugly Produce and Here's What I Think
Does Trader Joe's Have Delivery? (No, but This Option Works)