Your Guide to Ordering Cakes From Safeway Bakery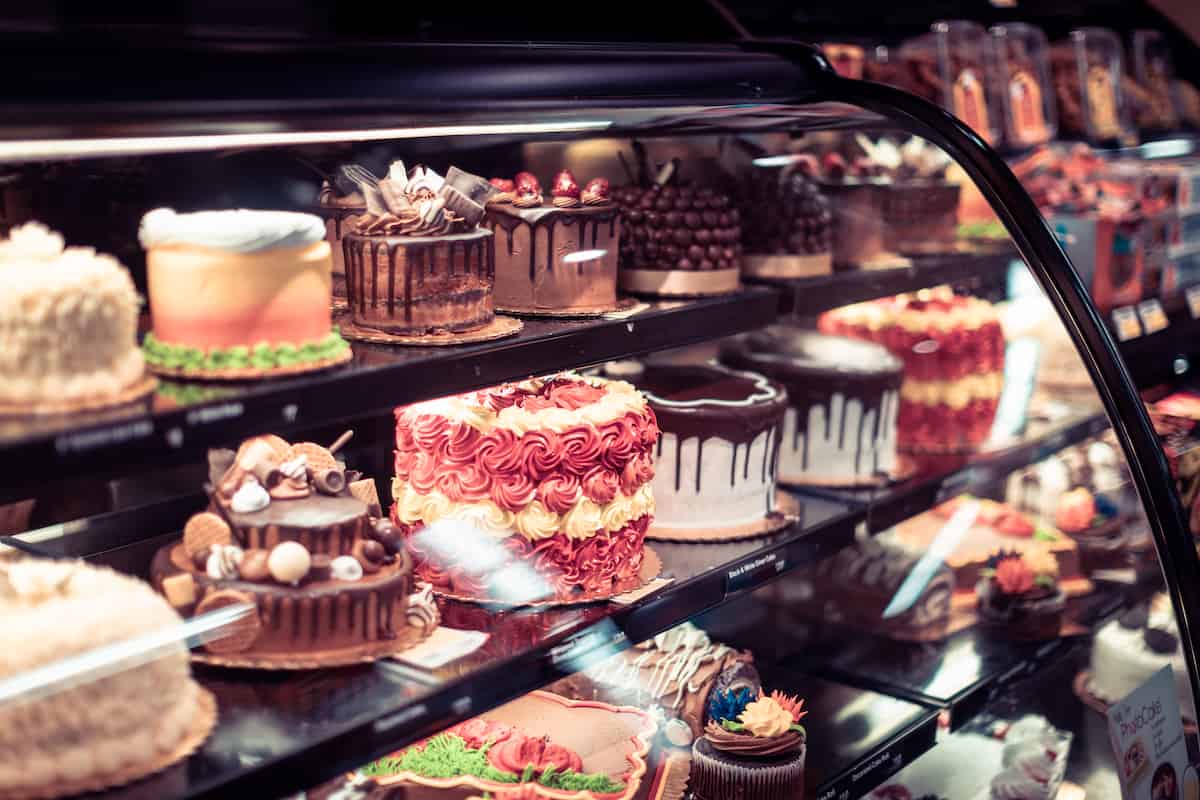 People from 18 different states across the US know and love cakes from their local Safeway bakery. These cakes are flavorful and decorated with skill. You should try one of these delicious cakes if you haven't already.
Safeway bakery offers graduation cakes, birthday cakes, photo cakes, wedding cakes, and more. Safeway bakeries are open 7 am- 7 pm seven days a week. You can order a premade cake or a custom cake online or in-store using the Safeway cake catalog. Additionally, Safeway bakeries sell cupcakes, cookies, and donuts.
In this article, we'll cover how to order the perfect cake from Safeway, including their custom cake options, prices, and more!
Have your cake and eat it, too –you deserve it. Hit reply and let us know what flavor you are treating yourself with! pic.twitter.com/l2DxwfOr1u

— Safeway (@Safeway) August 9, 2020
What Are the Safeway Bakery Hours?
Safeway bakery hours are 7 am- 7 pm at most locations. In some areas, the bakery may be open longer, from 6 am- 9 pm. Safeway bakeries are open almost every holiday, though individual locations may adjust their hours and close early. Nearly every Safeway store is closed on Christmas Day.
The Safeway bakery is highly accessible with its wide range of hours. Essentially every location is open for at least 12 hours a day, from 7 am to 7 pm.
Some bakeries are open for even longer to serve their customers better. These bakeries typically have hours of 6 am to 9 pm. Note that normal hours for the Safeway stores are 6 am to 11 pm.
Safeway bakeries are also open on most holidays. So if you are planning on ordering a cake for a holiday celebration, you should be able to pick up your order on almost any holiday.
However, most Safeway bakeries are closed on Christmas Day. Additionally, individual locations can adjust their own hours on holidays, so call your local store if you are unsure whether they are open.
Here is a table showing the regular Safeway bakery hours:
| | |
| --- | --- |
| Day | Safeway Bakery Hours |
| Monday | 7 am- 7 pm |
| Tuesday | 7 am- 7 pm |
| Wednesday | 7 am- 7 pm |
| Thursday | 7 am- 7 pm |
| Friday | 7 am- 7 pm |
| Saturday | 7 am- 7 pm |
| Sunday | 7 am- 7 pm |
The table below shows the holiday hours at most Safeway bakeries:
| | |
| --- | --- |
| Holiday | Safeway Bakery Hours |
| New Year's Day | 7 am- 7 pm |
| Good Friday | 7 am- 7 pm |
| Easter | 7 am- 7 pm |
| Memorial Day | 7 am- 7 pm |
| 4th of July | 7 am- 7 pm |
| Labor Day | 7 am- 7 pm |
| Thanksgiving | 7 am- 7 pm |
| Black Friday | 7 am- 7 pm |
| Christmas Eve | 7 am- 7 pm |
| Christmas Day | Closed |
| New Year's Eve | 7 am- 7 pm |
How to Order a Cake From Safeway
To order a cake from Safeway, you can call the store, order online, or visit the store in person. Premade cakes can be added to a pickup or delivery order of $30 or more. Custom cakes can be ordered for pickup using the Safeway website. In addition, you can use the Safeway cake catalog online or in the store when ordering a custom cake.
You can purchase a premade cake at any Safeway bakery. If you are shopping in person, you can browse the selection in the bakery department.
If you prefer to shop from home, you can add a cake to your Pickup or Delivery order.
Safeway bakeries produce many delicious flavors and styles of cake. Customer favorites include the chocolate cake, the ice cream cake, and the tres leches cake.
You will also find a variety of sheet cakes, round cakes, and even individual cake slices at your local bakery.
If you have a little one about to have their first birthday, you can get a free smash cake from Safeway to match any birthday cake you order.
The main birthday cake must be at least a ¼ sheet, but you will receive a free 5-inch round cake for your baby's first taste of the cake.
Safeway can likely accommodate your needs if you have a food allergy or preference since most Safeway bakeries sell vegan cakes. Vegan cakes are made by a separate company, so you can guarantee that the ingredients are fully vegan.
Safeway also makes gluten-free cakes, including the decadent gluten-free chocolate cake.
You can order custom cakes from Safeway in three ways. First, you can order online through the Safeway website. The website has an online cake order form to fill out based on your design selection.
Second, you can call your local Safeway bakery. To find the Safeway bakery phone number for your nearest store, use the Store Locator on the Safeway website.
Finally, you can place an order in person with a baker at your local store. There should be a Safeway cake catalog in the bakery department featuring all the current cake designs available.
😱 Wow, what a beautiful cake!! Thank you for sharing this awesome photo with us, and we hope your family enjoyed 🥰! Thank you again!

— Safeway (@Safeway) August 9, 2021
Can You Order a Cake from Safeway Online?
You can order a cake from Safeway online using their website or the app. On the website, you can order both premade and custom cakes. On the Safeway app, you can only order a premade cake. You can also order Safeway cupcakes and cookies online. All online orders can be picked up in-store, and some can be delivered.
When ordering a cake online for pickup or delivery, you'll need to visit the Safeway website or download the app.
First, select a convenient Safeway location for pickup, or enter your zip code for delivery. Then, browse the available cakes in the bakery section.
To order a custom cake from Safeway online, use the "Order Ahead" section of the website. However, note that this is not available on the app.
On the website, you can select one of the different cake designs available and customize it to your liking.
You can order a premade cake online without a Safeway for U account. However, signing up for an account may help you save money.
Safeway bakery also sells cupcakes online. These mini desserts are available in many of the same flavors as the cakes.
If you are shopping around a certain holiday, like Halloween or the 4th of July, you will likely see cupcakes decorated for the occasion.
You can also buy Safeway cookies online. Perhaps you need to bring a big batch of cookies to your child's classroom. Ordering a couple of dozen cookies online for pickup or delivery will save you loads of time!
One thing to make sure of is that if you need a specific item, select "No substitutions if unavailable" in your cart.
This will ensure that the in-store shopper will not replace the item with an unwanted product if your original selection is out of stock.
Additionally, your order total must be $30 or more before you place a Safeway pickup or delivery order.
If you only need one cake, you'll likely need to add a few extra groceries to bring the order up to the minimum. Consider adding beverages, silverware, or even pantry staples to your order.
🎓 🎉 Hip Hip- HOORAY! Whether you are throwing a graduation bash or attending one, Safeway has your back with custom cakes, snack trays, flowers and more! Find your local store: https://t.co/euK5kUH67e pic.twitter.com/mvNuZlA7tA

— Safeway (@Safeway) May 17, 2018
Does Safeway Make Custom Cakes?
Safeway makes custom cakes for many occasions. If you need a custom cake, you can order it through the Safeway website or in person at the Safeway bakery. You can also browse the Safeway cake catalog online or in-store to pick out the cake, filling, icing, and design elements of your custom cake.
Custom cakes are an excellent centerpiece for any celebration. Designing your custom cake allows you to decide exactly how you want it to taste and look.
Here are the steps to ordering a custom cake from Safeway:
First, choose the design and size of your cake.
Next, select a cake filling from seven different options.
Then, select a cake flavor from six different options.
Finally, choose an icing flavor and accent color (not available with all designs).
Provide any special instructions for the baker and add a personalized message to be written on the cake (optional).
To pick out a design, you can look through the Safeway cake catalog in the store or online.
Each design is available in a specific size and shape. These designs include the Safeway unicorn cake, graduation cakes, and plenty of birthday cake designs.
You can also order a Safeway photo cake, where the baker puts an edible picture on the cake.
After choosing your custom cake design, you will need to pick a filling and flavor for the cake.
There are 7 different filling options, including fruit or cream-based fillings. In addition, there are 6 different Safeway cake flavors for custom orders.
Some customer favorites are the chocolate cake, the red velvet cake, and the rainbow cake.
If you have any other custom details you want on your cake, add that information in the special instructions section. You are limited to 50 characters when ordering online.
You can also add a personalized message, but the limit is 30 characters.
For example, a Safeway graduation cake could simply say "Congratulations!" or a birthday cake may say "Happy Birthday, Sarah!" Short and simple messages look best on a cake.
Once you have provided all the necessary information online or in person, you can finalize the order and schedule a time to pick it up.
When ordering online, make sure you have the correct location selected. You will also need to provide contact information if the bakers have any questions or changes to your order.
For those who are not fans of cake, Safeway cookie cakes are also available. Technically, it's not a cake, but rather it's a giant cookie decorated with frosting.
You can customize the colors and messages written on the cookie. Unfortunately, most stores only accept orders for these message cookies in the store rather than online.
What Are Safeway Cake Prices?
Safeway cake prices start around $5, and they can go up to nearly $70 for larger custom cakes. Most premade cakes are affordable, as they cost $5- $35. The custom cakes are more expensive and vary in price based on your design choices. Safeway custom cake prices start at $10, and the larger sheet cakes cost $40- $60.
There are plenty of delicious premade cakes at great prices. For example, you can get a simple, single-layer 8-inch cake for only $9.99. This size of cake serves 8-10 people. Similarly, an 8-inch tres leches cake costs $12.99.
For larger gatherings, you can purchase a pre-made sheet cake. A half-sheet serves 30-40 people, and it costs around $30. These bigger sheet cakes are usually frozen, so take that into consideration when you are shopping.
Generally, you can expect Safeway cake prices to be about $0.75- $1 per serving if there are not too many custom details. This includes both premade and custom cakes.
Also, you may be able to catch a sale on select premade cakes. To have the sale price applied to your purchase, you need a Safeway for U account.
It is easy to sign up for an account, and you will then be able to use digital coupons when you shop.
Here is a table to show the Safeway custom cake prices for different sizes:
| | | |
| --- | --- | --- |
| Cake Size | Servings | Price |
| Single-Layer 8-inch Round | 8-10 | $9.99 |
| Double-Layer 8-inch Round | 8-10 | $18.99 |
| Stacked Cake (select designs) | 12-16 | $44.99 |
| ¼ Sheet | 15-20 | $21.99 |
| ½ Sheet | 30-40 | $31.99 |
| Full Sheet | 60-80 | $51.99 |
* Safeway cake prices may vary by location.
Does Safeway Make Wedding Cakes?
Only some Safeway bakeries make wedding cakes. You can call or visit your local bakery and ask if they make custom wedding cakes. Safeway bakeries that offer this service can make custom wedding cakes in 2-4 tiers with a round or rectangular shape. You will have similar flavor and decoration options as with a regular custom cake.
Unfortunately, not every Safeway bakery can make wedding cakes. There is not a great demand for wedding cakes, so many locations do not have the right equipment.
However, you may still live near a bakery that does make wedding cakes. You can find this information easily by calling or visiting your local bakery. The bakers are friendly and willing to help you out however they can.
Calling or visiting is also important because you will need to speak to a baker about available wedding cake designs, as these are not posted online.
Since a wedding cake is very important, the designs are more intricate than a basic birthday or graduation cake.
You can choose from the same cake flavor, filling, and icing options available for custom cakes.
It may also be helpful to talk through the options with a baker or decorator to determine which pairings will taste best.
The available sizes and decorations for wedding cakes will vary by location. A typical 3-tier design uses a double layer of 8-inch, 10-inch, and 12-inch rounds.
This design serves at least 50-60 people. Again, speak with someone at your local Safeway bakery to perfect your wedding cake design.
Does Safeway Bake Their Own Cakes?
Generally, Safeway does not bake their own cakes. Most cakes are prepared at a separate manufacturing plant to be distributed to local Safeway bakeries. Many sheet cakes are frozen to preserve their quality. There are a few cakes that are baked in-store, and these include "fresh baked" in their names.
Safeway bakeries prepare many other baked goods in-store. Each day, bakers make fresh bread, muffins, bagels, and more.
However, cakes often take up too much space to be baked fresh. Thus, Safeway bakeries order most of their cakes, particularly sheet cakes, from a separate source.
You'll notice that the sheet cakes and some round cakes are sold frozen. However, if you order a custom cake, it will not be frozen when you pick it up.
Cakes can generally be frozen for up to 3 months, and its quality will be preserved as long as it is thawed properly.
Despite not baking their cakes fresh, Safeway bakeries still hire in-house decorators to create all custom cakes.
So when you place a custom cake order from Safeway, you can be sure that a trained decorator will carefully frost and decorate your cake to meet exactly what you described.
Conclusion
Safeway cakes are delicious and festive. Many flavors and design combinations are available, whether you shop for premade cakes or place a custom cake order. Spend just a few minutes browsing online or walking through the displays in a store, and you will find the perfect cake for your next celebration.
If you're interested in finding out more grocery shopping tips, check out the related articles below.
Related Articles:
Safeway Hours, Weekly Ad, Best Time to Shop, and Payment Methods
What Is Safeway Just for U? (And How to Use It)
Safeway Delivery: How to Get Groceries Delivered From Safeway
Safeway Pickup: How to Order and Pickup Groceries Curbside
Albertsons Delivery: How It Works and How to Use Albertsons for U