Member's Mark: Deconstructing Sam's Club Store Brand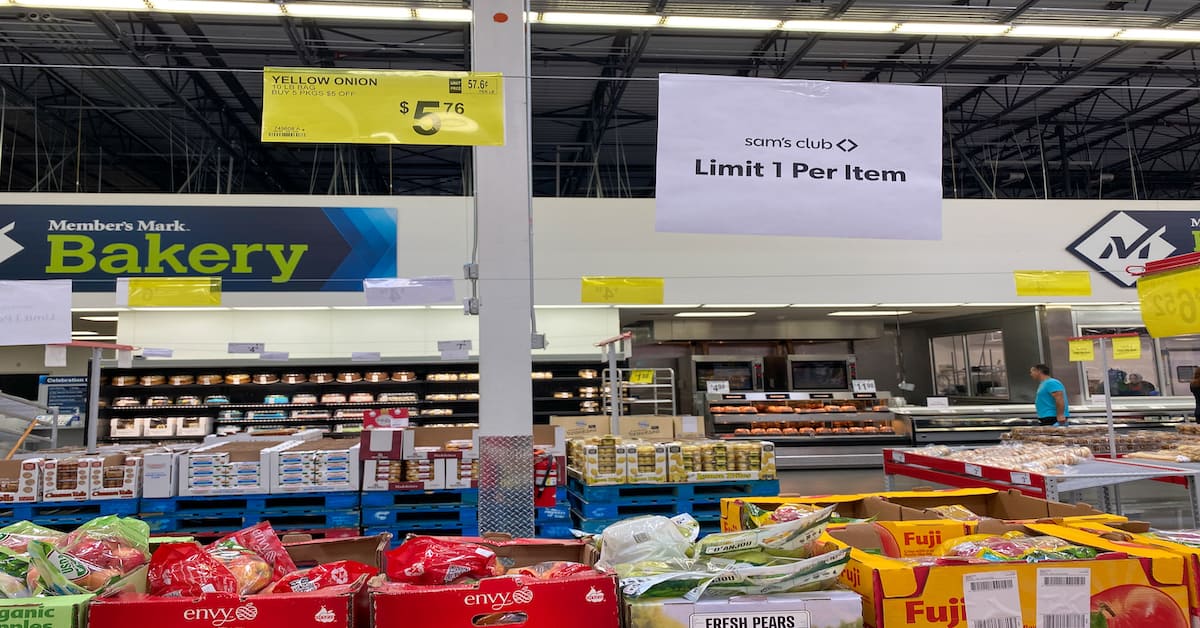 Regardless of your household size, having a membership to a wholesale club like Sam's can save money and reduce the frequency at which you have to go to the grocery store. This is both convenient and money conscious, but if you're a Sam's Club member, you might wonder about the background, pros, and cons of their signature store brand, Member's Mark.
Member's Mark is Sam's Club's private brand created to provide customers with the lowest prices for the highest quality products. It is manufactured in the United States by Sam's Club's parent company, Walmart. Member's Mark products are primarily sold at Sam's Club. However, Walmart and Amazon also carry some products.
Whether you're contemplating a membership to Sam's or already have one, this article will explain the ins and outs of the Member's Mark private label. From product sourcing and manufacturing to comparing their competitor, Costco's Kirkland label, we'll cover all you need to know before purchasing Member's Mark products.
MEMBER'S MARK, generic? Perish the thought! ????

— Sam's Club (@SamsClub) August 5, 2020
What Is Member's Mark?
Member's Mark is the Sam's Club store brand that makes up about 20% of the club's inventory, as stated by Chandra Holt, VP of Private Brands for Sam's Club. The mission of the Member's Mark brand is to give customers the lowest prices for the highest quality product possible.
Member's Mark is meant to compete directly with other brands to drive consumers to Sam's Club. This is similar to many other stores with a private label, like Costco and Trader Joe's.
As a competitor to these two stores, Member's Mark continues to grow and improve their ingredients and methods to become a more sought-after label.
Who Makes Member's Mark Products?
Unfortunately, neither Sam's Club nor Walmart has released any additional information about companies they partnered with to manufacture their Member's Mark brand. This has caused skepticism in many consumers who would prefer knowing who is making their food products.
Based on the information that the company has given, Sam's Club makes all of their Member's Mark products—but more specifically, their parent company Walmart is responsible for all of the manufacturing of their items. However, their product ingredients are sourced from all over the world.
While all of the products are manufactured in the United States, the company outsourced many of the ingredients in an attempt to make the best possible product.
An example of this is their coffee. The Member's Mark brand has collaborated with coffee growers in Colombia to create partnerships and get the highest quality beans for their signature coffee.
Other ingredients are sourced from around the United States, like honey and caramels. At the same time, some products are made with guidance from other producers to get the best-tasting product.
Hey there, Stanley. We stand by our Member's Mark brand. We have a team that works closely with our buyers and suppliers to develop great items. Member's Mark items are premium products made with a focus on quality and priced at a great value for our Members.

— Sam's Club (@SamsClub) March 20, 2021
Is Member's Mark a Good Brand?
The quality of Member's Mark products depends on the specific items being purchased. In addition, the ethics of the company producing the product may or may not align with all consumers. With that said, Sam's Club aims to be inclusive and fair to all of its employees while working hard to create quality products.
Recently, Sam's Club revamped the Member's Mark private label, aiming to make it even better! This has improved the quality while also making the products more competitive with other private labels.
One of the biggest upsides to Member's Mark is that they are constantly working towards improvement. With frequent product tweaks, the brand is only making positive changes and getting better every day.
Who Sells Member's Mark?
For those looking to buy Member's Mark products, your best option is to head to your local Sam's Club. However, if you do not have one nearby or do not have a membership, Walmart does carry some of the Member's Mark products. Since Walmart owns Sam's Club, they both carry the brand.
The only other place Member's Mark products can be found is online through Amazon.
Keep in mind if you are shopping Member's Mark products and looking for a specific item anywhere outside of Sam's Club, you may not be able to find it due to less inventory of the brand in other retailers like Amazon.
Member's Mark vs. Kirkland: Which Is Better?
The consensus among consumers in online forums is that the Kirkland brand beats out Member's Mark. However, this is dependent on the specific items you're comparing. If you're making a general comparison, Kirkland is the more well-known and trusted brand, although both brands have hit-or-miss items.
The Costco Kirkland brand has been a huge success as consumers will go to Costco simply to shop for their store brand.
This has become increasingly popular and trusted among consumers that are Costco members. The goal of Member's Mark is to be as big and trusted as Kirkland, but it's not there yet.
While there are many loyal customers to Sam's Club, the Member's Mark label is not as frequently shopped as Kirkland.
Even with most shoppers siding with Kirkland, several items are considered superior in the Member's Mark brand, including toilet paper.
Always good to try something new, especially when it's our amazing Member's Mark brand! Stay awesome!

— Sam's Club (@SamsClub) May 16, 2020
6 Member's Mark Products You Should Buy at Sam's Club
While Sam's Club carries a wide range of products, there are a handful of Member's Mark products shoppers should not miss out on during their next trip to Sam's Club.
The snack section of Sam's Club gets outstanding reviews, leaving consumers eager to come back for more Member's Mark snacks, including chips, juice boxes, kid's snacks, and more!
Toilet paper: Not only is toilet paper a great deal in bulk, but the Member's Mark toilet paper also gets stellar reviews for being soft yet durable. Based on user feedback on Amazon, the toilet paper does not rip, pill, or shred easily.
Coffee: The Member's Mark coffee is sourced from Colombia, making for a great cup of coffee whether you drink it black or with cream and sugar. On top of this, you can get 100 cups for the price of $30. The overall rating is 4.5/5 stars on the Sam's Club website, making it one of the more popular items sold.
Chocolate chip cookies: The baked goods from Member's Mark don't taste far from a homemade batch of chocolate chip cookies. This top-rated product has 4.7 stars on the Sam's Club website and is featured as one of their most popular items.
Paper towels: The paper towels not only come in a giant package but last longer due to their durability.
Trash bags: By buying your trash bags in bulk through the Member's Mark brand, you will save more and buy less frequently.
The above six items are some of the most popular items because demand is high for trash bags, toilet paper, and paper towels.
Another reason is Member's Mark delivers high quality for a great price for these items. By buying these items at Sam's Club, consumers can buy less frequently, which is ultimately good for their wallets and cutting back on their waste.
Conclusion
While there are definite pros and cons to every brand, Member's Mark is an overall highly rated and continuously growing brand with consumer support. Many shoppers go to Sam's Club simply for these products.
If you haven't bought any Member's Mark products yet, join the Sam's Club family and give them a try!
If you're interested in finding out more tips about shopping at Sam's Club, check out the related articles below.
Related Articles:
Sam's Club Membership: Everything You Need to Know
Sam's Club Delivery: How to Order and Get Membership Perks on Instacart
Sam's Club Pickup: How It Works and Tips to Get Started
Your Guide to Ordering Cakes From Sam's Club Bakery