10 Best Store-Bought Pasta Sauces, Ranked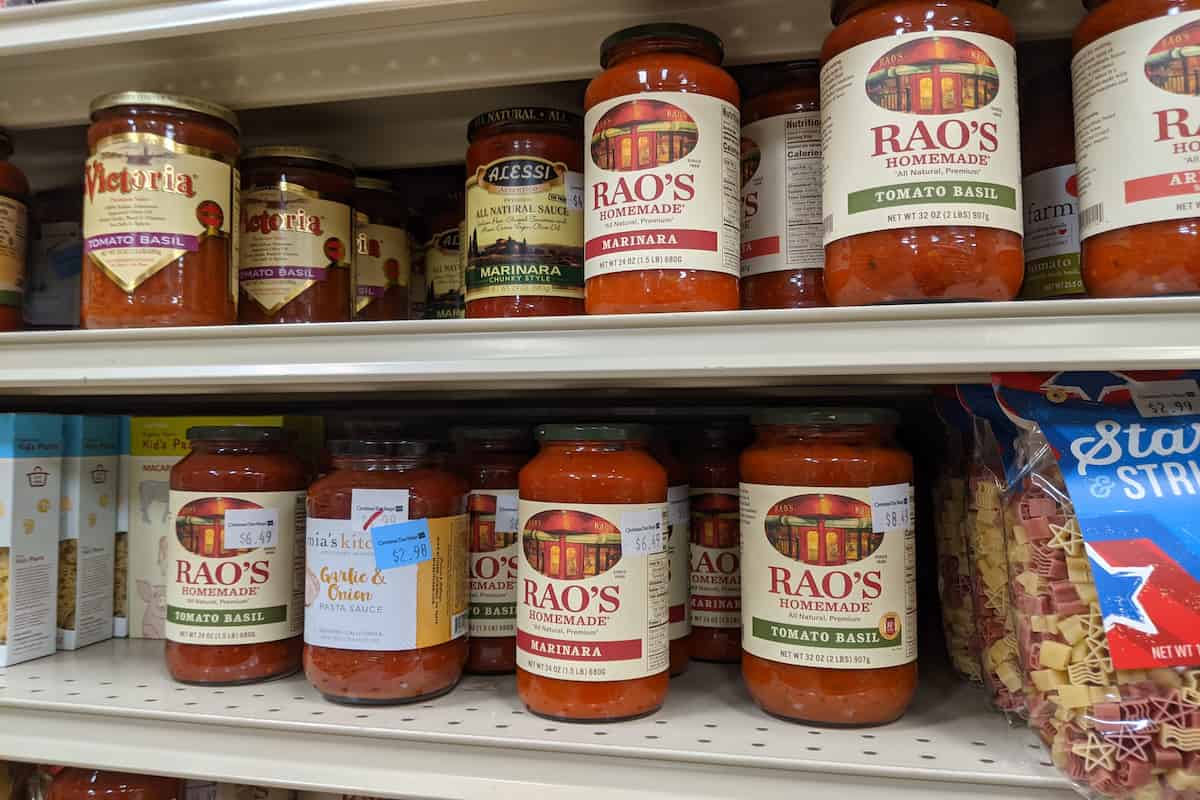 Jarred pasta sauces are a pantry staple for many households, including my own.
Not only are they perfect for putting together a meal in a pinch, but they're also shelf stable and can be kept unopened in your pantry for months or even years.
Today, we'll dive into the best jarred pasta sauces you can buy at your local grocery store.
There are marinara sauces, alfredo, pesto, and more on the list, but we'll only discuss the jars that are the most memorable and worth your time and money.
So let's get started!
10. Newman's Own Alfredo Sauce
Shelf-stable dairy sauces are much harder to come by than dairy-free ones because milk and cream tend to expire quickly.
Luckily, Newman's Own has made a tasty alfredo sauce that doesn't need to be refrigerated until after it's been opened.
Newman's Own's take on the classic alfredo sauce has a bit of an off-putting texture at first glance, but once it's heated up, it becomes velvety and smooth.
The main ingredients here are cream, parmesan cheese, salt, egg yolks, Romano cheese, and garlic.
Newman's Own's Alfredo sauce is garlicky, savory, and packed with umami flavor.
It's by far my favorite jarred alfredo sauce, and as a bonus, it contains no artificial colors, flavors, or preservatives.
One serving size of the sauce is a quarter cup, and each serving contains about 90 calories.
9. Trader Joe's Cacio e Pepe Pasta Sauce
Cacio e Pepe translates to "cheese and pepper" in Italian, and it's a deceivingly simple sauce that packs a huge punch of flavor into a short ingredients list.
Trader Joe's rendition of the classic Italian sauce features Pecorino Romano cheese made from sheep's milk and freshly ground black pepper.
This jarred pasta sauce from TJ's has a great cheese-to-pepper ratio.
The black pepper is just pronounced enough to bring a little kick to the pasta, and the cheese cools down that black pepper without completely covering it up.
Trader Joe's Cacio e Pepe sauce tastes pretty much the same as their frozen pasta dinner with Cacio e Pepe, so if you're a fan of that, you'll love this jarred pasta sauce.
One serving size of the sauce is a quarter cup, and each serving contains 110 calories.
8. Classico Mushroom And Ripe Olives Pasta Sauce
Next up on our list of the best store-bought pasta sauces is the Mushroom and Ripe Olives sauce from Classico.
This is a classic marinara-like sauce but features a unique blend of mushrooms, olives, and garlic to kick the flavor up a notch.
The olives bring a briny, salty undertone to the sauce, and the mushrooms bring some meaty, umami flavor.
You can also tell that the garlic is freshly packed, as it's much brighter and more pronounced than in most other jarred pasta sauces.
If you're looking for a classic pasta sauce with a bit of a twist, Classico's Mushroom and Ripe Olives is a great place to start.
One serving size of this sauce is half a cup, and each serving contains 50 calories.
7. Whole Foods Organic Marinara Pasta Sauce
Whole Foods' private label brand, 365, offers many high-quality ingredients and premade dishes at affordable prices.
One of the best products in their line is the Organic Marinara pasta sauce.
Made with organic tomatoes, salt, basil, onion, garlic, and oregano, this jarred marinara sauce couldn't be simpler or less processed.
It's also made with extra virgin olive oil, and I really do taste the difference in oil quality when it comes to a simpler sauce like marinara.
Whole Foods' rendition of the marinara pasta sauce is simple and bright.
All the ingredients taste fresh, and there are no preservatives or artificial colors to bog down that bold tomato flavor.
One jar of the sauce contains six servings, and each serving has 60 calories.
6. Prego Basil Pesto Sauce
Just like with dairy-based sauces, it's not easy to find a good quality, shelf-stable pesto sauce.
The best I've come by so far is Prego's Basil Pesto sauce.
The three main flavors here are garlic, pesto, and romano cheese.
It has just the right amount of salt, and the basil tastes impressively fresh for being jarred.
There are little bits of parmesan throughout, which is a fun extra textural element.
The extra virgin olive oil also brings some rich, creamy texture and flavors.
Interestingly, this jarred pesto sauce doesn't contain any pine nuts, at least according to the ingredients list.
You wouldn't be able to tell from taste alone, as it's just as good as pestos that do contain pine nuts.
Of course, if you're allergic to nuts, be sure to double and triple-check that your jar doesn't have any trace amounts of nuts.
One serving size of this sauce is a quarter cup, and each serving contains 200 calories.
5. Barilla Marinara Pasta Sauce
Next on our list of the best store-bought pasta sauces is another tomato sauce.
Barilla's take on the classic marinara sauce is bold, earthy, and bursting with flavor.
It has a lot more seasoning than most jarred marinara sauces, which keeps things interesting.
This sauce is made with tomato, garlic, sea salt, basil, oregano, and extra virgin olive oil.
The tomato flavor is front and center here, and the EVOO keeps the sauce thick and rich.
Barilla's Marinara sauce is smooth overall but has some tomato chunks in it, so it's sure to satisfy smooth and textured sauce lovers alike.
One serving size of the sauce is half a cup, and each serving contains 50 calories.
4. Trader Joe's Three Cheese Pomodoro Pasta Sauce
Up next is another jarred pasta sauce from Trader Joe's.
This one is the perfect mix between tomato and cheese because it's got three separate cheeses going on.
TJ's Three Cheese Pomodoro features Pecorino Romano, parmesan, and Asiago.
All three cheeses in the sauce are nutty, sharp, and salty.
Asiago also brings a slight sweetness to the sauce, which works well with the natural sweetness that comes from the tomatoes.
The cheese gives the sauce a thick, creamier texture than your average tomato sauce.
Pomodoro sauce is thicker and chunkier than marinara, so this is a great pasta sauce for anyone looking for a big tomato flavor.
One serving size of this sauce is half a cup, and each serving contains 80 calories.
3. Paesana Fra Diavolo Pasta Sauce
Paesana's Fra Diavolo pasta sauce is one of my favorites of all time, and it's definitely the spiciest sauce on our list.
Fra Diavolo is a spicy tomato-based sauce usually paired with seafood pasta.
This jarred sauce is made with plum tomatoes, fresh onions, extra virgin olive oil, garlic, basil, black, and a plethora of spices.
It also features a trio of peppers – black, red, and lemon pepper.
I love this sauce because it has a healthy kick of heat, but it's not so much that those more sensitive to spice won't enjoy it.
It's the perfect gateway to the world of spicy pasta sauces.
One serving size of the sauce is half a cup, and each serving contains 60 calories.
2. Rao's Homemade Creamy Vodka Sauce
Rao's is my favorite pasta sauce brand, hands down.
I have yet to try a jar I didn't like, but there are two that I find myself repurchasing the most often: Rao's Creamy Vodka Sauce and Rao's Marinara Sauce.
Rao's Homemade Vodka Sauce is a slow-cooked pasta sauce that combines the comforting, creamy taste of Parmigiana Reggiano and Pecorino Romano cheeses with the bright flavors of a classic tomato sauce.
This sauce also includes onion, garlic, basil, and oregano for that classic Italian taste and a splash of vodka to ensure a smooth, velvety texture.
Rao's tomato-based sauces are made with 100% Italian tomatoes and the highest quality ingredients, which you can taste from the first bite.
One serving of the sauce is half a cup, and there are 90 calories in a serving.
1. Rao's Homemade Marinara Sauce
Well, folks, we've made it to the number one spot. Without a doubt, the best jarred pasta sauce of all time is Rao's Homemade Marinara Sauce.
Where should I even begin?
For starters, Rao's Marinara Sauce tastes like a homemade sauce simmering on the stove all day.
The flavor is deep and complex, and you can truly taste all the different herbs and spices here.
Additionally, the ingredients used in this jar are of the highest quality.
The sauce is made with tomatoes, extra virgin olive oil, onions, garlic, basil, and oregano.
There's no added sugar, water, or unnecessary additions – just wholesome, fresh ingredients, and you can taste the difference.
The tomatoes here are bursting with bold, sweet flavor, and the spices and herbs enhance the tomato flavor rather than masking it.
If you're looking to buy a classic, high-quality marinara sauce that could easily pass as being homemade, Rao's Marinara is 100% the way to go.
One serving of this sauce is half a cup, and each serving contains 100 calories.
Conclusion
Well, there you have it – the best jarred pasta sauces you can buy in grocery stores.
Rao's will always be my number one (and number two) pick but don't discount cheaper options like Trader Joe's or Whole Foods' 365 brand.
Pricier doesn't always mean tastier when it comes to store-bought pasta sauces.
While everyone would love to have the time to whip up a comforting, delicious sauce to go with their pasta every time the mood strikes, it takes a long time to prepare.
If you're in a pinch and looking for the best spaghetti sauce in a jar, go with any of the options on our list, and I have a feeling you won't be disappointed.