10 Best Store-Bought Dry Pasta, Ranked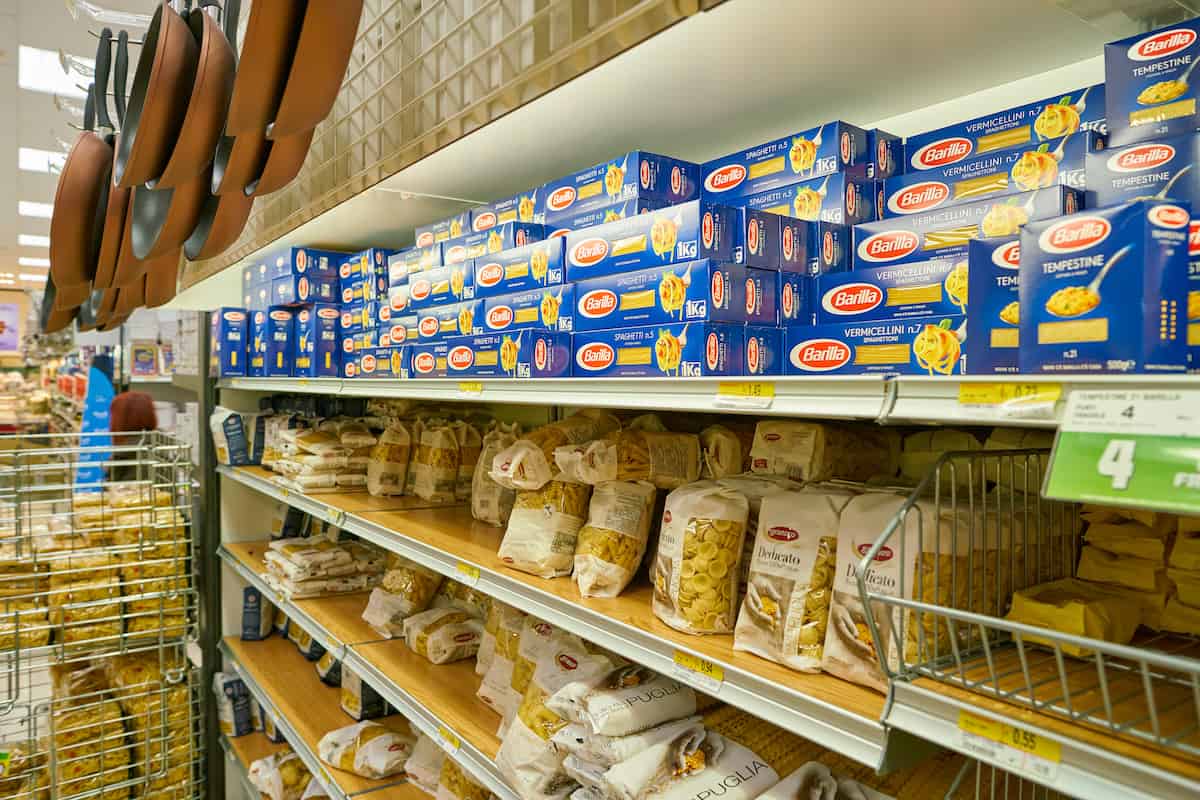 While freshly made pasta is unbeatable, dried pasta from the grocery store serves just fine for most of us.
Dry pasta can last in the pantry for up to two years, and it's an incredibly quick meal to whip up, with tons of shapes and textures to choose from.
In this article, I'll take you on a journey through the ten best store-bought pasta brands, from traditional Italian pastas to innovative gluten-free options.
I included these pasta brands on the list for their quality, diverse shapes, and ability to transform any dish into something worth getting excited over.
Without further ado, let's get started!
10. Good & Gather
Good & Gather is Target's private label brand, meaning their pasta is less expensive than most big-name brands.
They also have a lot more going on in the shape department (radiatori and stelline are two of my personal favorites).
Good & Gather delivers consistently in the flavor and texture department, too.
It's just as good as the name-brand dry pasta, in my opinion.
They also offer refrigerated and filled pasta that packs a punch, like the Burrata Lemon Zest & Herb ravioli.
If you're looking for a budget-friendly pasta option with lots of variety, you can start here.
9. Giovanni Rana
While Giovanni Rana "technically" isn't a dry pasta brand, it's an option widely available at most grocery stores, and they have a handful of standout products.
Their pastas have to be refrigerated since they're already partially cooked.
But this means a super quick boil before they're ready to be served – most only need 2 to 4 minutes.
Giovanni Rana's pasta falls into two categories: filled (think ravioli and tortellini) or flat cut (pappardelle, tagliatelle, and gnocchi).
Every time I have their stuffed pasta, I'm impressed by the bold flavors and freshness of the fillings.
The Main Lobster Ravioli and Chicken Mozzarella Tortellini are two of my favorites, and I honestly think they're comparable to restaurant pasta.
Plus, Giovanni Rana is consistent with what they don't include in their pasta, from artificial flavors and colors to preservatives, gums, and GMO ingredients.
8. Whole Foods 365 Everyday Value
Whole Foods carries the reputation of being a higher-end, bougie (and therefore, more expensive) grocery store.
It's a little too easy to rack up quite the bill there.
That being said, Whole Foods' 365 line is a game-changer because it brings the quality you love without the steep price tag.
365's dry pasta line has well over a dozen shapes and ingredients to choose from.
Almost every product is organic, and they have plenty of fun and unique shapes – one of my favorites is their tricolor sea creatures.
They also have good wheat pasta alternatives, like corn and rice lasagne sheets.
Durum wheat semolina is the only ingredient in most of 365's pasta, so you're not getting any unnecessary ingredients here.
7. Banza
Let me start by warning you that Banza isn't your average pasta brand.
So what is the most glaring difference between Banza and the other brands on this list?
Banza uses chickpeas as their main ingredient instead of wheat, making for a naturally gluten-free pasta.
With a super simple ingredient list of chickpeas, pea starch, tapioca, and xanthan gum, there are no unnecessary fillers or artificial flavors added to their pasta.
Plus, it has three times more fiber, 50% more protein, and 25% fewer net carbs than regular pasta.
If you go into it knowing that this chickpea pasta doesn't taste 100% identical to regular pasta, chances are you'll end up enjoying it.
Banza pasta has a nutty, more complex flavor than wheat pasta.
Besides that, though, there aren't many differences between chickpea pasta and the real deal.
Banza's pasta texture is smooth, the shape holds up well no matter what sauce is used, and the sauce can cling to the noodle like regular pasta.
With over a dozen shapes to choose from (rotini, penne, and shells are the best sellers), Banza is one of the best gluten-free pasta brands and one of my favorite pasta brands.
Even if you're not a fan of chickpeas, it's worth giving a try.
6. Trader Joe's
Trader Joe's has some of the best dry pasta on the market.
From practical shapes like Italian penne rigate to more novelty pasta like "Quite Possibly the World's Largest Fusilli", TJ's pasta lineup has something for everyone.
Plenty of their pasta is organic and imported from Italy, earning them some brownie points in my book.
And I'm not the only one who loves this delicious, wallet-friendly option.
In 2009, New York Magazine invited three Italian chefs (and an actor from The Sopranos) to decide which store-bought pasta is best.
Despite being the cheapest option served by far, Trader Joe's pulled through and won the title!
Trader Joe's also offers a variety of pasta alternatives, such as lentil and brown rice spaghetti or brown rice quinoa fusilli.
5. Barilla
Finding a grocery store that doesn't stock Barilla pasta on its shelves would be fairly challenging.
Barilla is a reliable, solid pasta brand that's been around since 1877.
When it comes to variety, Barilla simply can't be beaten.
They boast around three dozen pastas in the classic blue box line but also feature a gluten-free line, multiple specialty lines, and a Ready Pasta line (the latter was one of my main food groups in college).
Barilla pasta always holds its shape, even when slightly overcooked or covered in a chunky sauce.
If you're looking for consistency in your pasta dish, Barilla will give that to you.
4. DeLallo
DeLallo is a specialty Italian food brand that makes everything from sauces and olive oils to cured meats and pasta.
Their pasta is made with the highest quality ingredients, and in this case, you really can taste the difference.
DeLallo uses wheat with a high gluten index along with its gluten and protein content.
The brand also kneads its wheat with fresh mountain spring water. These factors guarantee pasta with the perfect chew, texture, and flavor.
DeLallo's pasta is bronze-cut, also called bronze-die.
This means the pasta is made using a special bronze mold that ensures a rough, porous texture to cling to the sauce.
They also offer plenty of fun pasta shapes, like acini di pepe and "shellbows."
3. De Cecco
De Cecco is kind of a big deal. The company has been around since 1886 and is one of the largest pasta manufacturers worldwide.
Just like DeLallo, De Cecco uses bronze dies to cut their pasta, which makes for a rough surface that the sauce adheres to perfectly.
They also slow-dry their pasta at a low temperature to preserve the flavors, aromas, and color of their semolina wheat.
The pasta can be dried anywhere from 9 to 36 hours.
De Cecco offers unusual shapes not usually found in store-bought pasta brands, like fusilli corti bucati, and even their exclusive shape, "racchette," which look like mini tennis rackets!
2. Rao's
Rao's makes some of the best jarred pasta sauces, but they also have some of the absolute best dry pasta on the market.
Rao's spaghetti, in particular, receives rave reviews online from many customers who tried the product.
Rao's pasta is made with just two ingredients: durum semolina flour and water.
This simple combination doesn't sound like much, but when cut with traditional bronze dies, it makes for a classically delicious pasta that grabs every drop of sauce on your plate.
While the brand only carries a few pasta shapes, each is well-made and holds up to all pasta sauces and add-ins.
Pair yours with one of their insanely good pasta sauces while you're at it – I'm a huge fan of Rao's vodka sauce!
1. Garofalo
It took me a while to decide which brand to give the #1 spot to, as there are many great dry pasta brands out there.
What set Garofalo over the edge is that their pasta really does taste like it's been freshly made.
There are three lines of pasta in Garofalo's brand: classic, whole wheat organic, and gluten-free.
Garofalo's semolina wheat comes from specific areas of Arizona, Italy, and Australia, and only select species make it to the final pasta-making process.
Most of Garofalo's pastas have the "Pasta di Gragnano IGP" guarantee seal, meaning they're bronzed cut, air-dried, and produced in the Gragnano region of Italy.
Their pasta is as traditional and old-school as it gets, so you get a little taste of Old Italy from each bag.
Garofalo is one of the hardest pasta brands to find at your local grocery store, but if you come across it, it's worth picking up a few boxes!
Conclusion
From the high-quality Garofalo pasta to the wallet-friendly options at Trader Joe's, there's no shortage of dry pasta options at your local grocery store.
You can't go wrong with any of the pasta brands on this list, so just make sure to generously salt your water, pick out a sauce you love, and you're in for a delicious meal!