The Best Things to Order on Wawa's Menu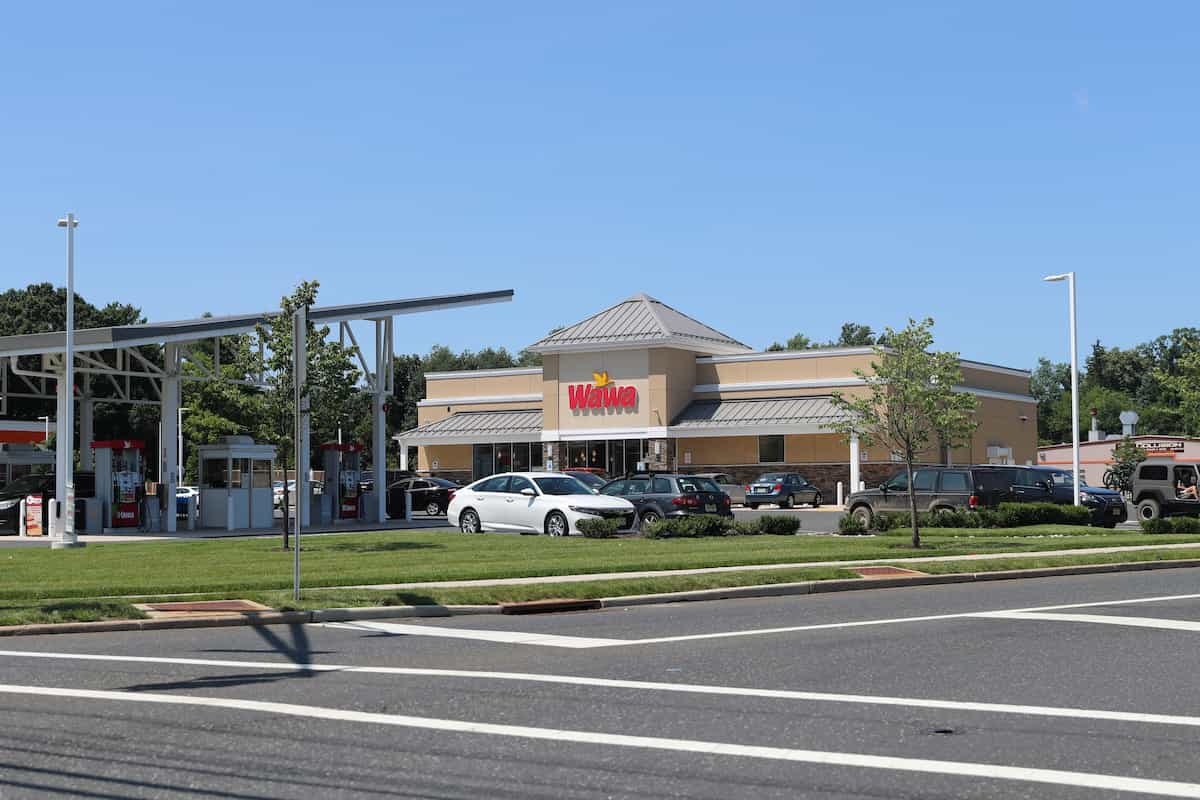 Wawa is a Pennsylvania-based convenience store chain founded in 1964 and has over 900 stores across the East Coast region.
Wawa's unique history began with milk deliveries in rural areas, and eventually, it ventured into convenience goods, gasoline sales, and food service to its customers.
Wawa's menu is widely known for its delicious food items, including breakfast sandwiches, made-to-order hoagies, and a variety of soups, sides, and snacks.
Despite being a gas station and convenience store, Wawa prides itself on fresh, high-quality ingredients and has won numerous awards for its food.
Instead of off-the-shelf food products, Wawa's chefs prepare many meals from scratch to ensure customer satisfaction.
So, if you're wondering what to order at Wawa, I've compiled a list of the 25 best Wawa menu items and ranked them from good to fantastic.
25. Crispy Chicken BLT Salad
Wawa's Crispy Chicken BLT Salad has fresh greens, juicy grape tomatoes, crunchy bacon, and crispy chicken chunks.
The salad is also layered with shredded cheddar cheese and ranch dressing.
All the ingredients are freshly prepared and combined to offer the perfect balance of flavors and textures.
If you dislike any topping and dressing choices, you can swap them for something else.
It is a great option for those seeking a filling and wholesome meal that doesn't compromise on taste.
24. Roasted Veggie Burrito
Wawa has something special on the menu for vegetarians – The Roasted Veggie Burrito.
It is made with roasted veggies like bell peppers, corn, onions, mushrooms, black beans, lettuce, and seasoned rice and wrapped in a warm flour tortilla.
The melted cheese and fresh salsa give the burrito an extra layer of refreshing flavor and texture.
The roasted veggies provide an earthy sweetness that pairs perfectly with the savory rice, beans, and cheese filling.
Whether you're looking for something quick or want to enjoy a satisfying meal, the Roasted Veggie Burrito will surely hit the spot.
23. Southwest Chicken Salad
The Southwest Chicken Salad is a mix of various fresh vegetables.
You can choose between romaine lettuce, spring mix, spinach, or all the options above.
It is then topped with chicken pieces and other vegetable toppings and drizzled in creamy buttermilk ranch dressing.
The combination of flavors and textures makes this salad one of the most popular items on Wawa's menu.
The blend of lettuce, crunchy breaded chicken, tomato, corn, and black beans gives the salad an earthy, unique, and healthy flavor.
22. Chicken Noodle Soup
The Chicken Noodle Soup is an excellent option on Wawa's menu if you want something to warm you up on a rainy day.
It is made with a savory chicken broth filled with chunks of tender chicken, carrots, celery, and egg noodles.
It is a hearty soup with a flavorful broth and wholesome ingredients that guarantee a delicious flavor.
21. Rice & Bean Burrito
The Rice & Bean Burrito is a wonderful dish on the go.
It is loaded with seasoned rice, black beans, and a blend of cheeses, making it irresistible.
Although the combo is simple, it offers a balance of flavors and textures.
The burrito is also filled with fresh vegetables such as tomatoes, lettuce, onions, red peppers, and cilantro for added nutrients and flavor.
20. Spicy Crispy Chicken Sandwich
If you love fried and spicy food, why not combine the two?
That's exactly what Wawa did with the Spicy Crispy Chicken Sandwich.
It is made with a crispy, lightly battered chicken breast, pickle, cheese of your choice, and spicy mustard on a soft kaiser roll.
The combination of strong flavors makes this sandwich unique.
The spicy chicken is complemented by the pickle and sharp cheese, while the hot mustard adds a kick of heat that ties it all together.
This sandwich is just as good with fries on the side and makes for an awesome meal.
19. Garlic Parmesan Loaded Fries
The Garlic Parmesan Loaded Fries are made with freshly cut and fried potatoes, seasoned with a unique blend of herbs and spices, including garlic, parmesan, and parsley.
The fries are then topped with a generous serving of parmesan cheese.
The perfect balance of texture and taste makes these fries so good.
The crunchiness of the fries pairs well with the cheesy and garlicky flavor of the topping, making this a must-try side dish at Wawa.
18. Chicken Strips
Wawa's Chicken Strips are made with chicken tenderloin, cut into strips before coating with breadcrumbs, spices, and other ingredients.
The chicken strips are then deep-fried to achieve the perfect golden-brown color and crispy texture.
The result is a juicy and tender chicken strip packed with flavor.
The mix of garlic powder, onion powder, paprika, salt, and pepper infuses the chicken with intense flavor while delivering a delicious smokiness.
17. Buffalo Chicken & Cheese Quesadilla
Wawa's Buffalo Chicken & Cheese Quesadilla is a customer favorite and the best quesadilla on its constantly evolving menu.
This dish is made with spicy buffalo chicken, a blend of cheeses, and crispy tortillas.
The quesadillas are then cut into triangles, making them perfect for sharing or enjoying as a quick snack.
The spicy buffalo chicken is balanced by the creamy and salty cheese blend, while the crunchy tortilla ties it together.
16. Chili
Chili is another comforting dish on Wawa's menu that is perfect for colder days.
It is made with ground beef, tomatoes, chili beans, and a blend of spices.
It has just the right spice, perfectly balanced and savory.
The beef and beans are slow-cooked, which adds an extra flavor punch.
It's a fantastic meal that you can enjoy with a side of fries or seasoned rice.
15. Bacon Mac & Cheese
Wawa's Bacon Mac & Cheese is an interesting twist on traditional mac and cheese.
What sets it apart from other fast food mac & cheeses is the inclusion of smoky applewood bacon bits throughout the dish.
These little bacon pieces give more intense flavor, making the dish even more irresistible.
If you are looking for a heartwarming meal, the Bacon Mac & Cheese is definitely the way to go.
14. Roast Beef Horseradish Sauce Club Sandwich
Roast beef and horseradish sauce form a heavenly combo, but Wawa's Club Sandwich takes it to another level.
This flavor-packed sandwich combines savory roast beef, juicy tomatoes, and crisp lettuce, topped with your favorite toppings on marbled rye bread and melted Swiss cheese.
All these fresh ingredients are then slathered with a generous helping of Wawa's house-made horseradish sauce, giving the sandwich an extra kick.
Even if you are not a fan of horseradish, this sandwich will change your mind in no time!
13. Buttery Caramel Cream Latte
The Buttery Caramel Cream Latte is one of the must-try Wawa drinks for anyone who loves coffee.
It combines the sweetness of caramel, butter, and cream with Wawa's signature brewed coffee to create a flavor experience that will leave you wanting more.
Every sip of this latte brings comfort and joy as it melts in your mouth like creamy clouds on a warm summer day.
With its rich texture and comforting warmth, it's no wonder why this beloved drink has gained such high popularity.
12. Cheesesteak
This one is for all the cheesesteak lovers out there.
The Cheesesteak Hoagie from Wawa is a classic favorite that will have you returning for more.
It's made with thinly sliced steak, grilled onions, green peppers, melted cheese, and your choice of sauce, all served on a freshly baked Italian hoagie roll.
This hearty sandwich will satisfy your cravings and is the perfect meal for any time of day.
11. Spicy Cherry Pepper Relish Cheeseburger
The Spicy Cherry Pepper Relish Cheeseburger is a classic patty topped with melted American cheese, lettuce, tomato, onion, and the cherry pepper relish.
What sets this Wawa burger apart is the bold flavor of the relish that offers the perfect balance of sweetness, heat, and tanginess.
The crispy texture of the lettuce, juicy tomato, and onion melds perfectly, making each bite a burst of flavors and textures.
Pairing this burger with a side of Wawa's mac and cheese or loaded fries will elevate the overall taste and experience.
10. Chocolate Banana Smoothie
If you're looking for a delicious way to get your daily vitamins and minerals, try the Chocolate Banana Smoothie from Wawa.
It is made with banana puree, honey, cocoa powder, and yogurt, giving it a sweet flavor while providing essential nutrients.
Plus, it has a creamy texture that makes it feel indulgent without weighing you down.
The natural sweetness from bananas and the rich chocolate aroma from the cocoa powder make this drink truly decadent.
9. Meatball Parmesan
The Meatball Parmesan Hoagie will blow you away with its delightful flavors!
It is stuffed full of juicy meatballs that have been simmered in a delicious tomato sauce.
In addition, the melted cheese provides a creamy texture, making it one of the best sandwiches at Wawa.
8. Cali-Style Turkey & Bacon Egg Omelet Panini
Wawa's Cali-Style Turkey & Bacon Egg Omelet Panini is a delightful twist on the traditional egg omelet, featuring turkey, crispy bacon, and your choice of cheese.
The sandwich elevates itself further with tomatoes, spinach, avocado, and fresh salsa, adding an extra layer of flavor to tantalize your taste buds.
But what makes this panini so delectable is the different textures working seamlessly together.
The crunchiness of the bacon, the creaminess of the cheese, and the juiciness of the turkey turn every bite into a mini party in your mouth.
7. Meatballs
I admit I'm one of those people who love a meaty snack over something sweet.
And Wawa's Meatballs are just the right menu item for me.
These juicy Italian-style beef meatballs include spices, fresh herbs, and other ingredients that create a unique flavor.
The meatballs are then cooked in a tomato sauce for added flavor.
If you want to make this a meal, order it with a medium, large, or family-sized soup.
6. Double French Onion Cheeseburger
Wawa's Double French Onion Cheeseburger features two beef patties, garlic aioli, Swiss cheese, and caramelized onions, all in a fresh bakery roll.
All these ingredients create a satisfying and flavorful burger that will leave you wanting more.
The burger patty is juicy and perfectly cooked, making each bite a delightful experience.
The caramelized onions add a savory sweetness that elevates the burger's taste.
It's one of the delicious burgers on Wawa's menu if you want to savor the classic flavors of a cheeseburger with an added zing.
5. Mocha Frozen Cappuccino
When the summer days call for something cold, Wawa's Mocha Frozen Cappuccino is the answer.
It will revive your morning routine with its blend of espresso, steamed milk, chocolate sauce, and a sprinkle of sugar.
It's perfect for adding a caffeine kick to your day and even better when accompanied by one of Wawa's freshly baked bagels or sandwiches.
4. Hot Molten Lava Latte
When I'm craving something sweet but don't want anything too heavy, I always order Wawa's Hot Molten Lava Latte.
This coffee drink has rich espresso, creamy steamed milk, and sweet caramel syrup.
The flavors combine to create a flavor that is both creamy and savory.
Sprinkled with a generous amount of chocolate chips, this latte from Wawa will satisfy your cravings without being overly indulgent.
3. Breaded Chicken Strips Hoagie
Wawa's Breaded Chicken Strips is an unrivaled, customer-favorite sandwich!
The hoagie roll filled with crunchy breaded chicken strips is the perfect base for this masterpiece.
To complete this tasty sandwich, freshly cut ingredients like lettuce, tomatoes, and onions (along with your choice of cheese and spread) are added to create an exquisite flavor.
The contrast between the crispy chicken strips and the soft, warm hoagie roll makes it one of the best Wawa sandwiches.
2. Waffle Sausage Egg & Cheese
This Wawa breakfast sandwich will remind you of the fried sausage and waffle combo and the McGriddle.
It is made with a savory sausage patty, scrambled eggs, and cheddar cheese sandwiched between two Belgian waffles.
You can add bacon for some extra flavor or top it off with syrup for that classic sweet and salty taste.
With just one bite, you'll agree that this is one of the best items on Wawa's breakfast menu.
1. Nacho Cheeseburger
Among Wawa's menu items, the Nacho Cheeseburger stands out as a unique option for those who crave a little bit of heat and cheese in their burgers.
This burger includes a juicy beef patty topped with crispy tortilla chips, creamy nacho cheese sauce, fresh salsa, and spicy jalapenos, all nestled between soft and buttery buns.
It boasts a perfect blend of flavors and textures, making it stand out from the usual fast food burgers.
The savory beef patty is complemented by the crispy crunch of the tortilla chips, which also adds an interesting texture contrast to the soft bun.
The cheese sauce adds a smooth and creamy element that complements the spiciness and tanginess of the salsa and jalapenos.
It's the best Wawa burger if you are looking for a filling late-night snack that packs a bit of heat.
Conclusion
Whether you need a quick snack or a full meal on the go, Wawa has got you covered.
From hot and cold hoagies to breakfast sandwiches to indulgent frozen drinks, Wawa's menu is sure to delight all palates.
So next time you stop by for gas, remember to check out what Wawa has on the food menu – you'll be pleasantly surprised!
For more information about Wawa, check out the articles below.