20 Best Things to Eat at Saltgrass Steakhouse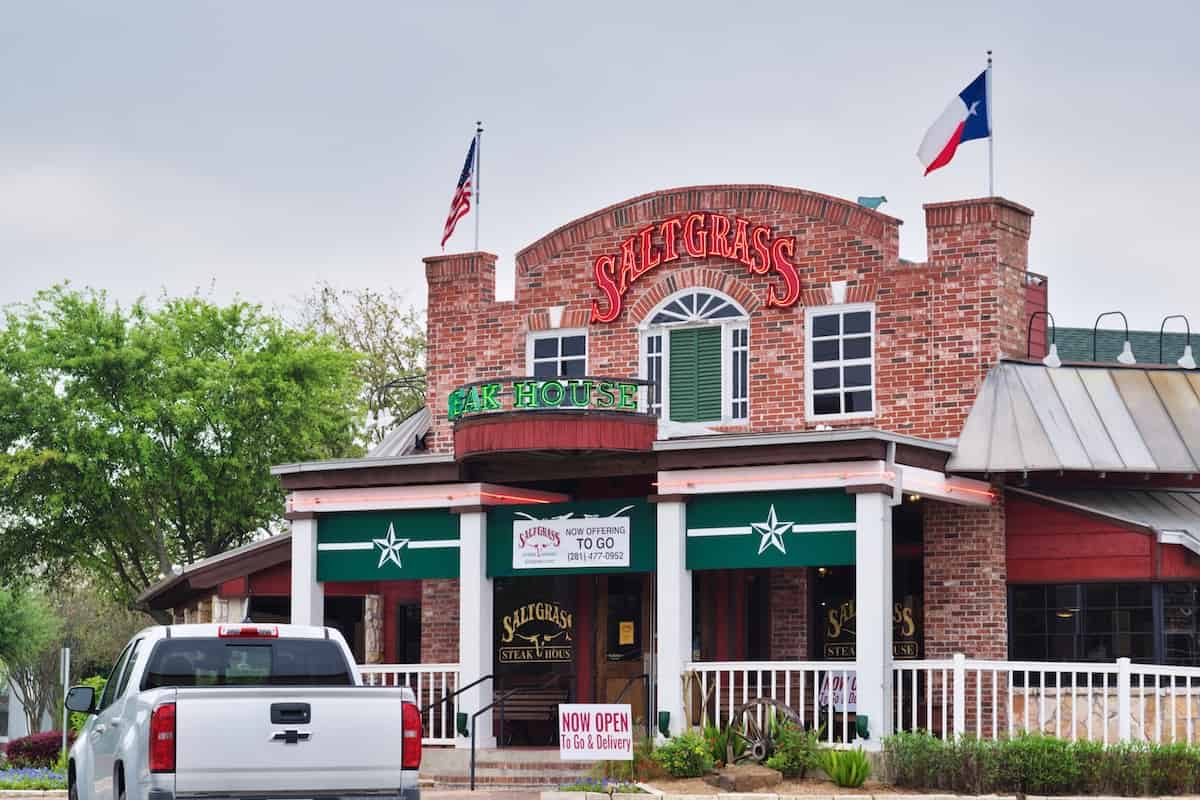 If you are a steak lover, you should definitely check out Saltgrass Steak House, one of the best steakhouse chains in the United States.
The restaurant chain opened its first location in 1991 in Houston, Texas. It is named after the Salt Grass Trail, traveled by Texan ranchers and Longhorn cattle in the 1800s.
The Saltgrass Steakhouse menu includes a variety of delicious steaks, chicken and seafood dishes, soups, appetizers, sides, and desserts.
Of course, the star of the Saltgrass menu is their steaks, which capture the smoky flavor of the open campfire.
And when you order a steak, you always get a side and your choice of soup or salad to accompany your meal.
If you want to experience other menu items but are set on the steak, you're welcome to add fried or grilled shrimp, ribs, and their signature Range Rattlers to your order.
Whether you miss the taste of your home state of Texas or you're someone who enjoys bold flavors, here is my list of the 20 best things to eat at Saltgrass Steakhouse.
20. Hill Country Salad
As a foodie and avid diner, I was thrilled to try the Hill Country Salad at Saltgrass Steakhouse!
It's a delightful blend of garden greens layered with crispy fried chicken, rich cheddar cheese, bacon, fresh eggs, and juicy tomatoes.
A handful of perfectly seasoned croutons tops the salad to add some crunch.
The fried chicken offers a nice flavor to the salad, while the bacon adds a touch of smokiness, and the cheddar cheese provides a savory note.
The eggs and tomatoes add freshness to the dish, and all these elements come together in perfect harmony.
The flavors are well-balanced, with every ingredient contributing something special to the dish.
19. Cheeseburger
Saltgrass's Cheeseburger includes a juicy beef patty layered with American cheese, lettuce, tomato, onions, and pickles.
And, of course, it comes with a side of crispy fries.
The beef patty is made from grounded steak that's cooked to perfection – juicy with just the right amount of chargrill flavor.
The American cheese melts into every nook and cranny of the patty, adding that creamy, indulgent element.
The lettuce is crisp, the tomato is sweet, the onions are crunchy, and the pickles add a tangy zing that cuts through all the flavors.
18. Wagon Boss Center-Cut Top Sirloin Steak
The Wagon Boss Center-Cut Top Sirloin is a thick, juicy steak cut from the top sirloin part of the cow.
It's a naturally lean steak but still captures the bold, meaty flavor.
It comes in 8 oz and 10 oz servings and is an excellent choice for those looking to enjoy a steak dinner without overindulging.
This steak is one of the more affordable options on the Saltgrass menu.
17. New York Strip Steak
Not everyone prefers the melt-in-your-mouth feeling of a ribeye, and Saltgrass Steakhouse recognizes this.
The New York Strip is the perfect alternative for those who like their steak with a bit more bite.
But let me tell you, this steak is not for the faint of heart.
It's not the most tender steak on the Saltgrass menu but has a robust flavor and texture.
16. Maudeen's Center-Cut Filet Steak
If you're looking for a lean yet delicious steak on the Saltgrass menu, Maudeen's Center-Cut Filet is a perfect choice.
This cut produces a succulent steak with low-fat content but still has that tenderness and juiciness.
The steak comes in 6 or 9 oz servings, making it the perfect portion size paired with your favorite side dish.
15. Grilled Atlantic Salmon
Just because you're at a steakhouse doesn't mean you can't order seafood, right?
The Grilled Atlantic Salmon is a great seafood dish at Saltgrass, with a generously cut filet that's grilled to perfection.
The salmon is sourced fresh from the Atlantic Ocean, ensuring it's of the highest quality.
The grilling technique the chefs apply helps to lock in the juices and flavors of the fish.
The natural flavors of the salmon shine through in the dish, accented by the seasoning and marinades.
The grilling process adds a subtle smokiness to the fish, bringing out its natural sweetness.
If you're a seafood fan, the grilled salmon is one of the best options on the Saltgrass menu.
14. Potato Soup
If you're a fan of creamy potato goodness, you need to try Saltgrass Steakhouse's Potato Soup.
It's a rich and velvety soup made with creamy potatoes, bacon bits, shredded cheese, and a touch of green onions.
It's like a warm and cozy hug in a bowl that will satisfy your comfort food cravings.
When it comes to the taste, this soup is creamy and savory, with a slight smokiness coming from the bacon bits.
The green onions add a fresh and herbaceous note that ties everything together.
The best part? It's not overly filling, making it the perfect starter for your steak meal.
13. BBQ Pork Ribs
The BBQ Pork Ribs at Saltgrass Steakhouse are the epitome of slow-cooked deliciousness.
These ribs are seasoned to perfection with a dry rub of salt, pepper, and spices, then slow-cooked until they are fall-off-the-bone tender.
The smoky flavor comes through every bite with a blend of savory and sweet.
The BBQ sauce is the perfect finishing touch on the ribs with its tangy, slightly sweet flavor.
12. Texas T-Bone Steak
Hold on to your taste buds because we're about to dive into Saltgrass Steakhouse's Texas T-Bone!
This masterpiece is cut from the short loin and features not one but two steaks – the juicy New York Strip steak and the melt-in-your-mouth tenderloin, which includes the filet mignon.
The New York Strip steak brings a hearty, beefy flavor that pairs perfectly with the luxurious tenderness of the tenderloin.
And that bone! It adds so much depth and flavor to the steak!
Trust me; this one is worth the extra napkins and finger-licking!
11. Grilled Chicken Sandwich
The Grilled Chicken Sandwich is another good option on the Saltgrass menu if you don't want to order a steak meal.
The sandwich includes a juicy grilled chicken breast that is well-seasoned and grilled to perfection.
It is then mounted with crispy bacon, melted jack cheese, lettuce, tomato, onions, pickles, and a generous serving of honey mustard sauce.
And if that wasn't enough, the whole thing is served with a side of crispy, golden fries.
Although all the ingredients are simple, the delivery of the flavors and textures makes this a delicious sandwich.
10. Salmon Oscar
The Salmon Oscar from Saltgrass Steakhouse is a true delight for seafood lovers.
This dish includes a grilled salmon filet topped with lump crab meat, lemon butter, red pepper flakes, green onions, and capers and served with a side of fried asparagus.
Sounds like a feast for the taste buds, am I right?
The salmon is grilled to perfection, with a juicy interior and a crispy exterior, while the lump crab meat adds a slightly sweet flavor.
The lemon butter sauce adds tanginess to the salmon, and the red pepper flakes provide a subtle kick to the overall flavor profile.
And the fried asparagus gives just the right amount of crunch that complements the dish.
9. Fried Mushrooms
The Fried Mushrooms are the perfect way to start your meal at Saltgrass.
These little heavenly morsels are breaded and fried to golden perfection.
They are served with a side of creamy ranch dressing for dipping and a generous dusting of parmesan cheese on top.
The breading is light and crispy, which pairs nicely with the juicy and savory mushrooms.
The parmesan adds a salty flavor to the dish, while the creamy ranch dressing provides a cool and tangy contrast.
This dish is one of my favorite appetizers on the Saltgrass menu.
8. Silver Star Porterhouse Steak
Saltgrass Steakhouse dedicates the Silver Star Porterhouse to all carnivores with big appetites!
It is a bigger-size T-Bone with a more prominent side of tenderloin attached.
This one is for those who want a big, juicy steak with bold flavors.
It is a whopping 22 oz steak, making it perfect for sharing with friends or family.
7. Carrot Cake
We can all agree that a fantastic meal can't be complete without a delicious dessert.
The Carrot Cake is absolutely divine and the best dessert on the Saltgrass Steakhouse menu.
It's made with real carrots and topped with a creamy frosting that will leave you wanting more.
This cake is moist, fluffy, and flavorful.
It's not overly sugary sweet but offers a pleasant flavor balance.
After an intense steak dinner, it's the perfect way to end your meal.
6. Pat's Ribeye
Dealing with a bone-in steak can be intimidating, but you don't need to be a professional chef to tackle this steak!
Saltgrass Steakhouse offers Pat's Ribeye for those who want to enjoy the same indulgence without the hassle.
This boneless ribeye is packed with flavor and comes with the marbling and tenderness you'd expect from a juicy ribeye steak.
It is served in 12 oz or 16 oz sizes, so pick one depending on your hunger level and enjoy!
5. Range Rattlers
Calling all spicy food fans! The Range Rattlers are a staple on the Saltgrass menu and one of their best appetizers.
The dish includes jumbo jalapeños that are stuffed with shrimp, melted jack cheese, and cilantro.
They are served with creamy ranch dressing on the side and crunchy chips.
The jalapeños pack a spicy punch, but the creamy and cooling ranch dressing balances it out.
The shrimp is cooked to perfection and pairs beautifully with the melted jack cheese, which adds a nice depth of flavor to the dish.
4. Cajun Ribeye
Saltgrass Steakhouse's Cajun Ribeye takes the steak experience to new heights.
The dish includes a ribeye steak topped with their signature cajun topping.
It's a great option for those who like their steak with a kick.
The cajun topping includes shrimp, crawfish, tomatoes, lemon butter, and green onions.
With all flavors combined, it tastes like the ultimate Cajun fusion surf and turf.
As a seafood and steak lover, I can personally vouch for the Cajun Ribeye!
If you want to try something new and exciting, this dish is definitely worth trying.
3. Bacon Wrapped Filet & Shrimp
The Bacon Wrapped Filet & Shrimp will surely make your taste buds dance with delight.
The juicy filet mignon is wrapped in a savory bacon blanket and served with your choice of grilled or crispy-fried shrimp.
It's a match made in carnivore heaven!
The filet mignon is a fine choice for those who go for quality over quantity.
And when you slather the bacon fat over the top, you'll be in pure bliss!
2. Urban Cowboy
The Urban Cowboy features a 12 oz New York Strip steak paired with grilled shrimp, lemon butter, and green onions.
It's a hearty steak meal with a twist.
The pairing of shrimp and steak is a match made in heaven, with the lemon butter adding a zesty kick to the savory flavors.
And let's not forget the green onions that add freshness and balance to the dish.
If there's anything that makes this dish better, it would be pairing it with creamy mashed potatoes and asparagus.
1. Bone-in Ribeye (Cowboy Ribeye)
First things first, let's get the basics out of the way. What exactly is the Cowboy Ribeye?
It's a thick, juicy, and flavorful ribeye steak that is fit for a cowboy.
This Saltgrass steak is a heavy hitter, weighing in at 21 oz., and is served bone-in to add a touch of rustic charm.
It is well-marbled with high-fat content, making it rich and juicy in flavor.
I think the Cowboy Ribeye is the best steak at Saltgrass Steakhouse.
And if you love that intense bone marrow flavor, I highly recommend it!
Conclusion
Saltgrass Steak House is known for its delicious steaks, but let me tell you that they also have amazing seafood and pork dishes, appetizers, salads, sandwiches, and desserts.
Their menu items stand out from the competition because of the Texan twist they give to every dish.
Whether you're looking for an indulgent lunch or dinner, the Saltgrass Steakhouse menu has something for everyone.
And don't forget to save room for dessert because their carrot cake is a must-try!
If you want to enjoy the best of Texas in one place, put Saltgrass Steak House on your list of restaurants to visit.