20 Most Popular Menu Items at Red Robin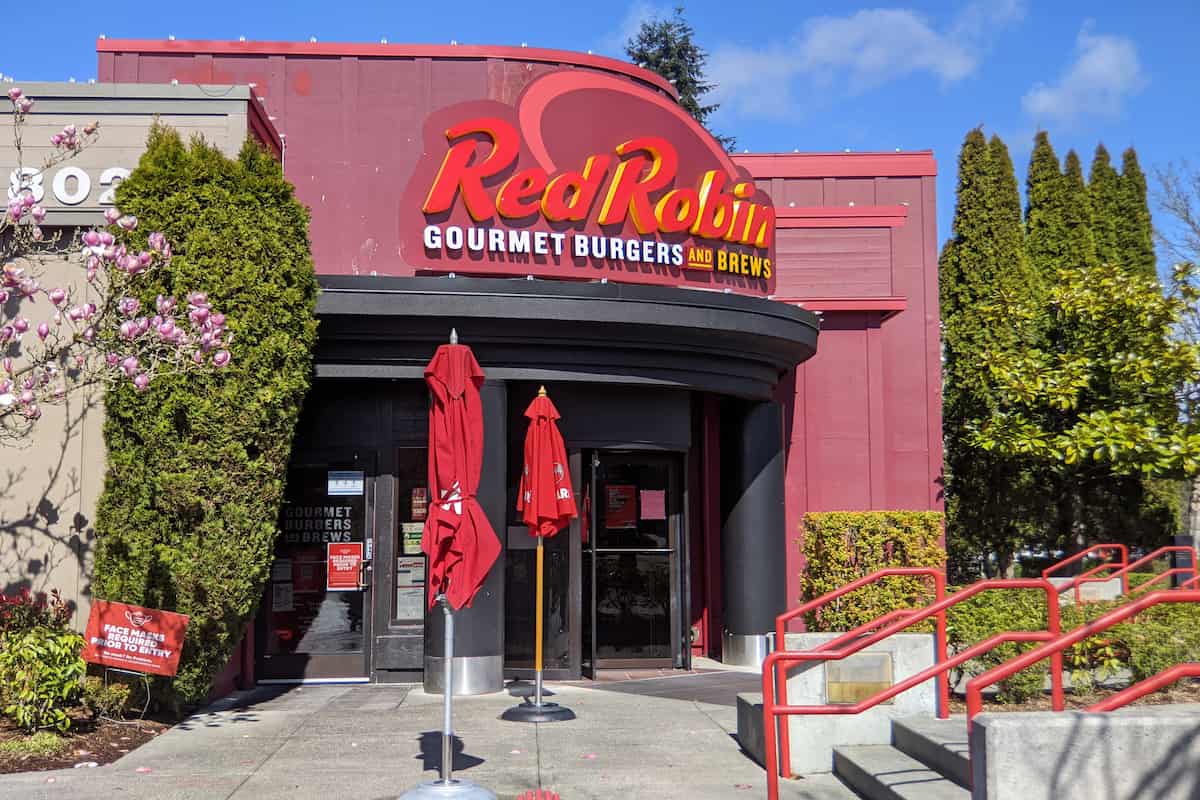 Red Robin is one of America's best chain restaurants serving delicious burgers, fries, sandwiches, appetizers, and other menu items since 1969.
The chain is known for its generous portion sizes, high-quality food, and exceptional service.
Customers have come to expect quality from Red Robin with its "Gourmet Burgers and Brew" philosophy, ensuring that all burgers are made fresh with the highest quality ingredients.
Additionally, each burger is served with a side of steak fries and bottomless soft drinks.
What makes this chain restaurant unique is that the Red Robin menu items range from gourmet burgers and sandwiches to seafood dishes and even vegan options.
Their menu also offers a variety of delicious appetizers like pretzel bites, onion ring towers, chicken tenders, wings, and unique desserts.
With plenty of options to choose from, it may be hard to decide what to order.
So I've compiled a list of the 20 best Red Robin menu items ranked from good to fantastic.
Read on for what you should try on your next trip to Red Robin!
20. Fried Pickle Nickels
The Fried Pickle Nickels feature thick pickle slices, lightly floured and fried to a crisp golden brown.
They are served with a side of Red Robin's signature mayonnaise-based sauce called Campfire Mayo, made with spices, garlic, vinegar, sugar, and lemon juice.
The crispy exterior of the pickles combined with the tangy sauce provides a savory and satisfying flavor profile.
Nutritional Information:
740 calories, 6g protein, 62g carbohydrates, 50g fat
19. Grilled Turkey Burger
Indulge in a guilt-free meal with Red Robin's Grilled Turkey Burger!
This burger features a juicy, seasoned turkey patty, crisp lettuce, sun-ripened tomatoes, and chipotle aioli for that extra kick.
The savory elements balance out perfectly to create a scrumptious burger complete with smoky afternotes from the generous helping of the creamy chipotle aioli.
Nutritional Information:
670 calories, 29g protein, 48g carbohydrates, 40g fat
18. California Chicken Sandwich
The California Chicken Sandwich is a hearty sandwich from Red Robin made with the freshest ingredients.
It begins with a grilled chicken breast filet layered with house-made guacamole, crisp hardwood-smoked bacon, melted provolone cheese, juicy pickles, fresh lettuce, tomatoes, and mayo.
The savory flavors from the chicken and bacon mix perfectly with the creamy guacamole and tangy condiments to create a burst of flavor.
Enjoy the deliciousness of this sandwich without compromising your diet – it's a favorite among health-conscious eaters!
Nutritional Information:
710 calories, 51g protein, 49g carbohydrates, 36g fat
17. Arctic Cod Fish & Chips
Red Robin's Arctic Cod Fish & Chips are sourced from sustainably harvested wild-caught cod served with a side of golden-brown steak fries.
The cod is hand-battered in Red Robin's special blend of herbs and spices, giving it a subtly savory flavor and crunchy texture.
The fish is then fried until golden brown and served with a side of house-made tartar sauce for a hint of zestiness.
The helping size is generous and filling, making this an excellent entree to share with friends.
Nothing beats these piping hot crispy cod and chips paired with a beer!
Nutritional Information:
1560 calories, 45g protein, 135g carbohydrates, 90g fat
16. Red's Bold Boneless Wings
Red Robin's Bold Boneless Wings consist of breaded chicken breast pieces that are deep-fried and tossed in your choice of sauce.
The breading used for the wings has a crunchy texture when fried.
The chicken is tender with the juiciness from the frying process.
When paired with an icy cold beer, it's an unbeatable combination.
If you prefer your wings bone-in, you should get the Bar Wings' n' Yukon Chips instead.
Nutritional Information:
1010 calories, 21g protein, 66g carbohydrates, 37g fat
15. Buzz-Style Clucks & Fries
The Buzz-Style Clucks & Fries feature breaded and fried chicken tenders with steak fries.
The chicken breast meat is juicy and tender, and the breading has the spicy Buzz sauce while the inner layer remains crispy.
If you don't like steak fries, you can always request other sides on the menu.
Nutritional Information:
1610 calories, 26g protein, 104g carbohydrates, 82g fat
14. Sear-ious Salmon
Red Robin's Sear-ious Salmon is a delicious and succulent dish.
It features a lightly blackened 6oz. salmon filet topped with tomato-bruschetta salsa for added sweetness and flavor.
After being cooked, the salmon filet is fresh, tender, and full of flavors.
The blackening provides a smoky flavor to the fish that pairs perfectly with the sweet tomatoes in the salsa.
Together they make a delicious medley of tastes, giving this dish its signature flavor.
This entree goes best with lighter side dishes on the menu that will not overpower the delicate flavors of the salmon.
Nutritional Information:
440 calories, 33g protein, 8g carbohydrates, 34g fat
13. Teriyaki Chicken Burger
Red Robin's Teriyaki Chicken Burger combines the flavors of teriyaki, pineapples, and Swiss cheese into this Hawaiian-fusion creation.
It consists of a chicken breast filet slathered with teriyaki sauce and grilled pineapple slices, then layered with melted Swiss cheese, crisp lettuce, and tomatoes.
The sandwich is finished off with a creamy mayonnaise spread.
The combination of sweet and savory flavors makes this sandwich an absolute delight for the taste buds.
Nutritional Information:
780 calories, 41g protein, 61g carbohydrates, 41g fat
12. Avo-Cobb-O Salad
The Avo-Cobb-O is a refreshing salad with crisp mixed greens, grilled chicken breast, hardwood-smoked bacon, bleu cheese crumbles, hard-boiled eggs, tomatoes, croutons, and avocado slices.
It's then drizzled with your choice of dressing for an extra kick.
The combination of ingredients creates a unique flavor profile that stands out.
The grilled chicken adds a smoky flavor to the dish, while the hardwood-smoked bacon adds saltiness and crunchy texture.
Bleu cheese crumbles bring in a creamy and tangy element, while the eggs provide extra protein to make it more satisfying.
The tomatoes add color and sweetness, and the croutons add crunchiness.
Lastly, avocado slices give the Avo-Cobb-O salad a cool and creamy finish that ties all flavors together.
Nutritional Information:
510 calories, 50g protein, 27g carbohydrates, 32g fat
11. Vegan Burger
Vegan foodies, rejoice!
Red Robin has your burger cravings covered with its delicious vegan burger.
This nutrient-rich burger features a plant-based ancient grain and quinoa patty, avocado slices, and house-made salsa served in a crisp lettuce wrap.
With its flavorful yet guilt-free ingredients, it's no wonder why so many vegans and vegetarians make this burger their number-one pick at Red Robin.
Nutritional Information:
260 calories, 14g protein, 35g carbohydrates, 11g fat
10. Sauteed' Shroom Burger
The Royal Red Sauteed 'Shroom burger has a delectable steak-like patty with an incredibly rich flavor thanks to the garlic, parmesan, and succulent sauteed mushrooms.
This Red Robin burger is a must-try for all people who want an intense meat, garlic, and mushroom experience.
It is also a quick fix if you want something that gives you a steak-like texture and taste.
Nutritional Information:
750 calories, 47g protein, 53g carbohydrates, 38g fat
9. Ensenada Chicken Platter
The Ensenada Chicken Platter has two grilled chicken breasts topped with house-made salsa.
The chicken breasts are marinated and seasoned with an ancho chili blend, giving them a smoky flavor before grilling.
The house-made salsa and the salsa-ranch dressing add a tangy and flavorful topping that pairs perfectly with the grilled chicken.
Combining the smoky, spicy ancho marinade and tangy salsa creates a complex mixture of flavors that will tantalize your taste buds.
Nutritional Information:
400 calories, 57g protein, 13g carbohydrates, 14g fat
8. Scorpion Gourmet Burger
The Scorpion Gourmet Burger is dedicated to all Red Robin fans who love spicy foods.
This burger features a fire-grilled beef patty, spicy pepper Jack cheese, fried jalapeno, lettuce, tomatoes, pickles, and red onions roasted in scorching Scorpion sauce.
Each bite is bursting with that fiery flavor!
The generous spread of garlic aioli rounds off the flavor to make it smokier and creamier.
I highly recommend getting a cold drink on hand before you take a bite of this burger!
Nutritional Information:
960, 24g protein, 70g carbohydrates, 57g fat
7. Raspberry Cream Soda
If you're looking for a refreshing, liquid dessert on the Red Robin menu, the Raspberry Cream Soda will fit the bill!
This unique concoction consists of raspberry cream flavor and Sprite combined with whipped cream and a maraschino cherry.
It is a beautiful bubbly drink and an excellent choice for both adults and kids.
Nutritional Information:
210 calories, 0g protein, 42g carbohydrates, 3g fat
6. BLTA Croissant
The BLTA Croissant is a classic sandwich on Red Robin's menu that offers a delightful combination.
It consists of sliced turkey breast, hardwood-smoked bacon, avocado slices, lettuce, tomatoes, and a generous helping of mayo, all served between a buttery and flaky croissant.
If you are all about the bread, you will love this sandwich as the croissant is buttery, flakey, and soft.
This is the kind of sandwich you will want to eat over and over again.
Nutritional Information:
670 calories, 31g protein, 49g carbohydrates, 40g fat
5. Oreo Cookie Magic Milkshake
If you're a fan of Oreo cookies and love milkshakes, you must try Red Robin's Oreo Cookie Magic Milkshake!
This delicious shake combines soft-serve ice cream, milk, and vanilla syrup with crunchy OREO cookies, giving it a flavor that rivals the famous McDonald's McFlurry.
A high mound of whipped cream and generous sprinkles of OREO crumbles perfectly complements the shake.
Try dipping some of your fries for a unique way of drinking this shake.
Nutritional Information:
1090 calories, 21g protein, 146g carbohydrates, 43g fat
4. Towering Onion Rings
Towering Onion Rings are one of Red Robin's signature menu items and a fan favorite.
They are made from thin-cut, sweet onions hand-dipped in batter and fried to golden perfection.
Thirteen onion rings are piled high in a tower and served with the signature Campfire mayo and ranch dipping sauces.
The presentation is absolutely photo-worthy, and the flavor is even better!
Nutritional Information:
1290 calories, 17g protein, 179g carbohydrates, 57g fat
3. Southern Charm Burger
The Southern Charm Burger is crafted to capture the sweet and savory taste of the South.
The juicy beef patty, brown sugar candied bacon, cheddar cheese, caramelized onions, and lettuce are all served with the delectable Whiskey River BBQ sauce.
Just the lovely caramelized savory bacon alone sold me on this burger!
And when combined with the tangy BBQ sauce, it makes for an intensely mouthwatering burger.
Meat lovers who want more than one patty should get the Pig Out Tavern Double Burger. It has all the same ingredients but two beef patties.
Nutritional Information:
1190 calories, 53g protein, 85g carbohydrates, 69g fat
2. Cinnamon Sugar Doh! Rings
When your server brings a tower of Cinnamon Sugar Doh! Rings to the table, and all eyes will be on your plate.
These cinnamon donuts are outrageously delicious!
They're deep-fried and smothered in sweet cinnamon sugar, which adds an interesting layer of crunch that'll make you feel like a kid again.
And when they come hot out of the fryer? Forget about it – that first bite seals the deal.
But wait until you try the caramel or fudge dipping sauces for the complete tastebud takeover.
To avoid slipping into a sugar coma, opt for the Cinnamon Sugar Doh! Ring Shorty instead.
It contains only four donuts – a much safer choice than eight.
Nutritional Information:
1550 calories, 19g protein, 259g carbohydrates, 51g fat
1. Royal Red Robin Burger
The Royal Red Robin burger takes the tradition of a truck stop hamburger to an elevated level.
It includes a flame-broiled beef patty, smoked bacon, mayonnaise, lettuce, and tomatoes and is finished with a perfectly cooked Sunnyside egg for one delicious bite!
Although some may prefer eating this burger in layers, I love poking through the yolk and allowing the creamy yolk to spill onto the rest of the burger as a sauce.
It is one of those burgers you must taste to see why so many people love it!
Nutritional Information:
1100 calories, 555g protein, 70g carbohydrates, 76g fat
Conclusion
Red Robin's menu items are all-around delicious, and these 20 popular dishes are just the tip of the iceberg.
From burgers to fries to appetizers and desserts, you're sure to find something on their menu that will satisfy your cravings, no matter when you visit.
In fact, you may even find some seasonal desserts and shakes that you just can't pass up!
For more information about Red Robin, check out the articles below.