20 Best Dishes to Order at P.F. Chang's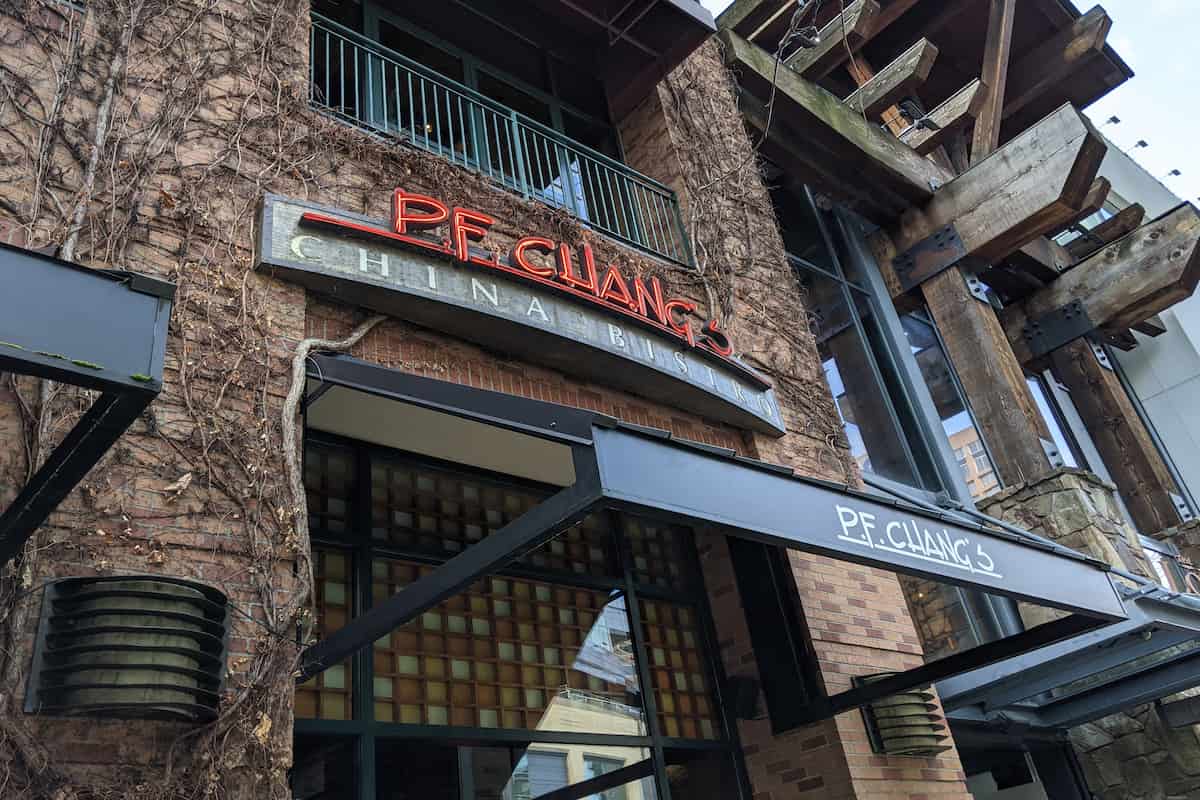 If you are in the mood for Chinese food, you should check out P.F. Chang's, one of the most popular Chinese restaurant chains that has revolutionized how we experience Asian cuisine in America.
With a unique menu that seamlessly blends traditional Asian flavors with a modern American twist, P.F. Chang's has become a go-to destination for many diners.
Founded in Scottsdale, Arizona, in 1993, the restaurant chain has been dedicated to creating unforgettable dining experiences.
P.F. Chang's menu features an array of dishes that evoke the spirit of Chinese cuisine while incorporating innovative twists and unexpected flavors inspired by other Asian cultures.
From their famous lettuce wraps to dim sum to Kung Pao chicken, every dish at P.F. Chang's is a culinary adventure waiting to be savored.
So what are P.F. Chang's best dishes to order? That's what I am here to help you with.
Here's my list of the top 20 P.F. Chang's menu items, ranked from good to absolutely delicious.
20. Hand-Folded Crab Wontons
Crab wontons are one of the most classic Chinese-American fusion dishes.
At P.F. Chang's, these bite-sized treats are hand-folded and filled with a generous amount of creamy crab filling, green onion, and bell pepper, then deep-fried until the exterior is golden and crunchy.
Paired with a cool sweet, spicy plum sauce, this appetizer will surely delight your taste buds!
Each order of Crab Wontons includes 6 pieces.
Believe me, once you have one, you'll want another!
Nutritional Information: (6 Pieces)
600 calories, 29g fat, 66g carbohydrates, 12g protein
19. California Roll
California Roll is beloved by almost everyone, especially kids who like simpler flavors.
It is made with kani kama (imitation crab meat), cucumber, and creamy avocado, all rolled up in a sheet of nori (dried seaweed) and sushi rice.
But what sets P.F. Chang's version apart is the addition of their umami sauce, which adds the perfect amount of savory goodness to each bite.
Nutritional Information:
50 calories, 2g fat, 7g carbohydrates, 1g protein
18. Mandarin Crunch Salad
P.F. Chang's Mandarin Crunch Salad is a vibrant dish that tastes just as good as its presentation.
The salad includes julienned vegetables, cabbage, mandarin oranges, crunchy almonds, and rice sticks, all dressed in a tangy mandarin vinaigrette.
And if that wasn't enough, you can add some juicy chicken or flavorful salmon to take it to the next level.
Who says you can't eat healthy at P.F. Chang's?
Nutritional Information:
370 calories, 210g fat, 38g carbohydrates, 7g protein
17. Kung Pao Dragon Roll
Do you know how Asian buffets let you feast on Chinese and Japanese food without leaving the restaurant?
Well, this roll is a perfect example of that.
The Kung Pao Dragon Roll features California roll, seared Ahi, and a tempura crunch, all smoked tableside and topped with a spicy soy glaze and a sprinkle of peanuts.
Served with a side of fiery sriracha for an added kick, this roll is the best sushi dish at P.F. Chang's.
Nutritional Information: (Per piece)
60 calories, 3g fat, 7g carbohydrates, 3g protein
16. Handmade Dumplings
Just like fresh pasta, ravioli, and tortellini, fresh handmade dumplings are a real treat compared to your daily frozen or premade dumplings.
And P.F. Chang's handmade dumplings don't disappoint – they're made with pork or shrimp wrapped in a light, fluffy dough and either steamed or pan-fried, depending on your preference.
I especially love the steamed version which you can instantly taste the difference between the handmade dough and the fresh ingredients.
If you are not a fan of spice, you may want to skip the light chili sauce and go for soy sauce or black vinegar.
Each order comes with 6 dumplings.
So if you plan to share, you may want to order enough so each person has at least 2 dumplings.
Nutritional Information: (6 Steamed Dumplings)
480 calories, 21g fat, 42g carbohydrates, 18g protein
15. Singapore Street Noodles
Foodies, get ready to drool over this Singaporean curry noodles dish filled with fresh shrimp, chicken, onion, and julienned vegetables.
For anyone familiar with the Singapore Street Noodles, the springiness of the rice noodle is the key to identifying if it's been cooked perfectly.
And let me tell you, P.F. Chang's knows how to cook these noodles the right way.
The savory curry sauce with the mild sweetness of the noodles is a match made in heaven.
I love to pair it with some crispy egg rolls or spicy wontons.
And if you're feeling extra adventurous, order some BBQ Pork Spare Ribs, and you'll thank me later!
Nutritional Information:
610 calories, 7g fat, 112g carbohydrates, 26g protein
14. Shrimp Tempura Roll
I'm a big fan of tempura shrimp, and P.F. Chang's Shrimp Tempura Roll is one of my favorite sushi rolls ever!
It is filled with crispy tempura shrimp, kani kama (imitation crab), creamy avocado, refreshing cucumber and drizzled with a delectable umami sauce.
The tempura shrimp provides a unique crunchy texture and an extra pop of flavor to each bite.
Plus, the tempura batter is light and not overly greasy.
Nutritional Information: (Per piece)
70 calories, 3g fat, 9g carbohydrates, 3g protein
13. Pepper Steak
Pepper Steak is a Chinese-inspired savory dish perfect for meat lovers.
It includes tender flank steak strips sautéed with crispy onions and sweet bell peppers, all smothered in a rich pepper-garlic sauce.
One of the best things about Pepper Steak is that it's a versatile dish you can enjoy with many different sides.
It's perfect with a steaming bowl of white rice or crispy fried noodles.
If you're watching your carbs, you can opt for a side of steamed veggies instead. The possibilities are endless!
Nutritional Information:
600 calories, 30g fat, 30g carbohydrates, 48g protein
12. Ma Po Tofu
The Ma Po Tofu at P.F. Chang's is simply irresistible!
It is made from crispy silken tofu cooked in a spicy red chili sauce with steamed broccoli.
The sauce includes chili bean sauce, soy sauce, rice wine, and Sichuan peppercorns.
These ingredients create a colorful harmony of perfectly balanced flavors.
The crispy silken tofu has the right amount of crispiness on the outside and a melt-in-your-mouth texture on the inside.
The red chili sauce gives the dish its signature spicy kick, while the steamed broccoli adds a fresh green twist that complements the tofu nicely.
It's a vegetarian-friendly dish that's sure to appeal to your palate.
Nutritional Information:
450 calories, 29g fat, 25g carbohydrates, 29g protein
11. Hot and Sour Soup
Ah, P.F. Chang's Hot and Sour Soup – a true staple of Chinese-American cuisine.
The broth is a blend of chili paste, soy sauce, rice vinegar, and sesame oil, creating a balance of sweet, sour, and spicy flavors that dance on your taste buds.
The tofu adds a silky texture that contrasts beautifully with the tender chunks of chicken.
And have you ever bitten into a bamboo shoot? It's like biting into a refreshing piece of nature –earthy, crunchy, and oh-so-satisfying!
Nutritional Information: (Cup size)
70 calories, 2g fat, 9g carbohydrates, 4g protein
10. Miso Glazed Salmon
Salmon marinated in miso is something every Japanese household has perfected.
At P.F. Chang's, they put a Chinese twist on it by adding a healthy dose of garlic and ginger to the marinade.
The resulting Miso Glazed Salmon is an absolute delight! The sweetness of the miso mixes wonderfully with the bold garlic and ginger flavors.
The salmon is cooked with a crispy outer layer that gives way to a moist and succulent interior.
The Asian mushrooms, cabbage, and spinach soak up all that delicious flavor, making this a wholesome dish that's sure to please.
Nutritional Information:
640 calories, 36g fat, 28g carbohydrates, 50g protein
9. Chang's Lettuce Wraps
The magic of Chang's Lettuce Wraps begins with tender chicken, finely chopped and cooked to perfection in the restaurant's secret family recipe of spices and sauces.
This mixture is then wrapped in crispy lettuce leaves that add crunch and provide a refreshing balance to the savory chicken.
Although the dish sounds simple, it is flavorful and has been P.F. Chang's best appetizer since day one.
You can also choose vegetarian lettuce wraps instead of chicken.
Nutritional Information (With chicken):
660 calories, 26g fat, 66g carbohydrates, 38g protein
8. Salt & Pepper Prawns
If you're a fan of seafood and crave something spicy, the Salt & Pepper Prawns might be the dish for you on P.F. Chang's menu.
It's a delightful combo of crispy prawns mixed with aromatic spices and punchy chili peppers tossed in a hot chili butter sauce.
The star of this dish is the prawns, which are deep-fried to golden perfection.
The spice blend consists of garlic, ginger, green onions, and red chili peppers, giving it a flavor depth.
And to top it off, the spicy chili butter sauce adds a luxurious richness to every bite, making this dish a burst of flavors in your mouth!
Nutritional Information:
920 calories, 68g fat, 44g carbohydrates, 36g protein
7. Banana Spring Rolls
One of the best desserts you must try at P.F. Chang's is the Banana Spring Rolls.
Ripe bananas are rolled in a mixture of sugar and cinnamon, then wrapped in spring rolls and deep-fried to golden crispiness.
The caramel-vanilla sauce complements the warm banana filling with its indulgent flavors.
And let's not forget that coconut-pineapple ice cream to complete the experience.
When craving a sweet treat without the guilt of a full-on dessert, the Banana Spring Rolls are exactly what you need.
Nutritional Information: (Per serving)
470 calories, 17g fat, 75g carbohydrates, 7g protein
6. Stir-Fried Eggplant
One of the most popular vegetarian dishes on P.F. Chang's menu is the Stir-Fried Eggplant.
The dish consists of chunks of eggplant that have been stir-fried to perfection and coated in a sticky sweet chili soy glaze.
Layered with fresh green onions and garlic, this dish is a true taste sensation.
The eggplant is hearty and earthy, while the glaze adds a burst of sweetness and spice.
The green onions add a crisp freshness, and the garlic ties everything together with its savory undertones.
It is one of P.F. Chang's best vegetarian entrees.
Nutritional Information:
560 calories, 36g fat, 58g carbohydrates, 4g protein
5. Sesame Chicken
P.F. Chang's Sesame Chicken always helps me get a boost in the afternoon.
The tasty, tender chicken complements the slightly sweet and nutty sesame sauce, and the fresh vegetables provide a satisfying crunch and colorful appearance.
Additionally, the rice serves and saves all the delectable sauces from going to waste.
If you want a side to pair with your Sesame Chicken entree, I'd recommend crab wontons, dumplings, or rolls.
Nutritional Information:
980 calories, 48g fat, 60g carbohydrates, 48g protein
4. Oolong Chilean Sea Bass
You may have heard of the oolong tea, but did you know that it can be used as a marinade to take out the fishiness of sea bass?
That's what P.F. Chang's does with its Oolong Chilean Sea Bass.
The fish is marinated in an oolong tea blend, sesame oil, and soy sauce for a subtle yet distinct flavor.
The oolong tea marinade adds a refreshing and subtle earthy flavor to the sea bass.
The ginger-soy sauce brings bold and balanced flavors but doesn't overpower the taste of the fish.
And the wok'd spinach adds an extra texture and flavor you didn't even know you needed.
The Oolong Chilean Sea Bass easily takes the spot as P.F. Chang's best seafood dish.
Nutritional Information:
560 calories, 36g fat, 30g carbohydrates, 34g protein
3. Korean Glass Noodles
If you want a delicious noodles dish at P.F. Chang's, try the Korean Glass Noodles.
The glass noodles are made with sweet potato, giving them a springy texture and extra fiber to keep you full for longer.
And when combined with the flavorful sweet-spicy sauce and crunchy veggies, each bite is an explosion of sweet, spicy, and savory.
You can order Korean Glass Noodles with protein options like chicken, beef, shrimp, vegetables, or a combo.
The added protein options allow you to personalize your noodle dish to your liking.
Nutritional Information: (With chicken)
920 calories, 32g fat, 120g carbohydrates, 40g protein
2. Kung Pao Shrimp
You have probably eaten Kung Pao Chicken many times, but have you ever tried Kung Pao Shrimp?
P.F. Chang's Kung Pao Shrimp dish is made with juicy shrimp cooked with Sichuan chili sauce, roasted peanuts, green onions, and red chili peppers and served with rice.
It is not too spicy, similar to the chicken version, so anyone can savor its taste without feeling too much heat.
You may still want a cold drink ready if the spiciness becomes too intense!
Nutritional Information:
1020 calories, 70g fat, 54g carbohydrates, 48g protein
1. Fire Braised Short Ribs
If you're looking for a hearty and flavorful meal on P.F. Chang's menu, put the Fire Braised Short Ribs at the top of your list.
This menu item is a standout, and after just one bite, you'll see why they're raved about by many customers.
The short ribs are coated with a savory glaze made with soy sauce, hoisin sauce, brown sugar, garlic, ginger, and other secret ingredients.
After being glazed, the short ribs are slow-braised, imparting a rich and tender texture.
The dish is served with pineapple-fried rice, which provides a sweet and tangy flavor that counters the savoriness of the short ribs.
The Fire Braised Short Ribs are my favorite and the best P.F. Chang's entree on the menu!
Nutritional Information:
1540 calories, 100g fat, 102g carbohydrates, 52g protein
Conclusion
P.F. Chang's offers a variety of dishes that will satisfy any palate. From appetizers to dim sum to entrees and desserts, their menu has it all.
And did I mention that their portion sizes are generous? Perfect if you are looking to share with someone special.
Whether you are planning a casual night out with friends or a date night, remember to check out P.F. Chang's next time you're in the mood for some delicious Asian food.
For more information about P.F. Chang's, check out the articles below.