8 Best Outback Steakhouse Signature Steaks, Ranked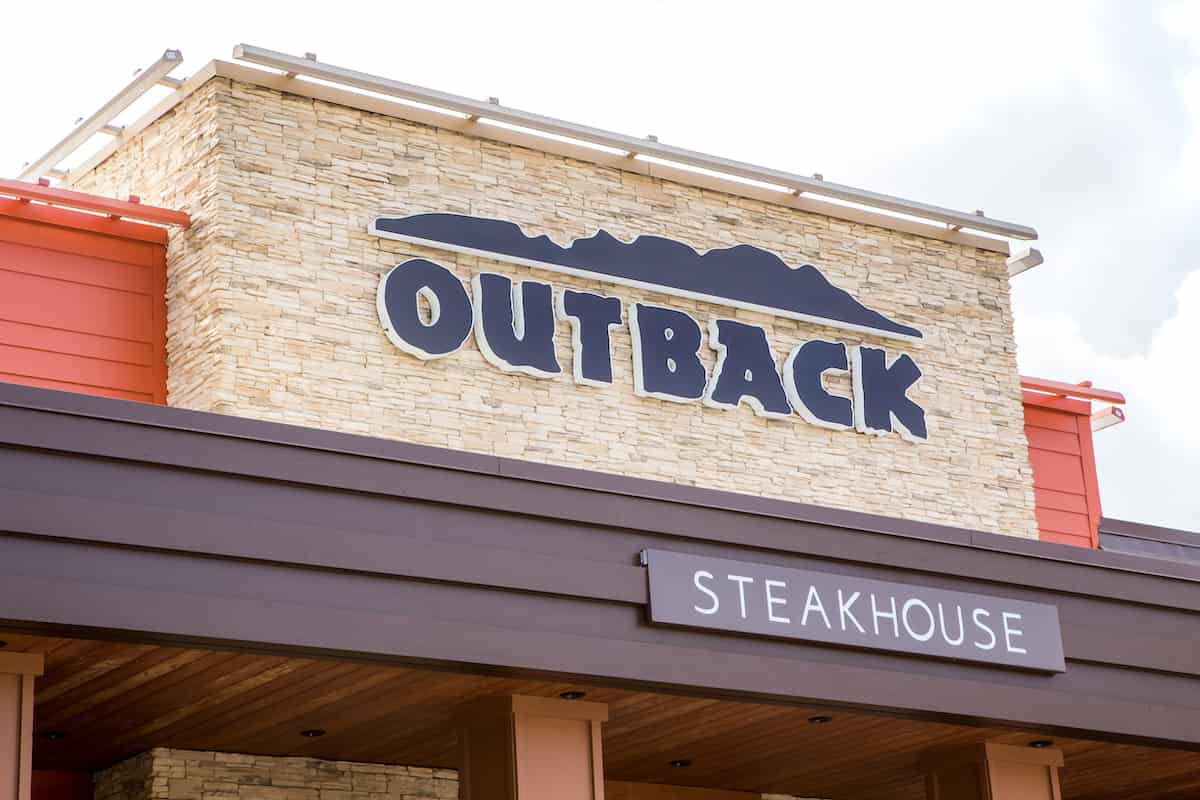 There's one main reason people go to Outback Steakhouse – besides maybe the Bloomin' Onion – and that's the steak.
There are eight signature steaks on the Outback menu, and each is cooked to order and comes with a Steakhouse Potato dish and a second "signature" side.
The Steakhouse Potato options include homestyle mashed potatoes, Aussie fries, a baked potato, or a sweet potato.
For your signature side, you can choose from fresh mixed veggies, a fresh seasonal veggie, seasoned rice, baked potato soup, the soup of the day, a side house salad, or a side Caesar salad.
For an upcharge, you can substitute a premium side for one of your side dishes.
These include steakhouse mac & cheese, loaded mashed potatoes, over-the-top Brussels sprouts, asparagus, French onion soup, blue cheese pecan chopped salad, Tasmanian chili, or strawberry salad.
You can also add extra toppings to enhance your steak's flavor. These are found under the "Plus It Up" section of the menu and include roasted garlic butter topping, sautéed 'shrooms, and grilled onions.
In addition, you can make your steak a surf & turf meal by adding Gold Coast coconut shrimp, grilled shrimp, steamed lobster tail, or Toowoomba topping – a combination of seasoned shrimp, sautéed mushrooms, and creamy Creole sauce.
Finally, several "Steak 'N Mate Combos" are available at Outback that combine any of their steaks with another protein, such as ribs, lobster, or chicken, making them perfect for those who can't decide!
Now that we covered all the necessary information about Outback steaks let's get into the main topic.
If you're wondering which steak to order at Outback, I've rounded up all of them below with my top pick!
8. Outback Center-Cut Sirloin
The Center-Cut Sirloin is sort of Outback's most basic steak.
It's the most affordable option, and you'll likely see it as part of a combo or special offer.
While it's still delicious, it's not as tender or flavorful as other steaks on the Outback menu.
Sirloin is a leaner cut of beef, and when it comes to steak, less fat means less flavor.
I wouldn't recommend choosing the sirloin, though the one exception I would make would be the "What's for Lunch" deal.
This deal comes with sirloin steak and side for $11.99 to $13.99 (depending on location) or any of their "Steak 'n Mate" combos that pair a steak with ribs, shrimp, or chicken.
They're perfect for when you can't make up your mind.
The Center-Cut Sirloin is available in three sizes.
The six-ounce portion contains 370 calories, the eight-ounce has 450 calories (some locations will substitute a 490-calorie nine-ounce portion), and the 11-ounce contains 600 calories.
7. Victoria's Filet Mignon
I might get a lot of judgment for this, but I think filet mignon is the most over-rated cut of steak.
That's not to say I don't love a buttery soft filet mignon – it's just not my go-to cut.
I think well-marbled ribeyes and New York strips are more flavorful, plus you get more steak for your money.
That said, the Victoria's Filet Mignon from Outback really melts in your mouth.
It's tender and juicy – if you're all about texture, this is the steak for you.
The Victoria's Filet Mignon is available in a six-ounce portion, which contains around 380 calories, or an eight-ounce portion, which has 540 calories.
Some locations offer a nine-ounce portion instead of the eight-ounce which contains 590 calories.
6. Outback-Style Prime Rib
Prime rib is as much an event as it is a meal.
It just screams special occasion, probably because it's not something you would regularly make at home unless you're cooking for a crowd.
Even then, you'd have to be prepared to spend some cash. You can easily spend close to $100 or $150 on the meat alone.
Ordering prime rib in a restaurant is a more cost-effective way to get your fix.
The only downside is that because it takes several hours to roast a prime rib, each restaurant only makes a limited amount daily, so they may sell out.
Outback has two different prime rib options on the menu, and "Outback-Style" is my least favorite of the two.
It's coated in a signature blend of seasonings and then roasted and seared. Once it's carved, it's seared a second time.
This means you can order it seared to any temperature you want.
But if you're going to eat prime rib any more well-done than medium rare, you should probably just order a ribeye.
I feel that ordering a prime rib cooked past medium-rare negates all the hard work of slow roasting it to perfection.
The one component of the Outback-Style Prime Rib better than the classic is the side of creamy horseradish sauce it's served with.
Horseradish and prime rib make a killer combination, adding a pleasant kick to the fatty steak.
The Outback-Style Prime Rib is available in a 12-ounce 1520-calorie portion or a 16-ounce 1960-calorie portion.
Most Outback locations only serve prime rib during dinner hours, though some will also serve it all day on weekends.
It does tend to sell out, so call ahead to make sure your local restaurant is serving it.
5. Melbourne Porterhouse
The Melbourne Porterhouse is the most impressive looking among all Outback steaks.
It's so massive that it's almost guaranteed to hang off the edge of your plate.
A porterhouse is two steaks in one, with a tenderloin and New York strip joined together with a large, T-shaped bone.
The porterhouse is the way to go if you can't decide between the two cuts of meat.
It's an excellent option for two people to share, but it's almost too large for a regular meal.
It's also the most expensive steak on the Outback menu.
Unless I'm trying to impress my friends, I usually go with a different, more manageable cut.
The Melbourne Porterhouse is only available in a 22-ounce portion containing 660 calories.
It costs around $34.99 to $39.99, depending on the location.
4. Classic Prime Rib
The Classic Prime Rib is the better of the two Outback prime ribs.
It's coated in a crispy, flavorful herb crust and slow-roasted until it's juicy and tender.
It's hand carved into thick, juicy slices and served with a super flavorful au jus.
Pro tip: ask for a side of the creamy horseradish sauce as well – the two sauces together will blow your mind.
The prime rib is unbelievably tender and just melts in your mouth. It's rich and fatty without being chewy or greasy.
The Classic Prime Rib is available in a 1330-calorie 12-ounce portion or a 1770-calorie 16-ounce portion.
3. Ribeye
Ribeye is my favorite cut of steak. It's well-marbled with fat that renders into the meat as it cooks, leaving you with a highly juicy, flavorful steak.
The boneless ribeye is pan-seared, which I sometimes prefer over a char-grilled steak.
Searing a steak gives it an irresistible crust that locks in the flavor of the meat.
If you're looking for a boneless Outback steak, this is the most flavorful option.
Even though I usually prefer my steaks bone-in, sometimes I'm just in the mood for a pan-seared ribeye (or I'm too lazy to cut around the bone). That's when I'll order this one.
The ribeye is available in a 900-calorie 12-ounce portion or an 1110-calorie 15-ounce portion.
I would highly recommend ordering this one with the roasted garlic butter topping.
2. Bone-In New York Strip
New York Strip is my second-favorite cut of beef.
If I cook steaks at home, I'll often just choose between this or ribeye based on which looks best at the store that day.
Both are super tender cuts of steak, but New York Strip is a bit leaner, with a firmer texture and "meatier" flavor.
Outback's Bone-In New York Strip is rubbed with a spice blend and char-grilled.
Although it doesn't have the same fat marbling as a ribeye, grilling the steak with the bone imparts a ton of flavor to the meat.
It's a great option if you want something a little leaner than a ribeye that still feels luxurious.
The Bone-In New York Strip is a 16-ounce steak that contains 1090 calories.
1. Bone-In Ribeye
The Bone-In Ribeye is the best Outback steak.
While I'll gladly mix it up a bit with a prime rib or New York strip (or even a porterhouse if I'm feeling adventurous), when I want a perfect "steak and potatoes" style steak, this is what I go for at Outback.
It is a super marbled, tender, flavorful steak. In fact, it doesn't really get much more flavorful than this.
The combination of the rendered fat and the bone imparts heavenly flavor to the meat, and you're left with a supremely juicy, succulent steak.
The Bone-In Ribeye is 18 ounces and contains 910 calories.
Conclusion
Outback has an extensive menu with a staggering number of dishes, but it is, first and foremost, a steakhouse.
The signature steaks on the Outback menu are what made the restaurant one of the best steakhouse chains.
If you're looking for a meat and potatoes type of meal, you can't go wrong with one of their steaks and hearty sides.
For more information about Outback Steakhouse, check out the articles below.