8 Best LongHorn Steakhouse Steaks to Order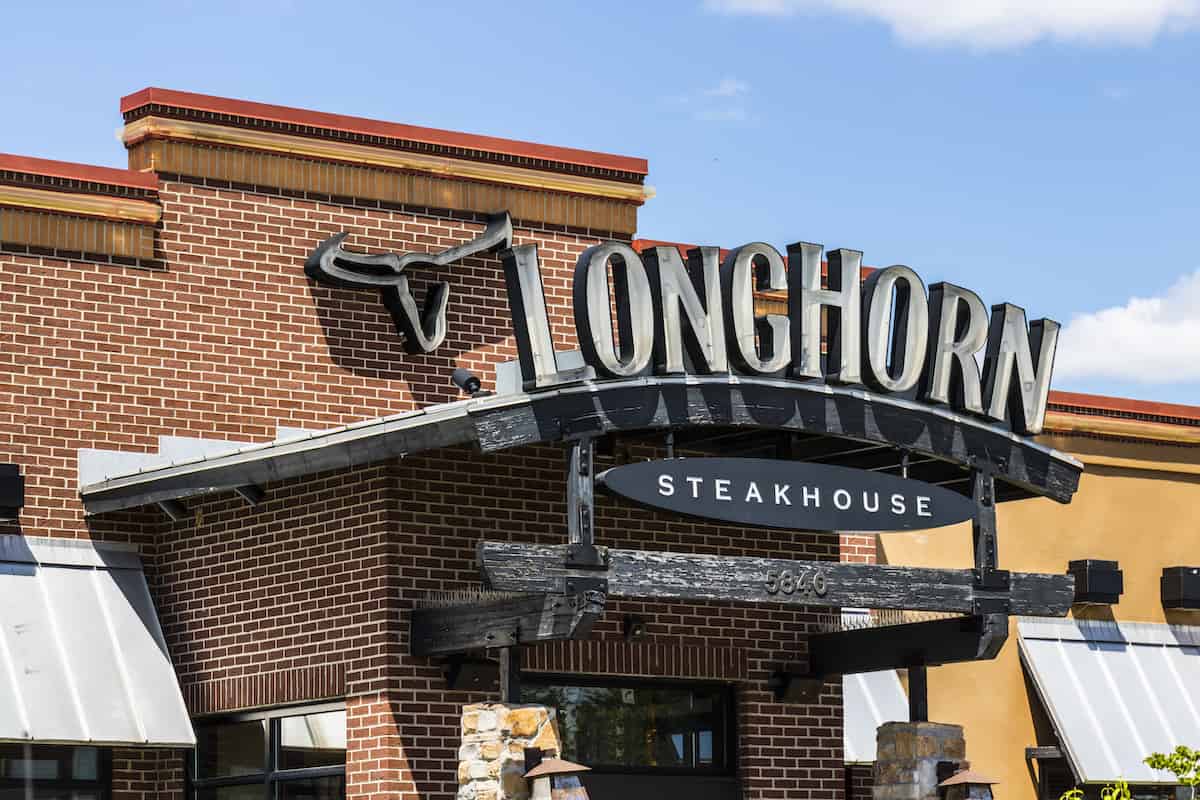 Steak has long been a staple of American food, and unsurprisingly, there are plenty of popular steakhouse chains across the country. One of these chains is LongHorn Steakhouse.
Founded in 1981, the chain now operates well over 500 locations in the United States.
LongHorn Steakhouse offers eight different cuts of steak, and each of those cuts comes with two sides and plenty of opportunities for customization.
After all, everyone likes something a little different when it comes to their steak!
After selecting your cut of meat, you will decide on your steak temperature – anything from rare to well-done.
Then, pick your two sides – you'll have over a dozen sides to choose from, with popular dishes like Steakhouse Mac & Cheese and Crispy Brussels Sprouts.
Finally, you can add or remove a few different elements from your steak.
You can request to add a parmesan crust, grilled shrimp, lobster tail, or mushrooms. You can also ask that your steak be served without seasoning and finishing sauce.
Now that we've gone over all your customization options, it's time to get into the steaks themselves.
Here are the 8 best steaks you can order from LongHorn Steakhouse, ranked from my least to most favorite!
8. Renegade Sirloin
A sirloin cut comes from the top of the cow's back and is known for being lean and flavorful.
While the Renegade Sirloin certainly is delicious and lean, it's the chewiest option of all steaks at LongHorn Steakhouse.
Since most diners want a steak that cuts easily and melts in your mouth, I had to place it at the bottom of my list.
But don't let this deter you from trying it, as it's still a delicious option, especially for those who aren't a fan of fat on their steaks.
The Renegade Sirloin is also topped with LongHorn Steakhouse's signature Prairie Dust, which includes onion powder, garlic powder, and paprika.
This adds a nice depth of flavor to the sirloin, which is definitely needed due to the lack of marbling in the steak.
The order comes with your choice of two sides.
The 6 oz Renegade Sirloin contains 220 calories, while the 8 oz portion contains 290 calories.
7. New York Strip
A New York Strip is cut from the short loin behind the ribs. Since this muscle isn't frequently used by the cow, it's quite tender.
LongHorn's version of the NY Strip steak is fire-grilled to enhance its signature beefy flavor and contains a fair amount of marbling.
However, it does not have nearly as much marbling as some of their other steaks.
The New York Strip makes for a cut of meat that has a little bit of the two qualities everyone looks for in a steak: marbling and tenderness.
That being said, there are steaks on the LongHorn Steakhouse menu that are more tender and marbled, which is why I haven't ranked it higher.
Still, it's a great option if you're looking for that classic, beefy flavor in a steak.
The New York Strip is 12 oz and contains 630 calories. It comes with your choice of two sides.
6. Chop Steak
It's true that most people wouldn't think of ordering ground beef at a steak restaurant, but the Chop Steak might just make you decide otherwise.
LongHorn's Chop Steak is made with freshly ground meat formed into a steak-like shape.
It's then smothered with grilled mushrooms, caramelized onions, and a savory garlic herb sauce.
The Chop Steak is juicy and has that classic steak flavor to it. But the real stars in this dish are those toppings.
There's something about mushrooms and onions that just makes a steak (or any kind of meat, for that matter) infinitely better.
The caramelized onions lend a sweetness to the overall dish, while the mushrooms and garlic herb sauce add a depth of unique flavor not found in any of the other steaks on the menu.
It is arguably more like a meatloaf than a true steak, but that doesn't make it any less delicious!
The Chop Steak contains 640 calories, and, like the other steak options, it comes with your choice of two sides.
5. Fire-Grilled T-Bone
T-Bone steaks are cut from the short loin, which means they contain a tenderloin steak and a strip steak, separated by a t-shaped bone.
In LongHorn Steakhouse's version of the cut, the tenderloin half is especially tender, while the strip steak delivers that classic bold umami flavor essential for a great steak.
The only reason the T-bone isn't higher on the list is just the simple fact that there are even better steaks on the menu.
At 18 oz, this is a sizable steak, so you won't leave the restaurant hungry.
The Fire-Grilled T-Bone contains 1130 calories and comes with your choice of two sides.
4. The LongHorn Porterhouse
Considering its colossal 22 oz size, the LongHorn Porterhouse is perfect for sharing (it's pretty darn good, though, so no one would blame you if you just shared it with yourself!)
A porterhouse is cut from the short loin of the cow, with a strip steak on one side and a tenderloin on the other. This cut of meat really is the best of both worlds.
The bone-in strip has that rich, meaty flavor and marbled texture, while the tenderloin is buttery and will melt in your mouth.
As I said before, it is a hefty hunk of meat, so it's perfect for sharing or keeping to yourself if you can't decide between a tenderloin and a strip steak.
The LongHorn Porterhouse contains 1280 calories and comes with your choice of two sides.
3. Ribeye
LongHorn Steakhouse describes the Ribeye as its "most juicy and flavorful 12 oz. steak."
I'm not sure if I agree it's their most flavorful (there are just too many good contenders), but the ribeye is certainly up there!
This cut is from between the ribs, so it's a boneless cut. It is also well-marbled and ultra-juicy.
The rendered fat in this cut melts into the meat, giving each bite a generous amount of that meaty, smokey flavor we've come to expect from a good ribeye.
The LongHorn Steakhouse Ribeye is 12 oz and contains 810 calories. It's served with your choice of two sides.
2. Flo's Filet
Filet Mignon is a slice of beef that's cut from the tenderloin.
This cut is known for being exceedingly tender, and a good filet mignon can be cut with a fork alone.
LongHorn Steakhouse's Flo's Filet features less fat than all other steaks on the menu, but that doesn't mean it's any less flavorful or moist.

Flo's Filet is topped with LongHorn's signature Prairie Dust seasoning, which features spices like paprika, coriander, cayenne, and garlic powder.
This gives the filet an extra kick of smokiness with just a hint of spice.
If you're looking for a smooth, velvety cut of meat that melts in your mouth, Flo's Filet is the way to go.
A 6 oz Flo's Filet contains 330 calories, and a 9 oz contains 450 calories. It is served with your choice of two sides.
1. Outlaw Ribeye
Once you see this cut of meat, you'll know why it's called the Outlaw – this ribeye is so big and flavorful that it should be illegal!
When you order the Outlaw Ribeye, you'll come face-to-face with 20 oz of bone-in, incredibly marbled steak.
This steak is typically cut from ribs 6 through 12, which is known to be the most flavorful part, thanks to all the fat marbling.
While excess fat doesn't sound the most appetizing at first, steak lovers know that all that fat makes for a juicy, incredibly flavorful bite.
The Outlaw Ribeye is fire-grilled and absolutely jam-packed with flavor.
While you can order it any way you like, LongHorn Steakhouse recommends ordering a medium or below for full flavor and juiciness.
Plus, this cut comes bone-in, adding even more depth of flavor and an air of extra indulgence.
The Outlaw Ribeye contains 1,250 calories, but it's worth every single calorie and then some!
Like all steaks at LongHorn Steakhouse, it is served with your choice of two sides.
Conclusion
With eight different cuts, five temperature options, and sixteen side dishes, the possibilities are infinite when ordering a steak at LongHorn Steakhouse.
Whether you want a small, melt-in-your-mouth cut or a colossal, marbled beauty, there's definitely a steak for you on the LongHorn Steakhouse menu.
Each of their steaks is delicious, so it all comes down to personal preference. You really can't go wrong with any of the options on this list!
For more information about LongHorn Steakhouse, check out the articles below.