The Best Things to Eat at Little Caesars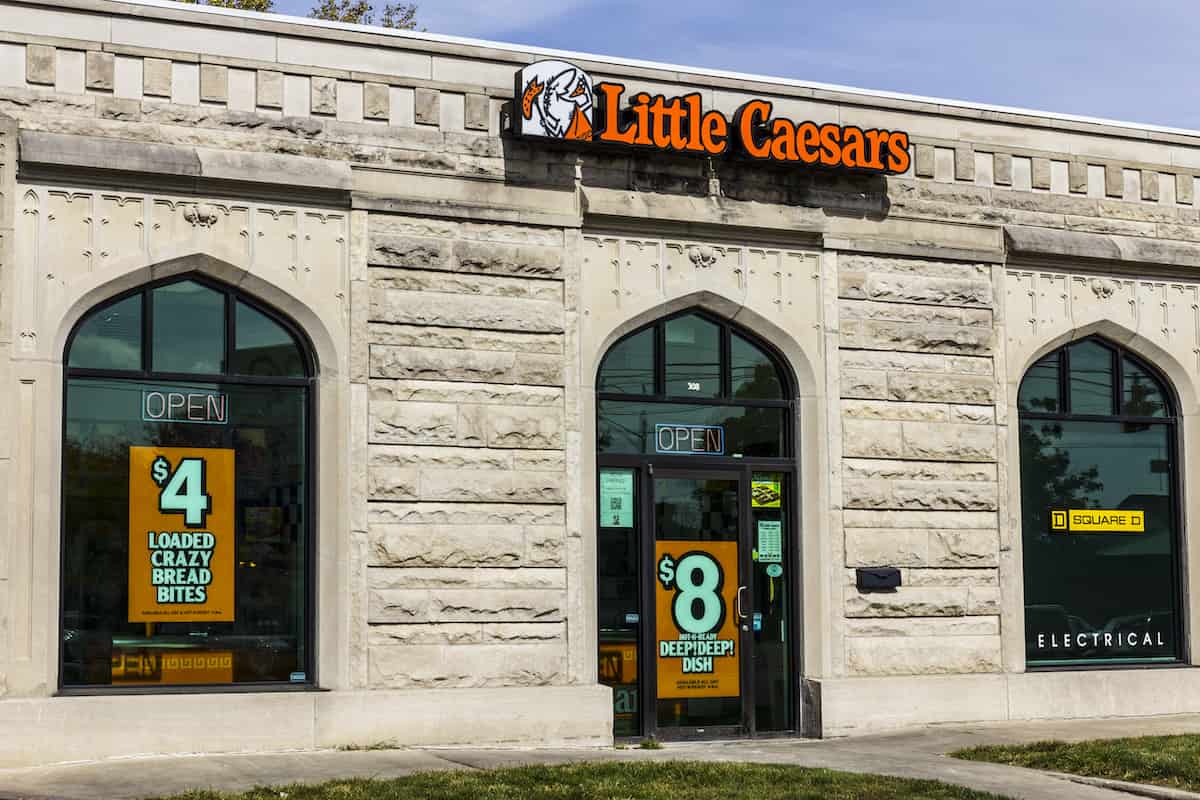 If you need something quick and delicious for dinner, you should definitely check out the Little Caesars menu and their tasty pizzas.
Little Caesars' story began in 1959 when Mike and Marian Ilitch invested their life savings into the first pizza store in Garden City, MI.
Since then, the pizza chain has expanded nationwide, offering a variety of delicious menu items.
Little Caesars' menu has something for everyone, from pizzas and wings to breadsticks and desserts. If you're wondering about the best things to eat at Little Caesars, let me introduce you to their 24 best menu items you don't want to miss!
24. Thin Crust Cheese Pizza
You may have heard of the regular crust cheese pizza at Little Caesars, but the thin crust version adds a little extra crunch with the thinner crust.
If you love a touch of extra flavor, ask your pizza to be made "Crazy Style."
When you order a Crazy Style pizza, it's sprinkled with butter, garlic, and parmesan that covers the Crazy Bread.
This pairs well with a side of BBQ wings or your choice of favorite breadsticks.
If you enjoy dipping your pizza in sauces, order a side of ranch sauce for a creamy addition.
23. Thin Crust Pepperoni Pizza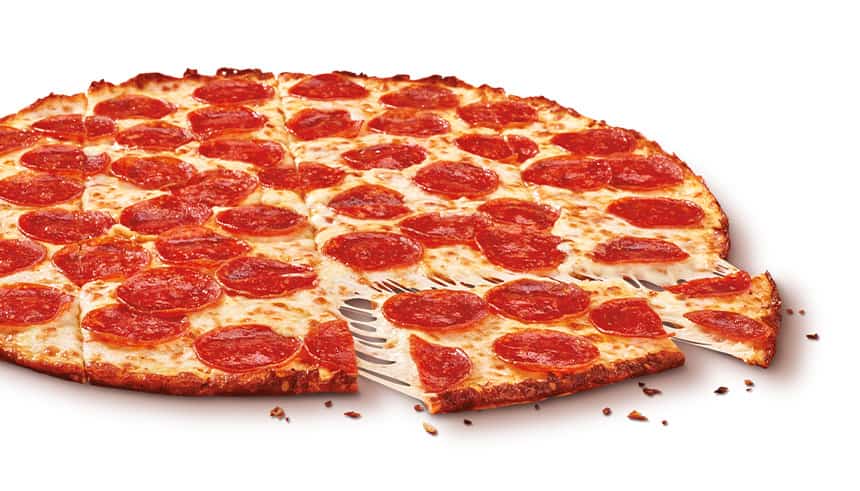 Just like the thin crust cheese pizza, the thin crust pepperoni adds a crunchier texture to the regular pepperoni pie.
If you are a fan of crisp pizzas, the thin crust is the type of Little Caesars pizza you'll want to order.
I love ordering the thin crust pepperoni pizza as a meal deal, along with Italian Cheese Bread and my favorite 2-liter soda.
Similar to the cheese, the pepperoni also pairs well with a side of ranch sauce.
Spicy food lovers can try the cheezy jalapeno sauce instead for some added zing.
22. Detroit-Style Deep Dish Cheese Pizza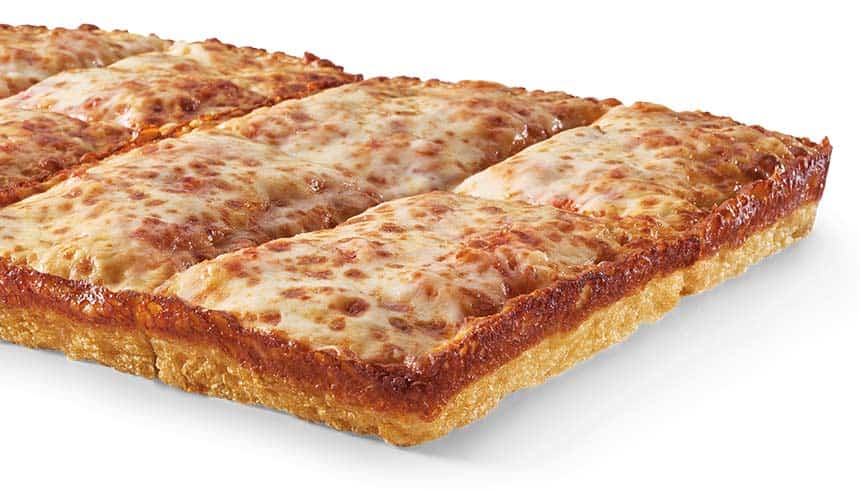 Another type of pizza crust Little Caesars offers is the Detroit-Style Deep Dish.
This crust is extra crispy on the edges, with extra cheese. It's also thick, providing a gooey, deep inner part of the pizza.
With the cheese topping, Detroit-Style Deep Dish makes for a delicious combination of cheesy goodness, crisp edges, and a gooey middle.
You can order any Detroit-style deep dish pizzas in Little Caesars' special combos.
These combos come with Crazy Bread, Crazy Sauce, and a 2-liter drink.
21. Hula Hawaiian Pizza
The Hula Hawaiian Pizza comes on a regular crust with smoky ham and pineapple.
It's the perfect pizza to order in summer or when you want to take a tropical food vacation.
This tangy, tart pizza pairs well with the juxtaposing flavors of the Stuffed Crazy Bread.
The buttery, cheesy garlic breadsticks perfectly complement the sweetness of the Hula Hawaiian Pizza.
This is another pizza that can be ordered in a combo meal or along with your other favorite pizzas.
20. Extramostbestest Cheese Pizza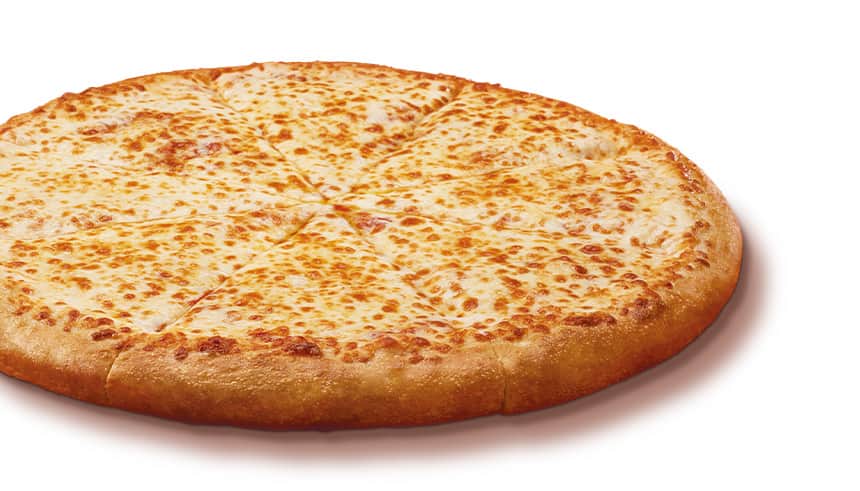 I love the amount of cheese you get with Little Caesars' Extramostbestest Cheese Pizza.
Dripping with ooey, gooey cheesy goodness, this pizza is definitely special.
If you are looking for more flavor than the typical thin crust or regular crust cheese pizzas on the Little Caesars menu, this is worth trying.
You can also turn it into a meal by adding the Stuffed Crazy Bread with a side of Crazy Sauce.
I would suggest adding a dessert option of one of the cookie dough brownies for the ultimate feast.
This pizza is also a favorite for kids!
19. Old World Fanceroni Pepperoni Pizza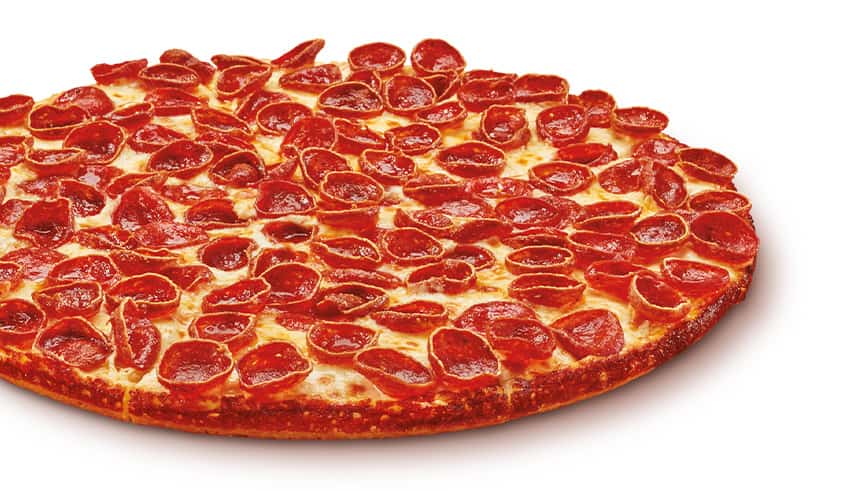 Have you ever had an issue with not having enough toppings on your pizza?
You won't run into that problem when you order the Old World Fanceroni Pepperoni Pizza.
This pizza from Little Caesars comes with a whopping 100 pepperonis that cover the whole pie.
Not only will you get the typical zesty pizza flavor but also the zing and spice from pepperonis.
I recommend ordering a side of Italian Cheese Bread and Oven-Roasted Wings to accompany this pie.
18. Crazy Combo
Little Caesars fans already know this "Crazy" secret – it's dipping your Crazy Bread in the Crazy Sauce!
The pungent taste of parmesan and garlic mixed with the creaminess of butter make Crazy Bread a fan favorite on the menu.
And the best part? The Crazy Combo automatically comes with Crazy Bread and the Crazy Sauce!
You can't really go wrong with adding the Crazy Combo to your pizza order, along with a 2-liter drink and your favorite dessert.
17. Caesar Wings-Buffalo
There are a variety of wings to choose from on the Little Caesars menu. For those who love the heat, I would recommend trying the Buffalo Wings.
These wings are covered with Little Caesars's signature buffalo sauce.
Many enjoy dipping buffalo wings in a blue cheese sauce, but unfortunately, Little Caesars doesn't offer blue cheese sauce.
Instead, try dipping the buffalo wings into the ranch sauce for an extra creamy, cooling taste.
16. Italian Cheese Bread
You may wonder about the differences between Little Caesars' Italian Cheese Bread and Crazy Bread.
There are actually quite a few differences in the flavor and texture.
If you enjoy deep-dish pizzas, the Italian Cheese Bread has a very similar texture with a gooey inside and a crunchy, caramelized outside.
In addition, it's topped with a variety of herbs, cheese, and Italian spices.
This bread is extra thick, cheesy, and flavorful.
You can dip your Italian Cheese Bread in the crazy sauce, but my favorite is the butter garlic sauce.
15. Veggie Pizza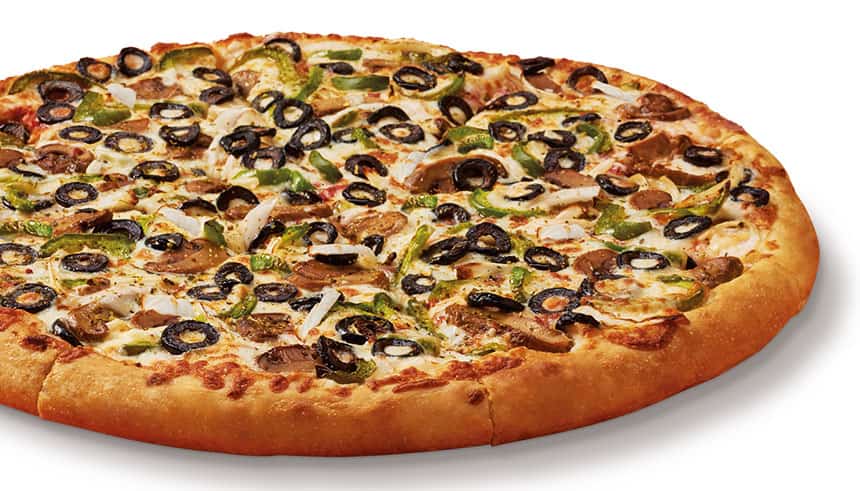 Little Caesars' Veggie Pizza boasts a variety of vegetables, perfect for vegetarians or those taking a break from meat.
Topped with green peppers, onions, mushrooms, black olives, and delicious Italian seasonings, this pizza has flavor and an exciting combination of textures.
Most pizzas on the Little Caesars menu pair very well with at least one of the dipping sauces, but I always prefer to eat the Veggie Pizza on its own.
14. 3-Meat Treat Pizza
As its name suggests, the 3-Meat Treat Pizza comes with three different types of meat: pepperoni, Italian sausage, and bacon.
If you're looking for a pizza with extra meat to fill you up, I'd suggest trying this one.
You can't go wrong with dipping this pizza in butter garlic sauce, ranch, or even the cheezy jalapeno sauce.
I enjoy eating this pizza when I'm extra hungry after a workout.
13. Cookie Dough Brownie With M&M Minis
I've previously mentioned adding some desserts to your meal but haven't named one.
That's because these delicious treats deserve a higher ranking on the list.
Unlike your typical cookies or brownies found at popular pizza chains, this dessert is the ideal combination of both.
With the scrumptious crunch of the cookie dough mixed with the doughy goodness of the brownie, the dessert is perfected with a topping of mini M&M candies.
Each order comes with four brownies, making it perfect for sharing with friends and family.
12. 5-Meat Feast Pizza
Little Caesars' 5-Meat Feast Pizza is similar to the 3-Meat Treat but offers a few extra meat options.
It comes with bacon, Italian sausage, ham, pepperoni, and seasoned beef.
When three types of meat aren't enough for you, you should order the 5-Meat Feast Pizza.
When my family is extra hungry, we love ordering this pizza as a combo with 2-liter soda and breadsticks (either Italian Cheese Bread or Crazy Bread.)
11. Caesar Wings-Oven Roasted
The Oven Roasted Wings are served bone-in, and each order comes with eight pieces.
Unlike the other wing options, these aren't covered in sauce but are flavored with traditional seasoning.
They taste great when dipped in any of Little Caesars' sauces, ranging from ranch to cheezy jalapeno.
These wings are the ideal side item to add to any pizza entree.
10. Extramostbestest Pepperoni Pizza
I've already covered the regular pepperoni and the Old World Fanceroni Pepperoni pizzas.
The Extramostbestest Pepperoni Pizza differs slightly from both.
This pizza doesn't have quite as many pepperonis as the Old World Fanceroni but includes more than the regular pepperoni pizza.
Additionally, it comes with more cheese than both.
So, when deciding between the three, if you are looking for extra cheese and extra pepperonis (but not quite 100 of them), you should choose the Extramostbestest Pepperoni Pizza.
9. Cookie Dough Brownie With Twix Cookie Bar Pieces
These cookie dough brownies are the same as the ones mentioned above except for the toppings.
While the other ones are topped with mini M&Ms, these are topped with Twix cookie bar pieces.
Each order comes with four brownies.
The caramelly, chocolatey, and crunchy Twix bar adds a fun texture to the cookie dough brownie.
If you are ordering for a large group, I'd recommend getting both types of brownies to decide which is your favorite!
8. Classic Italian Sausage Pizza
In my opinion, sausage is one of the best pizza toppings.
The spiciness from the sausage pairs so well with the cheese and tomato on any pie.
I've tried Little Caesars' Classic Italian Sausage Pizza many times, and it never disappointed me.
If you want that extra zest, this is another pizza I'd recommend ordering "Crazy Style." The parmesan garlic butter definitely adds a delicious flavor to the pie.
7. Ultimate Supreme Pizza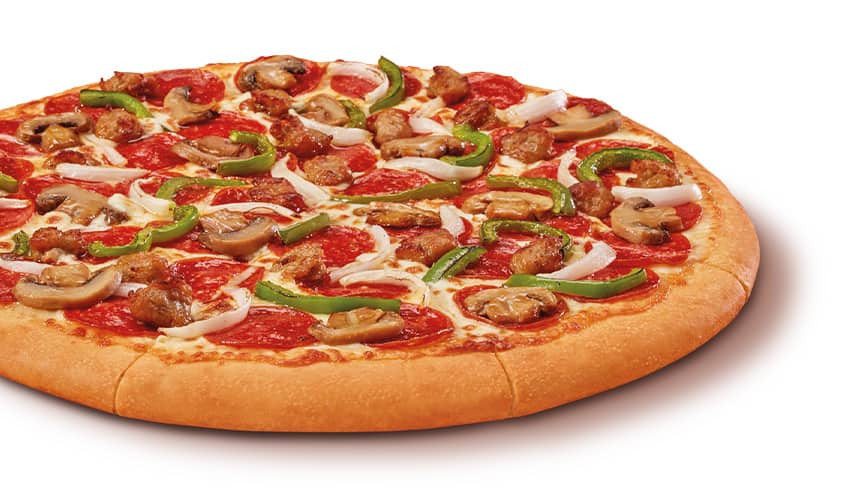 Little Caesars' Ultimate Supreme Pizza comes with pepperoni, Italian sausage, mushrooms, onions, and green peppers.
It's a great option when you're craving both meat and veggies on your pie.
You can enjoy this pizza on regular or thin crust, depending on your preference for extra crunch or extra crust.
6. Caesar Wings-BBQ
My favorite Little Caesars wing flavor is the BBQ.
Not too spicy and not too sweet, these wings offer the best of both worlds.
Covered in tangy BBQ sauce, they are my default addition to any meal besides the Crazy Bread.
Each order comes with eight wings, which is enough for you to have some now and enjoy more later.
5. Stuffed Crazy Bread
If you are a fan of Crazy Bread, you should absolutely try the Stuffed Crazy Bread!
With the same buttery garlic flavor smothered over the top, the Stuffed Crazy Bread is filled to the brim with gooey mozzarella cheese.
Just like the regular Crazy Bread, it tastes incredible when dipped in the Crazy Sauce.
These breadsticks are great when paired with the stuffed crust pepperoni pizza for lots of extra cheese.
Each order comes with three delicious breadsticks.
4. Detroit-Style Deep Dish Sausage Pizza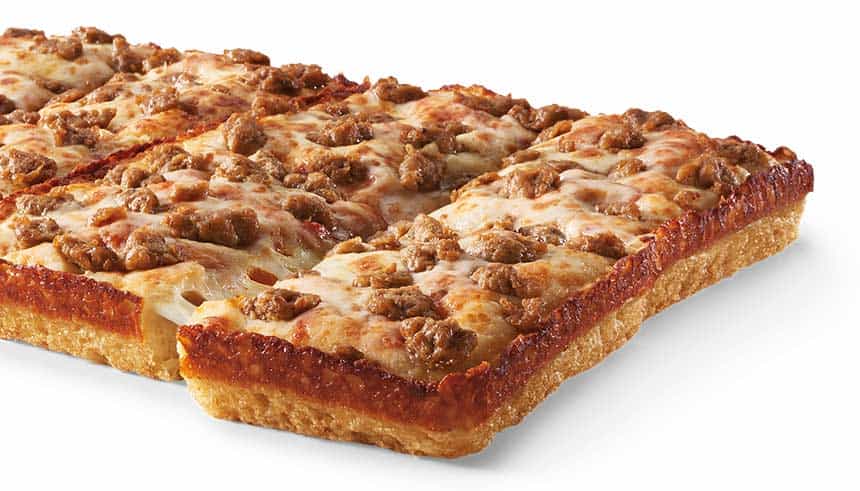 Every pizza lover knows you can't go wrong with a classic sausage pizza.
Even better, though, is the Detroit-Style Deep Dish Sausage Pizza.
Made with a crust similar to Italian Cheese bread, it's a square pie instead of a round.
The outside of the crust is crispy, with caramelized edging.
The inside is doughy and gooey.
Of course, the topping here is the delicious spicy sausages.
3. Stuffed Crust Pepperoni Pizza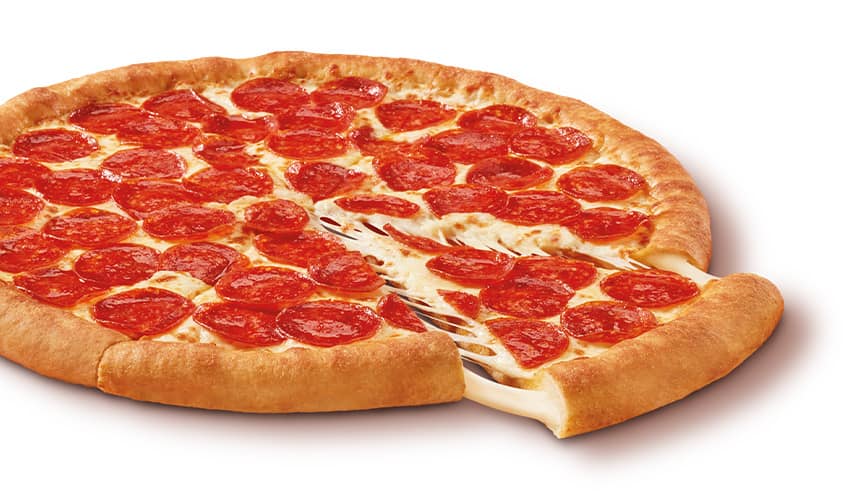 In my opinion, the best crust you can get at Little Caesars is their stuffed crust.
Instead of the typical crunch and mediocre taste, the stuffed crust gives you the milky, tangy goodness of mozzarella and muenster cheeses.
Topping on this pizza is spicy pepperoni which is downright delicious.
I love to order a side of BBQ wings and Stuffed Crazy Bread with this pizza for an extra cheesy and flavorful meal.
2. Slices-N-Stix
Slices-N-Stix from Little Caesars is essentially half breadsticks and half pizza, so you get the best of both worlds.
Each order comes with four slices of pepperoni pizza and eight Italian Cheese Stix, plus the Crazy Sauce.
The Italian Cheese Sticks are similar to the Italian Cheese Bread in flavoring but contain a slightly thinner crust.
When you order this pizza, it also comes with a side of Crazy Sauce to dip your breadsticks in, as well as your pizza.
1. Crazy Bread
Of course, the best dish on the entire Little Caesars menu is their famous Crazy Bread.
Covered in the garlicky, buttery, cheesy sauce and dipped in the Crazy Sauce, these breadsticks are perfection.
They are the best side item to any pizza order, along with some wings.
Each Crazy Bread order comes with eight breadsticks.
Because they are so delicious, I highly recommend getting at least two packs, even if you are ordering just for yourself!
These breadsticks taste incredible the day of and can be reheated in the oven or microwave the next day.
Conclusion
With so many delicious menu items to choose from, it's really hard to go wrong when you order at Little Caesars.
Their pizzas, wings, breadsticks, and desserts offer something for all meat lovers and vegetarians.
If you're looking for a simple and delicious meal, I'd recommend the Stuffed Crust Pepperoni Pizza.
Slices-N-Stix and Crazy Bread are also solid options, especially when paired with the Crazy Sauce.
So next time you're craving a snack or a full meal, be sure to check out Little Caesars' menu and their delicious pizzas.