The Best Food to Order on the Cook Out Menu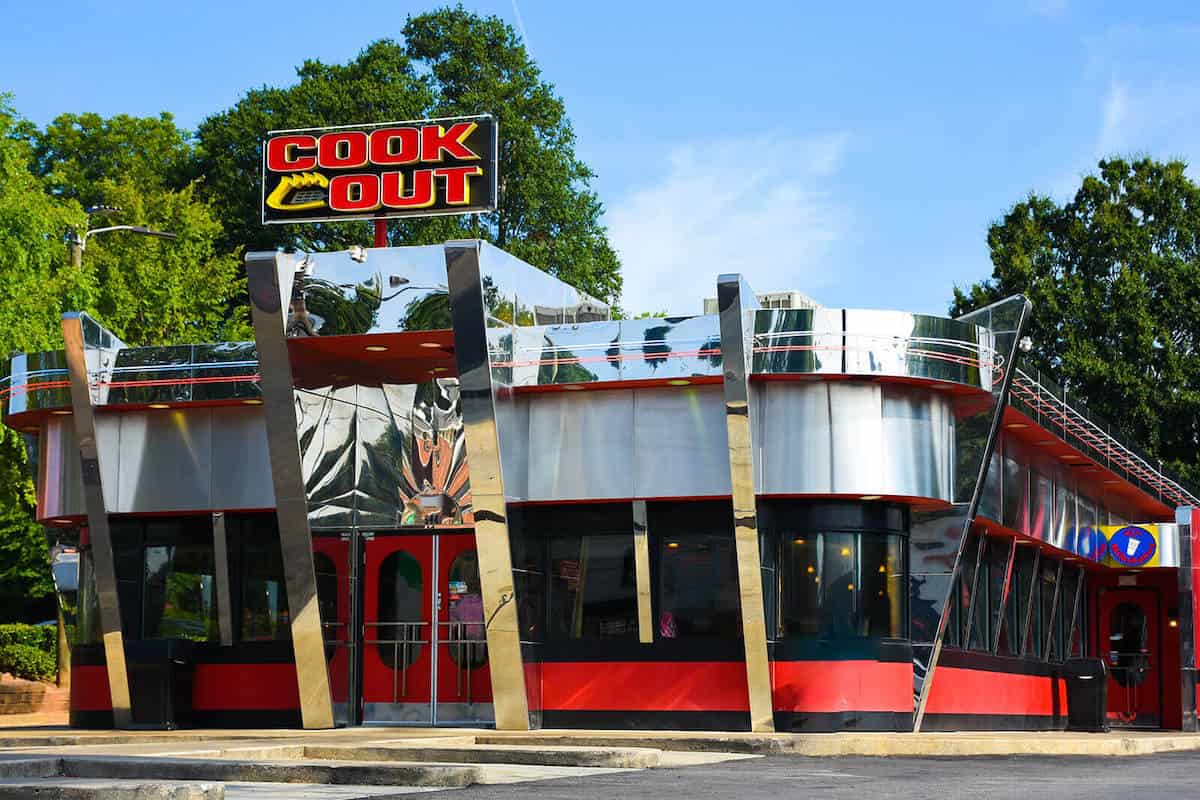 Cook Out is one the popular Southern fast-food chains known for its delicious menu items, particularly its signature burgers and milkshakes.
The chain was founded by Morris Reaves in Greensboro, NC, in 1989 and now operates over 300 locations across 10 states throughout the Southeastern US.
Cook Out has become famous for its affordable and delicious food, making it a preferred stop for people looking for a quick and satisfying meal.
The Cook Out menu includes many American classics and some Tex-Mex favorites.
Their hamburgers, chicken sandwiches, North Carolina-style barbecue, and signature milkshake flavors are quite popular. And let's not forget about the fan-favorite Cook Out Trays!
Among their extensive menu, here are the 15 best Cook Out items you don't want to miss out on!
15. Cheerwine Float
If you have never heard of Cheerwine, it is a cherry-flavored soda popular in the South.
When you try it the first time, you'll either love it or think it tastes like cough syrup.
Cook Out's Cheerwine Float is made with a generous scoop of creamy soft-serve vanilla ice cream and topped off with cherry soda.
One sip of this drink will transport you right down memory lane, back to the simpler times of childhood summers and backyard BBQs.
As a cherry soda fan, I can't get enough of this float!
14. Hushpuppies
These golden-brown little nuggets are freshly made by order and full of crunchy and fluffy goodness.
Imagine biting into a savory, crispy, and slightly sweet fried ball. This is what Cook Out's Hushpuppies taste like.
The texture is perfectly crunchy on the outside and pillowy and soft inside.
And the flavors? The slight sweetness of the onion mixed with spices will leave your taste buds tingling.
13. Crispy Chicken Wraps
Cook Out's Crispy Chicken Wraps are awesome because you can enjoy the chicken strips, the sauces, and the veggies in an easy-to-carry wrap.
They come in cajun, honey mustard, ranch, and cajun ranch flavors.
These wraps are crunchy, creamy and can be customized to your liking.
I love to add bacon and cheese to my wrap for that extra flavor kick.
When you need something to grab and go, the Crispy Chicken Wraps are a great option on the Cook Out menu.
12. Corn Dog
If you are hankering for classic carnival food, the Corn Dog is an excellent choice.
As one of the standout items on the Cook Out menu, this yummy dog on a stick is a perennial favorite among foodies and casual diners alike.
Made from cornmeal batter and juicy hot dog meat, it's a great way to satisfy your cravings for something appetizingly simple.
Although the hot dog is slightly on the thin side, the cornmeal batter is perfectly crispy and flavorful, making it a delectable snack.
And if you're looking for something even more indulgent, pair it with Cook Out's homemade chili and cheese bites.
11. Chicken Quesadilla
The Chicken Quesadilla on Cook Out's menu starts with a soft, warm tortilla filled with chicken breast meat and melted cheddar cheese.
The chicken breast is tender and moist, while the cheese gives it a creamy and rich texture.
The blend of spices adds a flavor depth that perfectly complements the chicken and cheese, making it a pleasant experience.
A word of warning, though, if you are looking for an authentic chicken quesadilla, you may be a little disappointed.
It is more of a hybrid with some Mexican flavors but an overall American twist.
Nevertheless, it's delicious and will surely satisfy your quesadilla cravings.
10. Chicken Nuggets
If you're a crispy fried chicken fan, Cook Out's Chicken Nuggets is a must-try!
These little morsels come in five pieces and can be paired with sauces ranging from the signature Cook Out sauce to BBQ, Honey Mustard, Polynesian, Ranch, and Buffalo.
The nuggets come with succulent all-white meat chicken with a crispy golden exterior.
9. Cajun Fries
As a huge fan of potatoes, I can eat fries pretty much every day.
But the Cajun Fries is the way to go if you want something special.
These fries are coated with Cook Out's unique blend of spices, giving them a zesty and spicy flavor.
They're crispy on the outside and soft inside, as they should be.
The Cajun seasoning gives them a distinctive smoky flavor that is addictively good!
8. Homemade Style Chicken Strips
Cook Out's Homemade Style Chicken Strips are a treat for any fast-food enthusiast.
You can order the snack version that comes with three chicken strips and a sauce or make it a sandwich.
If you opt for the club option, you'll get bacon, cheese, lettuce, tomato, and mayo.
The available sauces are the same as chicken nuggets, including the Cook Out sauce, BBQ, Honey Mustard, Polynesian, Ranch, and Buffalo.
These chicken strips pack a lot of flavors in every bite.
My only complaint is that three pieces are not enough to satiate my craving and experiment with different sauces.
As someone who loves fast-food dipping sauces, I can never settle on just one!
I love the Cook Out sauce, but the Polynesian and Honey Mustard sauces are also very delicious.
Pro tip: Ask for additional dipping sauces when ordering chicken strips!
7. Cook Out Style Hot Dog
The Cook Out Style Hot Dog is definitely one of the best items on the menu.
It is a fan-favorite dish, where the hot dog is served with homemade chili, slaw, mustard, and onions.
The all-beef hot dog is nestled in a soft, fluffy bun with homemade chili giving just the right amount of spice.
The hot dog itself is juicy, tender, and flavorful.
The slaw adds a cool and crunchy element, the mustard provides a tangy kick, and the onions give it a bit of a bite.
Paired with Cajun fries or onion rings, this hot dog is one of my go-to meals at Cook Out.
6. Cheesecake
Cook Out's Cheesecake is a heavenly dessert on the menu, which is a NY-style cheesecake served with your choice of toppings.
The texture of the cheesecake is velvety soft, and its flavors are rich and satisfying.
There's a perfect balance between the crust and the cream cheese filling that leaves a pleasant aftertaste.
The fruity toppings, such as blueberry and strawberry, add a nice twist to the cheesy filling in a downright scrumptious way.
Then there's the chocolate chip and caramel options that give you a sweet and indulgent finish.
No matter which flavor you choose, this cheesecake will leave you with a smile on your face!
5. Char-Grilled Chicken Breast
The Char-Grilled Chicken Breast Sandwich is one of the fan-favorite items on the Cook Out menu.
This bad boy is the real deal, packed with juicy flavor and all the fixings you could ever want.
With six styles to choose from, there's something for everyone.
The Original Style includes lettuce, tomato, honey mustard, and mayo.
The BBQ Style incorporates BBQ sauce, fresh sliced pickles, and mayo.
Then there's the Cajun Style with Cajun seasoning, Texas Pete hot sauce, tomato, lettuce, and mayo.
The Club Style is just like a BLT sandwich with bacon, tomato, lettuce, cheese, and mayo.
The Cheddar Style highlights the cheddar cheese in the sandwich, bacon, mayo, and grilled onions.
And lastly, the Homemade Style features a healthy dose of slaw, pickles, onions, and cheese.
All these sandwiches are flavorful. So if you're looking for a tasty meal that won't leave you feeling guilty, try one of these!
4. White Cheddar Cheese Bites
These crispy, golden brown nuggets of cheesy joy are a popular menu item at Cook Out.
The small chunks of white cheddar cheese are breaded and fried to crispy perfection.
Each order comes with approximately 8-10 pieces, making it the perfect snack to share or indulge in on your own.
The creamy, tangy, and slightly salty flavor of melted white cheddar combined with the crispy crunch of the breading is a match made in heaven!
3. BBQ Sandwich
You've probably had plenty of BBQ pulled pork sandwiches before, but Cook Out's BBQ Sandwich definitely deserves a shoutout!
Going after that classic Carolina BBQ style, this sandwich is made with tender, juicy chopped pork, homemade slaw, and just the right amount of Texas Pete hot sauce.
The pork is slow-cooked to perfection, then chopped and piled high on a soft, toasted bun.
The slaw is made from crisp cabbage and other fresh veggies, tossed in a creamy dressing that complements the pork perfectly.
And, of course, the Texas Pete hot sauce adds just the right amount of heat and tang to the mix!
2. Banana Fudge Milkshake
Cook Out's Banana Fudge Milkshake is made with fresh bananas, rich chocolate fudge, creamy vanilla ice cream, and a touch of milk.
This concoction results in a frothy, thick, and indulgent shake.
Instead of using banana syrup, Cook Out opts for real bananas that give the milkshake a natural sweetness and extra thickness.
The chocolate fudge is drizzled on top of the shake, making it extra luxurious.
This banana fudge milkshake will surely hit the spot if you want something to satiate your sweet tooth!
1. Char-Grilled Hamburgers
I think the best menu item at Cook Out has to be their Char-Grilled Hamburgers!
These burgers are made with fresh patties that are seasoned to perfection.
The patty is then cooked on a char grill, giving the burger a smoky, slightly charred flavor that is hard to resist.
But what makes Cook Out burgers stand out is how they're served.
They come in various styles, and each one is uniquely scrumptious.
The Cook Out Style includes homemade chili, slaw, mustard, and onion.
The Cheddar Style features bacon, cheddar cheese, grilled onions, and mayo.
The Out West Style uses BBQ sauce, bacon, mayo, pickles, and onions.
And if you love steaks, you can order the Steak Style with A1 sauce, grilled onions, lettuce, tomato, and mayo.
Whenever I visit Cook Out, I make sure to have room for one of their burgers and pair it with a milkshake (Hint: The milkshake is also on this list!)
Conclusion
Cook Out offers a wide selection of menu items that will satisfy every palate and not break the bank.
From their char-grilled hamburgers and chicken sandwiches to Carolina-style barbecue and milkshakes, there's something for everyone on the menu.
And if you feel like building your own combo, choose one of their trays and pile on!