25 Best Buffalo Wild Wings Sauces, Ranked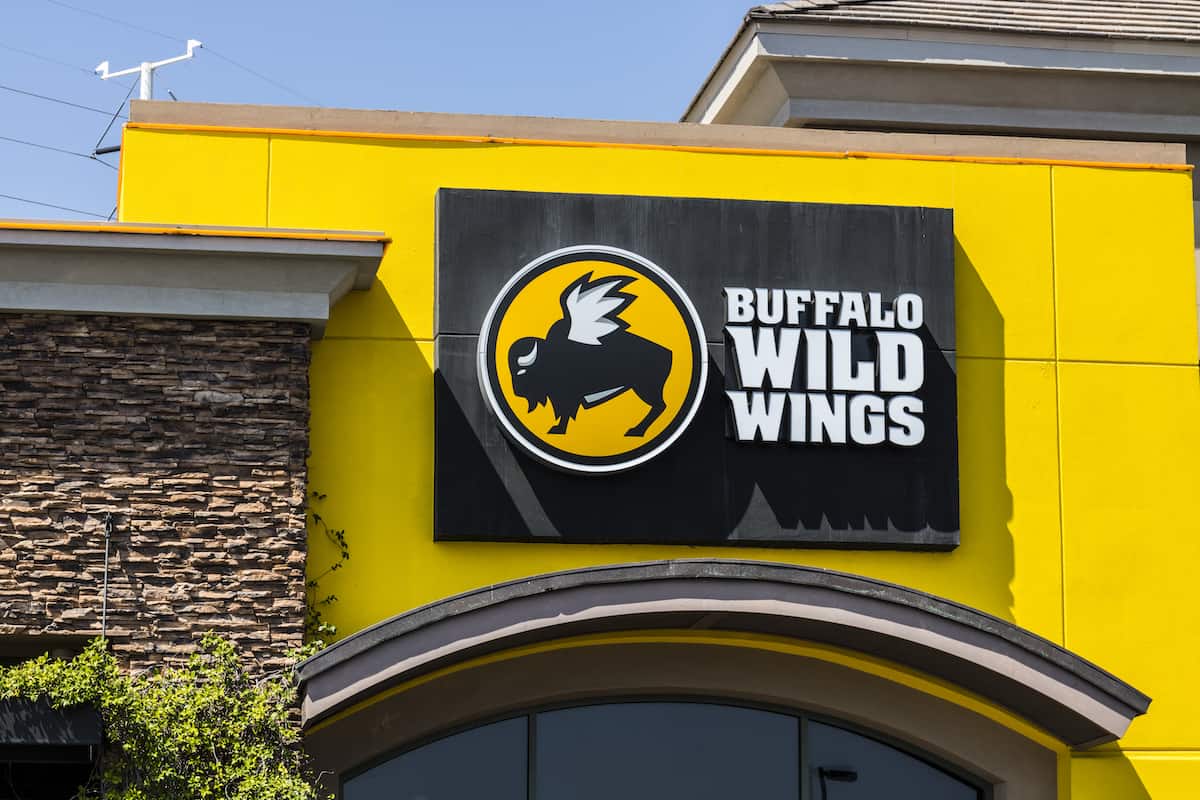 Buffalo Wild Wings is one of the best restaurant chains to have delicious wings, drink a cold beer, and watch a game. And with over two dozen of sauces and dry seasonings, Buffalo Wild Wings has wing flavors for everybody—whether you like it hot or mild.
You can enjoy traditional bone-in wings, boneless wings, chicken tenders, and even cauliflower wings at Buffalo Wild Wings.
Buffalo Wild Wings sauces and seasonings are available for each wing variation. In addition, all wings come with dipping sauces like bleu cheese and ranch.
Wings at B-Dubs have five different sizes: 6 pc, 10 pc, 15 pc, 20 pc, and 30 pc. To vary it up, you can also get multiple Buffalo Wild Wings flavors in larger sizes.
The flavor options at Buffalo Wild Wings can seem overwhelming, but that's where we come in!
In this article, we've rounded up the best Buffalo Wild Wings flavors and ranked them based on their taste and overall satisfaction.
Read on to find out our picks and how your favorite sauces and seasonings stack up!
25. Buffalo Seasoning
We're starting our list with one of Buffalo Wild Wing's dry seasonings: Buffalo.
Dry seasonings are dry rubs that coat the skin of the wing. They aren't saucy, but they still give nice flavors.
The buffalo seasoning is an interesting take on a dry rub. This isn't something you would normally find in sports bars or other popular restaurant chains, so we must give Buffalo Wild Wings some props!
It has the classic flavors of buffalo sauce, so if you want a taste of buffalo without the mess, this is the perfect option.
This dry seasoning is also available for purchase at stores.
The buffalo seasoning isn't higher on our list because it just isn't the same as their classic buffalo sauce.
And, while Buffalo Wild Wings ranks it as "medium," it doesn't really have a high spice level.
However, it only has 50 calories, making it a low-calorie option.
24. Teriyaki
Teriyaki is Buffalo Wild Wings' take on a favorite Asian flavor. This flavor doesn't have much spice and is marked as "mild" on their menu.
The teriyaki sauce isn't as flavorful as others. Yes, you can taste the soy sauce and the ginger, but other flavors are missing from this traditional Asian flavor. It is also a little salty.
We weren't as excited about this one as the other options, but if you want a flavor with less spice, it may be just for you.
Buffalo Wild Wings' teriyaki sauce has 100 calories.
23. Mild
The mild sauce can be seen on many wing menus, not just on Buffalo Wild Wings. But the BWW mild sauce doesn't have that much spice at all.
Sure, it does have a slight kick, but other than that, there are more tasty flavors on their menu with the same amount of spice.
However, while there isn't much flavor, the sauce is creamy, and B-Dubs makes sure that their wings are covered with it.
The mild sauce has 70 calories.
22. Honey BBQ
Honey BBQ is a classic wing flavor, so it isn't a surprise that it's on the Buffalo Wild Wings menu. However, Buffalo Wild Wing's honey BBQ flavor is sweeter than you'd expect.
The BBQ sauce isn't smoky and leans more toward the honey flavoring. If you are looking for a smoky BBQ flavor, then this isn't for you.
The honey BBQ sauce has 100 calories per serving.
This sauce is one of the many sauces Buffalo Wild Wings sells in stores.
21. Lemon Pepper
The Lemon Pepper sauce at Buffalo Wild Wings is one of their unique options. It's thick, creamy, and has both lemon and pepper seasoning.
We found this sauce to be too lemony for our taste buds. In fact, there was more lemon flavoring than pepper.
There isn't any spice to the lemon pepper sauce, and it's listed as "mild" on their menu.
This sauce, with 270 calories, has the most calories out of all the mild sauces.
20. Spicy Garlic
Next up, we have Buffalo Wild Wings' Spicy Garlic. This Buffalo Wild Wings flavor is categorized as a medium, but it's not as spicy as other medium flavors.
It's a creamy sauce that's more garlicky than anything. It's reminiscent of their mild sauce with a little more flavoring.
We don't recommend having this sauce when you're on a date, but we do recommend it when you are looking for a flavor with a mild level of spice.
The spicy garlic sauce has 70 calories.
19. Medium
A step above mild, we have the Buffalo Wild Wings medium sauce.
The medium isn't as spicy as the hot or the wild, but it has a great balance of heat and flavor.
It's a thick, dense sauce that covers the wings well.
The medium sauce is like a classic buffalo sauce and excellent for those who want a flavor that has a kick but will not make you sweat at the end of your meal.
The Buffalo Wild Wings medium sauce has 50 calories.
18. Chipotle BBQ Seasoning
Dry seasoning makes the wing crunchy and crisp, and the Chipotle BBQ is no different. It complements the crunchy wing, and the dry rub provides a mesquite, smoky flavor.
There's a great balance between BBQ and heat in this dry rub.
And even though it's a seasoning and not a sauce, it's easy to pick out the deep flavors of the roasted chipotle peppers and the sweetness of the BBQ.
The chipotle BBQ seasoning has 15 calories.
17. Caribbean Jerk
The Caribbean Jerk sauce is up next! We liked this one more than we expected.
This B-dubs flavor has some heat, but it has some surprising sweet flavors as well.
Caribbean jerk flavoring can be spicy, but Buffalo Wild Wings doesn't make it too hot.
Listed under their medium sauce options, the heat in this one is rather subtle.
The sweetness comes from the traditional Caribbean flavors, like ginger, cinnamon, and nutmeg—all of which manage to come through well in the sauce.
The Caribbean jerk sauce has 110 calories.
16. Asian Zing
Asian Zing is another BWW sauce listed under medium, but there isn't much spice to it. In fact, the Asian flavors overpower this sauce.
Now, that isn't a bad thing. We enjoyed the soy sauce and ginger flavor and its sticky texture. But we still wished there was a little more chile to give it that zing it needs.
This flavor isn't as salty as their teriyaki flavor. However, it is not light in calories.
The Asian zing flavor has 130 calories per serving, which means it has the most calories among all the medium flavors on the Buffalo Wild Wings menu.
15. Orange Chicken
Buffalo Wild Wing's Orange Chicken flavor is supposed to mirror a staple dish in Asian cuisine, and it doesn't disappoint.
It isn't spicy, but a hint of cayenne pepper helps give it a slight kick.
The classic flavors of orange chicken, however, are more prominent in this sauce—like soy and citrus.
This sauce is more of a sweet glaze, but it's still bold and unique.
The orange chicken sauce has 90 calories and is listed under the medium section of B-Dubs' sauce menu.
14. Original Buffalo
Original Buffalo is just as the name implies. In 2019, Buffalo Wild Wings recreated the buffalo sauce that put their chain on the map.
Their take on the classic buffalo sauce has all the traditional ingredients—like butter, garlic powder, and hot sauce.
However, the sauce also has a tanginess, which helps set it apart from other popular wing chains.
The sauce is slightly like their medium flavor but with a tad more spice.
You can find the original buffalo sauce under the hot category, and it has 170 calories per serving.
13. Desert Heat Seasoning
The Desert Heat seasoning has smoky, sweet, and chile flavors. It's quite tasty, but the only downside is you need a lot of seasoning to fully enjoy the wings.
Without much seasoning, the wings are plain. And depending on your taste buds, the seasoning is a little saltier than its other dry rubs.
It's pretty tasty, though, when the wings are covered with them!
It's labeled as wild, but the heat is manageable and goes well with a side of bleu cheese.
This seasoning only has 10 calories per serving.
12. Parmesan Garlic
Our next sauce is creamy, thick, and without a doubt is a fan-favorite: the Parmesan Garlic.
Sometimes, the strong flavors in this kind of sauce can over-dominate the other. But this sauce from Buffalo Wild Wings has a great balance between parmesan and garlic.
The parmesan garlic sauce is rich, and though the menu is listed under mild, there isn't much spice in it.
The flavor may seem healthy, but it's anything but. The parmesan garlic sauce has 190 calories per serving.
11. Blazin' Carolina Reaper
The Blazin' Carolina Reaper is the hottest sauce at Buffalo Wild Wings and will surely make you sweat.
Don't get us wrong; we LOVE the heat of this one. But this isn't for someone who is looking for a flavor that's mild or medium.
The sauce is packed with ghost pepper, meaning the spice level is high, and you must prepare your tastebuds beforehand.
The Blazin' Carolina Reaper sauce is 60 calories.
10. Lemon Pepper Seasoning
Buffalo Wild Wing's Lemon Pepper seasoning makes the wing crispy and crunchy.
We recommend getting this flavor with their bone-in wings and maybe even some extra on the side to drizzle over fries or onion rings.
You get a hint of spice from the black pepper, but that's about it.
Though there isn't much spice, that doesn't mean the wing isn't flavorful.
The lemon pepper isn't salty or too lemony like the lemon pepper. This flavor is also tasty with a side of ranch.
The lemon pepper seasoning doesn't nearly have as many calories as the sauce option, with only 5 calories per serving.
9. Sweet BBQ
The Sweet BBQ flavor is our favorite among the three staple BBQ flavors. However, this flavor has a different profile than the other two, and it isn't as tangy and smoky.
The sauce has a variety of flavors—like garlic, tomato, and other spices.
It achieves an outstanding balance of all flavors, making it a nice change from some of the sauces on the menu.
The sweet BBQ has fewer calories than the honey BBQ, with only 70 calories per serving.
It can be found in the mild section, but this one leans more toward the sweeter side.
8. Jammin' Jalapeño
Next up, we have a sauce that was once a limited edition on the menu. When the Jammin' Jalapeño sauce was taken off the menu, BWW fans weren't happy.
So, Buffalo Wild Wings eventually gave it a permanent spot on their menu in 2019. It has a huge fan following, and it's for a good reason.
The Jammin' Jalapeño has a variety of flavors that makes our palettes excited! There are notes of lime and tequila, and it's all well-balanced.
Labeled as one of their hot flavors, the Jammin' Jalapeño sauce has 130 calories.
7. Thai Curry
If you enjoy curries like us, you'll enjoy this flavor. One of the best Asian-inspired sauces from Buffalo Wild Wings is Thai Curry.
The Thai curry sauce isn't authentic curry by no means, but the flavors of what makes a traditional curry are there, giving the wings an interesting flare.
There is a considerable amount of heat in the sauce, but the coconut milk also gives it some sweetness and richness.
The Thai curry sauce is certainly thick, and the texture can seem grainy. However, this is one of the more unique options on their menu.
It has the most calories among all hot sauce options, with 220 calories per serving.
6. Wild
Next, we have the second hottest BWW sauce on the menu—the Wild sauce.
But don't let the name fool you. The wild sauce is not nearly as spicy as the Blazin' Carolina sauce.
This sauce won't blister your mouth or leave you with a painful experience.
It's not even listed under the wild sauce but listed under hot. There is also a smoky flavor in this sauce.
The wild sauce is an excellent option if you want to enjoy your wings with some extra heat.
The wild sauce has 70 calories per serving.
5. Salt and Vinegar Seasoning
Salt and vinegar pair perfectly, and if you enjoy salt and vinegar chips, this Buffalo Wild Wings seasoning is a must-have.
It's not necessarily a dry rub because of the vinegar, but the mixture of vinegar, salt, pepper, and garlic powder makes the wings bold and flavorful.
The vinegar is the hero here, and it also makes the wings tangy. It's not the traditional buffalo flavor B-Dubs is known for, but it's one-of-a-kind.
The salt and vinegar seasoning has only 5 calories per saving.
4. Hot
Some like it hot, and so do we, which is why Buffalo Wild Wings' Hot flavor is next on our list.
The hot sauce at BWW is one of the best out there and is a solid choice for all the types of wings they serve.
This sauce is packed with heat, but you can also pick out other flavors like vinegar, salt, and pepper.
It's not difficult to understand why Buffalo Wild Wing's hot sauce is a classic flavor among fans.
We also like its overall texture and just how versatile the sauce is. You can use it with their sides, chicken sandwiches, and even salads.
The BWW hot sauce has 70 calories.
3. Sauce Gardner' Sauce Sauce'
Buffalo Wild Wings teamed up with the rookie Ahmed "Sauce" Gardner to create a limited edition sauce dubbed the 'Sauce Sauce.'
This sauce was inspired by the Jets rookie's love for BBQ and hot sauce. The sauce's flavor profile is smoky, sweet, and a bit spicy.
We recommend trying this flavor while it's on the menu; it's likely to become a fan favorite soon!
If you can't decide whether you want buffalo or BBQ, this flavor was made just for you. There is a perfect balance between both strong flavors.
Though it may seem like this sauce is heavier on the calorie side, it's the exact opposite.
The 'Sauce Sauce' only has 70 calories per serving.
2. Mango Habanero
Looking for the best balance between hot and sweet? Then look no further than our runner-up Buffalo Wild Wings flavor—the Mango Habanero.
This is one of the best sauces on the Buffalo Wild Wings menu and the third spiciest.
But the heat in this sauce is pleasant and not unbearable. You'll feel the heat, for sure, but if you love spice just like us, you'll be able to handle it.
You can easily pick out the blended habanero peppers in the sauce and the tart flavors that make it sweet.
The sauce also goes well with either the bleu cheese or the ranch.
The mango habanero sauce has 110 calories per serving.
1. Nashville Hot
And finally, we have our top Buffalo Wild Wings sauce: the Nashville Hot.
Buffalo Wild Wings introduced the Nashville hot sauce for one of their sandwiches during the great fast-food chain sandwich battle in 2019.
While it was first intended for the chicken sandwich, B-Dubs made it one of their sauce options. And we can certainly see why!
This sauce lacks the vinegar flavor that most other Buffalo Wild Wings sauces have and leans more on the sweeter side.
We wouldn't necessarily say it's spicy either, but the flavor holds a lot of heat.
So, make sure to have a side of bleu cheese or ranch for a refreshing respite!
The Nashville hot sauce is also easy on the calories, with 60 calories per serving.
Conclusion
Buffalo Wild Wings has over two dozen flavors, including sauces, dry seasonings, and the plain option.
If you're unsure what sauce or seasoning to order, check back to our list of top flavors at Buffalo Wild Wings.
Also, if any of these sauces become one of your favorites, be sure to be on the lookout for them at your local grocery stores. Buffalo Wild Wings has a variety of sauces on store shelves, available for purchase in bottles.
For more information about Buffalo Wild Wings, check out the articles below.