The Best Bojangles Biscuits on the All Day Breakfast Menu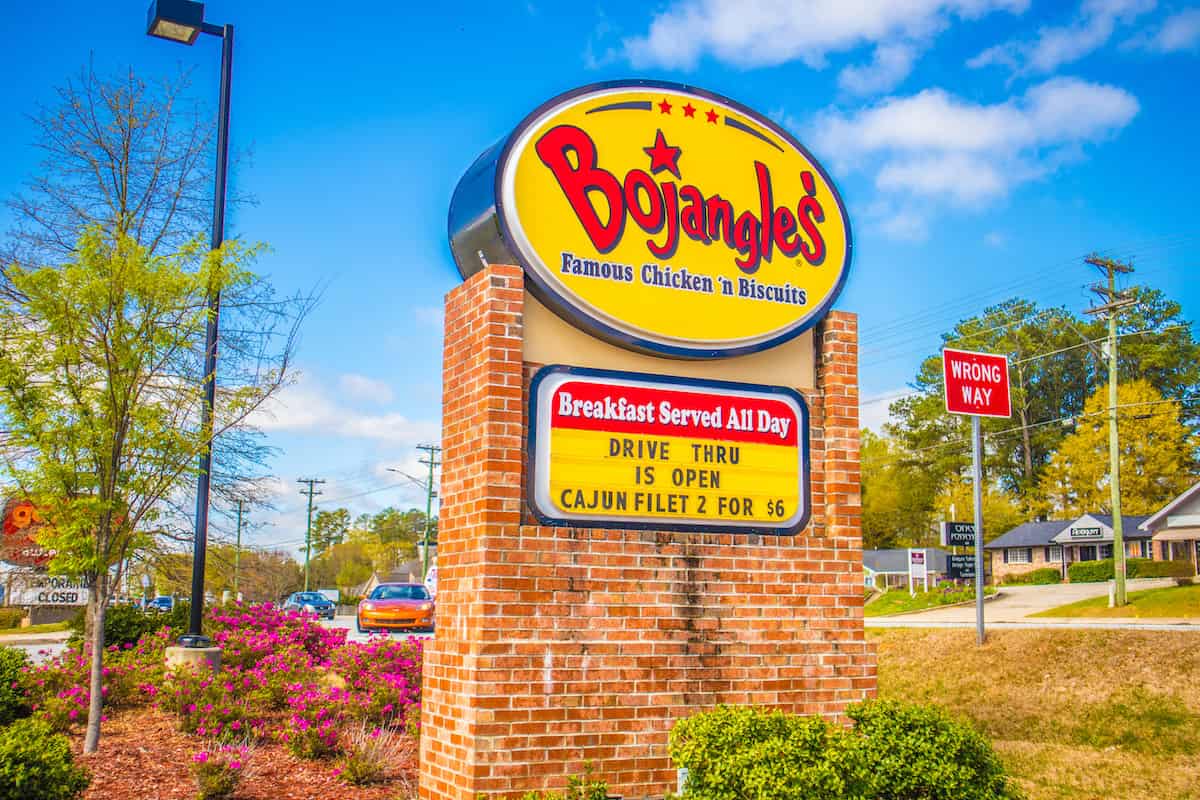 If you are looking for a hearty, delicious breakfast that won't break the bank, Bojangles' legendary all-day breakfast menu offers a variety of items sure to satisfy your cravings.
Unlike many fast food chains that limit their breakfast items to several hours in the morning, you'll be happy to know that Bojangles serves breakfast all day, from open to close.
So whether you want to have a breakfast biscuit at noon or late at night, you can get it toasted warm any time.
The Bojangles breakfast menu includes a variety of delicious biscuits with classic and unique flavors that are made fresh daily.
Let me introduce you to the 10 best Bojangles breakfast menu items to help you decide what to order next time you're craving a breakfast sandwich!
10. Southern Gravy Biscuit
If you are a Southern breakfast lover, you should try the Southern Gravy Biscuit.
This classic breakfast combination consists of a buttery buttermilk biscuit smothered in creamy sausage gravy.
The savory and mild spiciness from the gravy pairs perfectly with the flaky texture of the biscuit for an explosion of flavors.
This combo of salty and creamy is better than many other biscuits you have tasted!
As a bonus, this hearty Bojangles breakfast item will fill you up quickly, so you don't need to worry about getting hungry a few hours later.
It's the perfect breakfast for those days when you feel homesick.
Nutritional Information:
430 calories, 11g protein, 49g carbohydrates, 21g fat
9. Country Ham Biscuit
Sometimes, breakfast doesn't have to be too complicated.
The Country Ham Biscuit from Bojangles is a simple combination of two buttery buttermilk biscuits and smoked country ham in between.
The smokiness of the ham makes for an unbeatable flavor combination with the flaky biscuit.
But to tell you the truth, I always order a side of mashed potato and gravy to dunk my Country Ham Biscuit into.
It's the perfect way to take this classic breakfast item up a notch with some extra creaminess and salty goodness.
So if you are feeling daring, give it a try!
Nutritional Information:
380 calories, 14g protein, 38g carbohydrates, 20g fat
8. Sausage Biscuit
The Sausage Biscuit can be your best pal if you are a sausage fan.
Bojangles' signature Sausage Biscuit is made with two buttery buttermilk biscuits and their delicious sausage patty, which is made from coarsely-ground pork seasoned with spices and herbs.
The oil from the sausage soaking into the flaky biscuit creates an amazing texture.
And like the Country Ham Biscuit, I sometimes get a side order of mashed potato and gravy or mac and cheese to make it a complete meal.
Nutritional Information:
480 calories, 15g protein, 38g carbohydrates, 28g fat
7. Pimento Cheese Biscuit
The Pimento Cheese Biscuit is an iconic item on the Bojangles menu.
It's a classic Southern combination of two staples: a flaky, buttery buttermilk biscuit and creamy, tangy pimento cheese.
With the perfect blend of creamy and crunchy textures, it's no wonder this tasty menu item has become a hit among fans.
The flaky outer layer of the biscuit provides plenty of that toasty layer while still allowing for enough softness in texture.
Combined with its buttery flavor profile and rich yellow color, you can guarantee that each bite will be delicious.
Meanwhile, inside there's plenty more deliciousness waiting to be discovered.
The rich creaminess of the pimento cheese combined with just enough spice makes every bite irresistible!
Together these components make for an incredible duo that makes you want another.
Nutritional Information:
685 calories, 11g protein, 39g carbohydrates, 32g fat
6. Egg & Cheese Biscuit
The folded eggs and cheese duo always have a place in my heart.
The Egg & Cheese Biscuit is a sandwich containing one egg and a slice of American cheese nestled between two buttery, flaky biscuits.
The warm fluffy biscuits paired with gooey melted cheese and perfectly cooked eggs make for an unbeatable flavor experience.
The texture of this sandwich also plays a significant role in its popularity.
The crunchy exterior of the biscuit contrasts nicely with the creamy interior, creating a pleasant contrast in every bite.
Nutritional Information:
850 calories, 11g protein, 38g carbohydrates, 24g fat
5. Sausage & Egg Biscuit
If you love sausages but find the plain Sausage Biscuit lacking something, then the Sausage & Egg Biscuit is for you.
This hearty breakfast sandwich contains a buttery buttermilk biscuit filled with a sausage patty and a folded egg.
The combination of flavors from the ingredients melds together to create a tummy-warming sandwich.
When I have a moment to sit and eat, I usually order the Pimento Cheese Fries spread to go with it.
Dunking the biscuit in the spread before every bite creates a slightly spicy taste that pairs so well with the sausage.
Nutritional Information:
550 calories, 16g protein, 38g carbohydrates, 38g fat
4. Sausage Egg & Cheese Biscuit
The Sausage Egg & Cheese Biscuit is the ultimate biscuit for all sausage lovers.
Although I am not a big sausage fan because I always find the sausage too salty, I do love how the cheese and egg balance the saltiness of the sausage in this Bojangles breakfast sandwich.
The buttery buttermilk biscuit also helps absorb some of the oil from the sausage patty, creating a surprisingly light and fluffy texture.
Overall, I like all the flavors and textures you get in each bite of this biscuit.
Nutritional Information:
550 calories, 21g protein, 38g carbohydrates, 34g fat
3. Steak Biscuit
The Country-Fried Steak Biscuit is made with two fluffy buttermilk biscuits and a crispy fried steak patty.
The patty is made with steak marinated in spices and herbs, hand-breaded, and then deep-fried until it has the perfect crunchy golden brown coating.
The two biscuits are split open and filled with a steak patty for a delicious meal that can be enjoyed any time of day.
This savory breakfast sandwich goes great with any number of Bojangles side dishes.
Grab classic golden fries, or choose something more flavorful, like their Cajun pintos or mac & cheese.
And remember to add one of their famous sweet tea drinks to complete the meal.
There's nothing better than sipping sweet tea while enjoying some country-fried steak on a hot summer day.
Nutritional Information:
620 calories, 16g protein, 48g carbohydrates, 40g fat
2. Bacon, Egg & Cheese Biscuit
I love bacon and can tell you I can snack on bacon strips alone.
So it is logical that I would love the Bacon, Egg & Cheese Biscuit.
The ingredients used in this scrumptious sandwich are simple yet so flavorful.
The first layer consists of a homemade buttermilk biscuit with real butter and fresh baking powder for maximum fluffiness and crunchiness.
Then there are two slices of hickory smoked bacon, providing an added salty flavor and crunchy texture to contrast with the softness of the egg patty and melted cheddar cheese.
Finally, the freshly scrambled egg patty adds flavor and creaminess to this breakfast sandwich.
Nutritional Information:
510 calories, 28g protein, 40g carbohydrates, 27g fat
1. Cajun Chicken Filet Biscuit
The Cajun Chicken Filet Biscuit from Bojangles is a unique twist on the classic chicken sandwich and one of the best fast food breakfast sandwiches out there.
It features a juicy marinated chicken filet that has been hand-breaded in a mix of spices, including cayenne pepper and paprika.
The filet sits atop a freshly baked buttermilk biscuit, adding an extra layer of fluffiness and flavor.
Although the appearance may come off a bit plain, once you bite into the biscuit, you experience an explosion of flavors and textures.
The crunchy chicken filet and soft biscuit make for a delightful breakfast.
I suggest getting a side of cole slaw or mashed potato and gravy if you want a complete meal.
Nutritional Information:
570 calories, 23g protein, 57g carbohydrates, 27g fat
Conclusion
The all-day breakfast menu at Bojangles offers a wide selection of tasty and satisfying biscuit sandwiches.
Whether you are looking for a savory breakfast sandwich like the Sausage & Egg Biscuit or something spicy like the Cajun Chicken Filet Biscuit, there is a sandwich for every appetite on the Bojangles breakfast menu.
The biscuits from Bojangles are made fresh daily from the highest quality ingredients, and all the breakfast sandwiches have a unique combination of flavors and textures.
Plus, they will fill you up without weighing you down.
All in all, Bojangles' breakfast biscuits are definitely worth the try.
For more information about Bojangles, check out the articles below.