Here's Where Costco Chicken Comes From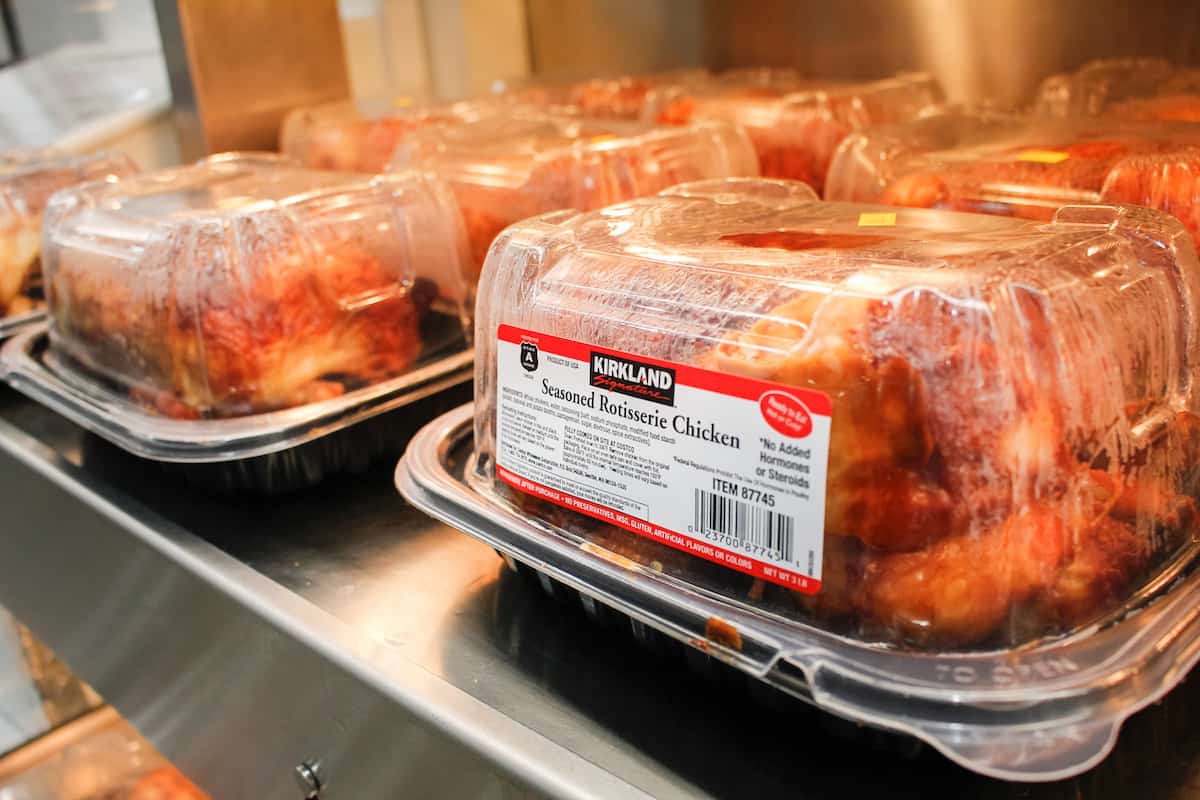 Costco's rotisserie chicken is beloved for its crispy skin, juicy meat, tasty flavor, and incredibly affordable price. The legendary Costco chicken makes a great meal on its own, and the leftovers can be incorporated into lunches and dinners for days.
You may have wondered how Costco has managed to keep the quality of its rotisserie chicken so high while keeping the price low.
Key Takeaways
Costco gets its fresh and rotisserie chickens, including the organic Kirkland Signature chicken, from its own chicken farm in Fremont, Nebraska.
The chicken farm allows Costco to oversee the entire production process and lower costs.
Costco's rotisserie chicken price has been $4.99 since its debut in 2009 and will likely always cost $4.99.
Keep reading to learn more about Costco's chicken, including the details about its chicken farm.
Where Does Costco Get Its Chicken?
Costco gets its fresh and rotisserie chickens from its own chicken farm in Fremont, Nebraska.
In 2019, Costco built its own vertically-integrated chicken plant in Fremont, Nebraska.
The chicken plant allows Costco to control every aspect of the production process, overseeing everything from the grains the chickens eat to the transportation of the chickens to warehouses across the country.
Costco built the chicken plant to keep its chicken prices low.
Famously, Costco rotisserie chickens cost only $4.99 and have stayed at this price since their debut in 2009.
Even during the avian flu of 2015, when production costs soared, Costco rotisserie chickens remained $4.99 apiece.
In recent years, other retailers have begun to increase their chicken prices to $5.99 and even higher.
This is because most retailers source their chickens from outside suppliers, which often means that they incur high production costs.
Building the chicken plant was meant to cut the middlemen and decrease Costco's costs by eliminating the need to work with outside suppliers.
It was a bald move, mainly since the chicken industry is dominated by only a handful of major suppliers, but it seems to be paying off so far.
Costco's rotisserie chickens continue to cost only $4.99.
Where Does Costco Organic Chicken Come From?
Costco's organic chicken, including the store brand Kirkland Signature organic chicken, is also sourced from its farm in Fremont, Nebraska.
Costco's chicken farm in Fremont, Nebraska, has implemented several measures to uphold animal welfare, sustainability, and organic food standards.
Costco participates in an Animal Welfare Audit Program, where its farms and processing plants are evaluated to ensure that they uphold standards for animal welfare and organic certification.
Costco's chicken farm incorporates a 5-stage Controlled Atmosphere Stunning system, tunnel ventilation to improve air quality, limited stocking density to ensure the chickens have adequate space, and shelter areas to protect the chickens from the weather.
Costco also incorporates the Five Freedoms of Animal Well-Being into its animal welfare policies, which are:
Freedom from fear
Freedom from discomfort
Freedom from thirst and hunger
Freedom to exhibit natural behavior
Freedom from pain and suffering
For a chicken to be certified USDA Organic, it must have been fed a vegetarian diet without genetically modified ingredients, toxic pesticides, or growth hormones.
It also cannot be fed antibiotics unless medically necessary and must have had access to the outdoors.
Costco's Chicken Farm
Costco's chicken farm in Fremont, Nebraska, is one of the first attempts by any major retailer to vertically integrate their own chicken production.
This massive complex sits on a 430-acre tract of land, spans 400,000 square feet, employs over 1,000 people, and cost $450 million to build.
Every aspect of the poultry production process is covered at this plant, including feed mills, hatcheries, processing plants, and testing laboratories.
Many of the employees at the chicken farm are local chicken farmers.
In addition, the corn and soybeans used to feed the chickens are also sourced from local grain farmers.
Costco's goals for the chicken complex were:
To incorporate state-of-the-art equipment and building design
To provide significant economic benefits to the local community and farmers
To treat chickens in accordance with the highest animal welfare standards
To be environmentally responsible
To provide Costco members with the highest quality product at the lowest possible price
For years, Costco has been famous for its delicious, affordable rotisserie chickens, costing only $4.99.
Before building the Fremont chicken farm, Costco worked with outside suppliers to get their chickens.
However, one of the major problems that arose when working with outside suppliers was that Costco's rotisserie chickens needed to be six pounds.
Any larger, and the chickens won't fit on the rotisserie spits in Costco's warehouses!
The cost of getting perfectly-sized chickens from outside suppliers posed a problem for Costco.
However, they refused to offset these increased production costs by raising the price of their rotisserie chickens.
Costco's chicken farm is one of the first and largest attempts by a retailer to take charge of its own chicken production.
At full capacity, it should be able to process 100 million chickens per year.
That might sound like a ludicrously large number of chickens, but the demand for Costco chickens is there.
In 2018, Costco sold a whopping 91 million rotisserie chickens.
Costco Rotisserie Chickens Are Injected
Costco rotisserie chickens' delicious flavor is partially attributable to a saline solution injected into the birds during the cooking process.
If you've ever eaten a Costco rotisserie chicken, you'll know it tastes quite salty, even more so than other rotisserie chickens that you might buy from the grocery store.
This saltiness comes from the saline solution, which gets injected into each chicken during the roasting process.
Although the saline solution is responsible for the chicken's juiciness and savory flavor, it also means that a single serving of Costco rotisserie chicken contains one-fifth of an adult's daily recommended sodium intake.
One serving of Costco rotisserie chicken is 3 ounces and contains 460 milligrams of sodium.
According to the FDA, adults should only consume about 2,300 milligrams of sodium per day.
Costco Rotisserie Chickens Will Always Cost $4.99
Costco's rotisserie chickens have always cost $4.99 and likely will always cost $4.99.
Similar to the $1.50 hot dog, the $4.99 rotisserie chicken has been a Costco mainstay for as long as people can remember.
Costco rotisserie chickens' generous size and affordable price have made them a fan favorite for years.
In the past, Costco has lost $30 to $40 million a year in gross margin by keeping its rotisserie chicken priced at $4.99 instead of raising it by a dollar or more.
This loss of revenue was one of the factors that inspired Costco to vertically integrate chicken production and build the Fremont, Nebraska plant in the first place.
Costco's leadership firmly maintains that they will continue to keep the price of the rotisserie chicken low, as it is one of the main pillars of Costco's business philosophy.
The theory is that the consistently low price of rotisserie chickens increases foot traffic into Costco warehouses.
Customers stop in to buy a chicken for a family dinner or help them meal prep for the week ahead.
While they're buying the rotisserie chicken, customers may be tempted to try a few free samples, browse the aisles, and leave the store, having bought more than just the one roasted chicken they came in for.
If you're a Costco rotisserie chicken fan, you can rest assured that the low price and delicious quality you love are here to stay!
Conclusion
Rotisserie chicken is one of the items that Costco is famous for. The company sells close to 100 million rotisserie chickens per year, as customers flock to the warehouses to enjoy the well-seasoned and generously sized chicken that only costs $4.99.
To keep its prices low, Costco has built its own vertically-integrated chicken plant in Fremont, Nebraska, which allows them to oversee the entire production process from start to finish.
Building this plant helps Costco continue to sell delicious rotisserie chickens for only $4.99 well into the future.
For more information about Costco, check out the articles below.
Related Articles: