What Is the Best Time to Go Grocery Shopping? (At Your Local Store)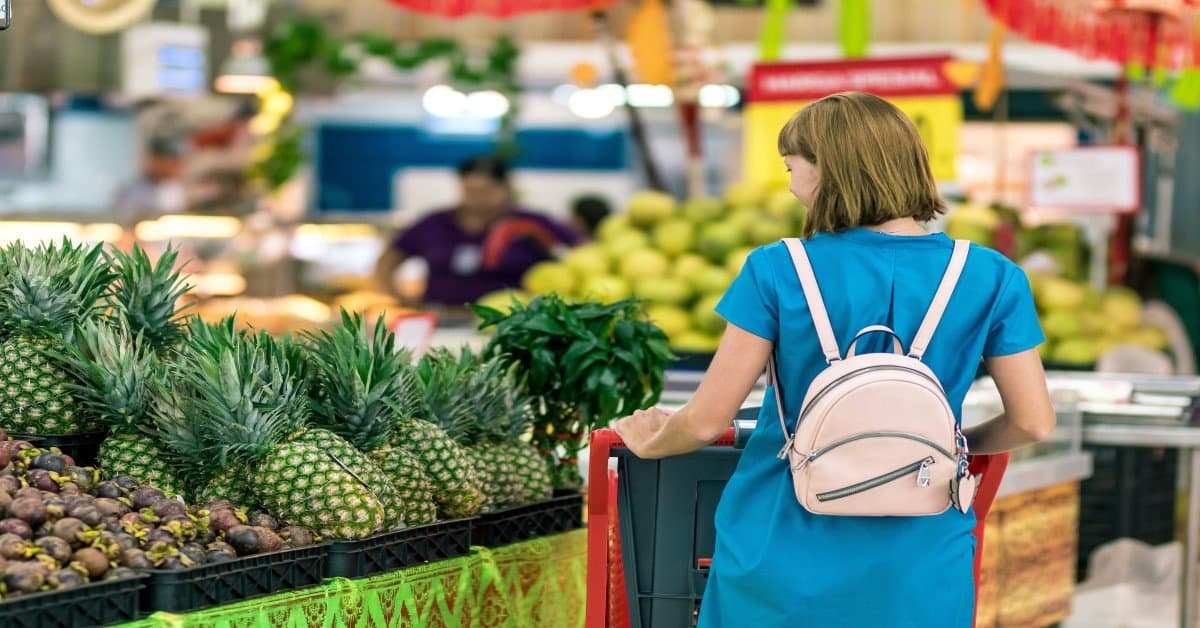 Going grocery shopping during busy store hours can be a very unpleasant experience. In addition to jam-packed aisles with shopping carts and long checkout lines, there's also a safety concern.
In this article, I'll share with you the best time to go grocery shopping and how to avoid busy hours at grocery stores.
I think we can all agree that the best time to go grocery shopping is when the stores are the least crowded.
You can find out the least crowded times at stores using Google Maps – yes, Google to the rescue once again!
Google Maps estimates busy hours at stores based on live data and historical visits to stores' locations.
Keep on reading to find out step-by-step instructions on using Google Maps to avoid busy hours at grocery stores.
I'll also include additional tips to find the best time to go grocery shopping at your local store.
How to Use Google Maps to Avoid Busy Store Hours
Google Maps collects data from people who enabled the "Google Location" service on their mobile phones.
Using this data, Google Maps can estimate how busy the store is right now. It also calculates historical data and shows you an average of the most and least crowded times at stores.
Using this information, you can find out the least crowded times at local stores any day of the week. It takes away the element of surprise and gives you valuable information before you head to the store.
You can follow the instructions below to find out the least crowded times at local grocery stores:
Open the Google Maps app on your mobile or go to google.com/maps on your desktop
2. Type the grocery store name in the search box (or click "Groceries" to see all stores in your area)
3. Click or tap the store location to see more information
4. Scroll down to see the "Popular times" chart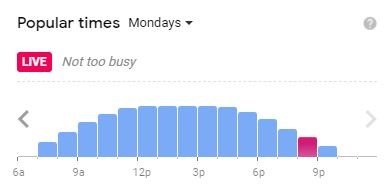 5. You can see the "Live" data that estimates how busy the store is right now
6. Click or tap next to "Popular times" to find out how busy the store gets any day of the week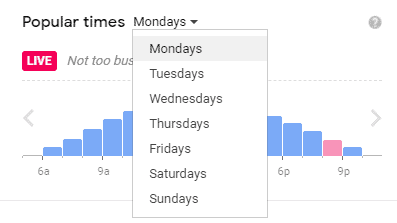 There are many studies on consumer behavior and in-store traffic patterns at grocery stores. But these studies only give average data across the sample size, and the actual situation may be different at your location.
If you live in a town with a big retirement community or a college campus, the busy hours at stores may differ from the average in your area.
There's no one size fits all approach, and that's why I suggest using Google Maps to find out more relevant data at your location.
One thing these studies agree on is avoiding grocery shopping on the weekends.
Most people go grocery shopping on weekends or after work between 6 pm- 8 pm on weekdays. These are the times you should avoid going grocery shopping to have peace of mind.
Next, I'll share some additional tips to get the best deals, freshest produce, and the highest quality products when you go grocery shopping.
Grocery Shopping Hacks
We know how to use Google Maps to beat the crowds at grocery stores, but here are some additional tips to maximize your overall grocery shopping experience.
Typically, you will have multiple days and times when your store is the least crowded during the week.
To pick the best time among these options, you need to consider other factors, such as weekly deals and fresh produce delivery dates.
1. How to Get the Best Quality Products
Most grocery stores restock their shelves late at night or early morning. To get the best quality products, especially meat, dairy, and seafood, you should go to the store early to get the first pick on perishable items.
If you go later in the day, you may find products that were touched and left behind as less desirable options. Go early and get the first pick on perishables with the longest expiration date.
2. How to Get the Best Deals
Find out when your local grocery store releases new ads and specials for the week. Go to the store on that day to grab the latest sale items and specials before they run out.
If the store runs out of stock on an item that's on sale, talk to customer service to get a raincheck to ensure you get the sale price when it's back on the shelf.
According to Google Maps, the least crowded times at my grocery store are Tuesday and Wednesday mornings. I choose to go Wednesday mornings because they release new ads and specials on Wednesdays.
3. How to Get the Freshest Produce
Talk to your store manager and find out when they receive produce delivery. Each store has a different schedule, but if you want to get the freshest produce, go to the store on the day of delivery.
It's best if you buy fruits and vegetables that are in season. You have a higher chance of picking the freshest products if you shop with seasons.
Use your hands to inspect products rather than staring and picking fruits and vegetables with tight skin and vibrant colors.
4. How to Beat the Holiday Crowd
Most people know grocery stores will be jam-packed the day before the holidays. They end up going two days before, and it gets as crowded. Do your grocery shopping three or four days before the holidays to beat the crowd.
Make a meal plan for the whole week and create a shopping list accordingly. Also, plan how to store perishables for a few days until you cook them.
By making a shopping list, you won't forget any items and avoid multiple trips to the store.
The shopping list helps to reduce impulse buys and overspending on groceries. Organize your grocery list by aisle so you can quickly find items and check them off from your list.
The shopping list also helps to minimize the time spent at the store, especially during the holidays.
Holiday grocery shopping can be stressful, but planning ahead of time with meal prep is the key to success!
Conclusion
The best time to go grocery shopping is when the stores are least crowded, and you can shop with peace of mind.
Most people say Wednesday morning is the best time to go grocery shopping, but this may not be true at your location because each store has different foot traffic.
Google Maps will help you to find the least crowded times at stores with relevant data to support.
I also shared with you some additional hacks to get the most out of your grocery store trips. Follow them to get the most quality products each time.
And don't forget to talk to your store manager to find out insights on weekly deals, produce delivery dates, and shelf restocking schedules.
Online grocery shopping for home delivery or curbside pickup is also a great option if you want to avoid going to the stores completely.
Most grocery stores deliver groceries to your home through partnerships with companies like Shipt or Instacart.
To learn more grocery shopping hacks, check out the articles below:
Related Articles:
What Grocery Stores Have Curbside Pickup? (And How It Works)
16 Grocery Stores With Home Delivery (And How Much It Costs)
When Does Target Restock? (Everything You Need to Know)
When Does Kroger Restock? (A Guide to Kroger Grocery Shopping)
Shipt vs. Instacart: Which Is Better? (Cost and Service Comparison)