The Best Things to Order on the Taco John's Menu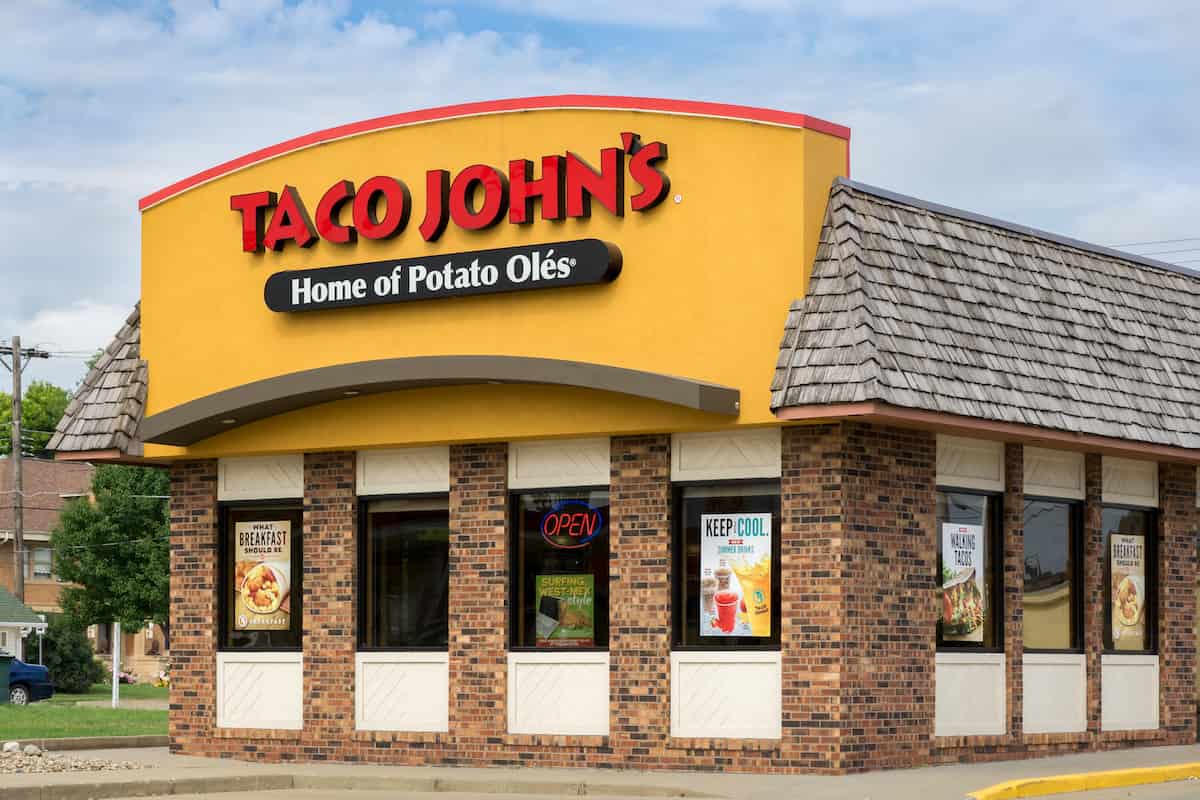 Taco John's is a must-visit destination if you love Mexican fast food. As one of the best Mexican chain restaurants, they have been serving delicious and affordable menu items since 1969.
Whether you're craving burritos, tacos, nachos, or quesadillas, Taco John's menu has got you covered.
Most Taco John's locations also serve breakfast from 7 am to 10:30 am, where you can indulge in delicious breakfast burritos, potato oles, and Mexican donut bites.
And let's not forget about their value menu, which allows you to try a variety of items without breaking the bank.
To help you decide what to order on your next visit, I compiled a list of the 20 best items on the Taco John's menu, ranked from good to must-try!
20. Super Burrito
The Super Burrito is a classic menu item at Taco John's, and for good reason.
It is packed with a generous portion of beef, refried beans, cheese, lettuce, tomatoes, onions, sour cream, and Taco John's signature mild sauce.
The meat is perfectly seasoned and adds a rich flavor, while the refried beans add a smooth texture and a slightly smoky taste.
And let's not forget about the mild sauce that adds just the right amount of spiciness and creaminess to the entire burrito.
All of these ingredients combine to create a flavor combination that will leave you wanting more.
19. Softshell Taco
I don't like when the crispy taco shell crumbles into a million pieces in my hands.
If you're like me, you should try Softshell Tacos on the Taco John's menu.
These are soft, pliable, and so easy to hold in your hands.
They are served with beef or chicken, fresh lettuce, cheddar cheese, and Taco John's mild sauce.
It's a great little snack or a lunch option.
18. Chicken Grilled Burrito
When you have the crispy Potato Oles in the mix, you don't need any more fried food!
That's why the Chicken Grilled Burrito is such an excellent choice.
The grilled all-white meat chicken, creamy ranch, a melty four cheese blend, and the irresistible potato oles come together in a warm flour tortilla.
With a little bit of everything piled into this burrito, you'll surely love it.
I recommend getting some guacamole on the side for extra flavor.
17. Meat & Potato Burrito
Taco John's Meat & Potato Burrito is a must-try for anyone who loves a filling meal.
This burrito perfectly combines two classic favorites – beef and Potato Oles.
You can also order crunchy chicken as an upgrade option.
It is stuffed with warm nacho cheese, sour cream, lettuce, and tomatoes.
The combination of beef or crunchy chicken with the crispy potato nuggets creates a texture explosion.
The nacho cheese and sour cream add a tangy and creamy flavor that complements the overall taste of the burrito.
16. Street Tacos Trio
As the name suggests, the Street Tacos Trio includes three tacos, each bursting with flavor that will make your taste buds dance with joy.
You can choose between sirloin steak or grilled chicken, both loaded with garlic lime sauce and crumbled Mexican cheese.
The sirloin steak is marinated with a blend of seasonings, giving it a melt-in-your-mouth tenderness that is simply irresistible.
The grilled chicken is equally delectable, seasoned with spices that complement the creamy garlic lime sauce.
And let's remember that crumbled Mexican cheese, which adds just the right amount of salty goodness to the dish.
If you're craving some spice in your tacos, request hot sauce packets to top it off.
15. Taco Bravo
The Taco Bravo is one of the best fast-food tacos out there!
It is a soft flour tortilla filled with beef, refried beans, lettuce, tomatoes, cheddar cheese, and Taco John's signature sauce.
The refried beans and shredded cheese create an extra-creamy texture, while the taco sauce adds a bit of heat and zest that rounds out the flavor profile.
As a spicy food lover, I always order mine with jalapenos for an additional kick!
14. Scrambler Burrito
Eggs are a versatile ingredient that can be used in various dishes, but when it comes to breakfast burritos, they are the star of the show.
The Scrambler Burrito is a perfect breakfast item on the Taco John's menu, and for good reason.
It is filled with eggs, nacho cheese, crispy Potato Oles, poblano peppers, onions, tomatoes, and your choice of bacon or sausage.
But what sets this burrito apart from the crowd is how all these enjoyable flavors come together.
The eggs are light and fluffy, the cheese is gooey, the potatoes and peppers add a satisfying crunch, and the whole thing is wrapped in a warm tortilla.
From the first bite, it will put a smile on your face for the rest of the day.
13. Spicy Steak & Potato Griller
There's nothing better than steak and potatoes, and when you smash that with some spice, you've got the Spicy Steak & Potato Griller.
This Taco John's value menu item includes hand-cut sirloin steak, Potato Oles, warm nacho cheese, zesty chipotle lime sauce, and a hint of their super hot sauce.
All these ingredients are wrapped in a warm flour tortilla and grilled to perfection.
You can also order it with grilled chicken, but believe me, the steak option is worth trying!
12. Meat & Potato Breakfast Burrito
I've already covered the Meat & Potato Burrito on the list, but what if you wanted it earlier in the day?
Well, the answer is simple – the Meat & Potato Breakfast Burrito!
This Taco John's breakfast menu item includes a warm flour tortilla stuffed with fluffy scrambled eggs, nacho cheese, and Potato Oles, paired with your choice of sausage or crispy bacon bits.
The fluffy scrambled eggs pair nicely with bacon or sausage, and the nacho cheese adds a hint of saltiness that perfectly balances the flavors.
But what steals the show in this breakfast burrito is Potato Oles.
Its crispiness adds texture to every bite, making it one of the best breakfast items on the Taco John's menu.
11. Nacho Crunch Beef Burrito
The Nacho Crunch Beef Burrito is a fusion of two classic Mexican dishes, part nachos, and part burrito.
It includes seasoned beef, crunchy chips, creamy nacho cheese, and mild sauce inside a warm tortilla.
The crispy nacho chips add a crunch that complements the savory beef perfectly.
The creamy nacho cheese adds richness to the overall flavor, while the sauce adds a slight kick, but not too much for those who prefer a milder taste.
This is another Taco John's value menu item worth trying, especially if you're craving some late-night munchies.
10. Taco Salad
The Taco Salad is perfect for those who want a taco but prefer a relatively healthier option.
This dish features a tortilla bowl filled with beef, crisp lettuce, cheddar cheese, salsa, tomatoes, and sour cream.
Grilled or crunchy chicken options are also available as an alternative.
The lettuce provides a refreshing crunch, while the cheese and sour cream add a creamy richness that pairs perfectly with the beef and salsa.
The tortilla bowl is the icing on the cake, adding an extra crunch that is hard to resist.
I recommend ordering the Potato Oles if you want the perfect side dish to pair with this salad.
9. Mexican Donut Bites
Imagine soft mini donuts coated in a layer of cinnamon sugar for that cozy and comforting flavor we all know and love (We're looking at you, Mexican Donut Bites!)
To add the perfect finishing touch, the bites are drizzled with cream cheese icing that takes everything to the next level.
Aside from the fact that they're a mini party in your mouth, the flavors and textures complement each other in the best way possible.
The cinnamon sugar coating adds a bit of crunchiness and sweet aroma to every bite, followed by the soft and fluffy donut dough that melts in your mouth.
And last but not least, the cream cheese icing is the ultimate cherry on top, providing a rich and creamy contrast to the sweetness of the bites.
It's like a warm hug in a dessert – who doesn't love that?
8. Mini Fried Chicken Taco
Sometimes, you may feel hungry but don't want to eat anything that feels like lead in your stomach afterward – that's where the Mini Fried Chicken Taco comes in.
This taco features a soft, warm tortilla filled with a crispy, all-white meat chicken tender, crumbled queso fresco, spicy jalapeño ranch, and pico de gallo.
It has all the crunch, texture, and explosion of flavors to satiate your cravings without making you bloated.
It is an excellent option to order on the Taco John's menu as an appetizer.
7. Four Cheese Quesadilla
Cheese lovers should not sleep on Taco John's Four Cheese Quesadilla!
This menu item is filled with melty asadero, queso blanco, monterey jack, and cheddar cheeses, making it a true cheese lover's dream.
But that's not all.
You can also add hand-cut sirloin steak or grilled chicken for a protein-packed punch.
And to top it all off, it's drizzled with a zesty chipotle lime sauce that adds just the right amount of kick to every bite.
The flavors meld together wonderfully, creating a taste you'll crave long after the last bite.
The chipotle lime sauce is also worth mentioning, as it adds more flavor to the already delish meal.
6. Super Potato Oles
If you have never tried Taco John's Super Potato Oles, you are definitely missing out on a flavor explosion!
Imagine the goodness of crispy potato rounds, savory beef, refried beans, ooey-gooey cheese, tomatoes, creamy guacamole, and sour cream.
This dish is loaded with flavor and texture.
Plus, it's just fun to eat! Mix and match the toppings, dip the potato rounds in the sauces, and enjoy every bite to the fullest.
5. Churro
First off, what exactly is a churro? For those who haven't yet had the pleasure, the churro is a fried pastry popular throughout Latin America.
The main ingredients are simple: flour, water, sugar, and vegetable oil for frying.
After they are fried to perfection, churros get a generous dusting of cinnamon sugar that takes them from tasty to absolutely divine.
At Taco John's, their version is a long, skinny rod of dough that has been deep-fried until golden brown and crispy.
The crispy texture provides the perfect contrast to the soft and chewy inside.
And, of course, the cinnamon-sugar coating adds just the right amount of sweetness, making churro the best dessert at Taco John's.
4. Fried Chicken Tacos
If you're a fried chicken fan, you need to try Taco John's Fried Chicken Tacos at least once!
These tacos are made with crispy, white-meat chicken tenders wrapped in a soft flour tortilla.
They are topped with your choice of zesty chipotle lime or spicy jalapeño ranch, shredded lettuce, and cheddar cheese.
What sets these tacos apart is their delightful flavor and the texture of the chicken.
And the sauce! I can never make up my mind and always get one of each.
If you are more of a creamy texture person, go with the ranch.
But chipotle lime is the way to go if you like that smokey flavor.
3. Spicy Chorizo Breakfast Burrito
Taco John's Spicy Chorizo Breakfast Burrito is a lifesaver for anyone in a rush in the morning but wants a full breakfast.
It packs all the flavor and heat you need to wake up and start your day on the right foot.
The burrito includes fluffy scrambled eggs, chorizo sausage, jalapeños, and spicy salsa.
When combined, these ingredients create a burst of flavors that will make your taste buds dance with joy.
The chorizo has a distinct smoky and spicy flavor that pairs perfectly with eggs.
When you add in the heat from the jalapeños and tanginess from the salsa, you have a combination of flavors that can't be beaten.
And the best part? The size of the burrito is generous enough to keep you satisfied all morning long, making it the best Taco John's breakfast item.
2. Stuffed Grilled Taco
Are you ready for a taco innovation?
With the Stuffed Grilled Taco, Taco John's fills a crispy taco shell with your favorite ingredients, then wraps and grills it in a flour tortilla – it's genius!
The crispy taco shell contains seasoned beef, a three-cheese blend, nacho cheese, crunchy tortilla chips, hot sauce, and sour cream.
The combination of textures and flavors in this taco is unmatched.
The crispy shell gives a satisfying crunch, while the warm filling of cheese, beef, and toppings provides a comforting and hearty bite.
Lastly, the grilled flour tortilla wraps everything perfectly like a warm blanket.
This one is definitely the best taco on the Taco John's menu!
1. The Boss Burrito
If you're looking for the best burrito at Taco John's, you should try the Boss Burrito.
It is a generously sized burrito and a signature menu item at Taco John's.
It contains over a pound of fresh cilantro-lime rice, black beans, and your choice of steak or grilled chicken.
The cilantro-lime rice is cooked perfectly, providing a zesty and aromatic flavor.
The black beans are rich in protein and fiber, and the grilled chicken or steak is full of juicy goodness.
Add some salsa and guacamole to your burrito, and you have a delicious meal that will keep you full all day!
Conclusion
Taco John's menu offers a variety of Mexican-inspired dishes that are sure to please any palate.
From taco salad to hearty options like the Boss Burrito and Stuffed Grilled Taco, the menu has something for everyone.
If you're looking to pair a side with your meal, try the Potato Oles or the Churro for an extra sweet treat.