The Best Things to Get at Slim Chickens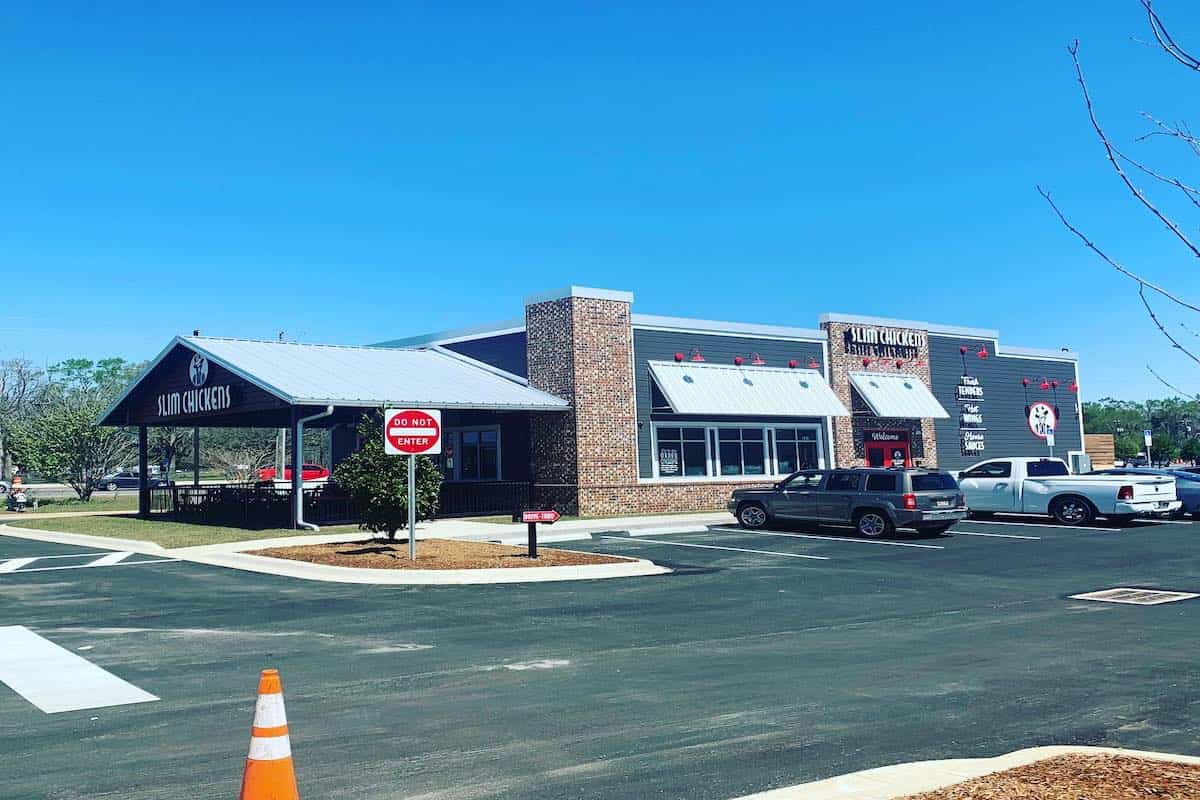 If you are craving some deliciously crispy and juicy chicken, you should check out Slim Chickens.
This fast-food chain was founded in 2003 in Fayetteville, AR, and has spread its wings (pun intended) across the United States and beyond.
From their signature hand-breaded chicken tenders to mouthwatering wings and sandwiches, the Slim Chickens menu has something for every chicken lover.
They also offer a variety of housemade sauces to dip in your chicken tenders and wings.
Additionally, Slim Chickens' menu includes some awesome side dishes, hand-spun milkshake flavors, and desserts to add to your meal.
But that's enough talk – let's get down to the good stuff.
If you're wondering about the best things to order at Slim Chickens, I compiled a list of their 17 best menu items you should try!
17. Cayenne Ranch Sandwich Meal
For those who like a bit of kick with their meal, the Cayenne Ranch Sandwich Meal offers a delightful combination of heat and savory goodness.
A juicy, hand-breaded chicken breast is topped with crispy fried onions, pickles, and lettuce and finished with a spicy cayenne ranch dressing.
This flavor medley is served on a toasted brioche bun, a yummy side, and a drink.
The sandwich offers an exciting play of textures and flavors, from the spicy, creamy dressing to the crispy onion strings and the tangy pickles.
16. 8 Wing Meal
If wings are your thing, Slim Chickens offers an 8 Wing Meal to satisfy your craving.
With this combo, you get eight of their delicious wings, your choice of a side, two dipping sauces, and a medium drink.
The wings come with two dipping sauce choices, so you can pick whatever you want.
I love ordering fried okra or fried mushrooms, as they're rare to find at fast-food restaurants, and they give me the perfect opportunity to get my daily veggies in!
15. Hungry Meal
The Hungry Meal is Slim Chickens' answer for a satisfying, wholesome meal in a hurry.
The meal includes seven hand-breaded chicken tenders, a side, Texas toast, and a refreshing drink.
Additionally, you get to pick two Slim Chickens sauces to customize your meal to your liking.
The chicken tenders are juicy and flavorful, and when paired with crispy Slims fries, it creates a satisfying combo.
The Texas toast adds a nice buttery contrast, making the Hungry Meal a balanced and fulfilling experience.
I highly recommend trying the fried mushroom if you want something other than fries.
The contrast between the crispy outer layer and the soft, meaty texture of the mushroom is a wild ride for your taste buds!
14. Slim's Salad
Slim's Salad takes their signature fried chicken tenders and spins them in a refreshing veggie medley.
It comes with garden-fresh greens with tomatoes, cucumber slices, fried onions, shredded carrots, and crouton.
If you are looking for a healthier alternative, ask for grilled chicken instead.
Although the salad comes with their homemade ranch dressing, feel free to use their dipping sauces as a salad dressing.
I love using Korean BBQ or the Sweet Hot Chili Sauce for an Asian infusion salad.
13. Kid's Tender Meal
Slim Chickens provides delicious meals for all ages, and their Kid's Tender Meal is no exception.
This meal includes two of their signature chicken tenders, served with a choice of Slims fries or applesauce, Texas toast, and a drink.
Your little one also gets to pick their dipping sauce.
The Honey BBQ or regular BBQ are always good options.
The tenders are always a hit with the kids, and the choice of sides caters to different preferences, making it a child-approved meal.
12. Strawberry Cheesecake Jar Dessert
The Strawberry Cheesecake Jar Dessert is one of Slim Chickens' ingenious desserts.
It includes layers of creamy, tangy New York cheesecake, fresh strawberries, and sweet whipped cream.
It's only available seasonally, though, so grab one while you can!
The strawberry flavor combined with the cheesecake texture creates a delicious dessert to make you enjoy the summer even more.
Plus, it's served in a cute little jar that you can take home – how great is that?
11. Fried Pickles
Slim Chickens offers Fried Pickles for those who like a tangy and crunchy side with their meal.
Dill pickle slices are coated in breading and fried to golden perfection, resulting in a tangy and savory snack with a satisfying crunch.
It's also a great appetizer that will excite your taste buds for the main course.
10. Southern Style Family Meal
If you don't like cooking, why not order the Southern Style Family Meal?
It allows you to bring the Slim Chickens dining experience home for the whole family with 12 chicken tenders, four pieces of Texas toast, two sides of your choice, and four dipping sauces.
The meal also comes with a gallon of their signature iced tea.
It's a meal that will satisfy a crowd, offering something for everyone and making family mealtime a party.
9. Chocolate Brownie Pudding Jar Dessert
The Chocolate Brownie Pudding Jar Dessert is a decadent treat on the Slim Chickens menu that will satisfy any sweet tooth.
It features a creamy, rich chocolate pudding, topped with chunks of fudgy brownie and Heath chocolate bar, then finished with whipped cream.
The combination of textures and the intense chocolate flavor makes it the best dessert at Slim Chickens to end any meal.
The mason jar presentation allows you to see every delicious layer, making it a visual delight as well.
8. Chicken Club Sandwich Meal
The Chicken Club Sandwich Meal includes a flavor-packed sandwich featuring a tender, fried chicken breast topped with crispy bacon, lettuce, tomatoes, cheese, and ranch sauce.
All of this is served on a toasted brioche bun.
The sandwich is accompanied by a side and a drink.
The flavors in the sandwich, from the crispy chicken to the smoky bacon, create a satisfying experience with every bite.
If you're not a fan of ranch, I highly recommend trying their other sauces.
Slim's sauce or the honey BBQ are great alternatives!
7. Slim's Wrap Meal
Slim's Wrap Meal is a delightful medley of flavors and textures packed into a portable form.
The wrap comes with a spinach tortilla, a bonus you don't often see at other fast-food chains.
The Slim's wrap also features chicken tenders, fresh tomatoes, lettuce, and Slim's homemade ranch dressing.
Sometimes, I love mixing things up and request Slim's sauce instead of the ranch to give it a more tangy and spicy note.
6. Fried Okra
Slim Chickens' Fried Okra is a nod to the traditional Southern side dish.
The okra is cut into chunks, breaded, and fried until golden crispy.
The result is a dish that's crunchy on the outside and tender on the inside, with the earthy flavor of okra shining through.
It's a delightful side dish that goes with any meal, adding a touch of Southern comfort to the table.
5. Smokey Cheddar Wrap Meal
The Smokey Cheddar Wrap Meal is one of my favorites on the Slim Chickens menu!
The meal comes with a wrap packed with chicken tenders, shredded cheddar cheese, lettuce, ranch dressing, and smoky BBQ sauce, all wrapped in a jalapeno cheddar tortilla.
Served with a side and a drink, this wrap offers a mouthful of diverse flavors, from the smoky BBQ sauce to cool ranch to tender chicken.
4. Strawberry Milkshake
Slim Chickens' Strawberry Milkshake is the perfect refreshing indulgence on a hot summer day.
It's a hand-spun shake made with real strawberries and perfectly blended into a rich, creamy texture.
It's like drinking a slice of strawberry shortcake without all the baking and assembly required.
3. Slim's Meal
The Slim's Meal is a true classic on the menu that keeps bringing fans back for more.
It's a combination of five hand-breaded chicken tenders served with classic Texas toast, two sauces, a side dish, and a medium drink.
Slim Chicken's side options include fries, coleslaw, potato salad, mac & cheese, fried okra, fried pickles, fried mushrooms, and side salad.
The Texas toast is the perfect sidekick to the chicken tenders, with its soft, buttery goodness.
And let's not forget the sauces!
The Cayenne Ranch or Buffalo sauces are a must-try for those who like a little heat.
But if you're feeling adventurous, give the Slim's Sauce a go.
2. Chicken & Waffles
The Chicken & Waffles on Slim Chickens' menu is a playful take on a classic American dish.
It features three of their signature fried chicken tenders, served with a light and fluffy waffle.
Accompanied by rich syrup and a dollop of creamy butter, the contrast between the savory chicken and the sweet waffle creates an irresistible flavor combination.
Don't forget to grab your drink!
It may sound crazy, but this is my favorite brunch option.
It goes so well with coffee, tea, or their delightful hand-spun milkshakes.
1. 5 & 5 Meal
Many people are torn between ordering chicken tenders or wings at Slim Chickens – and this is where the 5 & 5 Meal comes in!
This meal is a peace treaty to your taste buds, combining the best of both worlds with five wings and five tenders, all in your choice of flavors.
The chicken is accompanied by the customary Texas toast, two dipping sauces, a side, and a drink.
It's a great way to experience the most popular Slim Chickens menu items in one meal.
Conclusion
Slim Chickens offers a variety of delicious menu items, from chicken tenders and wings to sandwiches, salads, sides, and desserts.
Their dipping sauces make their chicken stand out, while their family meals are perfect for those nights when you don't feel like cooking but still want to enjoy comforting food with your loved ones.
If you're looking for something tasty with that Southern charm, check out Slim Chickens next time you're in the mood for some fried chicken goodness.