The Best Schlotzsky's Sandwich & Other Menu Items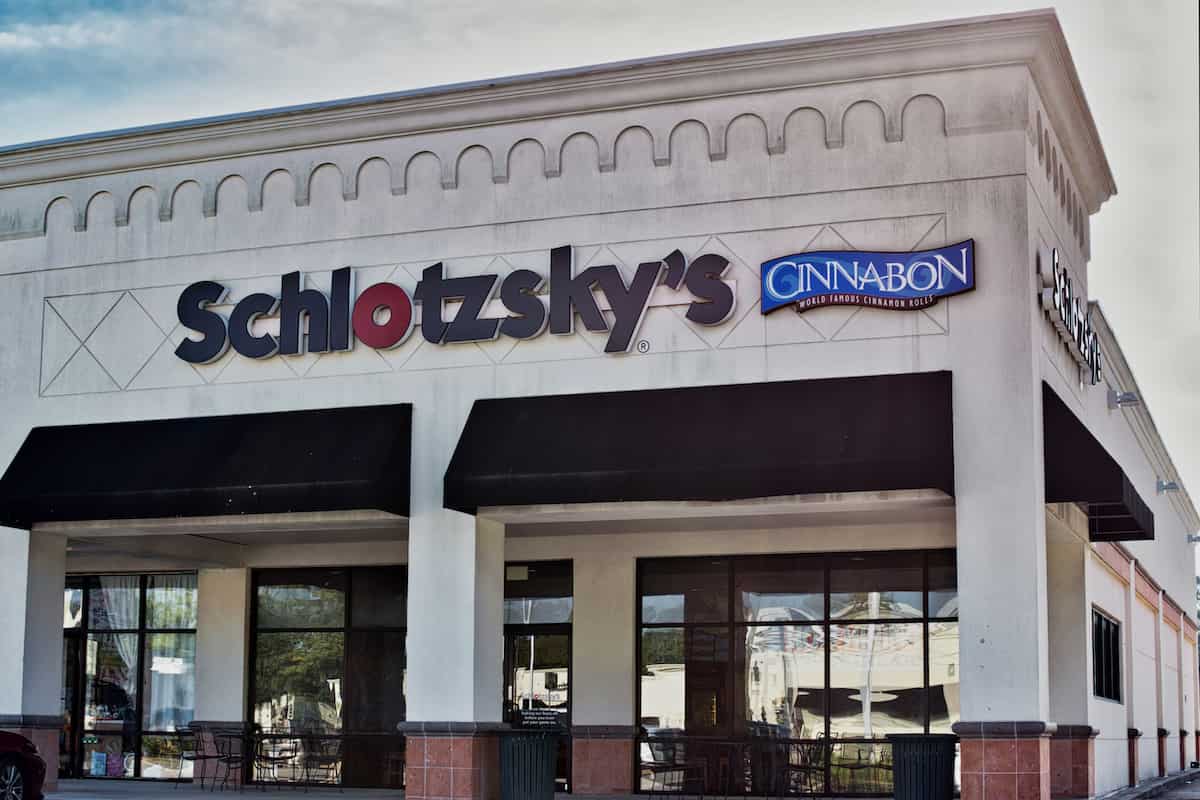 Schlotzsky's has been serving delicious sandwiches since its inception in Austin, TX, in 1971.
"The Original" sandwich is the signature menu item at Schlotzsky's, but their menu extends beyond sandwiches today.
As one of the best sandwich chains, Schlotzsky's menu offers a variety of hot sandwiches on sourdough buns baked fresh daily.
In addition, you can order flatbreads, pizzas, calzones, salads, soups, and Cinnabon treats at most locations.
What's also great about Schlotzsky's is the ability to customize your meal to your liking.
Whether you want to sub out a certain ingredient or add extra toppings, they are always happy to accommodate.
If you're wondering about the best things to eat at Schlotzsky's, here are my top 20 items on Schlotzsky's menu.
20. Turkey Bacon Club Sandwich
If you think that a turkey sandwich is boring, think again.
The Turkey Bacon Club features oven-roasted turkey, crispy bacon, three kinds of cheese, lettuce, tomato slices, lite mayo, and Schlotzky's signature sauce; all served on a toasty sourdough bun.
The turkey is tender and flavorful, while the bacon brings a smoky richness that perfectly complements it.
The three different kinds of cheese give the sandwich a rich creaminess, balanced by the crisp, refreshing crunch of lettuce and tomato.
The lite mayo and signature sauce weave together into a creamy, tangy tapestry of flavor that ties everything together.
19. Brownie
Schlotzsky's Brownie is rich and fudgy and is made with the finest cocoa and chocolate.
Every bite is a taste of chocolatey heaven that melts in your mouth.
This brownie is a great way to finish off your meal on a sweet note.
18. Fresh Veggie Sandwich
The Fresh Veggie Sandwich from Schlotzsky's is a celebration of all the lovely vegetables.
Although the cheese lends a helping hand to create that extra bit of creaminess, the magic is in the medley of veggies – cucumber, olives, lettuce, onion, and tomato.
The ranch and signature sauce combine to create an ensemble of flavors to transform the ordinary sandwich into light and satisfying.
If you're vegan, request no cheese or mayo in your sandwich.
17. BBQ Chicken & Jalapeno Pizza
The BBQ Chicken & Jalapeno Pizza on Schlotzsky's menu may sound funky but hear me out.
The BBQ chicken and two kinds of cheese give the pizza a rich, smoky flavor with a sweet and tangy undertone.
The onion adds a savory sweetness that rounds out the taste.
And the pickled jalapeños add just enough heat to make it interesting.
The delightful combination of flavors makes this pizza a hit with all the spicy food fans.
16. Fiesta Sandwich
If you have a large appetite, Schlotzsky's Fiesta Sandwich may be right up your alley.
This sandwich comes in small, regular, and giant sizes, and it can be made with any of your favorite meats, including smoked turkey, ham, roasted chicken breast, or roast beef.
It also comes loaded with cheese, olives, roasted red peppers, lettuce, red and green onions, and tomato, giving it a zesty flavor.
The Fiesta Sandwich lives up to its name, bringing a vibrant party of flavors to your tastebuds.
The cheese, olives, roasted red peppers, lettuce, and onions offer a mix of creamy, tangy, and fresh flavors.
The chipotle mayo adds a smoky kick providing a satisfying finish to the sandwich.
15. Chicken Avocado Cobb Salad
You can never go wrong with avocado and chicken!
The sliced chicken in this salad is perfectly cooked, while the avocado adds a buttery, smooth contrast.
The feta and tomatoes bring a tangy edge, and the diced egg, bacon, and cucumber add layers of texture and flavor.
The mixed field greens and romaine provide a fresh, crisp canvas, and the ranch dressing ties everything together.
The Chicken Avocado Cobb Salad is an excellent choice at Schlotzsky's for anyone who loves their salad extra creamy.
14. Bacon Smokecheesy
The Bacon Smokecheesy is a tasty menu item that includes smoked turkey, ham, roasted chicken breast, or roast beef.
It also comes with crispy bacon to bring a smoky, rich note that makes everything better.
With its distinctive sharpness, the cheddar cheese blends seamlessly with the meaty flavors.
And the chipotle mayo gives you that tangy, spicy finish that leaves you wanting more.
13. Minibon
Big on flavor, smaller on size – The Minibon is a miniature masterpiece on Schlotzsky's menu.
It packs the classic Cinnabon punch with a rich, sweet filling and a deliciously soft dough.
Despite its small size, it doesn't skimp on flavor.
Each bite is a mini explosion of cinnamon and sugar, a delightful treat that will bring a smile to your face.
It's the perfect choice for when you want just a little indulgence after your meal.
12. The Original Sandwich
This is the sandwich that started it all!
Schlotzsky's Original Sandwich includes ham, salami, three types of cheese, olives, lettuce, onion, tomato, mustard, and Schlotzsky's signature sauce on a delicious sourdough bun.
The saltiness of the ham and salami intermingles with the rich trio of cheeses, setting your taste buds for an unforgettable journey.
The crunch of lettuce and onion provides a refreshing counterpoint, while the olives impart a Mediterranean flair that's downright delicious.
If you wonder what Schlotzsky's signature sauce is, it's a mildly hot and sweet sauce that adds a unique kick to the sandwich.
I highly recommend trying this sandwich for the whole Schlotzsky's experience!
11. Italian Calzone
The Italian Calzone on Schlotzsky's menu is like an artful piece of Italian cuisine.
The combination of ham, Genoa salami, and Cotto salami delivers that salty, meaty flavor, while the pepperoni adds a spicy encore.
The mozzarella and parmesan cheeses lend a velvety finish, and the pizza crust provides a perfectly baked foundation for all the ingredients.
This calzone is a feast for the senses, each ingredient working together to create a grand spectacle.
10. Smoked Turkey Avocado Sandwich
The Smoked Turkey Avocado Sandwich is an ode to the summery days full of fresh vegetables.
Aside from the oven-roasted turkey, it boasts a generous helping of fresh avocado slices, tomato slices, lettuce, onion rings, and lite mayo.
The turkey is perfectly smoked and takes center stage with its rich and hearty flavor.
The avocado lends a creamy, velvety contrast that perfectly balances the smokiness of the turkey.
Fresh lettuce, onion, and tomato add a much-needed crunch, while the lite mayo provides a light, tangy touch.
The simplicity of the ingredients allows each one to shine, making this Schlotzsky's sandwich balanced and flavorful.
9. Tomato Basil Soup
The Tomato Basil Soup is a harmonious ballet of fresh, ripe tomatoes and aromatic basil, performing a dance that tantalizes the senses.
It's like a warm Italian summer evening captured in a bowl.
The onions add depth to the flavor, while the parmesan cheese lends a touch of creaminess.
Each spoonful is a burst of tomatoey goodness, a delicious blend of sweet, tart, and aromatic flavors.
And when you pair it with a calzone or a slice of pizza, it's a match made in heaven!
8. Roast Beef & Cheese Sandwich
The Roast Beef & Cheese Sandwich on Schlotzsky's menu is a hearty meal on a bun.
The roast beef itself is succulent and flavorful with its meaty richness.
The trio of cheeses offers a creamy counterpoint, melting into the warm roast beef to create an irresistible cheesy goodness.
The pickles add a tangy crunch, offering a refreshing contrast to the richness of the beef and cheese.
And Schlotzsky's signature sauce? That's the piece de resistance, a flavor-packed explosion that seals the deal.
7. Meatball Calzone
Schlotzsky's Meatball Calzone is a fantastic Italian comfort food in a hand-held package.
The marinara sauce, mozzarella, and parmesan cheese provide a rich and savory accompaniment to the show-stopping meatballs.
Every bite is satisfying with the meaty goodness and the marinara dipping sauce.
Plus, it's portable, so you can take it anywhere on the go.
6. French Dip
The au jus can break or make a French Dip; luckily, Schlotzsky's version does not disappoint.
Their French Dip features roast beef, two types of cheese, and caramelized onions.
The roast beef is tender and deeply flavored, and when paired with the duo of melted cheeses, it becomes a rich meal.
The caramelized onions lend a sweet and savory depth, while the au jus is like the secret weapon that turns the sandwich into a truly immersive experience.
Dipping the sourdough bread in the meat juice is a delightful experience that enhances the overall taste of the sandwich.
5. Cinnabon Center of the Roll
The Cinnabon Center of the Roll is hands down the best dessert at Schlotzsky's.
It's like finding the pot of gold at the end of a rainbow!
It's the most delicious part of the roll, with even more ooey-gooey goodness.
Each bite is a sweet, cinnamon-infused joy that fills you with pure delight.
If happiness had a flavor, I think it would taste like this!
4. Broccoli & Cheese Soup
The Broccoli & Cheese Soup is a homely, comforting soup that soothes the soul.
It's like a warm hug on a cold day.
The creamy blend of cheddar cheese and broccoli florets create a symphony of textures and flavors.
The cheddar topping is the cherry on top, adding an extra layer of cheesy goodness.
The richness of the cheese and the earthy texture of broccoli make this soup a delicious comfort food classic and the best soup on Schlotzsky's menu.
3. Strawberry Chicken Salad
The Strawberry Chicken Salad is a refreshing toss of flavors, like a sunny afternoon spent picnicking in a Tuscan vineyard.
The sliced chicken is tender and succulent, providing a lovely contrast to the sweet, ripe strawberries.
The Feta cheese adds a tangy note, balanced by the rich sweetness of candied pecans.
Mixed field greens and romaine create a crisp, refreshing bed, while the vinaigrette dressing is the final touch that makes this salad an explosion of flavors.
All these combine to make it the best salad on Schlotzsky's menu.
2. Supreme Pizza
The Supreme Pizza is a flavor-packed menu item that wows you with each bite.
It comes loaded with pepperoni, Italian sausage, mushrooms, green peppers, red onions, mozzarella, and parmesan cheese.
The marinara sauce adds just the right amount of acidity and moisture to bring everything together.
The salty and spiced notes of pepperoni, Italian sausage, mushrooms, green peppers, and red onions create an ensemble that adds extra depth and complexity to the flavor profile.
The mozzarella and parmesan cheeses provide a creamy balance that makes this pizza truly delicious.
With so many ingredients melted wonderfully, you bet this is the best pizza at Schlotzsky's!
1. Deluxe Original Sandwich
The Deluxe Original Sandwich is a carnivore's dream come true.
It includes salami, ham, three kinds of cheese, fresh lettuce, onions, tomatoes, olives, Schlotzsky's signature sauce, and mustard.
It has all the elements that make The Original Sandwich great – but with twice the meat!
The extra heft of ham and salami gives each bite a mouth-filling satisfaction.
There's more of everything to enjoy in this sandwich.
The three cheeses melt into the folds of the meats, adding a creamy texture that takes it to a new level of scrumptiousness.
For all that extra yummy goodness, I think it deserves to be the best Schlotzsky's sandwich.
Conclusion
From classic sandwiches, pizzas, and calzones to soups, salads, chips, and desserts, Schlotzsky's menu has it all.
I highly recommend trying their Original Sandwich and finishing off your meal with the Cinnabon Center of the Roll.
If you're a pizza fan, try their Supreme Pizza for a flavor-packed experience.
Each of their menu items offers something unique and delicious. The combination of fresh ingredients, flavors, and generous portions make Schlotzsky's a great choice for any meal of the day.