The Best Potbelly Sandwiches, Soups, and Salads to Try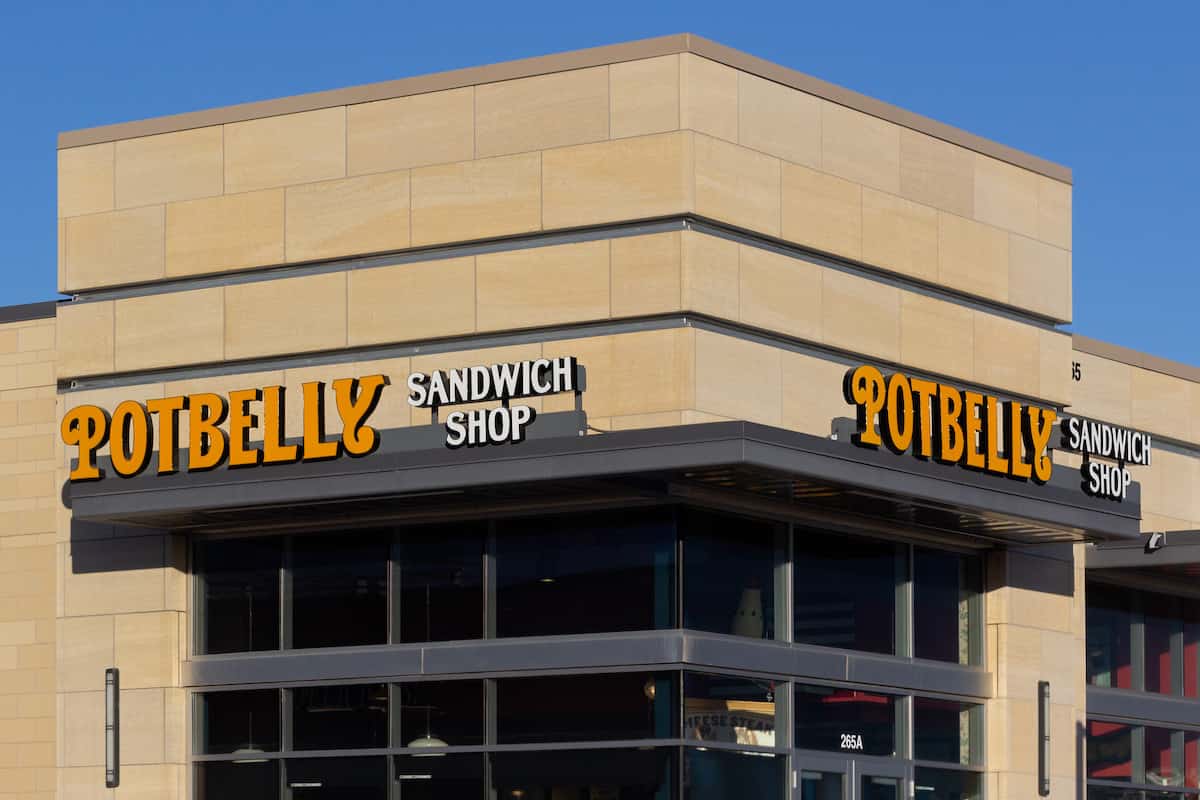 Potbelly has been delighting taste buds with its delicious sandwiches since its humble beginnings in 1977.
Founded in a quaint, historic building by Peter Hastings in Chicago, the renowned sandwich shop has become a sought-after destination for food enthusiasts and those seeking a refreshing escape from conventional fast food.
The initial vision of a warm, inviting atmosphere has blossomed into one of the most popular sandwich chains with hundreds of locations throughout the United States.
Potbelly Sandwich Shop sets itself apart from other establishments by adhering to its core principles, emphasizing quality, freshness, and creativity.
Out of all the menu items, the Potbelly sandwiches are the most popular, with a vast selection of unique flavors.
From classic combinations to innovative twists, there's a sandwich for everyone, as they are highly customizable.
You can choose your bread, cheese, and topping options to make a unique sandwich that speaks to your taste buds.
Each sandwich comes in three sizes: skinny, original, or big. In addition to sandwiches, Potbelly also offers a variety of delicious soups and salads.
As you embark on a culinary adventure through the diverse Potbelly menu, here are 16 of the best items to try!
16. Powerhouse Salad
Potbelly's Powerhouse Salad features grilled chicken breast, avocado slices, hummus dip, hard-boiled eggs, cucumbers, and tomatoes atop a bed of field greens.
Although it comes with a non-fat vinaigrette, you can always customize it by selecting a different dressing.
This salad is the perfect mix of proteins, carbs, and healthy fats to keep you full for hours and easily power through the day.
For all its simplicity, the flavors in the salad come together in perfect harmony to create an explosion of taste.
15. Potbelly Chili
The Hearty Beef Chili from Potbelly is a delicious meat party in a bowl, made to warm you up on a cold day or satisfy the craving for a rich, comforting meal.
As the name suggests, this chili is made of high-quality, lean beef and kidney beans.
Adding to its rich flavor are bell peppers and onions, which contribute to the taste and provide a subtle crunch.
One of the main reasons for its deliciousness is how the flavors meld together to deliver a savory, slightly smoky, and mildly spicy experience.
The tender and juicy beef is slow-cooked and seasoned, providing a mouthwatering flavor depth in every bite.
14. Garden Vegetable Soup
The Garden Vegetable Soup features a mix of ingredients, including beans, carrots, celery, corn, mushrooms, onions, peppers, potatoes, and zucchini.
The medley of vegetables adds a variety of flavors and textures to each spoonful, making it a simple and filling meal.
What sets this soup apart is the light tomato broth, which elevates the natural flavors of the vegetables without masking them with any artificial additives or excessive saltiness.
13. Avo Turkey Sandwich
The Avo Turkey Sandwich is a unique offering on Potbelly's menu.
Known for its robust flavors and nutritional components, this sandwich is perfect for anyone looking for a lunchtime pick-me-up, a pre-workout boost, or simply a feel-good meal.
The sandwich begins with a generous helping of hand-sliced turkey breast.
Tender, juicy, and flavorful, the turkey serves as a wholesome and lean protein source while keeping the sandwich hearty.
The turkey is then complemented by a layer of Swiss cheese that enhances the overall flavor.
12. Farmhouse Salad
The Farmhouse Salad is a mix of fresh ingredients that come together in perfect harmony.
This salad is a tasty blend of crispy romaine lettuce, grilled chicken breast, bacon strips, cucumbers, grape tomatoes, crumbled blue cheese, hard-boiled eggs, and Potbelly's signature buttermilk ranch dressing.
The protein-packed ingredients elevate the overall taste and create a heartiness that satiates even the hungriest customers.
11. Veggie Melt Sandwich
The Veggie Melt Sandwich might seem like your run-of-the-mill vegetarian selection, but it's more than that!
This delicious Potbelly sandwich is made with fresh-sliced avocado, Swiss, cheddar, and provolone cheeses, crowned with tender mushrooms.
The amalgamation of ingredients packs a powerful punch of flavor, while the warm cheese adds texture to the sandwich.
10. Pizza Melt Sandwich
The Pizza Melt Sandwich marries the tastiest aspects of an Italian pizza and a delicious sandwich into one creation.
It is made with pepperoni, old-world capicola – a traditional Italian cured meat – and crumbled savory meatballs.
The tangy marinara sauce perfectly complements the gooey, melted provolone cheese that envelops the sandwich.
Finally, it is sprinkled with Italian seasoning and topped with sautéed mushrooms, imparting a rich, earthy flavor.
For vegetarians, Potbelly also offers a Veggie Pizza Melt Sandwich that replaces the meaty elements with flavorful plant-based alternatives.
9. A Wreck Sandwich
If you're in the mood for a filling and delicious sandwich option, try the A Wreck Sandwich.
It shines as a masterpiece among other sandwiches with a mountain of turkey breast, hickory smoked ham, Angus roast beef, and salami, coming together wonderfully in an interplay of flavors.
The Swiss cheese on top adds a smooth, velvety texture to each bite.
8. Italian Sandwich
The Italian Sandwich is a mix of finely sliced, classic cold cuts and flavorful cheese layered between freshly baked bread.
It features a combination of salami, old-world capicola, a tender cut of pork, pepperoni, and mortadella, which is a mild yet Italian sausage.
Adding to the ensemble of these savory meats, the sandwich is graced with a generous layer of provolone cheese to complement the cold cuts with its mellow, buttery notes.
7. Broccoli Cheddar Soup
The Broccoli Cheddar Soup is a rich, creamy soup blended with tender broccoli pieces, grated carrots, and melted cheddar cheese.
It is served hot and can be enjoyed as a standalone meal or with other dishes on Potbelly's menu.
This soup is ideal for a hearty, comforting meal with bold flavors and textures.
I love using this as a dip for my turkey sandwich.
The thick and creamy texture of the soup adds a luxurious touch to the sandwich, and the tangy cheddar cheese perfectly complements the turkey.
6. Roast Beef Sandwich
I'm always on the hunt for a great roast beef sandwich, and I've found one of the best ones at Potbelly!
Their roast beef is thick and tender, and every bite is packed with flavor.
When the roast beef pairs with the smooth and creamy texture of the provolone cheese, it creates an irresistible taste, making it a must-try item on the menu.
5. Loaded Baked Potato Soup
Imagine digging into a tasty, creamy bowl of soup that combines the classic flavors of a loaded baked potato in a spoon-ready offering.
This is what the Loaded Baked Potato Soup at Potbelly is all about.
Made with a blend of hearty potatoes, smoky bacon, cheddar cheese, and green onions, this soup has a decadent burst of flavors in every spoonful.
The potatoes are cooked to a tender yet toothsome consistency, allowing them to remain the star of the dish.
4. Mama's Meatball Sandwich
The Mama's Meatball Sandwich has homestyle beef and pork meatballs, seasoned and cooked to perfection, oozing with juiciness and tenderness.
Potbelly's unique twist is smothering their marinara sauce, which covers each meatball to create a harmony of savory notes.
A generous serving of melted provolone cheese is also coupled with the meatballs to create a blanket of creaminess.
3. Apple Walnut Salad
The Apple Walnut Salad is a well-balanced and delicious salad perfect for health-conscious eaters or anyone looking for a light and flavorful meal.
The salad features a grilled chicken breast, crumbled blue cheese, sweet grapes, crisp apples, dried cranberries, and candied walnuts served atop a bed of fresh field greens with balsamic vinaigrette.
The sweetness and tanginess of the fruits blend beautifully with the tender, savory chicken and the creamy blue cheese.
The chewy dried cranberries and the mild bitterness of the greens add complexity to the overall flavor.
Finally, the balsamic vinaigrette rounds off all flavors, making it one of the best salads at Potbelly.
2. Chicken Pot Pie Soup
The Chicken Pot Pie Soup is a tender, slow-roasted chicken breast with a medley of mixed vegetables in a thick, savory broth crowned with fresh-baked pie crust crumbles.
The key players in this soup are the juicy, slow-roasted chicken breast chunks that make up the heart of the dish.
The chicken is cooked to perfection, tender, and well-seasoned.
Alongside the chicken, you'll find a mix of vegetables, including carrots, peas, celery, and onions, making it one of the best soups at Potbelly.
1. Steakhouse Beef Sandwich
The Steakhouse Beef Sandwich is one of the best options on the Potbelly sandwich menu, with a unique blend of flavors.
It is made with tender, slow-cooked Angus roast beef, crumbled blue cheese and provolone, and a dash of horseradish aioli.
These simple ingredients somehow work together to create a symphony of flavors in every bite.
The tenderness of the Angus roast beef blends perfectly with the creaminess of the melted provolone, which adds a delightful savory texture.
The crumbled blue cheese provides a tangy flavor, making this Potbelly sandwich stand out from the rest.
Conclusion
No matter what sandwich you choose at Potbelly Sandwich Shop, you can be sure that each one is crafted for maximum flavor.
From the Italian Sandwich to the Roast Beef and Swiss Cheese, every sandwich on their menu packs a punch of deliciousness that will have your taste buds singing with joy.
And let's not forget about their heart-warming soups and refreshing salads, which are sure to make any meal complete.