9 Most Popular Portillo's Desserts and Milkshakes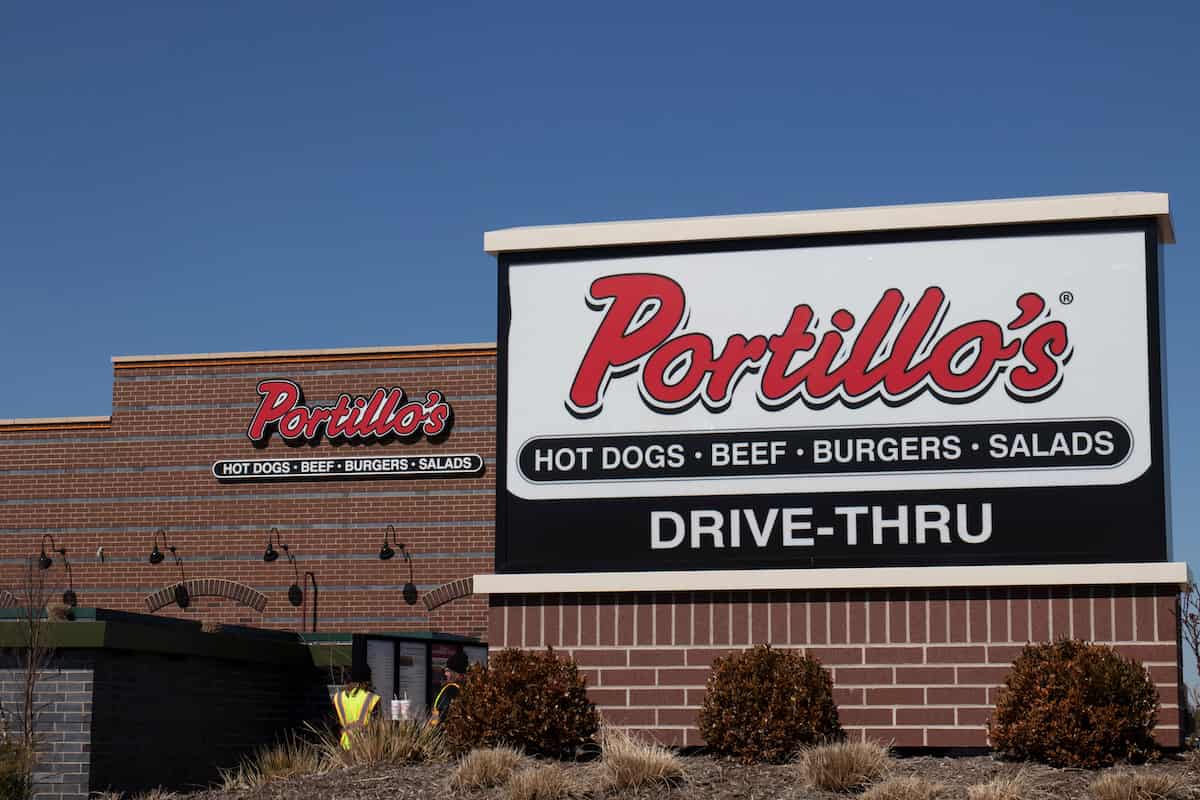 If you want something sweet after your hot dog, you will be happy to know that Portillo's offers a variety of desserts and milkshakes to satisfy your cravings.
Sure, Chicago-style hot dogs and Italian beef sandwiches are the signature menu items at Portillo's, but don't sleep on their desserts and milkshakes!
Portillo's dessert menu includes a few cakes with flavors like Lemon, Chocolate, Chocolate Eclair, and Strawberry Shortcake.
Each cake is made in restaurants daily, ensuring freshness and decadence.
And Portillo's milkshakes? Well, let's say they're not your ordinary shakes.
They come in flavors like Chocolate, Vanilla, Strawberry, and Chocolate Cake, making them a delicious way to complement your meal.
You can also make any shake a malt with an upcharge.
Let me introduce you to the 9 best Portillo's desserts and milkshakes that you should try at least once!
9. Whole Lemon Cake
I'm usually not a fan of lemon cakes because of the fake lemon flavor, but the Whole Lemon Cake from Portillo's is different.
The secret lies in using fresh and natural ingredients, starting with real lemons for a genuine citrus kick.
The cake consists of two buttery layers that are soft yet sturdy enough to hold their shape when cut into slices.
It is then filled with a refreshingly tangy lemon curd made from real lemons and topped off with a lemon frosting.
The bold tartness from the lemon curd and the sweetness of the frosting creates an irresistible duo that will leave you wanting more.
Note that this cake is only available seasonally during the spring and summer months, so make sure to grab a slice while you can!
Nutritional Information: (Per Serving)
700 calories, 29g fat, 103g carbohydrates, 5g protein
8. Vanilla Shake
At first glance, Portillo's Vanilla Shake takes on the role of a classic staple in the world of sweet beverages.
A dreamy treat for your taste buds, this shake successfully revives the nostalgic essence of its legendary predecessor, the original American milkshake.
The recipe includes whole milk vanilla ice cream and a touch of sugar to further enhance the natural sweetness of the ice cream.
The balance of vanilla notes and the ultra-creamy ice cream texture is a match made in heaven.
The subtlety of the sweetness allows the flavor of the vanilla beans to shine through, while the consistency ensures that you savor each sip.
The Vanilla Shake manages to transport you back in time, providing a taste of nostalgia with every mouthful.
It also pairs exceptionally well with a variety of items on Portillo's menu.
It is a delightful companion to the famous bacon hamburger, offering a delicious contrast of savory and sweet.
Additionally, the shake can be enjoyed alongside Portillo's hot dogs to provide a cooling and refreshing aftertaste.
Nutritional Information: (Small)
500 calories, 9g fat, 91g carbohydrates, 13g protein
7. Strawberry Shake
Portillo's Strawberry Shake is a classic beauty that stands out in the crowded market of milkshakes.
Recognized for its silklike consistency, it is made using the freshest, ripest strawberries.
They are blended with velvety vanilla ice cream, allowing the distinctive strawberry tang to shine.
The fruity notes of strawberries mingled with the sweetness of the vanilla ice cream create an irresistible flavor profile.
The sweetness is not overpowering, allowing you to appreciate the natural beauty of this beverage.
Nutritional Information: (Small)
540 calories, 9g fat, 102g carbohydrates, 13g protein
6. Chocolate Shake
Picture this: a thick, silky chocolate shake crafted from simple ingredients and blended to perfection to create a sweet, rich, and satisfying beverage.
A fitting companion to Portillo's burgers, the Chocolate Shake is well worth your time.
With a soft-serve ice cream base, the shake is infused with chocolate syrup for a delightful flavor burst.
The soft-serve ice cream base provides a nice texture, and you can feel the silky consistency gliding over your palate, coating it with a layer of chocolate goodness.
Beneath the layers of chocolate and cream, a subtle hint of vanilla emerges, adding a touch of brightness to the flavor profile.
This chocolatey treat doesn't only please the taste buds but elevates them to new heights of bliss.
Nutritional Information: (Small)
540 calories, 9g fat, 102g carbohydrates, 13g protein
5. Chocolate Cake Slice
At first, you may be tempted to assume that Portillo's Chocolate Cake is, well, just another chocolate cake.
Yet, a single bite of this delectable dessert offers clear evidence that this is no ordinary confection.
The combo of chocolatey goodness and the fluffy texture elevates this dessert from a simple treat into a mouthwatering indulgence.
Portillo's bakes its Chocolate Cake every morning in each restaurant, which means you always get a fresh slice when you order.
Using a double-layer chocolate cake as the foundation, the bakers then lavish their creation with two pounds of decadent chocolate frosting.
This rich cake always hits the spot whenever I have a chocolate craving!
Nutritional Information:
720 calories, 37g fat, 86g carbohydrates, 6g protein
4. Chocolate Eclair Cake
I'm always on the hunt to find my next favorite cake, but I keep returning to Portillo's Chocolate Eclair Cake!
The ingredients that create this enchanting pastry include a buttery puff cake base, vanilla custard, and silky chocolate frosting.
The bittersweet taste of the chocolate frosting, followed by the sweet custard, creates a flavor explosion with each bite.
As a big custard fan, I am always tempted to request a second slice!
Nutritional Information:
520 calories, 18g fat, 83g carbohydrates, 6g protein
3. Strawberry Shortcake
Portillo's has created the perfect treat for dessert enthusiasts – the Strawberry Shortcake, which is the ultimate palate pleaser.
Unlike a traditional shortcake, Portillo's uses fluffy angel food cake for a more delicate and airy foundation complemented by two tasty components: fresh strawberries and a homemade mascarpone cheese whipped topping.
Biting into a Strawberry Shortcake at Portillo's is an indulgent experience.
The melding of sweet flavors from the cake and strawberries results in a nostalgic and refreshing treat that can be enjoyed anytime.
As the cake is light and airy, it provides a base that doesn't overpower the vibrant, fruity essence of the strawberries.
The mascarpone cheese whipped topping adds a lovely dimension, elevating it to the realm of gourmet desserts.
Just like the chocolate cake, Portillo's restaurants make the Strawberry Shortcake fresh every morning.
Nutritional Information:
480 calories, 20g fat, 73g carbohydrates, 3g protein
2. Whole Chocolate Cake
If you love Portillo's Chocolate Cake Slice, you'll love the Whole Chocolate Cake.
This towering treat is crafted with the same double-layer chocolate cake and luscious, chocolatey frosting as its smaller sibling but on a much grander scale.
The Whole Chocolate Cake ensures plenty of decadent goodness to share with your friends and family.
The two layers of chocolate cake form the foundation, while the marvelous chocolate frosting offers an intense yet airy texture that is hard to resist.
And when you compare the price, why not share the love and get a Whole Chocolate Cake?
Nutritional Information: (Per Serving)
720 calories, 37g fat, 86g carbohydrates, 6g protein
1. Chocolate Cake Shake
I don't come across a milkshake as unique as Portillo's Chocolate Cake Shake every day.
This innovative creation seamlessly blends a classic milkshake infused with an entire slice of chocolate cake!
The shake begins with a creamy vanilla ice cream base blended with a slice of Portillo's moist chocolate cake, adding a burst of chocolatey goodness to each sip.
The cake itself is made with cocoa, eggs, sugar, and butter, while a luscious layer of chocolate frosting adds the right finishing touch.
As you dive into the Chocolate Cake Shake, you're met with an explosion of flavors – the vanilla ice cream's sweetness harmonizing with the cake's bold, chocolatey notes.
Each sip delivers a luxurious mouthfeel, with the flavors only enhanced by the chocolate cake crumbs throughout.
This is not only the best dessert at Portillo's but one of the best fast-food milkshakes I've ever tasted!
Nutritional Information: (Small)
850 calories, 25g fat, 138g carbohydrates, 13g protein
Conclusion
Portillo's offers a variety of delicious desserts and milkshakes that are wonderful for any occasion.
From the classic Strawberry Shortcake to the innovative Chocolate Cake Shake, there are many options on Portillo's dessert menu to satisfy your sweet tooth.
Each cake is made daily in restaurants, ensuring you always get a fresh slice.
So next time you devour a hot dog or a beef sandwich at Portillo's, make sure to explore their desserts and milkshakes to round up your meal.
For more information about Portillo's, check out the articles below.