16 Best Krispy Kreme Donut Flavors to Try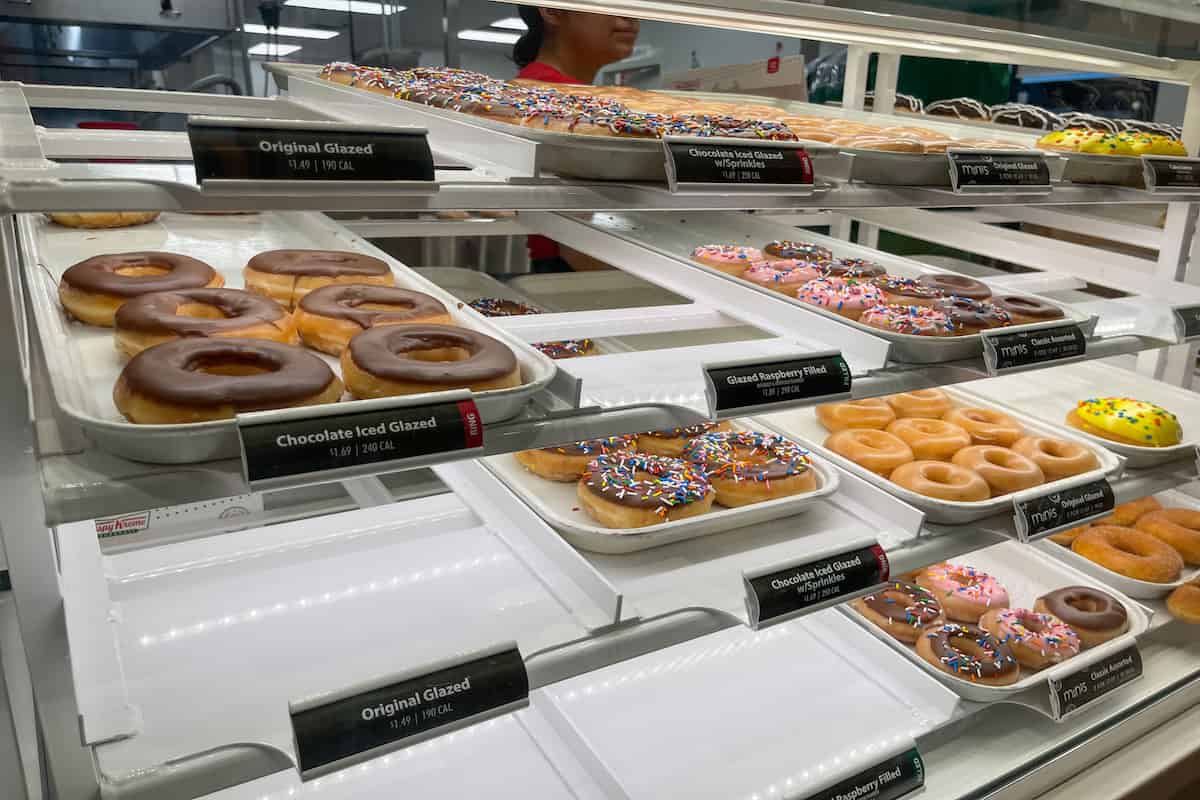 When it comes to pastries, not many are more beloved or revered than the donut. From its iconic ring shape to its golden-fried exterior, it's difficult to find someone who doesn't crave a donut from time to time.
One of the most popular donut chains in the US is undoubtedly Krispy Kreme. The donut giant has come a long way since its humble beginnings during the Great Depression.
With over 370 stores nationwide, Krispy Kreme is best known for its Original Glazed Doughnut, whose recipe has stayed the same since 1945.
But glazed donuts are far from the only delicious treat on the menu. Krispy Kreme is also known for its iced, filled, and specialty donuts, along with its coffee and sweet drinks.
Krispy Kreme keeps its donut menu fairly short and simple. Besides a few specialty donuts that pop up seasonally throughout the year, there are 16 flavors that you can always count on being available.
While I would order even my least favorite choice again, here is my ranked list of the best Krispy Kreme donut flavors.
16. Glazed Raspberry Filled
Let me start by saying I'm not a big jelly donut fan. But if you are, there's a good chance that the Glazed Raspberry Filled Doughnut would be your favorite on the Krispy Kreme menu.
The donut itself is filled with a generous amount of raspberry jelly, which is much sweeter than you might expect.
It's definitely more sugary than fruity or tangy, and the glaze on the outside of the donut adds to that sweetness.
The pastry is made with the same dough and glaze used for Krispy Kreme's other donuts.
The jelly itself has a nice texture – it's more liquidy than your classic diner jelly, but not so much that it will run out of the donut after your first bite.
The donut is a little on the overly sweet side for me, and I just generally don't like jelly donuts, but it does have a little zestiness to it, which I do appreciate.
One Glazed Raspberry Filled Doughnut contains 300 calories and 15g of fat.
15. Glazed Lemon Filled
Just like its raspberry-filled counterpart, the Glazed Lemon Filled Doughnut is made with Krispy Kreme's classic yeast dough and glaze.
Instead of a hole in the middle, the inside is filled with tart lemon custard.
While the custard doesn't taste bad, I think it could be a bit creamier and more well-dispersed throughout the donut.
Some bites had too much custard, while others didn't have any.
I do like that the glaze's sugary sweetness is majorly cut by the tart, bright lemon flavor.
This donut is unique, summery, and actually quite refreshing.
One Glazed Lemon Filled Doughnut contains 290 calories and 15g of fat.
14. Chocolate Iced With Kreme Filling
This classic donut is the same circular, holeless shape as the raspberry and lemon donuts.
However, it is different because it's topped with chocolate icing and filled with Krispy Kreme's signature Kreme.
The Kreme inside the Chocolate Iced Doughnut is like a hybrid of buttercream and marshmallow fluff – it's light, smooth, and super sweet.
There's no way to be sure which ingredients go into Krispy Kreme's iconic Kreme filling unless you work there.
The good news is that plenty of copycat recipes have been able to mimic its flavor and texture.
So there's a good chance that Kreme filling is made with ingredients including powdered sugar, vanilla extract, granulated sugar, and vegetable shortening.
The donut itself is dipped in chocolate icing, adding even more decadence to this fan-favorite donut.
A handful of guests (including myself) find Kreme filling to be just a little overly sweet when combined with the donut and the chocolate icing, which is why it isn't higher on my list.
One Chocolate Iced Doughnut with Kreme Filling contains 350 calories and 19g of fat.
13. Mini Chocolate Iced Glazed
The Mini Chocolate Iced Glazed Doughnut is identical to its non-mini version in all ways besides size.
The crispy glaze and dipped chocolate top make for a sweet little donut, but it isn't overly sweet, thanks to the slight bitterness you'll taste in the chocolate icing.
The Mini Chocolate Iced Glazed Doughnut contains exactly half the calories as the regular-sized donut, at 120 calories and 5g of fat.
12. Mini Chocolate Iced With Sprinkles
As I mentioned above, this mini version is the same as its regular version in taste and texture but is about half its size.
This donut is only above the Mini Chocolate Iced Doughnut because of the welcome addition of rainbow sprinkles.
It doesn't add anything to the flavor department, but it definitely makes them that much cuter.
One Mini Chocolate Iced Doughnut with Sprinkles contains 130 calories and 5g fat.
11. Mini Strawberry Iced With Sprinkles
You'll hear plenty about the full-size Strawberry Doughnut later on in my list, so all I'll say for now is that it's fruity, sweet, and everything a classic donut should be.
The glaze adds the signature crunch that all Krispy Kreme glazed donuts have, and just because this donut is mini doesn't mean it's skimping on the flavor.
One Mini Strawberry Iced Doughnut with Sprinkles contains 130 calories and 5g of fat.
10. Mini Original Glazed
The Mini Original Glazed Doughnuts are exactly the same as their full-sized counterparts, minus the whole size thing.
Besides being cute, the appeal of these mini donuts lies in the fact that they're less than half the calories of a regular-sized glazed donut, each containing 90 calories.
These are a great option for those who don't mind having a smaller portion if it means they still get the full flavor.
They still have the simple, sweet vanilla flavor you know and love in a glazed donut, and they also manage to stay nice and fluffy despite their scaled-down size.
One Mini Original Glazed Doughnut contains 90 calories and 4.5g of fat.
9. Chocolate Iced Glazed
This one's name is pretty self-explanatory. The Chocolate Iced Glazed Doughnut starts off with Krispy Kreme's original glazed donut.
It's then dipped into chocolate icing so that the top third of the donut is enveloped in a layer of rich, creamy chocolate.
While the original glazed donut is perfection on its own, the chocolate icing adds extra richness and cuts a bit of the sweetness from the sugar glaze.
Adding chocolate on top of an already sweet dessert might sound like a lot, but the icing is thinner than you might expect.
The almost-undetectable bitterness from the chocolate adds just enough depth to keep this donut interesting while still appealing to almost any customer.
One Chocolate Iced Glazed Doughnut contains 240 calories and 11g of fat.
8. Chocolate Iced Glazed With Sprinkles
This donut is identical to the Chocolate Iced Glazed Doughnut with the addition of colorful sprinkles.
With a glaze, chocolate icing, and a dusting of sprinkles, it has no shortage of sugar, which is probably why it's one of the most popular donuts on the Krispy Kreme menu.
This may even be one of the most iconic donut options of all time (even the donut emoji is modeled after this flavor!)
One Chocolate Iced Glazed Doughnut with Sprinkles contains 260 calories and 11g of fat.
7. Chocolate Iced Custard Filled
The Chocolate Iced Custard Filled Doughnut starts with a classic glazed donut that's dipped in chocolate icing.
The real star of the show, though, is the custard filling inside each pastry.
What exactly is Krispy Kreme's custard? It's basically a pastry cream and is similar in taste and texture to vanilla pudding.
If you enjoy Boston cream pie, chances are that you'll love this donut.
The cream itself isn't overly sweet, which is why I prefer it to the Kreme that fills the other chocolate-glazed donut.
One Chocolate Iced Custard Filled Doughnut contains 300 calories and 15g of fat.
6. Original Glazed Doughnut Holes
Krispy Kreme's Original Glazed Doughnut Holes have the same flavor and texture as the regular glazed and mini glazed donuts, but these are in a fun spherical shape.
In my opinion, donut holes are "almost" better than regular old donuts.
They're easy to transport and share and can easily be eaten in one bite.
It may just be in my head, but I've always felt that donut holes tend to have a thicker layer of a glaze than regular donuts, which gives them major bonus points.
The inside of these little guys is soft and doughy, and the outside has a generously crispy (or, dare I say, krispy) glaze. What more can you ask for?
One Glazed Doughnut Hole contains 45 calories and 2.5g of fat.
5. Cake Batter
Who doesn't love the nostalgic flavor of good old-fashioned birthday cake?
The filling in the Cake Batter Doughnut really tastes like cake batter, so it automatically gets some extra points in my book.
It's made with Krispy Kreme's classic Kreme filling but is amped up with the extra sweet, rich flavor of cake batter.
The donut is filled with a generous portion of cake batter Kreme and topped with sweet yellow icing.
Of course, all that has to be finished off with rainbow sprinkles!
I won't blame you if just reading that description feels like a sugar overload, but the donut as a whole is surprisingly not too sweet.
The aesthetic of the donut is definitely geared toward a younger audience, but it is actually quite delicious and perfectly sweet.
One Cake Batter Doughnut contains 350 calories and 18g of fat.
4. Glazed Blueberry Cake
The Glazed Blueberry Cake Doughnut is the only cake donut available full-time on Krispy Kreme's menu.
A cake donut differs from a yeast donut in that it's made with a cake-like batter rather than a yeast dough.
Cake donuts are denser, have a crispier exterior, and are more moist and buttery than yeast donuts.
There aren't any actual chunks of blueberry in this donut, but Krispy Kreme still nails the fruity, sweet berry flavor here.
It's also glazed, which is the perfect finish to the outside of the donut that tends to be more chewy and caramelized than a yeast donut.
One Glazed Blueberry Cake Doughnut contains 300 calories and 15g of fat.
3. Original Glazed Cinnamon Roll
The Original Glazed Cinnamon Roll is what you'd get if you crossed a classic Krispy Kreme glazed donut with a Cinnabon cinnamon roll.
To achieve this combination, yeast dough is rolled out and shaped into swirly cinnamon rolls, complete with a dusting of cinnamon.
Then, they're baked until golden brown and glazed to perfection, just like a regular Krispy Kreme donut would be.
The glaze on the cinnamon rolls is just as crispy and sweet as it is on a regular donut.
In fact, these are basically just cinnamon donuts that are baked instead of fried.
It's perfect if you're looking for something different than your average glazed donut, but the flavors and textures are all pretty similar at the end of the day.
The only downside is that these can only be ordered on Sundays, so don't stop by during the week expecting a glazed cinnamon roll.
One Original Glazed Cinnamon Roll contains 280 calories and 11g of fat.
2. Strawberry Iced With Sprinkles
I'll start by saying this: Krispy Kreme admits openly on its website that the Strawberry Iced Doughnut doesn't include any actual strawberries.
That being said, Krispy Kreme does a phenomenal job nailing down that artificial flavor that we've come to associate with strawberries.
The icing is fruity, a little tart, and nostalgic to anyone who grew up favoring strawberry-flavored treats.
Even better, the donut is glazed before being dipped into the strawberry icing, so these pastries have the signature sugar shell that we expect from a true Krispy Kreme donut.
The addition of rainbow sprinkles further catapults this donut to the #2 spot on my Best of Krispy Kreme list, for obvious reasons.
One Strawberry Iced Doughnut with Sprinkles contains 260 calories and 12g of fat.
1. Original Glazed
Why mess with perfection? As basic as it is, the Original Glazed Doughnut is my number one pick on the Krispy Kreme menu, without hesitation.
After all, this donut gave Krispy Kreme its name.
The glaze on the donut forms an ever-so-delicate sugar shell around your pastry.
When you bite in, you'll notice the tiniest bit of a crunch as the glaze shatters.
Inside is a fluffy, soft dough that plays in perfect contrast with the crispy glaze.
Without the distractions of extra toppings or elements, the sugary and vanilla flavors of the donut are able to shine through.
In my opinion, this is the blueprint when it comes to a donut.
Plus, when you see Krispy Kreme's "hot light" lit up, you know you're getting your glazed donuts straight out of the fryer.
There's nothing better than a donut that's so fresh it's still hot when you take that first bite.
One Original Glazed Doughnut contains 190 calories and 11g of fat.
Conclusion
In all honesty, I'd happily eat any of these Krispy Kreme donuts again, so you really can't go wrong when visiting one of their locations.
From glazed to fruity to covered in chocolate, there's a donut flavor for everyone on the Krispy Kreme menu.
Next time you see that glowing red store sign, stop in and try one of their hot, fresh donuts.
And if you don't live near a Krispy Kreme location, check your local grocery store, as you may find some of these flavors on the shelf.
For more information about Krispy Kreme, check out the articles below.