The Best Hardee's Breakfast to Order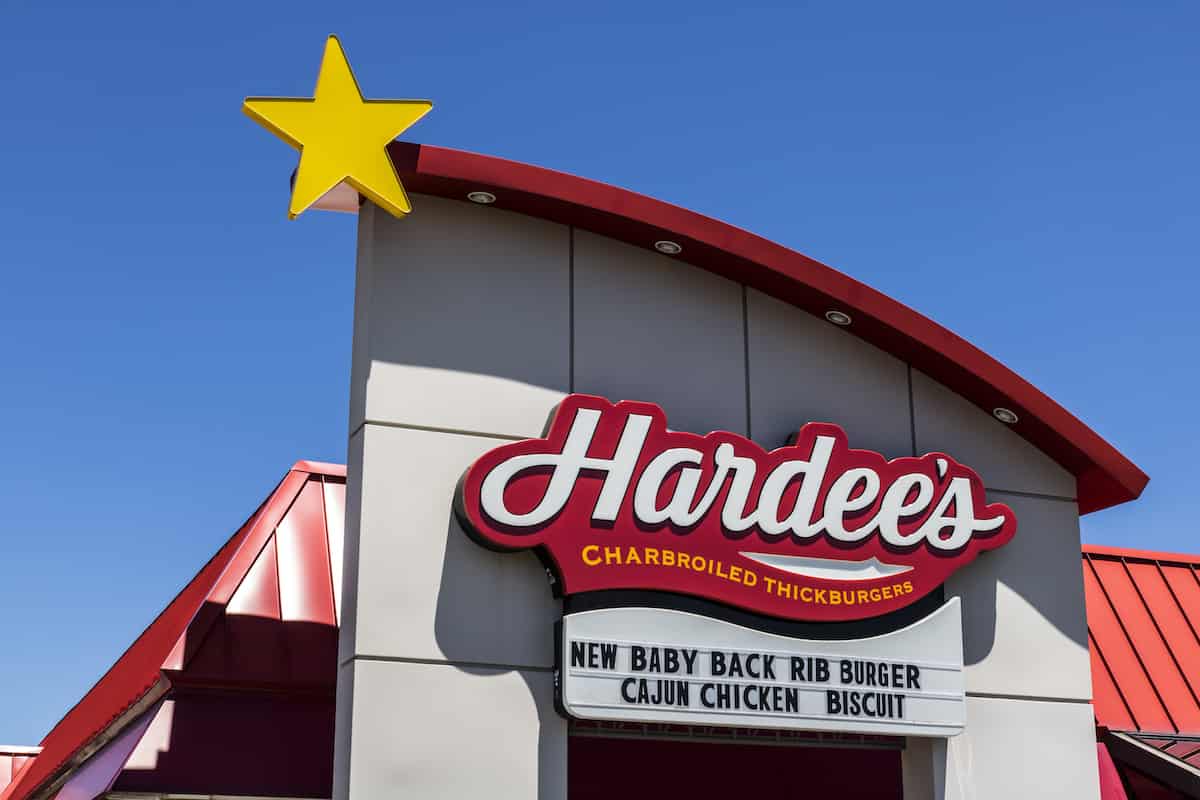 One thing that separates Hardee's from many other fast food chains is its Southern-style breakfast items.
Instead of the typical breakfast sandwiches and burritos most fast food restaurants offer, Hardee's has a unique selection of breakfast items that are sure to satisfy your cravings.
Hardee's breakfast menu is full of delicious options, from biscuits and gravy to fried steak and pork chops.
Hardee's breakfast hours are from 6:00 am to 10:30 am, so if you want to get your hands on one of these hot items, you'll want to get there early!
You may wonder if it is worth your precious sleep to wake up early and order breakfast from Hardee's.
I say absolutely, and I've put together a list of the 12 best Hardee's breakfast items you should try on your next visit!
12. Biscuit 'N' Gravy
Some people like jam and toast for breakfast, and some love Biscuit 'N' Gravy.
This classic Southern favorite is available at Hardee's and is as good as you would expect it to be.
The buttermilk biscuit is lightly browned and served with creamy sausage gravy on top.
The sausage gravy features pork sausage pieces and a combination of butter, flour, milk, and spices that give it its signature flavor.
It's a great way to start the day if you're looking for a light breakfast that reminds you of home.
Nutritional Information:
600 calories, 10g protein, 54g carbohydrates, 38g fat
11. Sausage Biscuit
This simple breakfast from Hardee's starts with a sausage patty on a freshly made buttermilk biscuit.
It's nothing fancy, but if you love sausages and don't like to stuff your stomach first thing in the morning, the Sausage Biscuit will be your best friend.
Nutritional Information:
620 calories, 13g protein, 42g carbohydrates, 45g fat
10. Country Ham Biscuit
The Country Ham Biscuit is the simplest item on Hardee's breakfast menu.
It is made of a freshly made buttermilk biscuit and a slice of country ham.
The ham is thick-cut, juicy, and flavorful – the perfect way to start your day with a protein boost.
If I want something light, I always go for this option.
But I would request a slice of American cheese on top of the ham.
The cheese can instantly transform this biscuit from simple to decadent.
Nutritional Information:
510 calories, 16g protein, 42g carbohydrates, 32g fat
9. Bacon Egg & Cheese Biscuit
This biscuit has everything I love most: bacon, egg, and cheese.
The egg is cooked just right, the bacon is crispy and savory, and the cheese melts perfectly.
All of this deliciousness gets tucked between two halves of a freshly made buttermilk biscuit for an indulgent morning treat.
Nutritional Information:
620 calories, 17g protein, 38g carbohydrates, 29g fat
8. French Toast Dips
I love to start my mornings with something hot and sweet.
When I don't have the time to sit down and enjoy some hot pancakes or waffles, Hardee's French Toast Dips is the way to go.
These bite-sized French toast sticks are made with real cinnamon, nutmeg, and all-natural butter.
Fried to a golden brown and lightly sprinkled with powdered sugar, these sticks are perfect for dunking in Hardee's syrup.
Nutritional Information:
620 calories, 9g protein, 74g carbohydrates, 19g fat
7. Hand-Breaded Chicken Biscuit
The Hand-Breaded Chicken Biscuit from Hardee's is exactly what it sounds like – a crispy, fried chicken patty nestled between two fluffy buttermilk biscuits.
The chicken patty is made with all-white meat chicken freshly hand-breaded with a blend of spices and seasonings.
The biscuits are warm and buttery, adding just the right amount of sweetness to the savory chicken patty.
This is a must-have for any chicken and biscuit lover.
Be forewarned that it is a bit intense for a first bite in the morning.
But if you are looking for a super fulfilling breakfast, this is one of the good options.
Nutritional Information:
710 calories, 15g protein, 46g carbohydrates, 21g fat
6. Sausage & Egg Biscuit
The Sausage & Egg Biscuit sandwich features a hot sausage patty topped with a fluffy egg and melted American cheese on a freshly made buttermilk biscuit.
It just doesn't get much better than that!
The perfect balance between savory and sweet makes this sandwich a must-have for any Hardee's fan.
Plus, it pairs perfectly with their tater tots or French fries for an all-in-one meal that satisfies even the heartiest appetite.
Nutritional Information:
700 calories, 19g protein, 44g carbohydrates, 50g fat
5. Loaded Omelet Biscuit
Even though I would like to sit down and enjoy a breakfast omelet in the morning, there are many times when I don't have the time.
Thankfully, Hardee's has created the Loaded Omelet Biscuit for this reason.
Between a fresh, fluffy biscuit is a folded omelet filled with sausage, bacon, ham, onions, bell peppers, and melted American cheese.
This is the perfect way to get a full breakfast on the go!
Although they are all simple ingredients, the flavor combination keeps me coming back for more.
Nutritional Information:
630 calories, 19g protein, 46g carbohydrates, 41g fat
4. Pork Chop 'N' Gravy Biscuit
Pork chop is a rare item on fast food restaurant menus, but Hardee's has managed to create a fantastic Pork Chop Biscuit.
This sandwich starts with a freshly made buttermilk biscuit, then loaded with a tender fried pork chop.
Although you can have it as is, you also can request a creamy sausage gravy.
Whether you drizzle the gravy on the pork chop or dunk the whole biscuit into the gravy, it is sure to be a hit!
To make this biscuit complete, I recommend pairing it with freshly baked apple pie.
The spice and sweetness provide a great complement to the savory pork chop and gravy.
Nutritional Information:
660 calories, 13g protein, 48g carbohydrates, 34g fat
3. Country Fried Steak Biscuit
You should try Hardee's Country Fried Steak Biscuit if you are not a pork or chicken fan but love a fried item as breakfast.
It is a delicious combination of beef steak, breading, and gravy served between a freshly made buttermilk biscuit.
The flavor may be simple, but the taste is unforgettable.
The country-fried steak patty is crispy and juicy, while the fresh biscuit provides a delicate balance of texture and flavor.
This combination is so good that it will make you forget that you are eating fast food.
Nutritional Information:
650 calories, 14g protein, 44g carbohydrates, 48g fat
2. Loaded Breakfast Burrito
The Loaded Breakfast Burrito from Hardee's contains fluffy eggs, American cheese, sausage chunks, and ham, all mixed and wrapped in a soft tortilla.
It is perfect for those who want a complete breakfast but don't have the time to sit down and eat it.
The combination of flavors is tasty, and the texture of the burrito is good.
The tortilla adds a nice chewiness that makes every bite enjoyable.
I recommend adding jalapenos for a slight kick.
Nutritional Information:
580 calories, 30g protein, 40g carbohydrates, 36g fat
1. Frisco Breakfast Sandwich
The Frisco Breakfast Sandwich is my number one breakfast item at Hardee's.
It features two slices of ham, folded egg omelet, melted American cheese, and Swiss cheese tucked between two pieces of fresh sourdough toast.
The combination of flavors and textures is fantastic!
The eggs are cooked right, and the ham adds a smoky flavor that pairs perfectly with the toasty sourdough bread.
The two types of cheese create this hollandaise-like flavor that complements the eggs and ham combo.
Together, they create a unique and hearty breakfast experience that can't be easily found at many fast food chains.
Nutritional Information:
430 calories, 24g protein, 19g carbohydrates, 42g fat
Conclusion
Whether you're looking for something sweet or savory, there's something for everyone on Hardee's breakfast menu.
From their Country Fried Steak Biscuit to Frisco Breakfast Sandwich and everything in between, Hardee's knows how to make delicious breakfast items.
So if you're ever in the mood for a fast food breakfast, Hardee's is one of the best places to go.
Remember to arrive before 10:30 am because that's when most locations stop serving breakfast!
For more information about Hardee's, check out the articles below.