The Best Things to Order at Cracker Barrel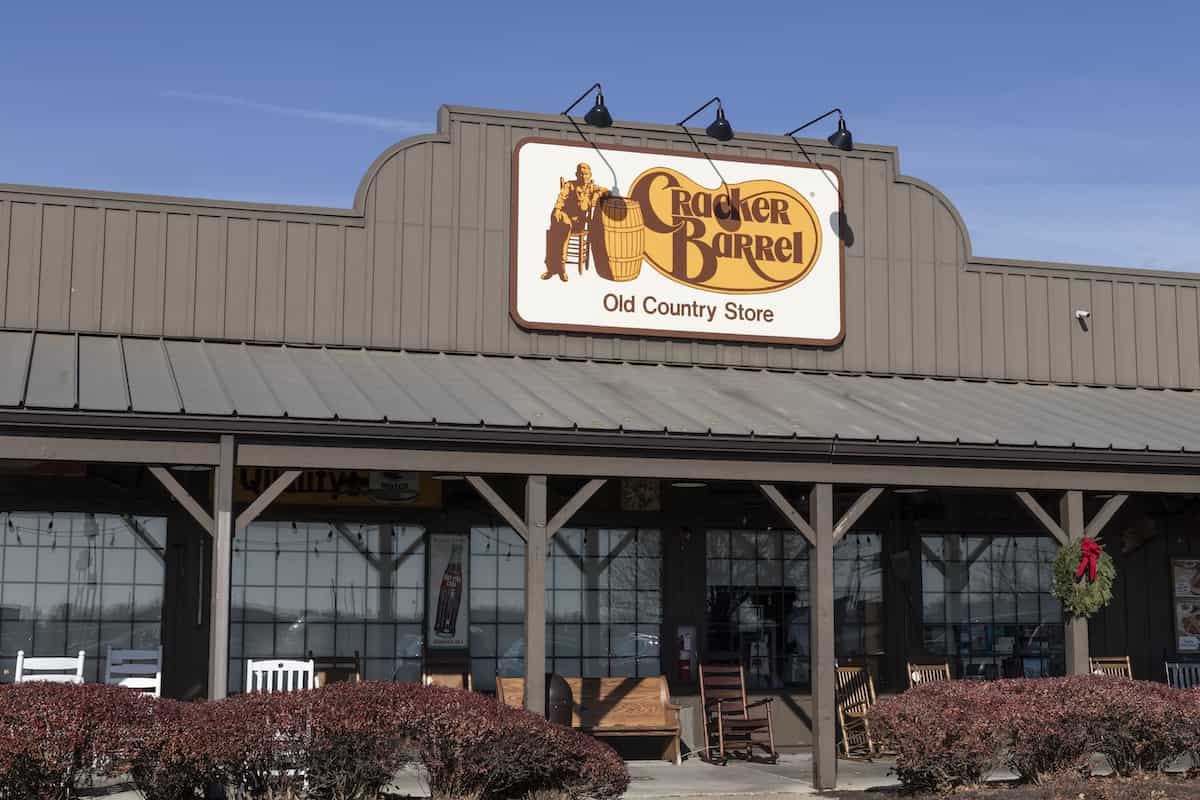 Cracker Barrel was founded in 1969 by Dan Evins, who aimed to create a restaurant with a comfortable, "home away from home" atmosphere.
The brand quickly gained popularity and has earned a reputation for providing guests with delicious, high-quality meals.
With over 600 locations in 45 states today, the chain has become a welcome sight for food lovers everywhere.
From classic breakfast dishes and hearty homestyle meals to traditional Southern drinks and desserts, there's something for everyone on the Cracker Barrel menu.
If you are wondering about the best things to order at Cracker Barrel, here are my top 23 menu items not to be missed!
23. Classics Sampler
If you want all the foods that remind you of your Southern roots, I recommend the Classics Sampler on the Cracker Barrel menu.
It features a meatloaf, homestyle fried chicken, and chicken n' dumplins.
Along with two sides of your choice, this platter is a delicious way to sample Cracker Barrel's popular dishes.
The meatloaf is tender and juicy, with a unique blend of spices that gives it an incredible flavor.
The homestyle fried chicken is crispy on the outside and moist inside.
Finally, the chicken n' dumplins are soft, pillowy dough filled with shredded chicken in a rich gravy sauce.
It's the perfect comfort food for cooler weather!
22. Smoky Southern Grilled Chicken
Although it is tempting to order the crispy fried chicken, it's not the healthiest choice.
If you want to eat something light but still enjoy the deliciousness of a chicken entrée, the Smoky Southern Grilled Chicken is a better option.
The grilled chicken breast is perfectly cooked with smoky seasoning that adds just the right kick of flavor.
It comes with two sides of your choice.
This is a great entrée for health-conscious people who don't want to sacrifice taste!
21. Chicken N' Dumplins
Cracker Barrel's mission is to remind us of the good old southern comfort food, and Chicken N' Dumplins is no exception.
This famous dish is a popular choice among Cracker Barrel fans, and for good reason.
It is made with tender, perfectly cooked chicken pieces covered in a rich, velvety broth, full of delicious dumplings that beckon you to dive in with your fork.
It's the ultimate comfort food that transports you back to your grandma's kitchen!
20. Turkey N' Dressing
You don't have to have a turkey feast only on Thanksgiving and Christmas.
You can enjoy a hearty portion of Cracker Barrel's Turkey N' Dressing all year round.
This dish has slow-cooked turkey slices covered in flavorful turkey gravy, sweet potato casserole, and corn or buttermilk biscuits.
It is the perfect way to satisfy your Southern food cravings without worrying about packing on too many calories!
19. Meatloaf
Cracker Barrel's Meatloaf is a delightfully crafted dish that is generously sized, moist, and tender with a hint of Southern-inspired flavors.
The tomatoes, green peppers, and onions give the meatloaf a unique flavor that is sure to please.
This entrée comes with two sides of your choice and buttermilk biscuits.
18. Homestyle Chicken Salad
Instead of serving you a boring grilled chicken salad, Cracker Barrel levels up the Homestyle Chicken Salad with its signature Southern fried chicken.
The chicken is cut into strips and mixed with seasonal greens, boiled egg, cucumber, tomato wedges, Colby cheese, and croutons.
This flavorful salad is the perfect combination of crunchy texture and savory flavor that will leave you happy and satisfied.
17. Strawberry Lemonade
Whenever I order something fried at Cracker Barrel, I always get their refreshing Strawberry Lemonade.
This tart and sweet thirst quencher is the perfect companion to help balance out your savory meal.
It combines fresh-squeezed lemons, real sugar, and an all-natural strawberry flavor that adds just the right amount of sweetness.
It's also a great way to cool down during those hot summer days!
16. Broccoli Cheddar Chicken
Just because you pair two healthy ingredients together doesn't mean the result will be plain and boring.
The Broccoli Cheddar Chicken is a warm, cheesy, and satisfying dish that will leave you craving more.
It's a simple combination that turns the humble chicken breast into a delectable, crave-worthy masterpiece.
The dish features tender, grilled chicken breast laden with a generous layer of broccoli and topped with rich, creamy cheddar cheese sauce.
The dish comes with a side of your choice and buttermilk biscuits.
15. Peach Cobbler
The Peach Cobbler is an excellent choice for anyone looking for a dessert that doesn't involve chocolate.
Cracker Barrel's cobbler combines farm-fresh peaches with a light, buttery, flaky crust that is made in-house.
Once baked to perfection and topped with powdered sugar, this cobbler creates a delectable mix of fruity sweetness, buttery goodness, and a tender crust sure to please even the toughest
14. Chicken Pot Pie
The Chicken Pot Pie is a hearty, classic comfort food that's been a staple on Cracker Barrel's menu for years.
The dish features a rich, creamy filling packed with chunks of tender, slow-cooked chicken, mixed vegetables, and a perfect blend of spices, all enveloped in a flaky, golden pie crust.
It is a favorite among those who appreciate the simple, nostalgic pleasures of good old-fashioned home cooking.
13. Biscuit Beignets
One bite of these heavenly fried triangles, and you won't be able to stop!
The secret is their iconic buttermilk biscuit dough that's deep-fried like donuts and then smothered with a generous amount of cinnamon sugar.
But it doesn't end there. They come served with an irresistible side of butter pecan sauce!
I can never seem to get enough of these delicious Biscuit Beignets.
12. Peach Tea
Instead of taking the easy way out by mixing the artificial peach syrup with their signature tea,
Cracker Barrel is doing it the old-fashioned way.
Their Peach Tea uses real peach puree and steeps it in their tea to create this delightful beverage.
The natural sweetness of the peach flavor blends perfectly with the tea to create a smooth and refreshing drink that will give you an extra energy boost.
It's a must-try for all peach lovers out there!
11. Roast Beef
Everyone knows that a great roast beef takes hours to prepare, but Cracker Barrel proves it is worth it.
Their Roast Beef entrée features a 14-hour slow-cooked roast beef complete with two or three sides of your choice and buttermilk biscuits.
Whether you're looking for an indulgent meal or want to enjoy some comfort food, the Roast Beef will surely hit the spot.
10. Country Fried Shrimp
You can't go wrong with Cracker Barrel's Country Fried Shrimp.
This delectable dish features lightly breaded shrimp fried in a Southern-style cornmeal batter.
Served with your choice of two sides, hush puppies and buttermilk biscuits, it is perfect for those looking for a light yet flavorful entrée option.
The shrimp is cooked just right and served with a cocktail sauce that adds another layer of flavor to this already delicious dish.
9. Grandpa's Country Fried Breakfast
Are you a fan of country-fried steak and chicken with tasty gravy?
If so, you should try out Grandpa's Country Fried Breakfast.
This Southern classic comes with two eggs, your choice of breakfast side, and a delicious fried steak or fried chicken smothered in sawmill gravy.
Although some may not enjoy the taste of fried steak, they will surely be won over by a piece of their buttermilk-breaded chicken that remains tender and juicy.
For a truly Southern breakfast experience, drench your chicken in the housemade gravy for a creamy texture.
8. Double Chocolate Fudge Coca-Cola Cake
Yes, Coca-Cola is in your cake!
The Double Chocolate Fudge Coca-Cola Cake is an indulgent dessert to satisfy your sweet tooth.
This moist and rich chocolate cake is made with real cocoa and topped with creamy fudge icing.
The cherry on top? The Coca-Cola syrup adds complexity, sweetness, and extra flavor to the already delicious treat.
It's a delightful way to end your meal at Cracker Barrel.
7. Stuffed Cheesecake Pancake Breakfast
The Stuffed Cheesecake Pancake Breakfast is a unique offering on Cracker Barrel's breakfast menu.
Two buttermilk pancakes are stuffed with a cream cheese filling that tastes like a New York cheesecake!
If that's not enough, you'll love the fresh strawberry slices and powdered sugar on top.
Instead of regular maple syrup, you get delightful strawberry syrup to enhance your experience.
6. Fried Catfish
Cracker Barrel's Fried Catfish is a delicious seafood dish that showcases the best of Southern cuisine.
The catfish filets are farm-raised right here in the United States, ensuring quality and sustainability.
Each filet is hand-battered, breaded in Southern-style cornmeal, and deep-fried to golden perfection.
Served with your choice of two country sides and buttermilk biscuits, this Cracker Barrel staple will surely make a memorable mealtime for any catfish connoisseur.
5. Caramel Latte
The Caramel Latte from Cracker Barrel is my favorite drink.
Although I'm usually not a fan of espresso, the combination of espresso latte and caramel syrup transforms this beverage into an exquisite drink.
The whipped cream topping adds a creamy and velvety texture to the latte.
Additionally, the caramel gives it a sweet note that makes it hard to resist!
4. Homestyle Chicken N' French Toast
If you are craving the classic flavors of Southern-style cuisine, the Homestyle Chicken N' French Toast is your fix!
A true breakfast classic, this dish comes with two pieces of tender, juicy chicken breast that are hand-battered and fried to golden perfection.
To complete the meal, it's served with a generous portion of French toast made from thick slices of Texas Toast.
It is then sprinkled with sugar and served with country gravy, making for an ideal way to start your morning at Cracker Barrel!
3. The Barrel Cheeseburger
The Barrel Cheeseburger is simple but packed with flavor.
This classic burger features a thick and juicy 1/3-pound beef patty with melted cheddar cheese, lettuce, tomato, onion, and pickles, all served on a toasted bun.
The burger is accompanied by your choice of side or soup.
If you are looking for a fresh and delicious burger that is less greasy, the Barrel Cheeseburger is the perfect option.
2. Cheesy Bacon Homestyle Fried Chicken
This classic dish on the Cracker Barrel menu starts with a crispy homestyle fried chicken breast.
Then, the bacon and Colby cheese add a delectable smokiness and creamy texture.
On top, the onion rings bring a crunchy texture and sweet flavor.
Finally, the buttermilk ranch sauce adds a tangy creaminess that ties everything together.
This is a must-try dish if you love chicken and bacon!
1. Tips, Tenders N' Shrimp Platter
The Tips, Tenders N' Shrimp Platter combines fried or grilled chicken, sirloin steak tips, and Cracker Barrel's signature fried shrimp.
Each item is perfectly cooked and served with two sides of your choice.
The chicken and steak tips are juicy, flavorful, and perfectly seasoned.
The shrimp are fried for a crunchy exterior that gives way to delicious, tender meat inside.
This platter satisfies all your cravings for seafood, poultry, and red meat in one go!
Conclusion
Cracker Barrel is one of the best restaurants to get a hearty and delicious meal for breakfast, lunch, or dinner.
Their menu includes classic Southern dishes like Country Fried Shrimp, Chicken Pot Pie, Meatloaf, Biscuit Beignets, Country Fried Steak Breakfast, and Stuffed Cheesecake Pancakes.
No matter what you're in the mood for, there's sure to be a dish that will satisfy your taste buds.
So next time you're craving a Southern-inspired meal, head to a Cracker Barrel near you and try some of the menu items on this list.
For more information about Cracker Barrel, check out the articles below.