The Best Food at Ninety Nine Restaurants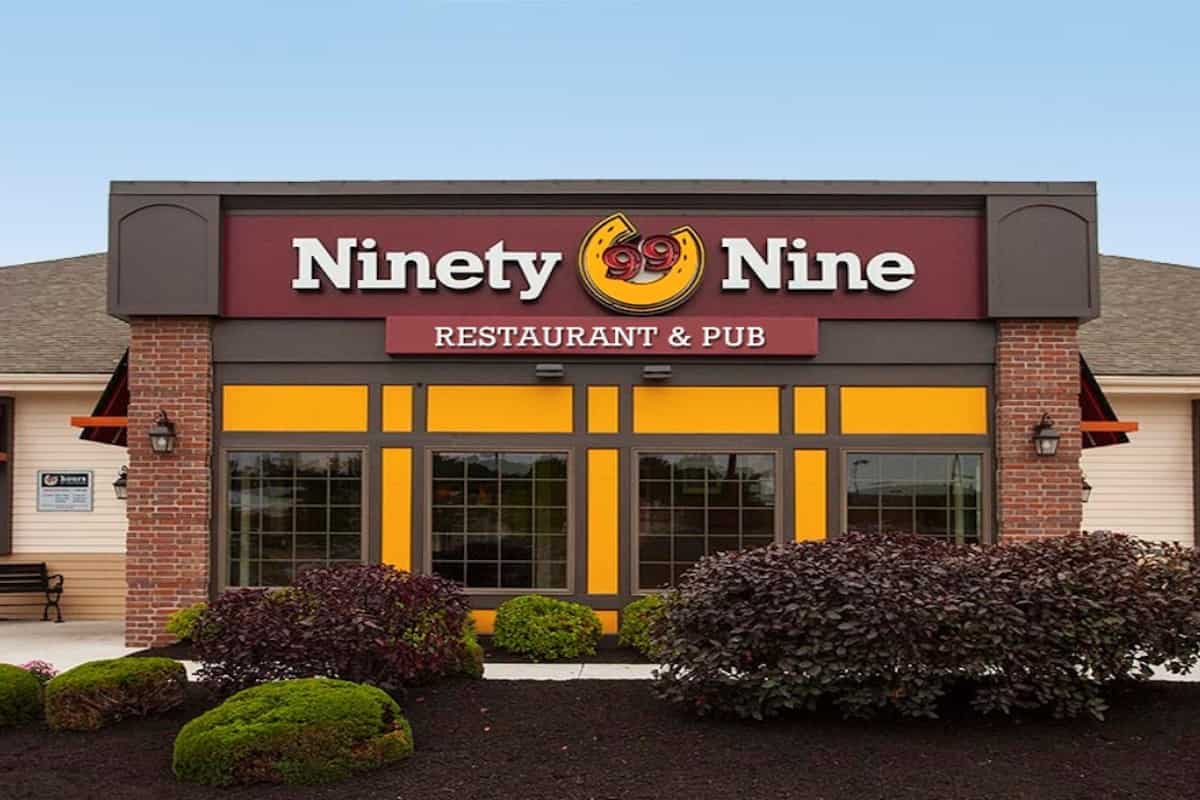 If you want to spend time with your friends and enjoy delicious food at affordable prices, you'll want to check out Ninety Nine Restaurant.
Founded in 1952 as a single location in Boston, Massachusetts, Ninety Nine Restaurant and Pub has become a popular chain across the Northeastern United States.
The restaurant is known for its relaxed atmosphere and has become a go-to destination for family, friends, and coworkers.
The 99 Restaurant menu includes a variety of dishes, including appetizers, creamy chowders, seafood and chicken entrees, juicy burgers, desserts, and cocktails.
If you're unfamiliar with 99 Restaurants, let me introduce you to the best dishes on their menu that are not to be missed!
15. Pork Carnitas Flatbread
The Pork Carnitas Flatbread is a delectable combination of queso-glazed flatbread topped with slow-roasted pork carnitas, fire-roasted corn, caramelized onions, and Monterey Jack cheese.
It is finished with chopped cilantro and a drizzle of avocado ranch sauce.
Each bite of this dish is a flavorful explosion.
The pork carnitas are succulent and flavorful, while the corn adds a burst of sweet crunchiness.
And as a final touch, the avocado ranch sauce brings a creamy tang.
14. Seafood Chowder
The Seafood Chowder at 99 Restaurant is a must-try if you crave the New England classic chowder.
It's brimming with clams, shrimp, schrod, and potatoes, creating a rich, creamy dish that's filling and comforting.
It has a wonderful balance of seafood flavors, and the potatoes add a nice, hearty texture.
A warm slice of crusty bread is perfect for sopping up every delicious drop of this chowder.
Depending on how much you love chowder, you can get the smaller cup or the bigger crock portion.
13. Crispy Honey Mustard Chicken Salad
I know I should eat healthier and get in more greens, but I love deep-fried food.
The Crispy Honey Mustard Chicken Salad allows me to do both.
It's a delightful mix of fresh greens, fajita spiced grilled chicken, Monterey Jack and cheddar cheeses, tomatoes, cucumbers, red onions, fire-roasted corn, black beans, and tortilla chips.
It's then garnished with fresh cilantro and served with a housemade avocado ranch dressing.
This salad perfectly blends crisp, spicy, creamy, and tangy.
It's hearty enough to be a meal on its own yet leaves enough room in your belly for dessert.
12. Chicken Parmigiana
The Chicken Parmigiana is 99 Restaurant's all-time fan favorite and their best chicken dish.
It's a classic Italian dish with an American twist.
The chicken breast is coated with panko-parmesan crumbs and fried to a golden crispy fillet.
It is then slathered with a delightful tomato sauce and dusted with a healthy dose of mozzarella and provolone cheeses that melt into a thick blanket when the dish arrives at your table.
It also includes penne pasta and is accompanied by warm rustic bread.
Each bite of the chicken is crunchy, juicy, and cheesy, and the tomato sauce adds a tangy balance.
I'd recommend pairing this dish with a glass of red wine!
11. Seafood Stuffies
99 Restaurant's Seafood Stuffies are a unique take on a New England favorite.
These are scallop shells filled with a mixture of scallops, shrimp, and aromatic spices, all baked to perfection in the oven.
Each serving is finished with a grilled lemon, providing a tangy counterpoint to the rich seafood flavors.
The seafood is tender, and the spices add a great depth of flavor.
The grilled lemon brings a hint of tanginess that elevates the overall taste.
They pair well with white wine or a frosty cold Horseshoe ale brewed by Harpoon Brewery.
10. Country Fried Chicken
For the Southerners, the buttermilk makes the deep-fried chicken irresistible.
Unlike the panko breading, the thick buttermilk coating allows you to soak up all that mouthwatering gravy while remaining crispy.
99 Restaurant's Country Fried Chicken will make you feel like eating in your Grandma's kitchen.
The chicken breast is coated in buttermilk, breaded, and fried until golden.
It's served with Maine russet mashed potatoes, country gravy, cranberry sauce, a warm honey-glazed biscuit, and a choice of sides.
This dish is hearty and comforting, with the chicken's crispy coating contrasting the tender meat and creamy gravy.
The sweetness of the cranberry sauce and the honey-glazed biscuit adds a perfect counterpoint to the savory elements.
A cold glass of sweet iced tea will definitely complete this meal.
9. Crispy Cauliflower Tacos
The Crispy Cauliflower Tacos is a welcoming sight on the 99 Restaurant menu for all vegetarians.
These tacos feature tempura-style cauliflower, fresh cabbage, tomatoes, pico de gallo, and spicy Sriracha ranch sauce tucked into warm flour tortillas.
The dish is served with steamed brown rice, guacamole, sour cream, and fresh lime.
The cauliflower provides a satisfying crunch, and the spicy Sriracha ranch sauce brings a wave of heat that is cooled down by the creamy guacamole and sour cream.
8. Boneless Wings
When you're at a pub, you can't go wrong with ordering chicken wings to pair with your drink.
The problem is getting through all the bones, which can be messy. So order the boneless wings instead!
And let me tell you, 99 Restaurant's XL Boneless Wings are awesome!
Hand-breaded and doused in spicy Buffalo or Gold Fever Sauce, these wings are crispy on the outside and tender on the inside.
They are spicy and flavorful, making them a perfect bar snack.
If you're dining with kids, request sauce on the side so they don't set their mouths on fire from the spice.
7. Seafood Trio
The Seafood Trio on the Ninety Nine Restaurant menu is a seafood lover's dream come true.
It includes tender shrimp, a baked fish filet, and North Atlantic sea scallops, all baked with seasoned cracker crumbs and butter.
It's served with two sides and a freshly grilled lemon.
The seafood is tender and flavorful, and the cracker crumbs add a slight crunch.
A squeeze of the grilled lemon adds a bright note that enhances the seafood flavors.
You can truly taste the difference between all the fresh seafood in this dish.
6. Towering Midnight Fudge Cake
When 99 Restaurant serves up its Towering Midnight Fudge Cake, it's like a little slice of heaven.
The cake itself is moist and chocolatey, thanks to the generous amount of cocoa powder used in the recipe.
The Oreo cookie crumbles provide an additional layer of texture to the cake.
I would say the name is a little too "enthusiastic" because it's not really towering, but taste-wise, it is a monster of sweet flavors.
Also, the cake comes with a few surprises.
The first one is that it is served in a huge cocktail glass. The second is the cake comes warm.
The Oreo cookie crumbles add a nice crunch to the cake, while the creamy vanilla ice cream, the hot fudge, and the whipped cream make the whole dessert a galore of different flavors and textures.
The vanilla ice cream provides a cool contrast to the warm cake, and the hot fudge and whipped cream bring a touch of indulgence.
This is the best dessert at 99 Restaurants to end your meal.
5. New England Fried Shrimp
New England is famous for their shrimps. They cook shrimp in any way they can think of – steamed, broiled, stewed, or fried.
The New England Fried Shrimp on the 99 Restaurant menu is truly amazing.
The golden-fried, hand-breaded shrimp are served with French fries, coleslaw, and their signature cocktail sauce.
The shrimp are crispy and tender, and the cocktail sauce adds a tangy kick.
The fries and coleslaw provide a satisfying contrast of textures that make you want to keep eating.
4. All Star Burger
While all burgers at 99 Restaurants are great, the All Star is the best burger on the menu.
The combination of the juicy beef patty topped with American cheese, applewood smoked bacon, sautéed onions, lettuce, tomato, and pickles make you ask for seconds.
It's served with French fries and housemade coleslaw.
The fries are crisp and satisfying, while the coleslaw adds a refreshing crunch.
If you're gluten-sensitive, order it with a gluten-free bun and sides.
3. Baked Haddock
Haddock is a fish with a mild, slightly sweet taste and flaky texture.
In a way, it's like merging the best features of cod and halibut together.
While it tastes amazing as a deep-fried fillet, baking it with crusted seasoned cracker crumbs is even more delicious.
99 Restaurant's Baked Haddock is served with two sides of your choice for a complete meal.
The fish is tender and melts in your mouth, while the cracker crust adds a pleasant crunch to the mix.
Overall, the Baked Haddock is the best seafood dish on 99 Restaurant's menu.
2. St. Louis BBQ Ribs
I'm not sure how long 99 Restaurants smoke their ribs, but they're not kidding when they promise that the meat is so tender that it falls off the bone.
Along with the secret spice blend and strong hickory smoke flavor, these ribs incorporate so much flavor that words can't do them justice.
Then there's the tangy BBQ sauce that tastes both sweet and savory.
This sauce will definitely make you lick your fingers.
It's the perfect complement to the ribs that looks as good as it tastes.
1. Smothered Tips
Although I always love a great steak, I can never say no to 99 Restaurant's Smothered Tips.
As one of their signature dish, these broiled sirloin tips are smothered in fresh sautéed onions, peppers, and mushrooms and served with a side of rice and vegetables.
The sirloin tips are tender and juicy, and the sautéed vegetables add a savory richness.
The potatoes and vegetables provide a hearty and comforting accompaniment to the meat.
It's like a stew but with perfectly broiled steak instead of overly cooked beef.
The Smothered Tips is my favorite item on the 99 Restaurant menu and a must-try dish!
Conclusion
99 Restaurants offer delicious menu items with affordable prices that make people return for more.
Whether you're craving a burger, seafood dish, chicken, or sandwich, there's something for every taste bud on the menu.
Don't sleep on their desserts either, especially the Towering Midnight Fudge Cake!