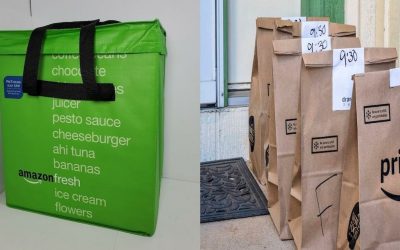 Amazon Fresh vs. Prime Now: What's the Difference? Food delivery services have been skyrocketing in popularity within the past few years, especially after the pandemic hit. Delivery services allow people who do not have the time or don't want to go to a grocery store...
Do You Tip Amazon Fresh Delivery? (Yes, Here's How Much) When ordering from grocery services, including Amazon Fresh, it's highly recommended to include a tip. However, figuring out exactly how much...
read more
Amazon Fresh Out of Stock: Here's What You Need to Know It can be frustrating when you're looking for an item from a grocery delivery service like Amazon Fresh, and it is continuously out of stock....
read more
Do GrubHub Drivers See Your Tip? (Before or After Delivery) In today's day and age, we have a few different food delivery services we can choose up, and food delivery has nearly doubled since the...
read more
When Does Walmart Restock? Whether you're buying groceries for tonight's dinner or picking up weekly household essentials, Walmart sells just about everything you need. Plus, with the big-box...
read more
Is It Safe to Order Food from Amazon? (Yes, Here's Why) When it comes to getting grocery deliveries, many consumers have safety concerns. Whenever you're ordering groceries, it's important to...
read more