The Best Cheese for Pizza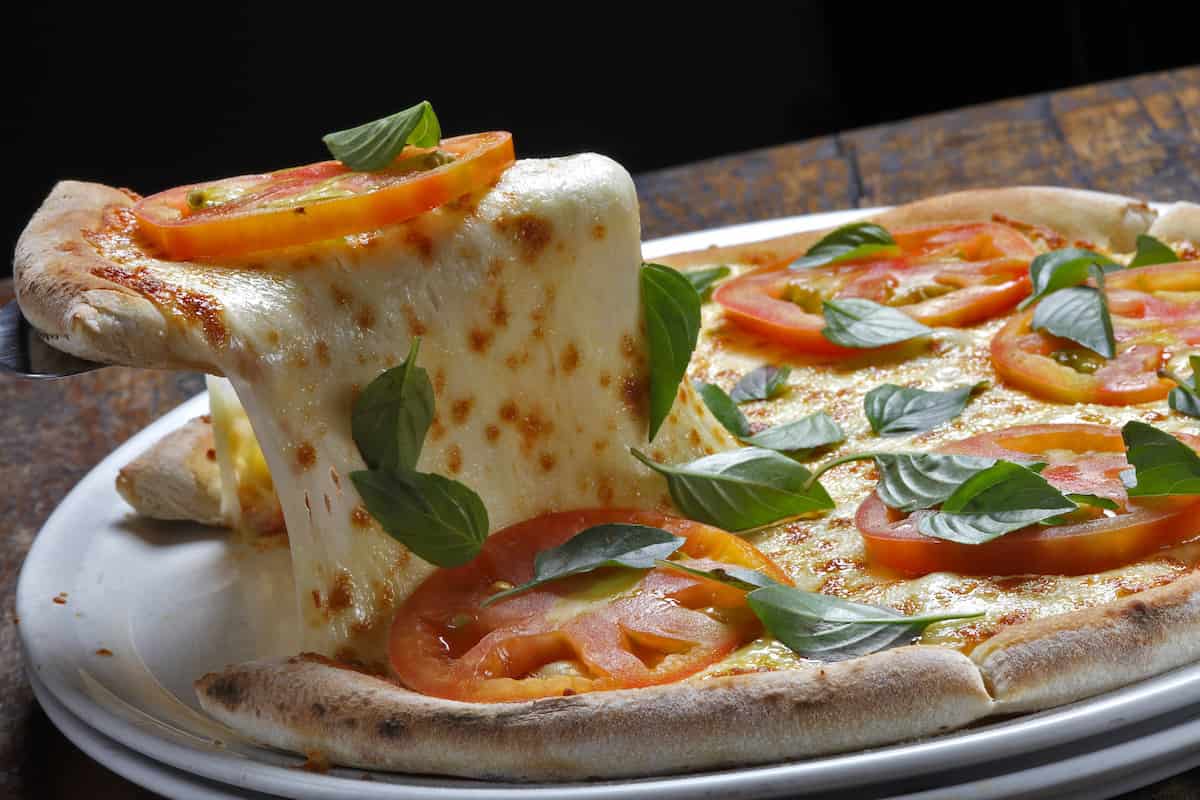 I think we can agree that all types of cheese are good, but some cheeses are better on pizza than others.
So many elements go into determining what makes the best pizza cheese. Meltability, stretchability, flavor, and texture are all factors to consider when contemplating your next pie.
Today, we'll go over the top ten most popular cheeses to try on your pizza.
You can probably guess what number one is, but some may surprise you. Read on to see which cheeses made the cut!
10. Muenster
Muenster is a semi-soft cheese that melts easily due to its high moisture content. This makes it an ideal candidate for adorning the top of your pizza.
Muenster cheese was invented in the United States by German immigrants.
They originally tried to recreate a different type of cheese called "Munster" but ended up creating a whole new type of cheese instead.
Muenster's flavor strength is somewhere between cheddar and mozzarella.
It's buttery and creamy but also has a little bit of tang to keep things interesting.
Since muenster melts easily, you're bound to get that Insta-worthy cheese pull each time!
The most popular pizza toppings to pair with muenster cheese include the usual suspects, like sausage, mushrooms, and onions.
9. Pepper Jack
Pepper Jack is a variety of Monterey Jack cheese.
It's semi-soft and studded with spicy peppers throughout, making it a great cheese to add to a pizza that needs some heat.
The peppers in the cheese differ depending on who's making it, but most have jalapenos, habaneros, serranos, or a mixture of the three.
While the peppers are to thank for the spice in the cheese, the cheese itself has a milder flavor comparable to cheddar.
Pepper Jack melts well, becoming gooey and creamy when heated in the oven.
Just like the muenster cheese, this makes it a great option for those seeking the ultimate cheese pull.
Pepper Jack goes well with spicy sausage and pepperoni but can be toned down with other toppings like bell peppers or grilled chicken.
8. Fontina
Fontina is a semi-soft cheese loved for its creamy, buttery texture and mild flavor with just a hint of nuttiness.
When melted, it takes on an elastic texture that's stretchy when pulled and delightfully chewy as it's eaten.
Fontina is unique because of its nutty and sweet undertones.
It pairs well with most pizza toppings since its mild nature allows other ingredients to take the spotlight.
Once heated, fontina browns fairly evenly, and its savory, salty notes are amped up.
Even when baked, it's never overly salty and always takes a back seat to whatever toppings you choose to add to your pie.
7. Gruyere
Gruyere is a hard cheese known for its distinctly complex flavor. It has a lot going on in the flavor department – it's nutty, sweet, and earthy.
Oftentimes, it's described as having a slightly fruity flavor.
According to Webstaurant, the sweet and nutty notes are what make Gruyere pair well with red and white pizza sauces.
Even though it's a hard cheese, Gruyere becomes soft, creamy, and gooey once cooked.
It melts evenly, so you don't have to worry about the cheese blistering as your pizza bakes.
Since Gruyere is sweet and creamy, it pairs well with other sweet toppings like caramelized onion and prosciutto.
It also lends some sweetness to salty, tangy toppings like sausage or hot peppers.
6. Gouda
Gouda is a semi-hard cheese loved for its buttery and smokey flavor.
Gouda is one of my favorite cheeses. I eat it by itself all the time, and it's just as good on top of pizza!
Young gouda is softer and has a more mild flavor, while older gouda is harder with a tangier flavor.
Gouda comes in two styles (straight-up or smoked), so your pizza's flavor profile will differ depending on which one you choose.
Smoked gouda pairs well with most pizza toppings but is especially delicious when topped with other smokey ingredients like pulled pork, bacon, or barbecue chicken.
The only downside to using gouda on pizza is that when melted, the cheese pools instead of stretching when pulled says Webstaurant.
If you like a pizza with gooey cheese rather than chewy and stretchy, gouda can be your new best friend!
5. Ricotta
Ricotta is a soft cheese made from the leftover whey from milk.
It has a very high moisture level and is the softest cheese on our list, with a creamy, rich texture.
Ricotta is mild in flavor – it's fresh, milky, and has a slight sweetness.
Instead of becoming stretchy when melting, it gets even creamier and smoother.
With a subtle sweetness, the toppings on a ricotta pizza can easily shine through.
Ricotta pairs well with most toppings but is especially delicious when the pizza is topped with shrimp, kale, or roasted garlic.
4. Cheddar
Cheddar is one of the most popular cheeses of all time, but it's not usually the first cheese that comes to mind when you think of pizza.
It's a semi-hard cheese whose flavor can vary but is usually sharp and earthy. The darker the cheese's color, the sharper the flavor.
Cheddar isn't typically used by itself on pizza but is often mixed with other cheeses.
This is because cheddar doesn't handle high heat very well and gets oily when it melts.
Its robust, unique flavor makes cheddar a perfect companion to toppings like pepperoni, ham, and onions.
3. Parmesan
Alright, we've made it to the final three cheeses: next up is parmesan.
Parmesan is a hard cheese that's shaved or shredded before being added to the pizza.
Because of its nutty, bold, and savory flavor, it should be used as a garnish for pizza rather than the main cheese on your pie.
This is because when parmesan is exposed to high heat, the taste it's famous for is diminished.
Also, it crisps up instead of melting when put into the oven.
Parmesan is often paired with mozzarella or provolone cheeses. It also goes well with classic Italian ingredients like tomato, basil, and garlic.
2. Provolone
Provolone is a semi-hard cheese that's by far one of the most beloved pizza cheeses.
Its flavor greatly varies depending on how old it is – the older the provolone, the sharper the taste.
I prefer a younger provolone on pizza because it's sweet and creamy, which pairs perfectly with a zesty tomato sauce.
No matter what age it is, provolone has a slight tang, giving your slice some depth while letting the pizza sauces and toppings take center stage.
Provolone also adds a fun textural and aesthetic element to pizza.
When baked in the oven, it bubbles up and gets golden brown in certain spots.
Since it has a mild flavor, all toppings will complement the provolone cheese.
1. Mozzarella
The most popular cheese to top your pizza with is, of course, mozzarella!
There's simply no other cheese that compares in texture and flavor.
Mozzarella has a creamy, mild flavor that complements tomato sauce and whatever toppings you choose to add to your pie.
There are two different types of mozzarella cheese: low-moisture and high-moisture.
I prefer low-moisture mozzarella on my pizza for a few reasons: Its shelf life is much longer than high-moisture mozzarella, it melts better, and it's stretchier.
Low-moisture mozzarella is also a little bit saltier than the high-moisture variation.
Whether it's in shredded form or sliced from a fresh mozzarella ball, this cheese reigns supreme in the list of the best pizza cheeses.
Unsurprisingly, mozzarella pairs well with any pizza topping you can come up with, from basil to olives to pineapples (if you're into that).
Conclusion
Cheese plays a crucial role in the making of a pizza. For many people (myself included), it's the best part of the pie.
Cheeses come in all textures and flavors, from creamy ricotta to sharp, umami parmesan. A bold cheese can be the star of the pie, or a subtler cheese like muenster or fontina can act as the side character.
No matter your taste in pizza, there's a cheese on this list to fit your vision. Knowing the strengths of each cheese will allow you to tailor your pizza to your preferences and create the pie of your dreams!